Shipping Company Maersk to Return to Arctic Northern Sea Route This Summer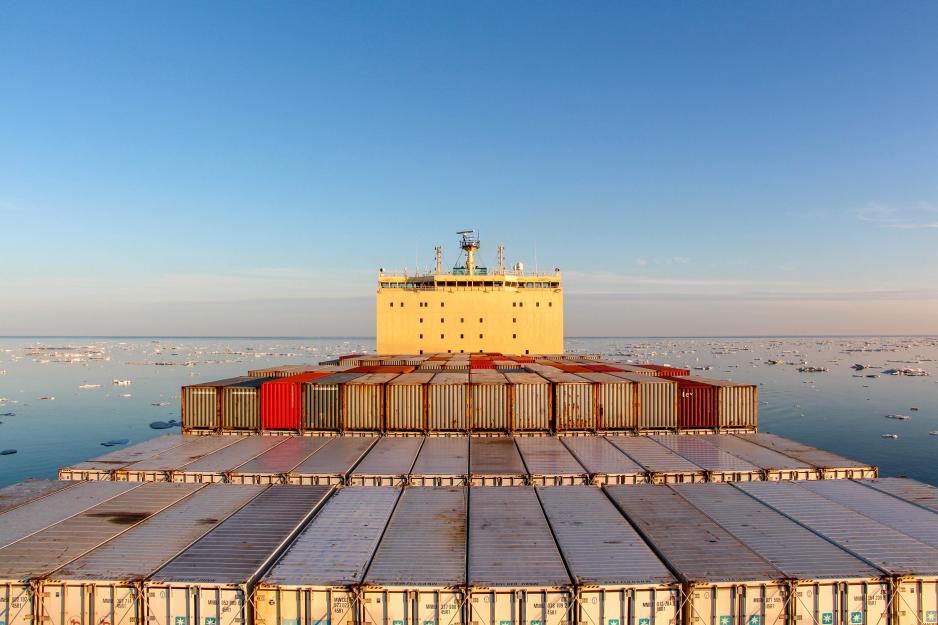 Danish shipping operator Maersk is exploring the possibility of sending cargo along Russia's Northern Sea Route this summer. It is currently discussing a cooperation with Atomflot, the country's primary operator of icebreakers.
Maersk's position on the economic potential of shipping cargo along Russia's Northern Sea Route (NSR) continues to evolve. While the company, the largest shipping operator in the world, as recently as last month discounted its interest in operating along the route it now confirms to HNN that it is currently exploring the possibility of offering a service on the route in cooperation with Russia's Atomflot.
Maersk sent the first-ever container ship along the route last summer in what the company then called a "one-off trial voyage." Following that trial the shipping operator categorically denied any commercial interest in the route and stated that it did not see the NSR as an alternative to its usual routes and that new services were planned according to customer demands and trading patterns.
It appears that these demands and patterns have now changed. In conversations with HNN the company stated that it "has experienced a growing demand for transport of goods from the Far East to West Russia, which we are currently exploring the possibility of offering together with Atomflot."
We are currently exploring the possibility of offering [transport] together with Atomflot.
While Maersk declined to provide additional details, Russian shipping industry sources and news reports confirm that the company does in fact plan to begin offering a seasonal service this summer with several trips along the NSR.
According to the company's CEO Søren Skou, who spoke to reporters at last week's International Economic Forum (IEF) in St. Petersburg, Maersk is exploring the possibility of cargo deliveries between ports of the Far East and St. Petersburg during third quarter of 2019. "Basically it will be Russian goods that will be shipped from the east of the country to the west and vice versa, for example, frozen fish or imported goods from China," he explained to reporters at the IEF, according to Russian news reports. A Maersk spokesperson said she was unable to provide confirmation of these plans.
Shipping experts emphasize the significant nature of this development. "If true, it would certainly be a departure from Maersk's long-held public position that the NSR is not a viable east-west alternative to the Suez," explains Ryan Uljua, Senior Fellow at The Arctic Institute.
"This development can be read as the next step in the assessment of the market potential: if it proves workable and profitable, maybe they will expand or offer the service on a regular basis. If it fails, then they will stop it," analyzes Frédéric Lasserre Professor at the Université Laval Québec.
More than a "one-off trial"?
Maersk continues to be little forthcoming about its Arctic plans and the company regularly downplays its interest in or the potential it sees along the route. In email correspondence in early May the company reiterated that it had no plans to launch a new product along the route and that it "did not see the Northern Sea Route as a viable commercial alternative to existing east-west routes."
Just a month later it confirmed that it has been engaged in discussions with Atomflot to meet growing demand for transport along the East-West corridor. Maersk also stated that it "currently, has no plans to deploy Maersk vessels in commercial service along the Northern Sea Route."
However, such denials may not hold much water. A similar statement denying any plans to send a vessel along the route was given to HNN last year shortly before the Venta Maersk embarked on its journey along the NSR. As of June 13th the company has not applied for a permit to travel along the NSR this summer. There remains, however, plenty of time to do so. Last year's voyage was permitted in mid-July, around four weeks before the Venta Maersk embarked on the transit.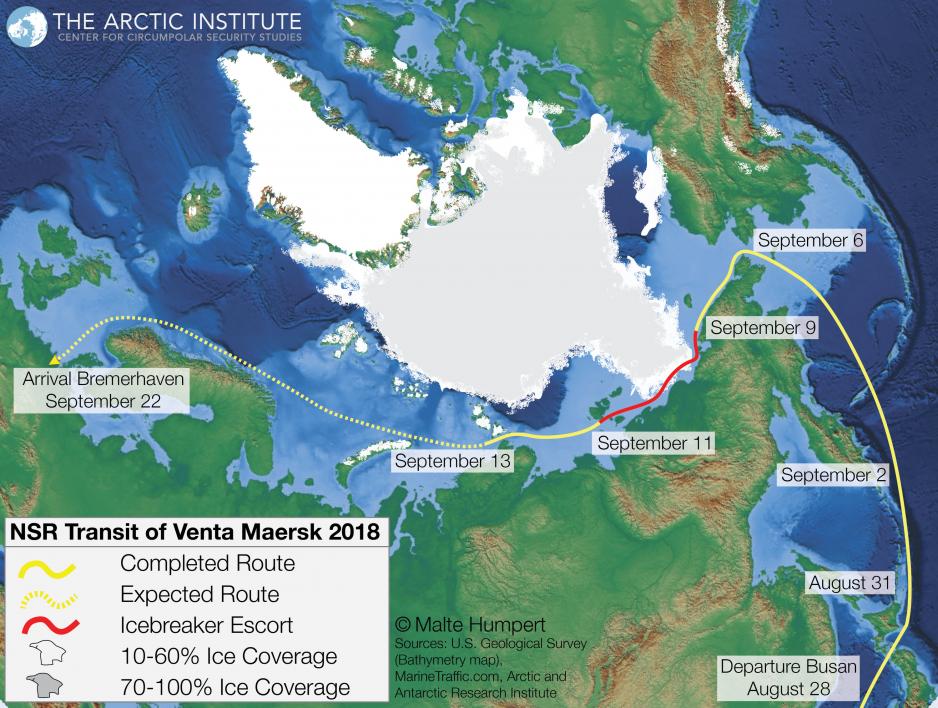 Less ice, more opportunities?
The continued decline of Arctic sea ice may be one factor changing Maersk's economic calculations, experts say. "Maersk may be responding to the latest satellite imagery which shows that, for this date, we have the second-lowest extent of Arctic sea-ice on record," confirms Michael Byers Professor and Canada Research Chair in Global Politics and International Law at the University of British Columbia.
"An absence of sea-ice in the Northern Sea Route would lower the costs of shipping and potentially create opportunities, for instance in moving resources and goods between Russian Arctic ports and East Asian ports, that might not be profitable in the presence of sea ice."
In fact, the NSR has seen a rapid growth in traffic on the route in part due to increasingly favorable ice conditions. The decline of dangerous and hardened multi-year ice has even prompted Russian authorities to no longer distinguish between summer and winter navigation periods as part of proposed new regulations for the route. Under the new rules vessels with lower ice-classes, Arc4 and above – incidentally the Venta Maersk is an Arc4 vessel – are allowed to operate without icebreaker assistance on vast swath of the route even with medium ice conditions.
Competition from China's COSCO
Apart from increasingly favorable economic calculations, Maersk's competition with China's COSCO shipping company may play a role in the company's change of plans. "With COSCO already planning 14 NSR transits this summer, Maersk may feel obligated to offer NSR sailings as well simply in the interest of preserving market share—or at least not ceding it to a strategic rival like COSCO without a fight," explains Uljua.
Maersk also revealed plans to construct a $30m multi-temperature production and warehouse complex in St. Petersburg, further cementing its interests in the Baltics. This type of investment also aligns well with the potential transport of frozen fish from the Far East to the Baltics as described by Mr. Skou. In fact the Venta Maersk carried similar cargo between Vladivostok and St. Petersburg during its trial voyage last year.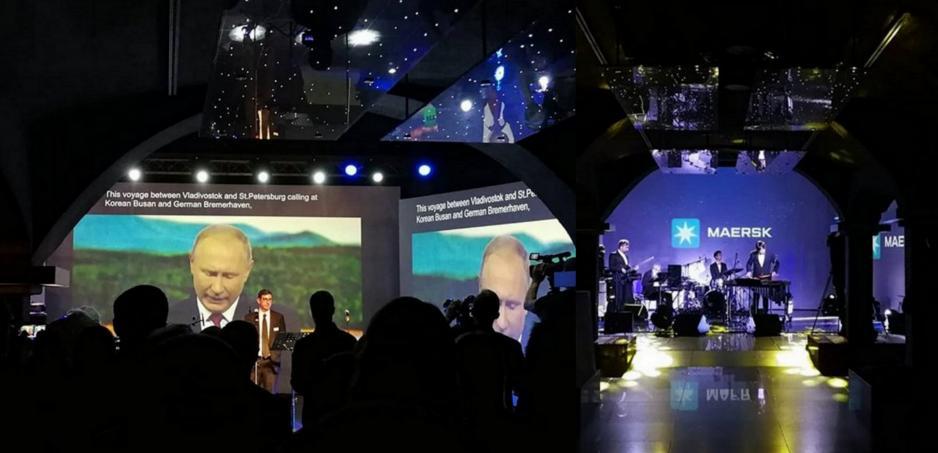 The fact that the announcement comes during the IEF in St. Petersburg may also be of significance, Lasserre, Professor at the Université Laval Québec, surmises. "The Kremlin is really looking for ways to increase traffic along the NSR, forcing some oil and gas companies to suspend pipeline construction or at least divert some flow across the NSR so as to increase traffic."
The transit of the Venta Maersk was certainly good news for Russia and its arrival was celebrated during an upscale reception in St. Petersburg last Fall. Even a small-scale seasonal service on the route would be a significant step forward for Russia to broaden the appeal of the NSR and diversify the types of cargo carried through its waters. Lasserre concludes with a question. "Was Maersk offered special conditions by the Russian government as an incentive to try and test this market?"