Traffic on Northern Sea Route Doubles as Russia Aims to Reduce Ice-class Requirements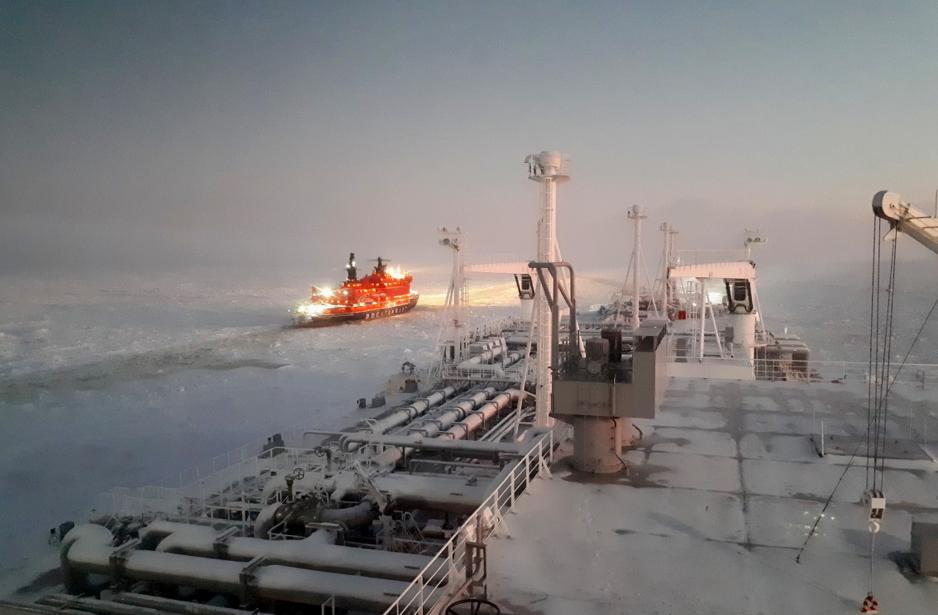 Shipping traffic on Russia's Northern Sea Route (NSR) reached another milestone surpassing 15 million tons of cargo during the first eleven months of the year. For 2018, Russian authorities expect more than 17 million tons explains Deputy Transport Ministry Jury Tsvetkov, nearly doubling the volume of the previous year when vessels delivered 9.7 million tons along the route. At least 500,000 tons will come from transit traffic, the highest figure since 2013.
The growth in traffic primarily comes from the export of liquefied natural gas (LNG), crude oil, and coal. The exploration of natural resources in Russia's Arctic has resulted in a five-fold increase in cargo volume since 2014. In light of this rapid increase of shipping activity, Russian authorities are in the process of reducing ice-class requirements to further ease access to the route and support economic development. In the draft legislation obtained by High North News, Russian authorities propose to no longer distinguish between summer and winter navigation seasons and allow vessels that were previously barred from entering the route during winter. Experts raise questions about the safety of these new rules of navigation as conditions remain challenging during winter.
Novatek, Gazprom, and VostokCoal use NSR
The majority of the shipping increase comes from Novatek's Yamal LNG facility, which began operation in December 2017. Russia's largest independent natural gas producer transported more than seven million tons of LNG along the route this year, including deliveries to Norway and western Europe, and as far as Brazil and China. With the facility now operating at 100 percent capacity following last week's opening of the third production line, the company will ship up to 16.5 million tons of LNG per annum.
Gazprom Neft, Russia's third-largest oil producer, increased output at its Novoportovskoye field in Yamal by 19 percent to 7 million tons in 2018, or nearly 20,000 tons a day. This compares to production of 5.9 million tons in 2017. An additional increase to 8 million tons is expected by 2020. The company exported oil to nine countries during 2018, including Norway, the United Kingdom, France, and the Netherlands.
While much attention has been directed at Novatek's ambitious Yamal LNG facility, VostokCoal's project to extract up to 30 million tons per year of high-quality coal from the Taybass basin on the Taymyr Peninsula by 2025, will soon become the largest growth factor of traffic on the route. Already next year the company expects to export ten million tons of coal, and recently signed a shipping contract with the Murmansk Shipping Company (MSCO). For this purpose the company will utilize ice-strengthened vessels, which can navigate the route year-round. For this purpose the port of Dikson in the Kara Sea will be expanded to handle up to 10 million tons of cargo.
Fewer restrictions means more shipping
Despite the decrease in ice-coverage across the Arctic Ocean, the need for specialized ice-class vessels represents a significant challenge and expense for companies doing business in the region. While navigation has become easier during the summer months, nuclear icebreakers are still routinely required to help break through the ice. The Russian Ministry of Transport recently proposed to reduce existing ice-class requirements. This would allow more vessels access to the route even during winter months with and without icebreaker escorts and compensate for a shortage in heavy ice-class cargo vessels.
While Russian authorities argue that ice conditions on the route no longer require the most stringent safety precautions and high ice-classes, experts caution that the waters remain challenging, especially during the winter months. "Winter operation is a whole different story and serious consideration needs to be made regarding any reduction of safety standards especially in light of incidents that have already occurred even when the more stringent standards were in operation. Even though the NSR is more ice free in summer, ice conditions and conditions generally remain incredibly challenging in winter," Simon Walmsley, Sr. Specialist Arctic Sustainable Development, for WWF's Arctic Programme, recently explained to HNN.
No more distinction between winter and summer
According to the draft legislation there will no longer be a distinction between the summer and winter navigation periods. Currently, the Rules of Navigation for the Northern Sea Route define two distinct periods, lasting from December through June and from July through November. Vessels with lower ice-classes were effectively barred from traveling on the route during the winter and spring even with icebreaker escorts.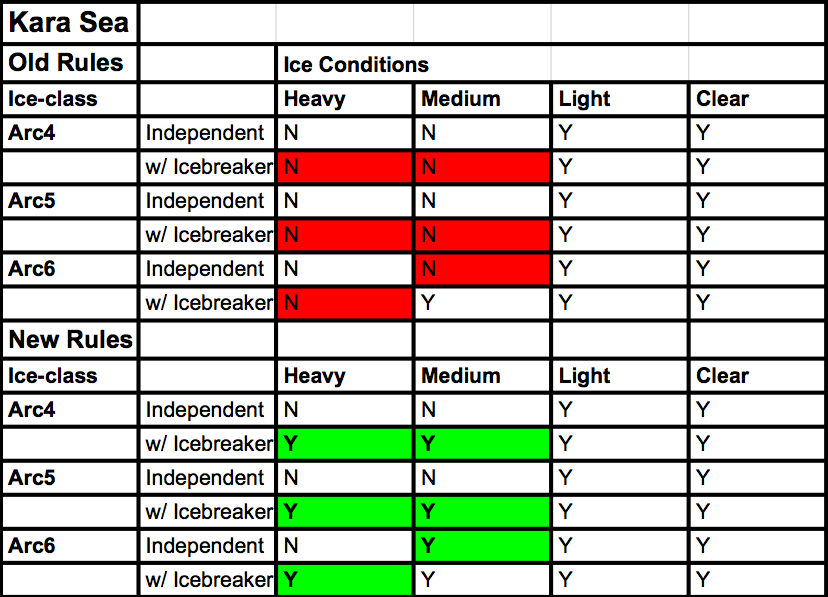 Under the proposed changes a single set of rules for vessels with Arc4-Arc9 ice-class applies allowing for navigation on the western part of the route even during heavy winter ice conditions with icebreaker escort. Specifically, light ice-class Arc4 and Arc5 vessels would be allowed to access the Kara Sea year round. This would represent a boon for Novatek, Gazprom, and VostokCoal, whose projects are all located in this part of the NSR.

Along with the changes in ice-class requirements Russian authorities also propose to divide the route into 28 distinct zones, rather than the current seven large regions. While the eastern parts of the NSR were off-limits for even heavy ice-class vessels, the new rules would enable Novatek to use its fleet of Arc7 LNG carriers year-round to ship towards Asia. This will become of increasing importance as the company begins to ship a growing share of its LNG to its contract partners in China.