NorlandiART – Vulnerable, Strong, Genuine and Lasting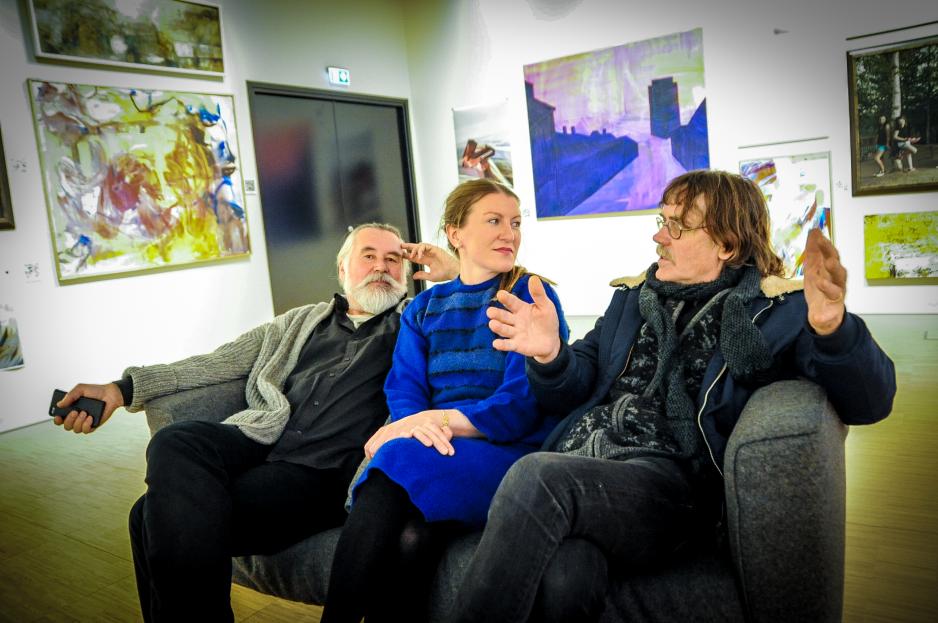 Shouldes must come down. Many layers permeate consciousness. Impressions, expressions. This room inside Stormen Library, Bodø (Norway) is filled with artistic journeys from Nordland County. – We share a tremendous driving force that leads us to communicate and create, says artist Are Andreassen of NordlandiART.

Shoulders must come down. Many layers permeate consciousness. Impressions, expressions. The exhibition room inside Stormen Library, Bodø (Norway) is filled with artistic journeys from Nordland County. – We share a tremendous driving force that leads us to communicate and create, says artist Are Andreassen of NordlandiART.
NorlanldiART is a unique art project telling stories from and about Nordland County as seen through artists' eyes. It all started with Andreassen getting colleagues from Nordland onboard a joint volunteer project where large parts of the county capital, Bodø, was re-created into a gigantic outdoor gallery.
- The people in this project are actually nomads with incredible networks. They have built up locations, have become important for local communities where they live, and they are very much involved with their local communities and often have breadwinner jobs in addition to their artistic work, Are says.
The artists are now presenting new works in Stormen Library, Bodø until 14 January, 2018. And there are many layers that need to penetrate one's consciousness when taking in the love of the High North. There is a wide range, untamed ideas, colours, black/white and wildness – perhaps on the border of madness, if you ask the artists.
- We are a diverse group, Hugo Aasjord says with a smile. He is based at Engeløya island in Steigen.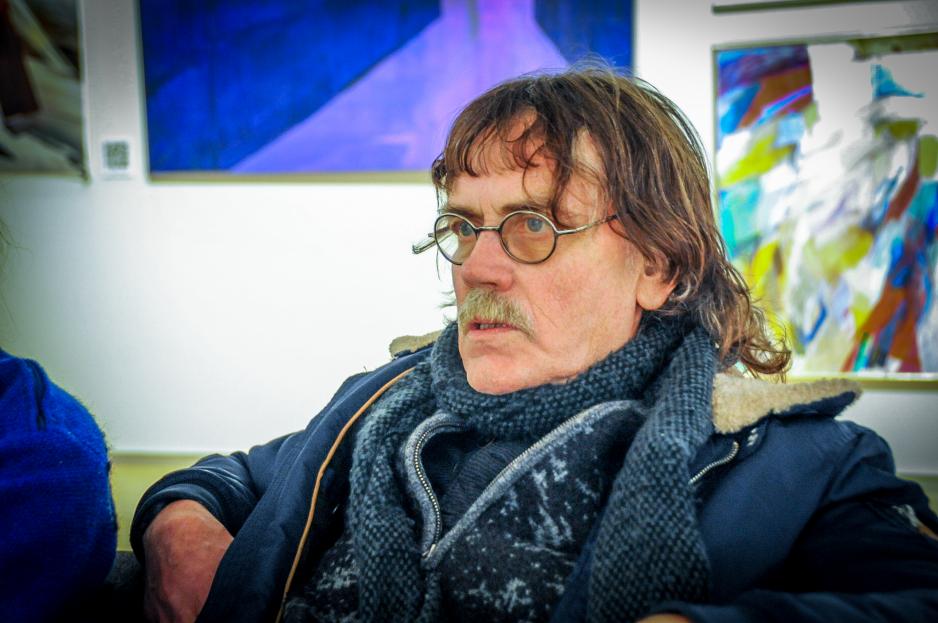 In each their communities
Most of the artists of the NorlandiART project left the High North to get their art education. Then they wanted to come home again, back to their roots, the weather, the wind and a familiar language. To the north.
- Most of us go abroad and then come home again. I myself studied in Berlin. And after the study period you are at times left very much on your own, Hugo says.
Being an artist in Northern Norway has its advantages and disadvantages. You spend a lot of time on your own, and long distances may represent an obstacle when it comes to meeting colleagues. Nevertheless, the light, the ocean and strong natural forces are a dear meeting point.
- Many believe that we meet often and spend time together, however, we are mostly on our own in our respective local communities. NorlandiART has become a meeting point. Our stories from the High North constitute the story itself, Are says.
The exhibition consists of stories of life; both about the artists themselves, about families, and also about the landscape, the storms, the mountains and the people.
- I am so curious about my colleagues. What is their story around settling down here, living here. I may never come to know the answers to many of the questions that I have, Are says while looking around in the room.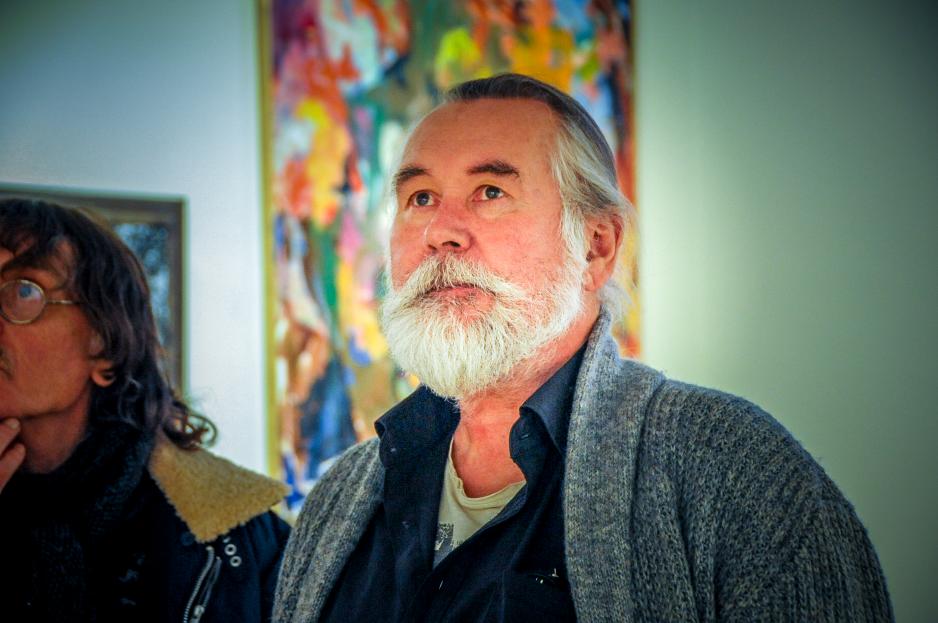 Good enough?
Hugo remembers the attitude towards artists from the time he went abroad. You could not live from creating art, could you?
- It is still like that. People do not understand, they almost expect you to paint houses. That is more tangible. I remember once asking a farmer if he would plow a field for me, a job that took him about two hours. When he finished, I asked him what he wanted for the job. "Well, you could always give me a picture", he said. A picture I had worked on for months in return for plowing a field. That is how it goes, Hugo says.
He laughs when remembering. Because it takes time. Painting requires energy. The problem is the ever-recurring doubt. Is what I create good enough? And the artists remember in detail the times when their own value was at stake. The times when their eyes and emotional radars were outwardly directed, when art felt fragile.
- I built a graphite workshop in Tromsø many years ago, during an actor strike. They were setting up an auction in support of the strike and asked me if I would donate an image. I remember I was quite annoyed. Paid actors wanted art for free. No wonder that doubts arise, the artists says.
- I remember working on a picture while living in Trondheim. I was sitting just across from Trondheim Shipyards. While I moved a red dot around, they split a ship in two, prolonged it by 10-20 metres and then reassembled it, Are says with a smile.


Expectations
Linn Aamo sits between the two, Are and Hugo, while they talk about expectations, about the process of life and about creating. She recognizes the ups and downs.
- Being an artist is a passion – a gift, for better or worse, she says.
She tells of when she went abroad to take her art education in Copenhagen, Bergen and Trondheim. About the hunger and search for satisfaction. About choosing a home and finding a base in life, about the joy of putting together old and new – often textiles made by her great-grandmother, together with hair – human hairs.
- Many of the people I studied with had attended culture academies, and already tasted an artistic education. I was perhaps all the more hungry. I had a big hunger for art and for creating and was probably artistically under-stimulated, Linn says.
She has been a strong force for Are in the process leading up to the exhibition in Stormen Library, Bodø, Norway. She has taken responsibility for placing the images in the room and at the same time also taken the danger out of the process, simply applying positivity.
- Putting up pictures is fun. But an exhibition also has its ups and downs. It is vulnerable.
We have moved towards a lage image. While she talks about the idea behind it, details appear that require time to understand. That is the nature of art – and taking it in brings deep satisfaction.
- Do you find using human hair appalling? Some might, Linn says with a smile.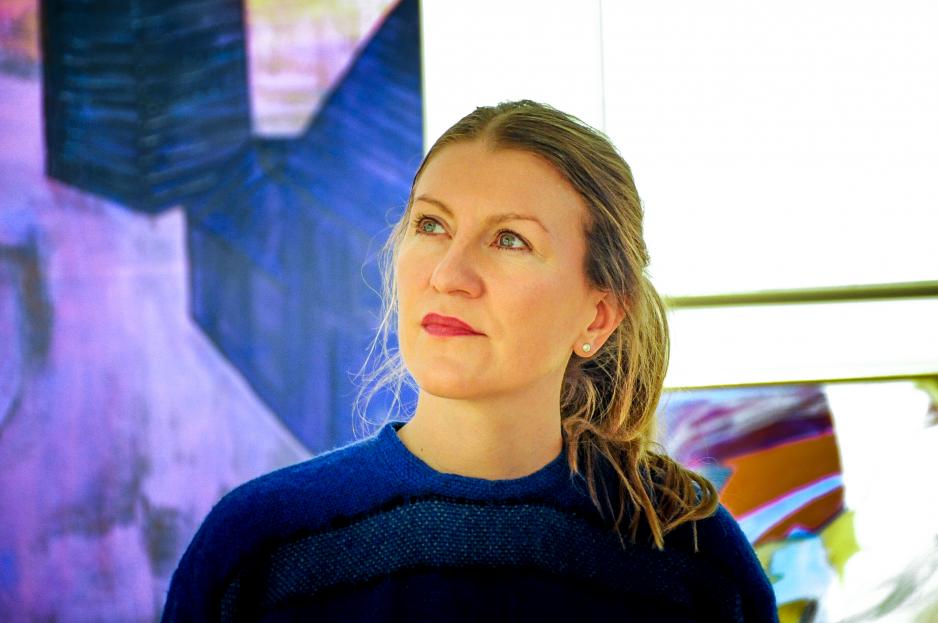 About living
For the weathered men, as well as for the woman in a clear blue dress, art is about life itself. What they share is restlessness, curiosity, joy, sorrow – and perhaps the occasional demons appearing.
- To me, art is about living. I had no choice. It is a strong passion, Are says.
- And once you've started, you cannot stop. It is impossible to jump off a moving merry-go-round, Hugo says.
There is always striving towards the ultimate, the optimal exhibition. And the merry-go-round takes its rounds, up and down. From utter joy to the deepest pit, on the verge of losing faith in fear of being found out, somehow.
- The problem once again is the big doubt. It can be horrific when it is at its worst. I feel that I do not know anything at all. "I tricked them again, they bought a picture". Shit, this is just nonsense, I will sometimes think, says Hugo.
Then there's the light, the ideas and energy. Everything changes; you hit the right wave, everything fits.
- Then I think "Shit, I'm a genious!" Hugo says with a laugh.
He has his ways of letting out steam. He smiles, gesticulates and appears invigorated.
- I spend a lot of time out at sea. It is about recharging the batteries in order to get into the creative bubble, he says.
- A white canvas is one of the scariest things there are, Are adds.


The process
In a sofa centered in the room, surrounded by North Norwegian stories, they discuss the process, the time that surrounds the road towards an artistic goal.
- I spend some time doing DIY, bought an old chapel in the Steigen district. I had a period during which I did some DIY, painted a bit and felt tremendous joy at varying between two different jobs. I was incredibly productive and it provided me with breaks from the various processes, Hugo says.
- That is how I work best too, Linn says.
You head gets a break, gets breathing space.
- I just cannot paint one picture day in, day out. Nor can I paint and then rest on a couch, Hugo says.
He and Are have been friends for years.
- Since we were young rascals and Hugo played in a band.
The period when the artist myths were ripe and the young, promising men were in an identity no-man's land, seeking, between the contrasts of the hippie era and the punk generation.
- It was a most peculiar time, Are says.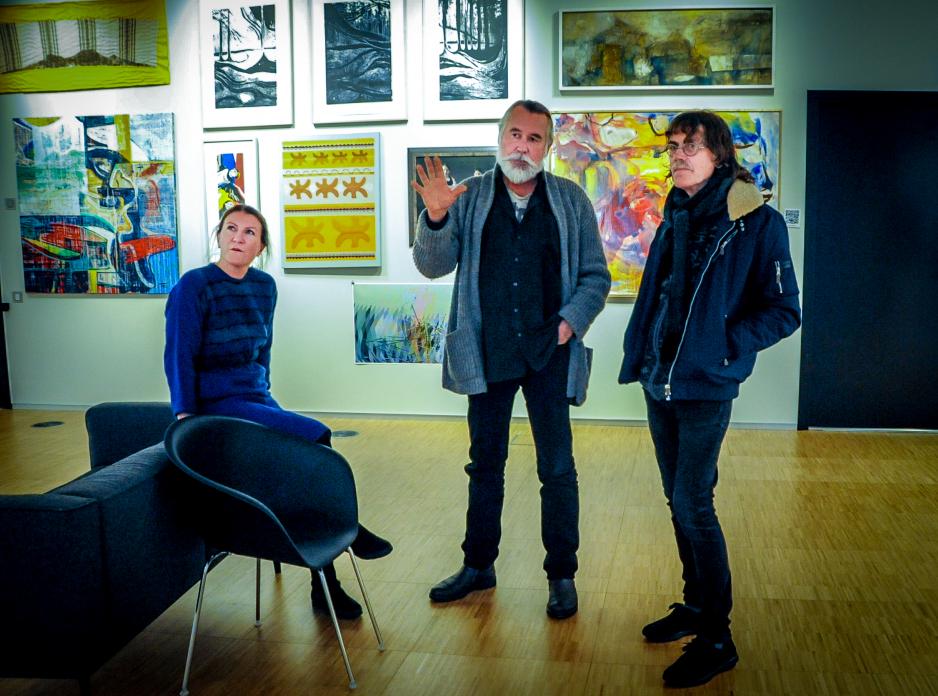 At the bottom of the sea
A few years passed, but did not last forever. After some time, Are met rock bottom. He was so far down that he had to get a grip; resurface, breathe, survive.
- My generation of artists were big drinkers, used drugs and there was overall a lot of rock'n'roll. I ended up right between two strong generations of artists; I was too young to be a hippie and too old to be a punker. The artist myths were, nevertheless, essential and out bohemian identity was strong. Many struggled with alcohol addiction, Are says.
He came to a point in life when he had to make a choice. If he were to keep alcohol in his life, he would never again be able to make pictures. He'd drown.
- Alcohol was very close for a very long time, however, I discovered after a while that it took everything, Are says.
He remembers his first year without alcohol. It was lonely and really hard, as there was alcohol everywhere.
- Then all of a sudden I became 16 again, I found joy, found concentration and was able to start up long-lasting projects again, Are says with a smile.
He still has his abysses, the ones he earlier tried drowning or flooding.
- Whenever I find myself in an abyss, I work from it and find energy there. I would never have been able to keep up the pressure with NorlandiART if I had had alcohol onboard, it just wouldn't have worked, he says.
He is grateful for having the opportunity to show so many wonderful people.
- It is a most including project, as we who are artists often live and work in our respective communities in the High North, with our rather strange projects, Are says in closing.




---
Contemporary artists involved:
Per Adde, Are Andreassen, Harald Bodøgaard, Kari Elisabeth Dahlmo, Grethe Irene Einarsen, Thor Erdahl, Karl Gustav Gjertsen, Kurt Edvin Blix Hansen, Yngve Henriksen, Rune Johansen, Lars Erik Karlsen, Tor Arne Losnedal, Martin Losvik, Ina Otzko, Johanne Seines Svendsen, Gunnar Tollefsen, Espen Tversland, Kajsa Zetterquist, Hugo Aasjord og Linn Rebekka Åmo.
In addition, NordlandiART still includes works from deceased artists too; Thorolf Holmboe, Oscar Bodøgaard, Kaare Espolin Johnson og Eilert Adelsteen Normann.






Les artikkelen på norsk