Tourists Climbs on Hot Lava in Iceland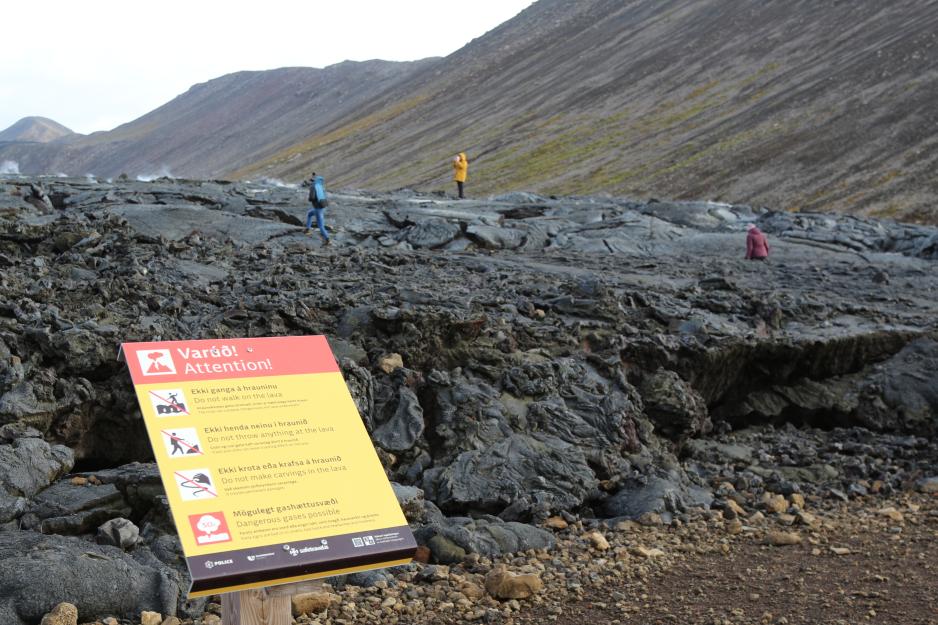 Tourists continue to step far onto the still-steaming lava at the foot of the Mount Fagradalsfjall eruption in Iceland. It is a accident waiting to happen.
Tourists continue to step far onto the still-steaming lava at the foot of the still fresh and steaming Fagradalsfjall eruption in the Reykjanes peninsula in Iceland.
This happend despite the signs and clear warning signs put up by the Icelandic authorities, and guards telling tourists to get to safety.
When High North News visited the area Wednesday, there were several tourist stepping onto the lava, and even throwing stones at it, apparantly to see if they could breach it.
Forbidden and dangerous
According to the Environmental Agency of Iceland, walking on the lava is forbidden and can be very dangerous. The top layer can easily break when stepped on, causing hazards to people.
HNN was there to cover the Icelandic presidents hike with the Crown Prince of Norway, Haakon. The amount of people on the lava caught the Crown Prince´s attention as well, asking the President if this is safe.
"That is a concern and it is not safe at all", replied President Guðni Thorlacius Jóhannesson, adding they fear a accident.
Under protection
On visit Reykjanes.is, tourists are warned againt approaching the fresh lava. Not only for the obvious reason of falling through, but also because the gas steaming from the lava is toxic.
Falling into a lava tube that's still several hundred degrees Celcius can lead to injuries. 
The lava at Fagradalsfjall Volcano is also a unique geological monument that must be respected and protected. The authorities states that it is important for visitors to leave no traces such as throwing stones at the lava or making inscriptions on it.
Lavas are under special protection according to art. 61 of the Nature Conservation Act. One of the biggest risks of walking on new lava is breaking the top layer over an unknown lava tube.
The last eruption in the area was in August.