Nordic Defense Cooperation:

Norway, Finland, and Sweden Increase Focus on the High North as Joint Operational Area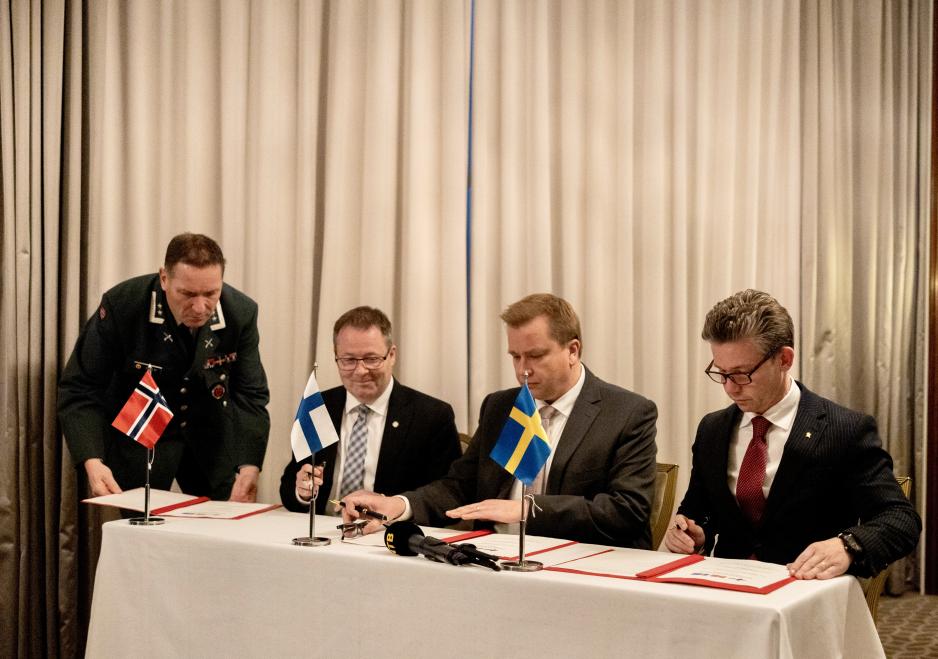 Norway, Finland, and Sweden has entered into an updated defense cooperation agreement with a focus on the High North. "With this update, we can coordinate military operations as if they are NATO members," says the Norwegian Minister of Defense.
In light of the current security situation, the Ministers of Defense of Norway, Finland, and Sweden are determined to take action to strengthen their countries' joint ability to carry out military operations.
This was stated in the new Letter of Intent about increased operational cooperation from this Tuesday, which emphasizes the Northern parts of the three countries (known as the Cap of the North or the High North). It was announced before the weekend and is an update of an agreement between the three from 2020.
"Finnish and Swedish NATO membership provide new opportunities for cooperation which can strengthen the security of our three countries. With this update, we can coordinate military operations in crisis and conflict as if Finland and Sweden are NATO members. This is an important step in our Nordic cooperation," says Norwegian Minister of Defense Bjørn Arild Gram (Center) in a press release.
Builds further on shared experiences
Overall, the new agreement aims to strengthen joint operational planning with a specific focus on the Cap of the North, as well as further developing the Armed Forces' ability to cooperate.
This work will build on experiences from exercises where these forces have cooperated. 
Examples that are mentioned are the joint exercise series Arctic Challenge Exercise (for air forces; last held in 2021, planned for June 2023), the Norwegian-led exercise series Cold Response (all branches of defense; last held this winter), as well as NATO's exercise series Trident Juncture (also all branches of defense), which Norway was the host nation for in 2018.
This will serve as a deterrent against aggression
Must be ready for cooperation
"We will make the necessary preparations to enhance our defence capability, interoperability, readiness and ability to provide military support among the participants. This will serve as a deterrent against aggression," state the ministers of defense in the new agreement.
A joint ambition is for Norwegian, Swedish, and Finnish forces to be able to carry out operations together if such are decided upon. Any military action will be subject to separate national political decision-making processes, it is specified.
Specific measures the cooperation agreement encourage:
1. Carry out scenario-based discussions and exercises based on requirements in current operations planning and joint security concerns in the region.
2. Discuss relevant national operational plans in regard to areas of common interest.
3. Carry out joint operational planning for areas of common interest, especially in northern parts of Finland, Norway, and Sweden.
4. Make preparations to be able to carry out combined or coordinated military operations.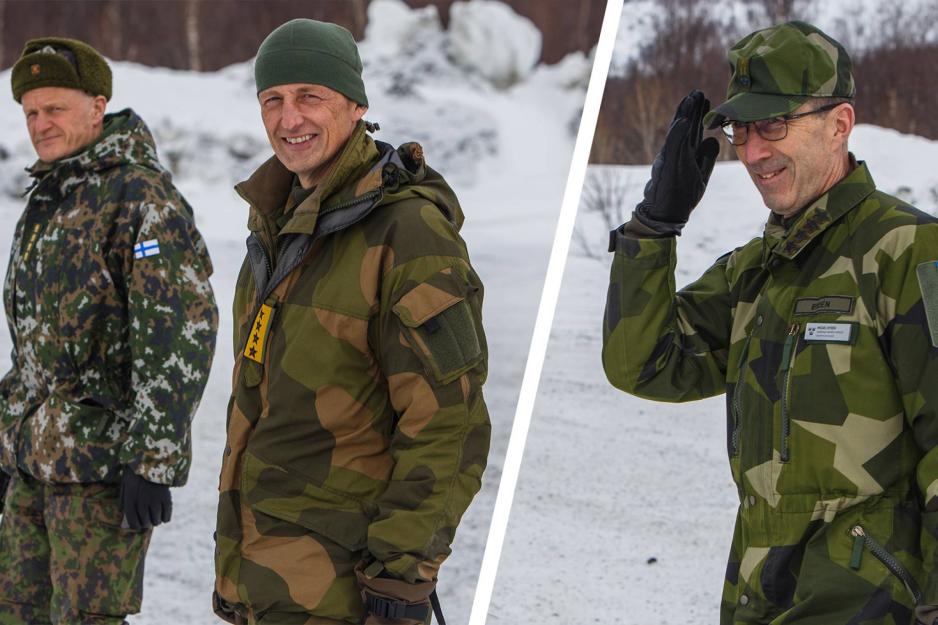 Framework
This trilateral defense cooperation can, as soon as Finland and Sweden have become members of NATO, be further strengthened, it is pointed out in the agreement.
In practical terms, a policy steering group with representatives from the three countries' defense departments guides the cooperation. The countries' armed forces have also established a military coordination group, which reports yearly to the steering group.
The new agreement (just like the 2020 edition) is entered into within NORDEFCO, the framework for Nordic military cooperation. This includes Denmark and Iceland.
The Danes and the Icelanders will be kept in the loop with regular information as the Norwegian-Finnish-Swedish cooperation progresses.
This interaction will also be in line with the larger cooperation in NORDEFCO as well as with Norway, Sweden, and Denmark's cooperation on strengthened operational planning in regard to Southern Scandinavia. 
The overarching aim of NORDEFCO is to strengthen the countries' national defenses, explore possibilities for positive synergies, as well as facilitating cost-effective joint solutions.
 Russia's brutal war in Ukraine has shown us that peace must never be taken for granted.
Wants to update NORDEFCO's vision
This Tuesday also included, in addition to the signing of the cooperation agreement, a meeting within NORDEFCO. The Nordic ministers of defense and other representatives were gathered in Oslo to discuss the Ukraine war and the serious security situation in Europe, writes the Norwegian Ministry of Defense in a press release.
The further development of Nordic defense cooperation was naturally also on the agenda, as seen in connection with Finland and Sweden's imminent joining of NATO. 
"Russia's brutal war in Ukraine has shown us that peace must never be taken for granted. We need to stay the course and maintain and increase our support for Ukraine as they defend their freedom. Their cause is our cause. We will not let Russia's nuclear rhetoric or aggressive actions deter our support to Ukraine," said the defense ministers in a joint statement.
"Today we have also discussed the future of Nordic defense cooperation in light of Finland and Sweden's application to join NATO. Finnish and Swedish NATO membership will strengthen Nordic defense cooperation and benefit the security of the whole Alliance. As all the Nordic countries will be allies, we have decided to update the NORDEFCO Vision to reflect this new strategic reality."
We will not let Russia's nuclear rhetoric or aggressive actions deter our support to Ukraine
High North focus in the Northern Group
In Oslo, there was another security and defense policy meeting on Wednesday – this time in the Northern European cooperation forum Northern Group. The forum consists of the Nordic and Baltic countries, as well as Great Britain, Poland, Germany, and the Netherlands. 
That these meetings are held in Norway is in connection with the Norwegian chairmanship in both formats. However, Norway gave the chairmanship to Sweden at Tuesday's gathering.
On the agenda for the Northern Group meeting were, among other things, the security policy development in the High North, securing important infrastructure in Northern Europe, and support for Ukraine.
In connection with this meeting, Norway and Great Britain's ministers of defense held a press conference on the British aircraft carrier HMS Queen Elizabeth, which has docked in the Norwegian capital recently.
This article was originally published in Norwegian and has been translated by Birgitte Annie Molid Martinussen.