Russia Is Acting Irresponsibly in Northern Europe, say Nordic Defense Ministers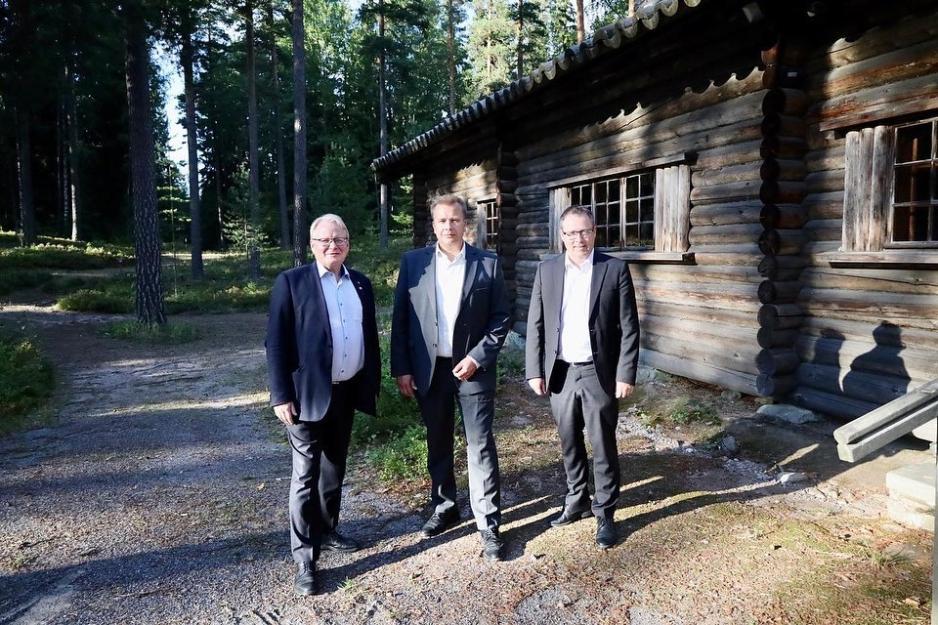 "The increased military presence and activity in northern Europe underlines the importance of avoiding incidents. At several occasions, we have seen irresponsible and unprofessional Russian behavior," said Finland's, Norway's, and Sweden's Minister of Defense in a joint statement.
On Thursday, Finland's Defense Minister Antti Kaikkonen greeted his Norwegian and Swedish colleagues Bjørn Arild Gram and Peter Hultqvist in Helsinki for a meeting and bilateral discussions. 
The topic for the trilateral meeting was the security situation in the neighboring areas and defense cooperation, including strengthening of the defense of joint areas such as the North Calotte.
The meeting comes in connection with the Nordic prime minister meeting in Oslo earlier this month. The Nordic defense ministers and chiefs of defense were then given a mandate to review the potential for deepening the cooperation on defense and security even further.
In the wake of Russia's invasion of Ukraine and a heightened security situation in Northern Europe, being prepared to cooperate in peace, crisis, and conflict is central. That is emphasized in a joint statement from the defense minister's meeting.
The danger of unintended escalation 
The increased military presence and activity in northern Europe underlines the importance of avoiding incidents. At several occasions, we have seen irresponsible and unprofessional Russian behaviour," continue the ministers of defense in the statement.
The ministers presumably refer to the increased military activity on both the Western and the Russian sides in Europe, and the importance of avoiding misunderstandings and accidents. 
The description of Russian behaviour in the Northern European context seemingly alludes to, among other things, incidents where Russian military aircraft have violated Danish, Swedish and Finnish air space this spring.
"Russia has been conducting war planning on Swedish territory for a long time," said Hultqvist recently to Aftonbladet, in connection with recognition of "active Russian espionage".
Planning of operations
"The North Calotte and adjacent areas are of strategic importance to the defense of our countries in the event of a crisis or war. Enhanced cooperation between our countries is therefore of utmost importance. Through increased cooperation we can achieve a more efficient defense of our countries. One of our major objectives is to coordinate and develop military operations planning between Finland, Sweden and Norway," continue the ministers of defence. 
In 2020, the three countries entered into an agreement on strengtened coordination of military operations in crisis and conflict. Among other things, the agreement entails forming a joint military understanding of the situation in the North Calotte.
During the meeting, the ministers of defense discussed how this specific cooperation has developed, and came to a positive status report:
"Our trilateral initiative facilitates such an enhanced cooperation. We can engage in preparing and conducting operations in the event of a crisis or conflict. We can take common responsibility and create prerequisites for, e.g., the protection of lines of communication as well as security of supply."
"The international cooperation which we have successfully carried out in recent years has generated a plethora of experiences and developments which we now can build on," Hultqvist emphasized in a press release.
Bilateral conversations
One-on-one, Kaikkonen and Gram discussed Finland's and Sweden's NATO application processes, as well as the acquisition of the F-35 fighter jets, and materiel and industrial cooperation.
The Finnish defence minister also discussed the application process and bilateral defense cooperation with his Swedish colleague Hultqvist.
"Sweden and Norway are very close partners, and it is natural to discuss the change in our security environment with them. Finland and Sweden's upcoming membership in NATO opens up new opportunities to deepen relations between the Nordic countries. It is very important that we stick together in these unpredictable times - this creates stability in Northern Europe," says Finland's Minister of Defense Kaikkonen in a press release.
This article was originally published in Norwegian and has been translated by Birgitte Annie Molid Martinussen.