Head of Visit Iceland: Thanks the Government for the Survival of Tourism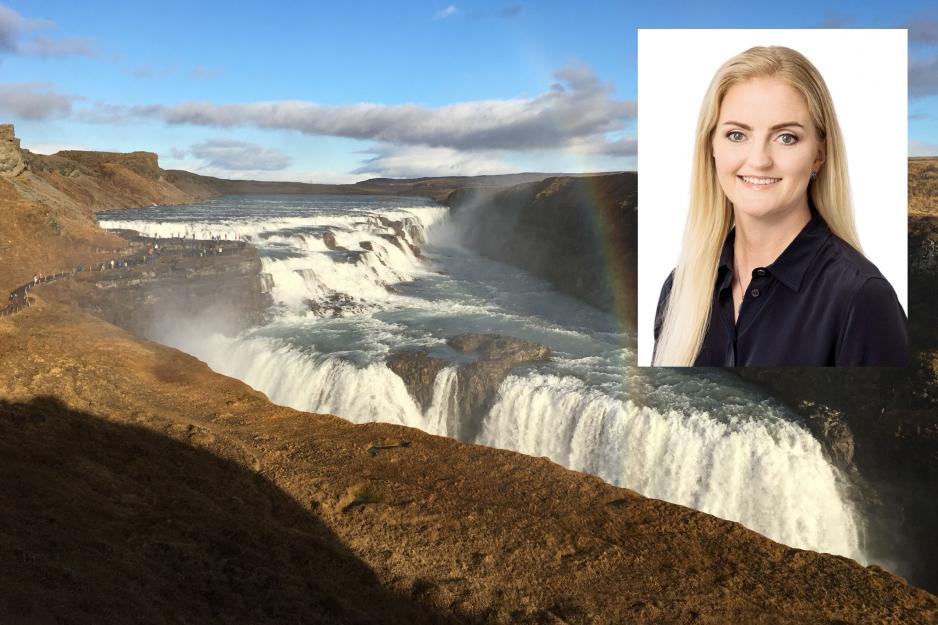 "We have had a somewhat normal life despite the pandemic. There was never a complete lockdown or total restrictions and closed borders", says Head of Visit Iceland Sigrídur Dogg Gudmundsdottir about how Iceland has handled the pandemic.
Head of Visit Iceland Sigridur Dogg Gudmundsdottir is pleased with how the Government in Iceland has handled the pandemic so far.
"The Government made sure that everybody in Iceland was protected, as well as managing the borders in a way that allowed visitors", she says.
"We have had a somewhat normal life despite the pandemic. There was never a complete lockdown or total restrictions and closed borders".
A game-changer
The Head of Tourism believes this was made possible because Iceland early offered Covid-testing on arrival.
"There are, of course, restrictions and unvaccinated people have to bring a negative test and get tested on arrival. But that offer was a game-changer for tourism in Iceland during the pandemic", Gudmundsdottir says.
In a January survey, 92 percent of tourist businesses expected to survive the pandemic.
As unvaccinated people could travel safely to the saga island, American tourists started to book their holidays again.
"People heard that Iceland was safe to travel to, as over 90 percent of the population are vaccinated, and we offer Covid vaccines from the age of 16 and up. There is a positive attitude towards vaccines in Iceland".
Picking up
"How would you say the pandemic have affected tourism in Iceland overall?"
"Well, the cruise traffic is not back to normal and bookings are not anywhere near the 2019-numbers. But bookings are picking up", says Gudmundsdottir.
Being an island, domestic travel is limited, and the population is only 350,000.
No bankrupcies
"Did businesses have to close due to lack of income?"
"Luckily, no. In a survey from January, 92 percent of tourist businesses expected to survive the pandemic. And because of no bankruptcies, businesses were ready to handle the bookings as they picked up. They could respond quickly".
However, she admits that things were indeed looking grim going into the unknown last winter.
"It was difficult to predict the impact the pandemic would have on the tourist industry. Bankrupcies would have had taken a huge hit on the economy, as the income from tourism helps maintain local service and roads", says Gudmundsdottir.
Visitors took a dive
To put things in perspective, about two million visitors traveled to Iceland I 2019. In 2020, that number took a dive to less than 500,000. Now, thanks to vaccines and a sensible corona strategy, bookings are coming in as we speak.
"We expect between 900,000 and one million visitors this year, even with the Delta variant of the Corona virus, as the vaccination rate is high, " the Head of Visit Iceland says in closing.
Greenland took a hit
In Greenland, the tourist industry took a serious hit and suffered a decrease in visitors of 70 percent last summer. This caused the Greenlandic self-rule goverment to launch a number of much -needed aid packages.
And not only local tourist operators are affected when tourists do not come to Greenland. The museums also notice that there is more time between the visitors.
Greenland's museums reports of large losses as the cruise traffic stopped due to the pandemic.
"This has consequences for the preservation and dissemination of Greenland's cultural heritage", Daniel Thorleifsen, Director of the Greenland National Museum and Archive in Nuuk, said to KNR.
"Last summer, we had around 70 percent fewer paying guests during the summer period, and that means that we have lost income of between DKK 500,000 and 1 million", he says.
Decreased by 50 percent
Tghe Qaqortoq Museum has also noticed that tourists are absent. According to the museum, up to 46,000 cruise tourists should have arrived in the city last year. However, that was stopped by Corona.
"Even though we are experiencing more local visitors, the number of guests has decreased by more than 50 percent. It naturally hits the economy hard, said Museum Director at Qaqortoq Museum Dan Ullerup to KNR.
At the National Museum in Nuuk, the economy is tight too.
With current infection control regulations, cruise ships are not allowed to call at a Greenlandic port if they have added another port within two weeks before arrival in Greenland. In practice, this means that the ships must be in isolation at sea 14 days before they arrive in Greenland - which makes it difficult to implement.
You also need to be vaccinated before going to a restaurant, pub, or attending a public event or sports in Greenland.