Finland Wants to Break the Ice – For Everyone, Everywhere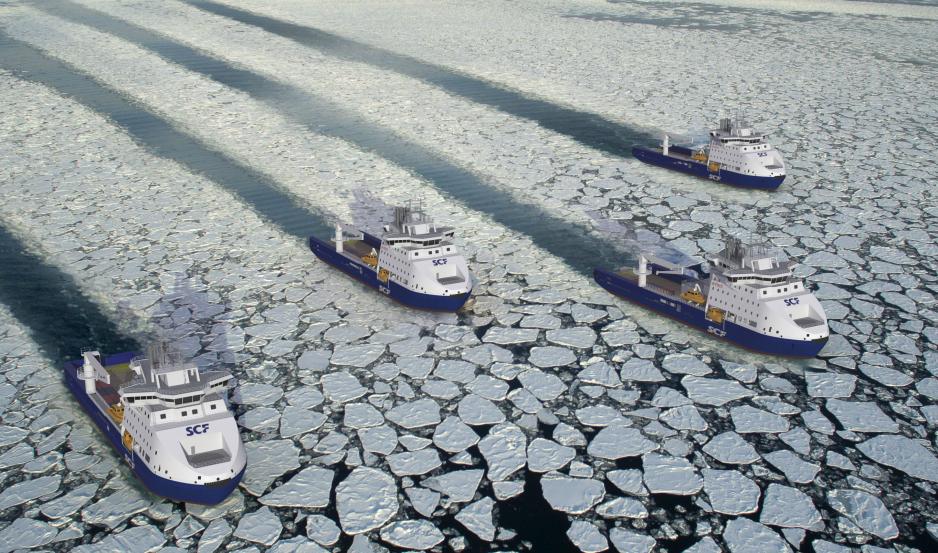 Finland is famous for its sauna, sisu, skijumping and javelin throwing – amongst others. Finland is also the definitive world champion of icebreaking.

Finland is famous for its sauna, sisu, skijumping and javelin throwing – amongst others. Finland is also the definitive world champion of icebreaking.
In 2016, Norwegian Agnete Johnsen sang 'Icebreaker' in the Norwegian contribution to the Eurovision Song Contest. There was no mistaking the chorus line:
I'll be your icebreaker
When you're stuck in frozen water
(when you're stuck in )
Frozen water

Should have been Finnish
Strictly speaking, however, it should have been a Finnish contribution – because the world's obvious world champion in icebreaking is Finland. Where Agnete Johnsen sings about her willingness to be an icebreaker, Finland proclaims that it would love to build such vessels. They have been building icebreakers since 1890.
I'll build your icebreaker…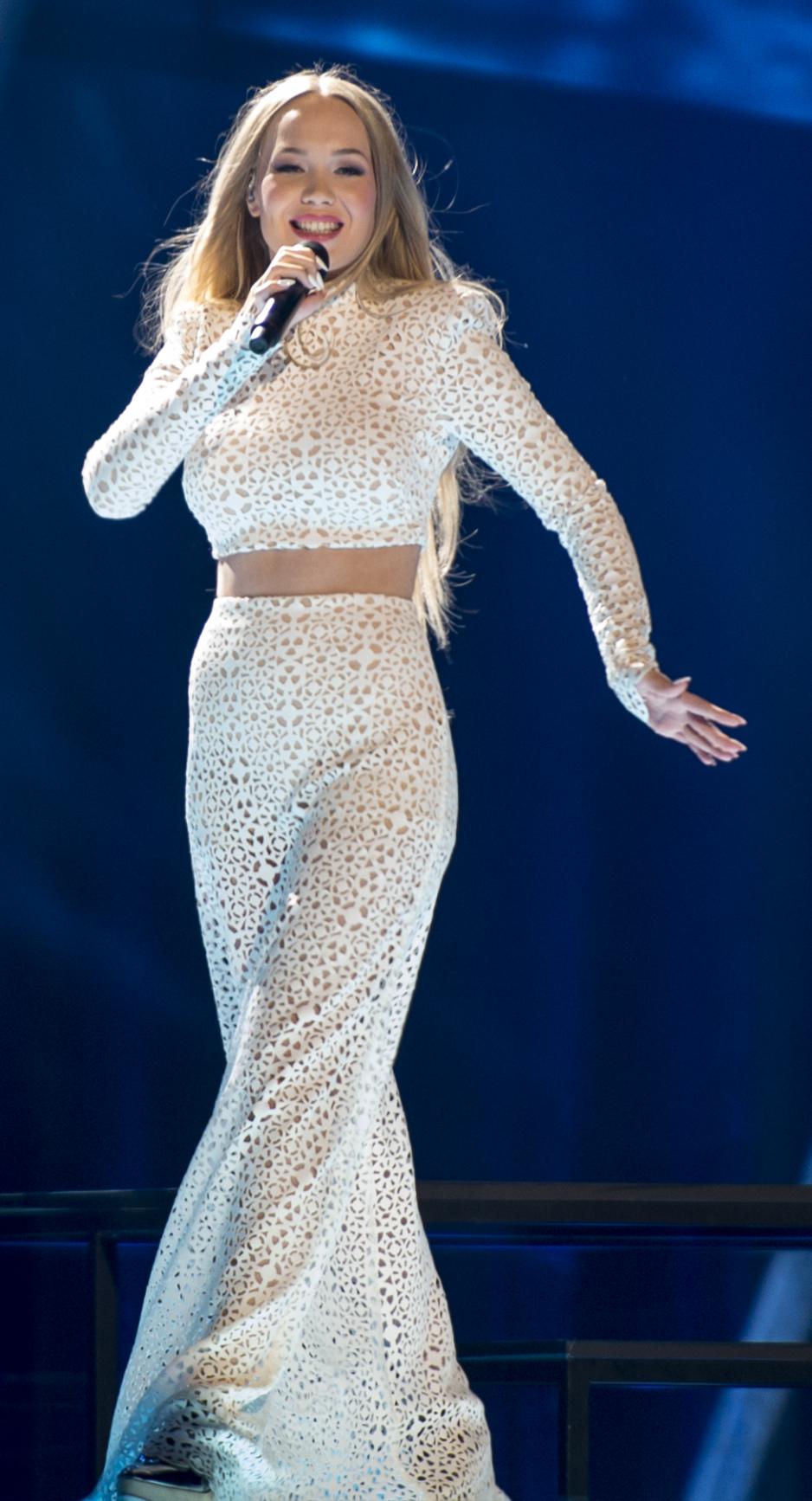 About two thirds of the world's total of 120 icebreakers have been designed and/or built in part or fully in Finland.

Icebreaker to South Africa
With increasing interest in Arctic shipping, polar ice melting and an increasing number of voyages through the Northwest as well as the Northeast Passage, the Finns are actively promoting their knowledge and technology for operations in ice-covered waters.
The dominant icebreaker nation has even delivered icebreaker vessels to Argentina, Australia and South Africa.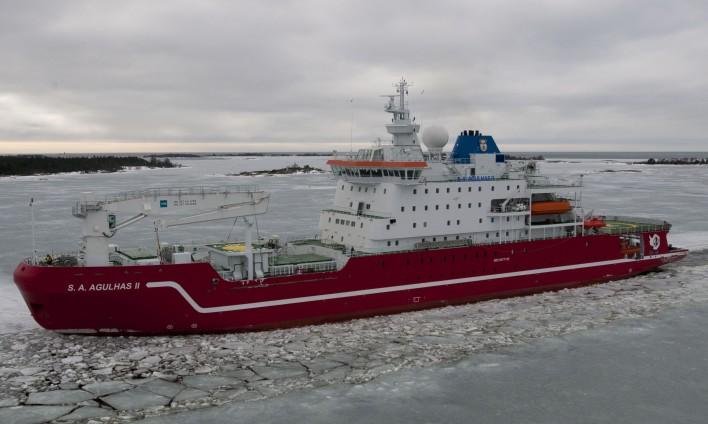 Finland is a pragmatic country. Its biggest icebreaker customer is Russia. Finland has supplied her with all kinds and sizes of icebreaking vessels; nuclear fueled vessels, large icebreakers, smaller icebreakers and ice-going research vessels.
As for nuclear fueled vessels, the Russians install their onboard power plant themselves, while the hulls and various equipment are supplied by Finnish dockyards.

First running on LNG
Finland has also supplied Canada, the USA, Sweden, Estonia, Germany, the Ukraine, Chine, Japan and South Korea, as well as itself, of course. Finland currently has nine different icebreakers operating.
The last one of these is the "Polaris"; 110 metres long and the world's first LNG fueled icebreaker, delivered from the Arctech Helsinki Shipyard in 2016.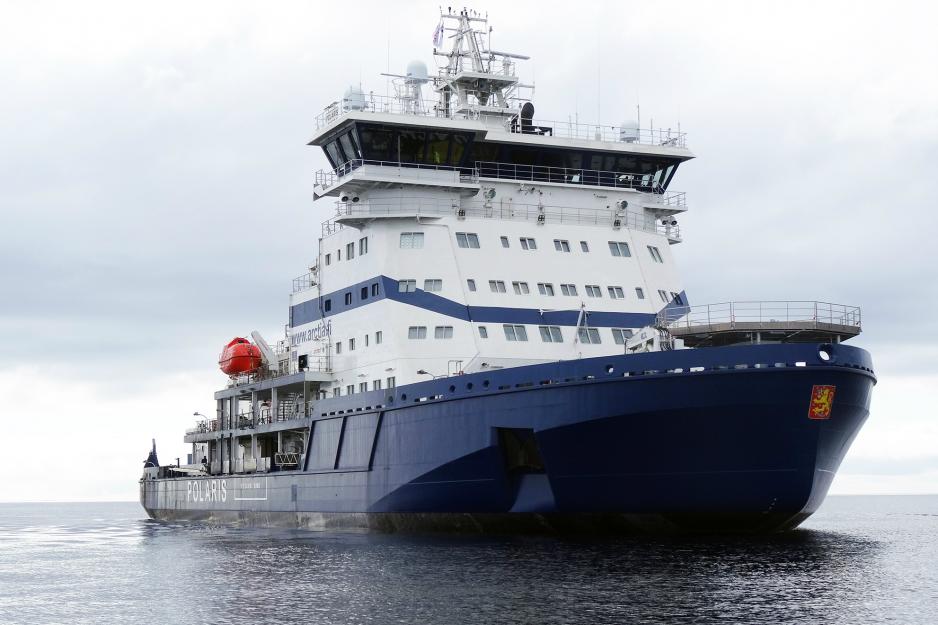 One billion USD
Icebreakers for the US Coastguard cannot, for military and security – and probably protectionist – reasons be built outside the US' borders.
Nevertheless, the Finns are scratching their heads over the fact that the US Coastguard has allocated one billion – a thousand million – USD on its budget to the construction of a new icebreaker to be used in the Arctic.
The said "Polaris" vessel, probably the most modern icebreaker in the world, by comparison cost USD 150 million, only 15 percent of that amount. Even when allowing for some advanced military equipment, the price difference remains a mystery for Finns who are eager to construct more.

May become sub-supplier
Nevertheless, the icebreaker operator Arctia is trying to get in on equipment supply contracts for the US Coastguard, with the assistance of Aker Arctic design company as well as other partners.
Sub-suppliers may account for up to 49 percent of the total costs, according to the same legislation.
Arctia operates one of the world's largest icebreaker fleets with its nine vessels. The company also offers expertise to others who may need it, be it icebreaking or more general ice management in both polar as well as sub-polar areas.
The company has assisted operations through both the Northeast as well as the Northwest passage, around Greenland and in other Arctic areas, not to mention that Arctia has contributed to many a nation's polar research voyages throughout the years.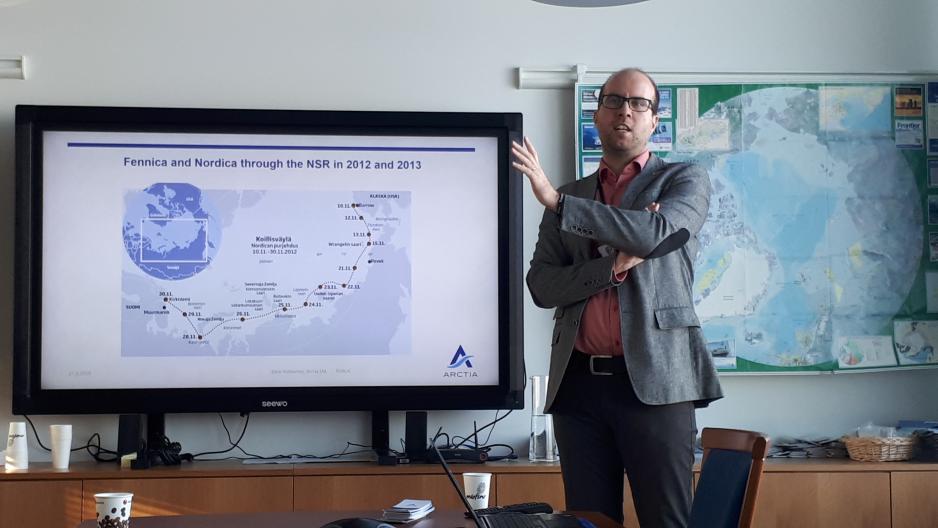 Wants to cooperate with other countries
Eero Hokkanen, Communications Manager of Arctia, says to High North News that the company is trying to maximize the use of its icebreakers.
- Our icebreakers in the Baltic Sea, the Gulf of Bothnia and the Gulf of Finland are not in operations more than 30 to 40 percent of the year, mainly in the coldest winter season. Sharing icebreaker capacity with other nations can improve operational efficiency and bring down operating costs for both Finland and potential cooperating countries.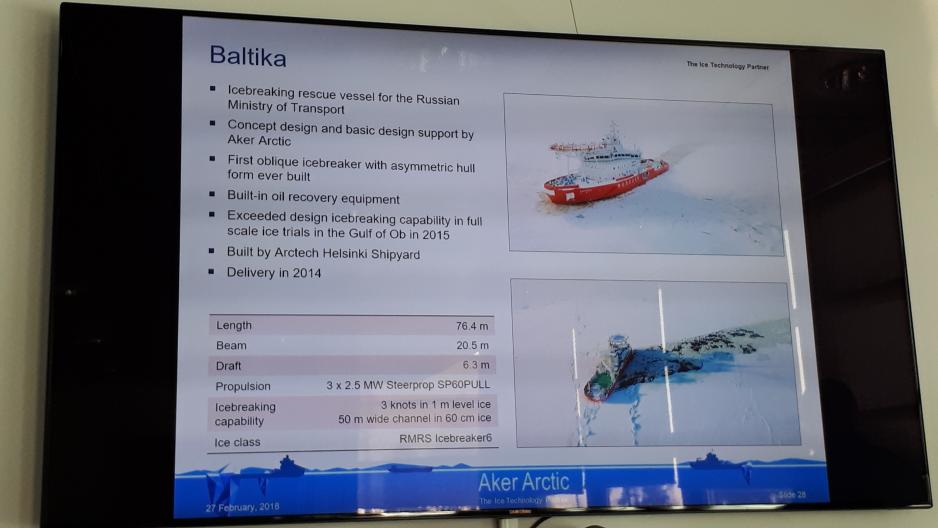 Asymmetric hull
The Baltica icebreaker is built for the Russian transportation authorities. The overall share of traffic along the  Northern Sea Route is domestic Russian traffic, often from one estuary to another. Rivers are a key route for transportation in northern Russia.
The Baltica is constructed with an asymmetric hull, developed and designed by Aker Arctic. The shape of the hull and the fact that the vessel can move nearly diagonally across the direction of speed, which allows it to open up a path that can be up to 50 meters broad at a speed of 3 knops.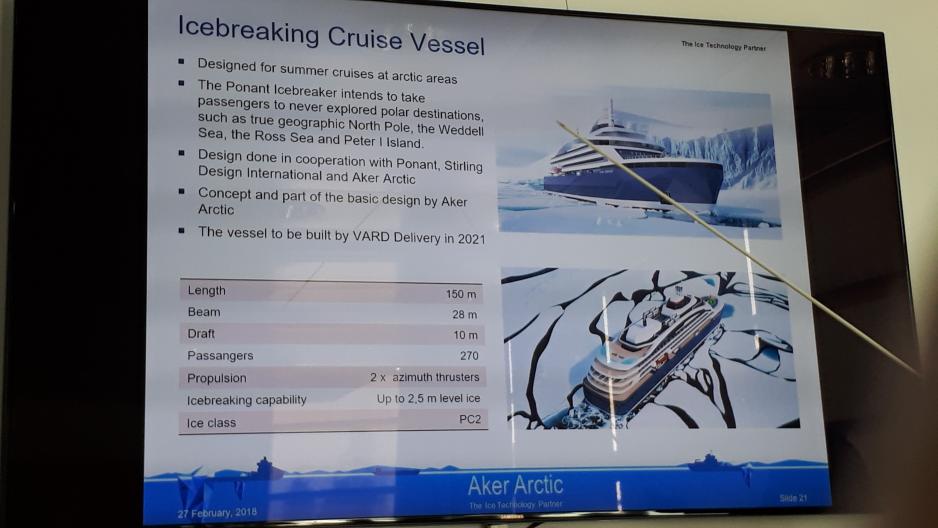 Icebreaking cruise ship
By 2021, an ice-going cruise ship built by Vard for the French cruise company Ponant is set to launch by 2021. The concept for this cruise ship, which holds ice class PC2, was created by Aker Arctic, which also holds much of the design job together with Ponant and Sterling Design International.
The idea is to organize cruises to the North Pole, to the Weddell Sea (the Antarctic Sea, between Queen Maud's Land and the Antarctic Peninsula), Peter I's island (the Antarctic Sea, 450 km off the Antarctic continent) and the Ross Sea (the Antarctic Sea, between Victoria Land and Marie Byrd Land).
The ship totals 150 meters long and shall be able to manage ice as thick as 2.5 meters.

Realistic tests
Ice thickness and classification of icbreakers is a chapter of its own, and they are hard to agree on in an international context. A presentation from Professor Claud Daley at Memorial University, St. Johns, Canada shows the complexity of the existing classification systems.
Nevertheless, realistic tests are an important part of the development of new icebreakers. Much of the testing takes place in specially designed model tanks. One of these is located at Aker Arctic in Helsinki; an indoor pool where one can test a.o. hull shapes, progress, maneuvering capacity etc in various ice densities.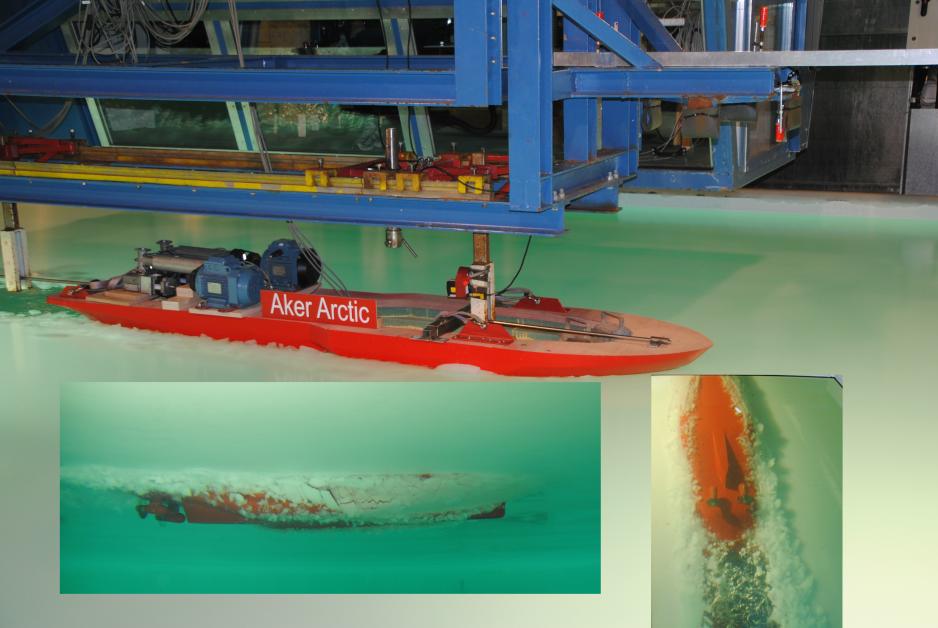 When you're stuck
When the Finns say I'll build your icebreaker, they are serious – whether the customer is Russia, the USA or China, or any other country needing or wanting an ice-going vessel.
When you're stuck in frozen water – Finland will always be willing to help you out.