Ambassadors' panel with seven countries met in Bodø:

- We do not consider Russia a threat, we consider it a concern.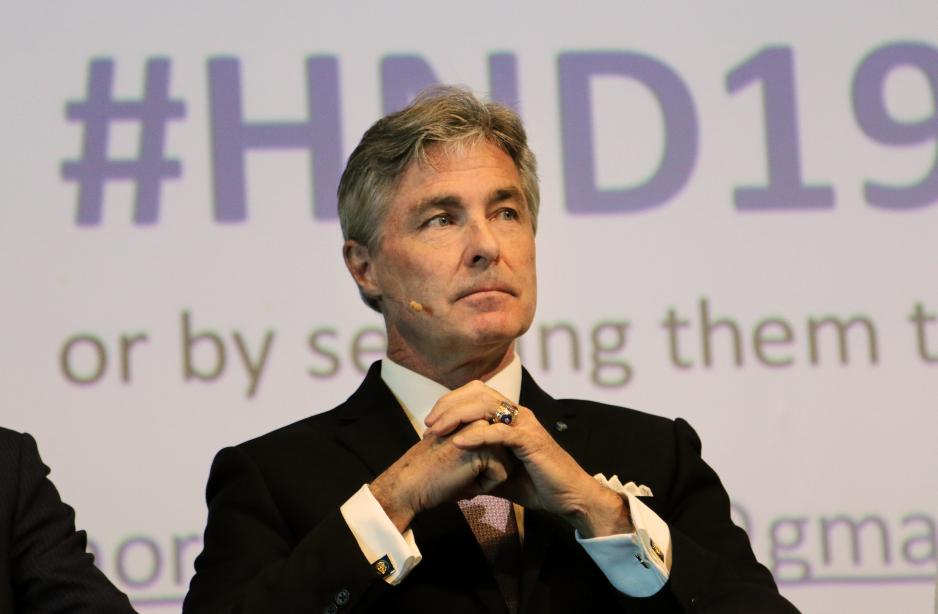 - Our presence in the Arctic is important to keep the region conflict free. Because without stability in the Arctic, development opportunities will come to a halt, says the US' Ambassador to Norway.
Kenneth J. Braithwaite, the US Ambassador to Norway, has just arrived from Svalbard and said he has spent a lot of time over the past few years traveling around in the Arctic in order to "understand" the region.
- The USA is often not considered an Arctic state, though since we bought Alaska from Russia in 1867 we actually are. And with that, we also hold a responsibility for preserving and developing the region, whether we like it or not, he said.
Braithwaite further stated that:
- Our presence in the Arctic is important to keep the region conflict free. Because withouth stability in the Arctic, development opportunities come to a halt.
Differences and similarities
Kenneth Macartney, Chargé d'Affaires at the Canadian embassy in Norway, started by pointing out that the Canadian Arctic is different from its Nordic counterparts.
- Some 120,000-130,000 people live in the Canadian Arctic. That is about as many people as the population of Bodø and Tromsø combined, spread out in an area geographically the size of the EU, he said, adding that about half of these are indigenous people.
- Preserving the inuit is thus very important to us.
He recognised that even though there are significant challenges between the Arctic states, there are also similarities – such as e.g. the climate changes.
No threat, but a concern
The panel debate was moderated by High North News Editor Arne O. Holm, who raised the issue of the increasing militarisation that many claim to observe between the USA and Russia.
- You will not make me sit here on stage here and say something that may cause conflict or tensions, said Kenneth J. Braithwaite, the US Ambassador to Norway, and continued:
- We do not perceive Russia as a threat, but as a concern.
Besides State Secretary Audun Halvorsen of the Norwegian MFA, ambassadors from Sweden, Finland, the USA and Russia constituted the panel together with the Chargé d'Affaires from the Canadian Embassy in Norway as well as the EU's Ambassador at Large.
Each of them got five minutes to address the audience prior to the debate.
- This is our home
State Secretary Audun Halvorsen of the Norwegian MFA said that in order to understand Norwegian Arctic policy, it is important to realize that the Arctic is "home" to Norway.
- Ten percent of our population live in the High North and that is why these areas are important for Norwegian politics. A new High North whitepaper is just around the corner, he said.
Halvorsen further reiterated much of what prime minister Erna Solberg touched upon in her speech when opening the High North Dialogue conference on Wednesday.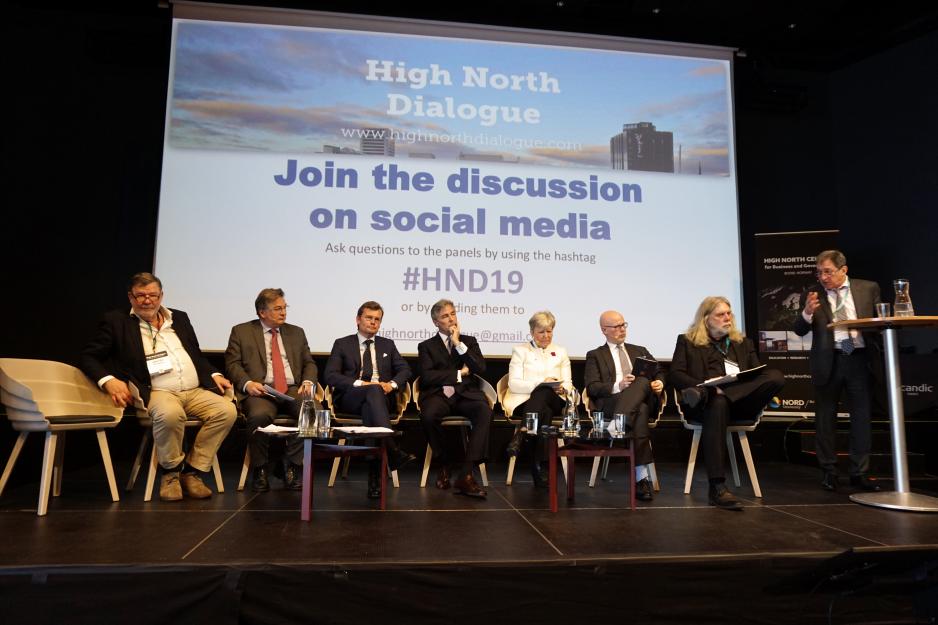 The EU is very engaged
Marie-Anne Coninsx, the EU's Ambassador at Large for the Arctic, introduced her remarks by stressing that the EU is very much involved in the Arctic.
She mentioned three main pillars for the EU's Arctic Policy: 1) Fighting climate change and protecting the nature; 2) Sustainable development in and around the Arctic region; and 3) Strengthening international cooperation.
- I spend a lot of my time to explain to outsiders that the Arctic is more than polar bears on an ice flake. People live here and do business here. And the EU will keep supporting local enterprises in the High North that develop their business idea based on sustainable solutions, she said.
Even more cooperation
Mikael Antell, Finland's Ambassador to Norway, focused on Finland's presidency of the Arctic Council, which is nearing the end.
- We have achieved meteorological cooperation and also technology investments that will be important in monitoring climate changes. We also have a project in which we have tried to reduce carbon emissions in Arctic countries, he said.
Antell further pointed out that connectivity is crucial for economic growth, both in and outside the Arctic. He further said that Finland hopes for further cooperation with the Arctic Economic Forum.
The Ambassador closed by pointing towards the Ministerial Meeting of the Arctic Council in Rovaniemi in May, where the Finnish presidency will be evaluated while one also looks forward towards Iceland's chairmanship.
- Finally
- Finally we can focus on business, Russian Ambassador to Norway, Teimuraz Ramishvili, said in his introduction. And he continued:
- On conferences like this, one often focuses only on the problems.
Ramishvili pointed out that development in the Arctic today is mainly taking place using state funding, and said that he wants regulations that allow foreign companies to establish and invest in Arctic areas.
- Lack of cooperation in Arctic areas will hamper development and promote militarisation, he said in closing.
- We, too, are the Arctic
Krister Bringéus, Sweden's Ambassador to Norway, emphasised the major industries in Northern Sweden as an answer to why Sweden shouldl matter in Arctic politics.
- A large part of our population lives north of the Arctic Circle, and we have large and important industries in the region, he said.