First Top-Level Meeting Between Norway and Russia In Ten Years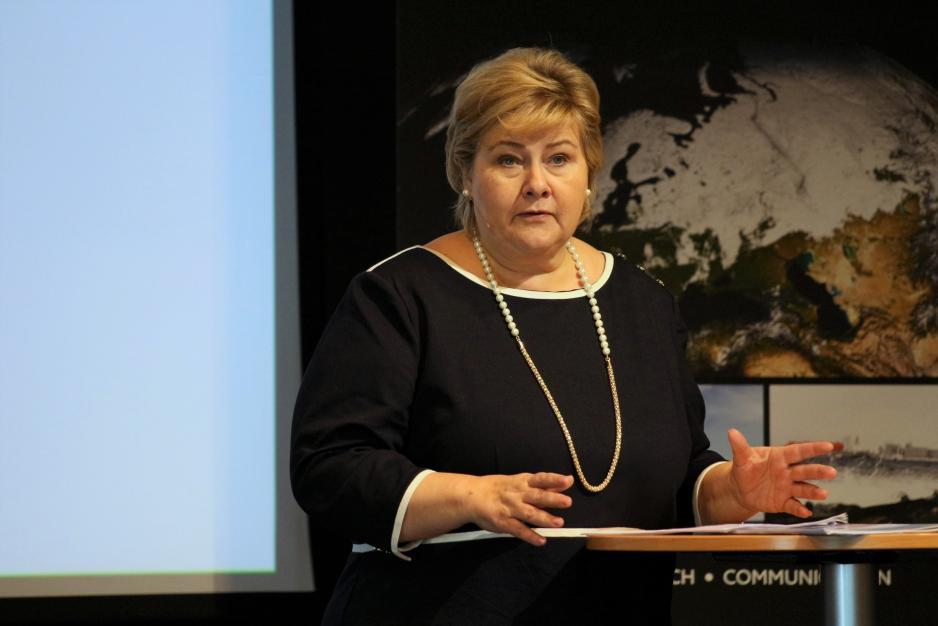 When PM Erna Solberg meets with Russian president in St. Petersburg next week, it will be the first time in ten years that the two countries' Heads of State are in direct discussions. She will not reveal what they are to talk about. We are clearly witnessing a shift in atmosphere now, says expert on Russia.
Similar discussions between Norwegian and Russian top-level politicians have not taken place since then-prime minister Jens Stoltenberg met then-president Dmitry Medvedev in Moscow in May 2009.
Next week, Norwegian Prime Minister Erna Solberg goes to St. Petersburg to attend the International Arctic Forum conference, following an invitation from the Russian president. Then-PM Stoltenberg received the Russian president in Oslo in 2010, where the agreement about the demarcation line in the Barents Sea was confirmed.
However, the Norwegians emphasize that it is the first time in a long time that this kind of meetings with Russia take place, in Russia.
The prime minister's office says the two heads of state will have bilateral talks Tuesday afternoon. Erna Solberg met with the Russian prime minister during the Olympic Games in Sotchi 2014, however, a joint press briefing following these talks were unexpectedly cancelled – probably due to Solberg's raising the issue of human rights conditions in Russia.
Swedish Prime Minister Stefan Löfven, Finnish President Sauli Niinistö and Iceland's President Guðni Thorlacius Jóhannesson have also announced that they will attend the conference.
Quiet about Putin talks
Solberg Wednesday gave a speech at the High North Dialogue conference in Bodø in which she stressed international cooperation and the blue economy as pillars of economic development for Norway in the Arctic.
Solberg would not, however, say what issues she will raise with the Russian president during next week's meeting.
- I will not say much about what I will discuss with him in that meeting. We will not do that until we have the meeting, Solberg says to High North News.
The prime minister nevertheless emphasized that she as well as the rest of the Norwegian delegation are invited to attend a series of panel debates, the main focus of which is the Arctic and oceans, areas where Norway and Russia have a clearly defined relationship today.
Nevertheless, Solberg stresses that "Russia's interaction with the rest of the world is less participating due to her own actions".
- We cooperate well in areas where it is natural for us to cooperate as neighbors. At the same time we disagree on the international arena on important issues such as public international law and the situation in Ukraine. That also characterizes that part of our relationship with Russia, says Solberg.
Diplomatic contact a necessity
Senior researcher and Russia expert at the Norwegian Institute of Foreign Affairs (NUPI), Julie Wilhelmsen, argues that Solberg's visit to Russia fits in to a larger European pattern in which many states have become more realistic about how to relate to Russia.
- There has clearly been a shift of atmosphere in the sense that Nordic heads of state and also some other European heads of state have found closer diplomatic contact with Russia to be a necessity, Wilhelmsen says to High North News.
Following the Russian annexation of the Crimea in 2014 and the subsequent introduction of sanctions, there was a serious reduction in the level of political contact between Russia and the West. And Norway, which is not an EU member, supported the US- and EU led economic sanctions, which hit financing, banking and the oil industry particularly hard.
Russian responded by introducing import bans on a.o. Norwegian fish.
Wilhelmsen emphasizes that in the current world situation, direct contact across the east-west border is particularly important.
- It is of course possible to disagree on the domestic political development in Russia and to make it clear that one does not accept the annexation of the Crimea. However, it is rather dangerous to stop having top-level contact and to not exchange views, Wilhelmsen says.
Norway sends a strong signal
Researcher Arild Moe at the Fridtjof Nansen Institute says Norway sends a strong signal through both the Prime Minister and the Foreign Minister's attending the conference in St. Petersburg.
- This visit is a clear signal that one wants to have connections and contact with Russia, in particular in the High North. It cannot be stated any clearer. This is something the government has said for a long time, however, today it puts the money where the mouth is, says Moe.
He stresses that Norway was highly represented at the previous conference in 2017, with then-foreign minister Børge Brende; however, Norway is now upgrading its presence.
- These are small, but relevant countries in the Arctic. The participants who have announced their attendance are not overshadowing the event – it is not the American president who is coming. We have to be humble, while at the same time I am sure the Russians are taking notice of it and see that participation is stepped up, Moe says. He adds:
- Whether or not one supports the sanctions politics, there should nevertheless be a clear and broad relationship to Russia.
- What does this say about the bilateral relationship between Norway and Russia?
- Meeting with the Russian president is not an everyday event for any state leader. The contact between Norway and Russia has been very much reduced since the annexation of the Crimea in 2014. Ten years ago, there as an unusually high intensity level in government-level meetings between Norway and Russia. This intensity was significantly reduced after 2014, though there have been meetings on cabinet level during the past few years too, Moe says.
Presence is important
- Does this represent a diplomatic triumph for Putin, Wilhelmsen?
- One could say that, if that is how you chose to frame it. And it can easily be used in that kind of presentation in Russia, and also in the West, where the Russian regime is viewed with much skepticism. However, presence and direct contact at conferences is not first and foremost a symbol action in which the other state's behavior is "condoned" merely through one's presence.
- In a time when we risk ending up in a conflict, as we have seen between Russia and the West since 2014, there is a need for state leaders to meet, Wilhelmsen says.
This article originally appeared in Norwegian and has been translated by HNN's Elisabeth Bergquist.