Proposed Russian State-Owned Shipping Operator To Subsidize Container Shipping in Arctic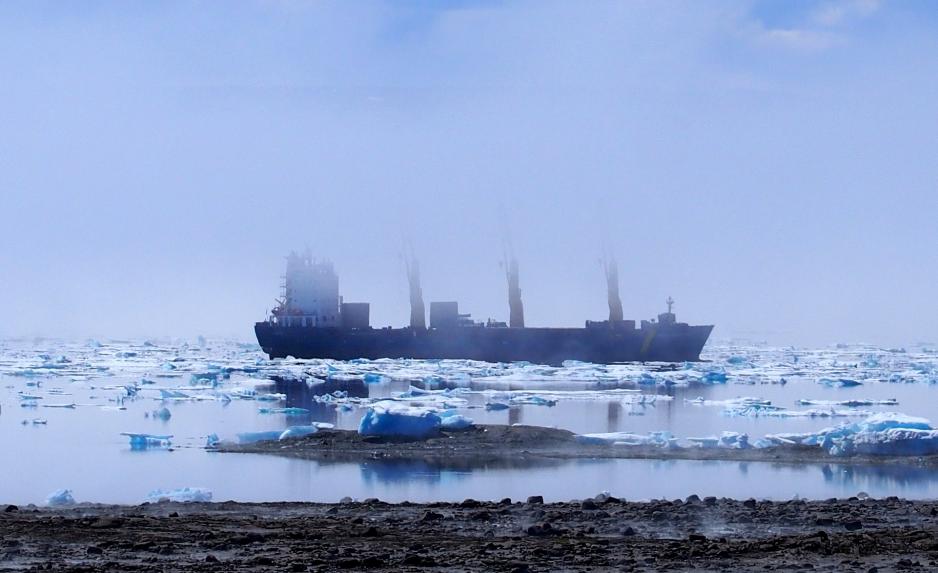 While shipments of oil and gas are booming in the Arctic, the Northern Sea Route has seen little interest from global container shipping companies. Now Russia is studying the possibility of a state-run operator, effectively subsidizing container shipping along the route.
Arctic shipping along Russia's northern coastline has seen record-levels of traffic each of the past six years with cargo growing from 1.6 million tons in 2013 to 20 million tons last year. However, none of this growth has come from container shipping, apart from a small-scale test voyage run by Maersk in September 2018. In fact, three of the world's top five container shipping companies have vowed to not operate in the Arctic citing environmental concerns.
Now the Russian Ministry for the Development of the Far East has put forth a proposal to create a state-run container shipping company offering service between Murmansk in the West and Kamchatka in the East. This latest proposal affirms again that developing the NSR into a major and full-service shipping route is a national priority for Russia and President Putin. 
However, it also highlights that it requires major, multi-billion dollar investments, from icebreakers and Search and Rescue facilities to new ports to attract business and shipping companies to use the route. This latest proposal, which comes on the heels of three major container shipping companies, CMA CGM, MCA and Hapag Lloyd, stepping away from Arctic shipping, may be an admission that further state subsidies will be required to overcome the economic and public relations costs for western companies when operating in the region.
Transshipping containers along NSR
The proposal envisions feeder vessels delivering containers from major European or Asian ports to hubs in the Barents Sea and Bering Strait where containers would be reloaded onto ice-class vessels for the 3,500 nautical miles of icy waters in between. The Ministry will be working with Moscow-based think tank Skolkovo to further study the project. 
Under the proposal shipping operators could skip the most challenging part of the Arctic waters and instead rely on this newly-created company to take on the risk that comes with shipping in ice-infested waters. This approach mirrors Russian gas company Novatek's plan of transshipping LNG on each end of the route to keep transport costs low. 
The Ministry's Deputy Alexander Krutikov explains that high insurance costs and the need for specialized ice-class vessels makes the route unattractive for most major shipping operators, despite being a short-cut between Europe and Asia. 
"This significantly lowers transportation costs, as foreign companies will not need Arctic vessels," states Krutikov according to Bloomberg. "The state pays for the Arctic exposure and the shippers cover the remaining costs themselves." 
Enough to attract container shipping?
Shipping experts have long questioned the economic feasibility of sending container shipments through the Arctic. A host of studies on the subject conclude that the container shipping industry's network logistics, schedule reliability, and economies of scale challenge the notion of using the NSR a short-cut between Europe and Asia. 
Container ships follow fixed routes with more than a dozen large ports, operate on exact schedules, and use among the world's largest vessels carrying up to 20,000 containers. In the Arctic, however, there are few major ports, schedules have to be flexible due to ice or unforeseen weather conditions, and vessel size is limited. 
"Due to shallow straits, the bigger – and most economic - container vessels can't pass, the route is only usable part of the year, and even in the summer season ice can delay journeys, making it impossible to guarantee just-in-time deliveries," confirms Arild Moe Senior Research Fellow at the Fridtjof Nansen Institute.
Deputy Minister Krutikov, however, expresses optimism that transshipment costs can be kept low and "should be lower than in the Suez Canal, at least at the first stage," during which Russia would heavily promote the route. 
A way to avoid negative PR?
A Russian state-run container shipping company, if it comes to fruition, may also be a way for Western shipping companies to skirt their previously-made promises to not operate in the Arctic. Global shipping companies may consider delivering container cargo to transshipment hubs well outside ice-covered waters, relying on another company to navigate the risky Arctic section, before receiving their containers a week or so later at the other end of the NSR. Earlier this year reports indicated that Danish shipping company Maersk aims to cooperate with Russian Atomflot to offer transport along the route.