Op-ed: Putin, Trump and rejected greatness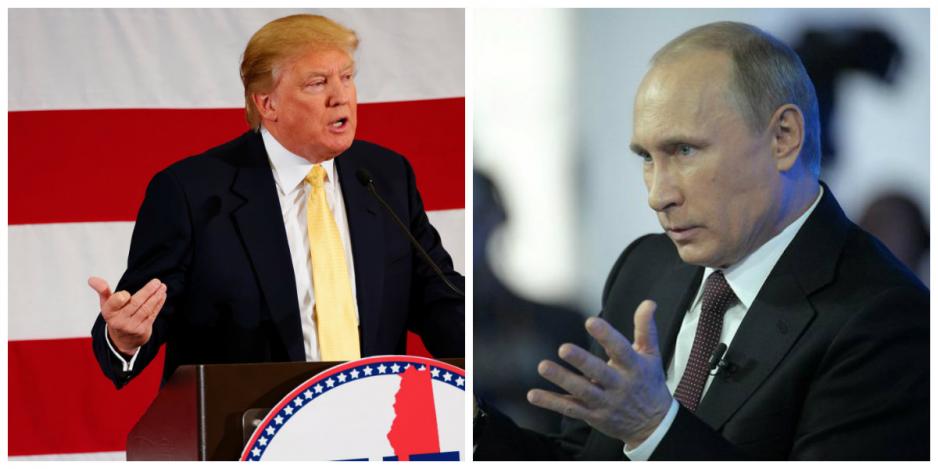 Why do Putin and Trump undermine the international consensus knowledge that their national academic and governmental milieus have been so central to building?

Why do Putin and Trump undermine the international consensus knowledge that their national academic and governmental milieus have been so central to building?

The National Aeronautics and Space Administration (NASA, USA) and National Oceanic and Atmospheric Administration (NOAA, USA) recently identified the year 2017 as one of the warmest years on record, with especially rapid rates of warming in the Arctic.

American president Donald Trump, by contrast, suggested not so long ago that cold winter weather on America's eastern seaboard put international scientific consensus about climate change in a doubtful light. He also noted ambiguously that Arctic sea ice was at a 'record level', neglecting to specify that American agencies had identified record lows in sea ice extent rather than a record maximum.


Steady deprioritization
The track record of the Trump Administration demonstrates a steady deprioritization of problems relating to climate change. For example, global climate change has been removed from his Administration's list of security priorities and extensively reduced as a focus area for many federal agencies. Attention to the problems of Arctic climate change and the Paris Agreement were likewise close to being removed from the declaration of the closing ministerial of the U.S. Arctic Council chairmanship in 2017 (although squeaked by in the final version).
American politics is complex and concern for climate change and interest in expert knowledge on the topic still actively shapes the agenda at many levels of government, including states and cities, and in the private sector. We see a similar trend in the Russian Arctic, where adaptation to climate change is of clear concern at the sub-national level. Russian Arctic cities are already noting the impacts of permafrost thaw on buildings and infrastructure. 


Longstanding institutional investments
Even though frequently seen as a 'wild card' in international climate negotiations, Russia, like the United States, has longstanding institutional investments in scientific disciplines relevant to understanding climate change. In a historical perspective, contributions of Soviet scientists were essential to understandings of the climate as a global system and to the construction of the multilateral architecture of international meteorology (these contributions have been oddly underplayed in English-language histories of global climate science, an omission a project  at the University of Birmingham is seeking to address).
Today, Russian scientists are steadily involved in the assessment work of the Intergovernmental Panel on Climate Change (IPCC) and various Arctic Council working group reports. The Russian meteorological service, Roshdyromet/Hydromet Center of Russia, recently underlined its support for the global warming scientific consensus and illustrated how changes in Russia's climatic conditions provide further evidence of this warming.


Putin's climate change position
So, what does Trump's counterpart, President Putin, have to say about climate change?  In the northern coastal city of Arkhangelsk in spring 2017, President Vladimir Putin appeared on the stage with the presidents of Iceland and Finland and with ambassadors, academics, and civil society from all over the world listening aptly from a crowded conference hall. The event was Russia's biannual flagship Arctic conference and provided for an illustrative statement on Putin's climate change position. Putin, in contrast to Trump, did indeed describe global warming as a 'fact'. He further noted that climate change can also 'supports our optimism' for the Arctic region, including transit along the Northern Sea Route and other economic goals for the region. Like Trump, Putin also raised uncertainty about the cause of climate change, arguing more specifically that the 'main question is simply how to adapt as global climate change may also be cyclical' (rather than caused by human activity).
Why do Putin and Trump undermine the international consensus knowledge that their national academic and governmental milieus have been so central to building? Why couldn't the quest for state 'greatness' in an era of populism include a celebration of globally-oriented, nationally-funded scientific work - even if this work brings 'inconvenient' knowledge to the political arena?  


The Earth Day Marches for Science
Science, at its best, reflects our shared human trait of curiosity and capacity to coordinate. So, I do hesitate to suggest that science be appropriated into purely national prestige projects. At the same time, if we miss opportunities to celebrate and appreciate science as a collective societal achievement, experts and their consensus knowledge can slip from public view entirely too easily.
The Earth Day Marches for Science in Washington, DC and in 600 cities across the world were about this kind of celebration. The private triumph of Elon Musk and Space X's recent rocket launch should also be colored by acknowledgement of the decades of public science that made it all possible.
Or, even in a private way, we can remember to feel some pride. I recently read a report on the state of ocean science, which identified Norway as having the highest number of ocean science researchers per capita. Although distant from my direct field of experience (and keeping in mind that Norway does also have inconvenient policy contradictions of its own), I took a moment as a Norwegian taxpayer to think, 'wow, that's cool.' We know from Foucault and others that knowledge as power has its drawbacks and sad chapters in history, but what would we rather have as power instead?