Hearts in the Ice Teams Up With Tomorrow's Air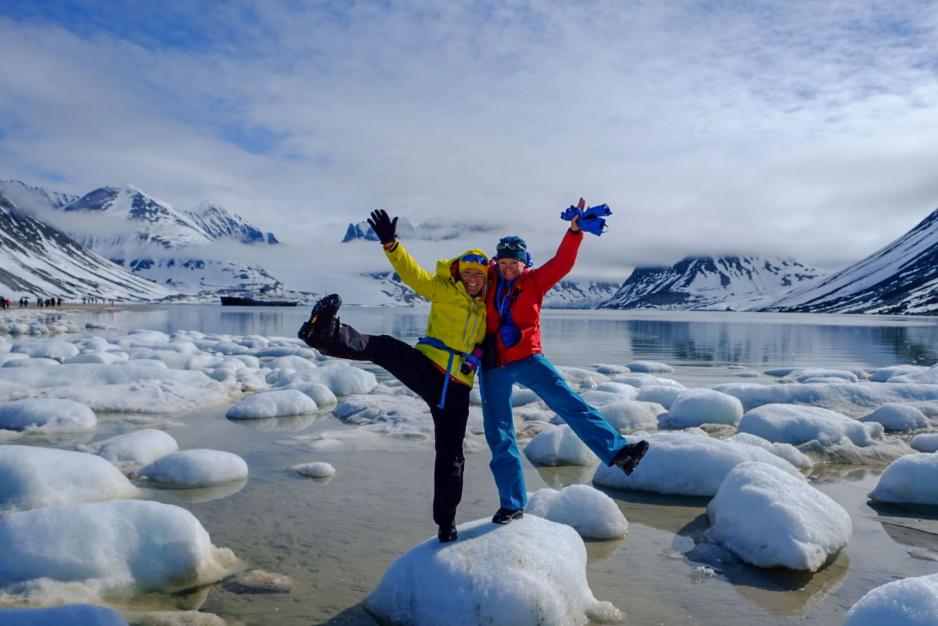 Citizen scientists Hilde Fålun Strøm and Sunniva Sørby will collaborate with Tomorrow's Air Team in an effort to pave the way for a better tomorrow.
Hearts in the Ice - which is the team of  Polar Ambassadors and Citizen Scientists Hilde Fålun Strøm and Sunniva Sørby - have joined forces with Tomorrow's Air as Champion subscriber and official content collaborator in sharing educational stories about climate action.
Sørby and Strøm are the first women to overwinter in the Arctic solo. They have spent the past 17 months living in a 20 m2 uninsulated hut called Bamsebu in Svalbard, with no water or electricity.
This off-grid lifestyle - relying solely on solar and wind - combined with their supporting CO2-reducing projects, has made their entire stay (which in May 2021 will be 19 months total) not only climate neutral, but climate positive.
Educational Platform
"We teamed up with CHOOOSE (a organisation that builds digital tools for climate action) before we started our expedition September 2019 and have been climate positive during our 15 months stay at Bamsebu. CHOOOSE offer carbon offset, and Tomorrow´s Air offer an innovative Carbon drawdown", said Strøm.
Throughout their expedition they have collected data in partnership with 5 scientific institutions for 8 climate related projects, and created a global educational platform.
"We came in contact with Tomorrw´s Air via ATTA – Adventure Travel Trade Assosiation. They have been interested in our initiative and have followed us since we stated. We are  going to be keynote speakers at their World Summit in Japan in September", said Strøm to High North News.
Focus on global travel
Tomorrow's Air is educating a global travel community to remove carbon dioxide emissions and permanently store them. Recognizing that while travel can provide many economic benefits to people along with funding for wildlife and nature conservation efforts, it is also as an industry responsible for at least eight percent of global carbon emissions.
Humanity can solve the climate crisis if we understand that each of us can make a difference.
This inspired the Tomorrow's Air team to rally a global travel community to action, as their audience are individuals and corporations and their main focus is global travel and tourism.
Through this new collaboration, Hearts in the Ice will contribute stories from the Arctic along with practical advice for climate clever travel that includes supporting the scale up of carbon removal through direct air capture. Likewise, Tomorrow's Air will share the lessons from Hearts in the Ice with its travel collective.
Reduce carbon
With over 50 years of combined experience in polar regions, Sørby and Strøm know first-hand the impacts of climate warming. The changes observed in plants, animals, ice, ocean and landscapes of the Arctic are already starting to be mirrored in the rest of the world, thus the emergency to act now to both reduce and remove carbon dioxide emissions.
"We're thrilled to team up with Tomorrow's Air because of the way it inspires and educates travellers while also empowering them to take tangible action - purchase some carbon removal through direct air capture - alongside the educational component," commented Hilde Fålun Strøm.
"In our situation educating people about the need for action is straightforward, while the ways to take action are not always quite so easy. Tomorrow's Air provides a practical solution we hope people will consider along with others they incorporate in their daily lives. Humanity can solve the climate crisis if we understand that each of us can make a difference."
Look forward to the coop
"Hearts in the Ice engages a global community with its compelling, dramatic Arctic stories and  relevant corporate partners and they are perfectly aligned with our vision," said Christina Beckmann, Tomorrow's Air co-founder.
"Through our collective we are building social acceptance for carbon removal through direct air capture along with empowering our global travel audience - both travellers and companies - to take measurable action with us. We look forward to sharing the Hearts in the Ice stories with our collective and building on this partnership."
Hilde Fålun Strøm said that the team will stay at Bamsebu until mid May. The final date will be decided bases on ice and weather conditions and pick up possibilities.