Fighting Fires Back with Knowledge in the Arctic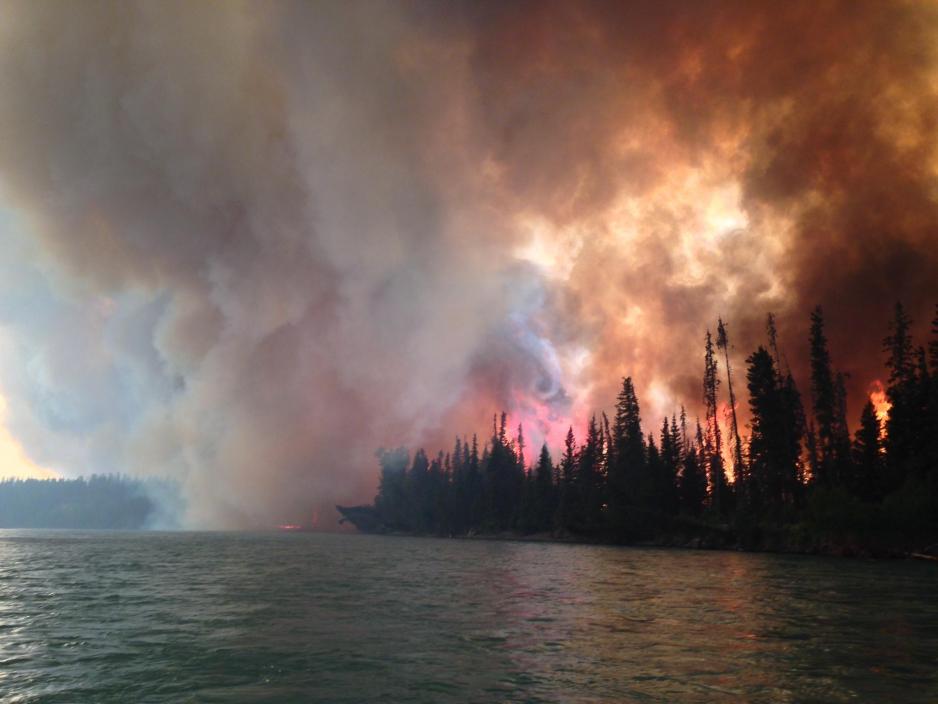 As global warming increases air temperatures and changes rainfall patterns, for wildfires are increasing in both size and intensity – but a group of researchers in the Arctic are fighting fire with knowledge.

As global warming increases air temperatures and changes rainfall patterns, for wildfires are increasing in both size and intensity – but a group of researchers in the Arctic are fighting fire with knowledge.

Earlier this month, Greenland made international headlines as the icy territory's western coast went ablaze in peat-fed wildfires. On July 31, two remote sensing systems collected troubling daily images – smoke.

90 miles northeast of the second-largest Greenlandic town, Sisimiut, three growing hot spots emerged covering around two square miles. The fires, now largely extinguished from recent rains, burned deep into northern peatlands, causing warnings for residents and visitors and alarm in the scientific community as easterly winds blew black carbon onto Greenland's ice sheet. Black carbon darkens the surface of the ice, helping it to absorb more energy from the sun and potentially speeding up melting in the coming years.


Massive fires 
While small fires lit by hunters or backpackers often light the night landscape of Greenland, this summer has seen more fire activity than during any other year since sensors began collecting data in 2000. And they are poised to get worse – not just in Greenland but across the far reaches of the north.

According to the non-profit organization Climate Central, the number of large wildfires in the Arctic has increased nearly tenfold 2000 to 2010 compared to the 1950s and 1960s. Alaska, Canada, Siberia, and now Greenland have seen massive fires engulf boreal forests and petlands since the beginning of this century, including fires that burned six percent of Alaska and four percent of the Yukon in 2004.


Starting from the Ground Up: Soils and Fires   
With warmer and drier conditions from a changing climate, the atmosphere is drawing more moisture from soils. Combined with earlier snowmelt, land is becoming drier and more susceptible to wildfires. Not only is climate change making fires more likely; it is also intensifying their duration and severity. Drier land allows fires to expand faster, burning more areas and moving in unpredictable ways.
In response to the increasing threat forest fires are posing to Arctic ecosystems, infrastructure, and populations, the Arktika Interregional Center held its first-ever field school on Arctic soils and Wildfire this summer.
Field school gives understanding 
"There is a lack of knowledge regarding impacts of fire on Tundra ecosystem, especially for the huge region of Russia," Dr. Ramona Fitz and Dr. Norbert Holzel, the organizers of the field school, told High North News. "One reason for the field school is to get a better understanding of processes as well as interacting and resulting effects of fire on Tundra vegetation and soil."
True to its name, the field school focused on soils, and the transformation and restoration processes in plants that grow in the north. "Recent studies expect that fire events will increase in Arctic Tundra in future, with big effects on the whole ecosystem", Fitz and Holzel explain. For them, understanding how fires will affect the Arctic, not just today but into the future as their frequency and intensity increases begins with soil.  
"Fires change soil and vegetation in Tundra ecosystems for decades. Disturbance through fires affect biodiversity and foster landscape-scaled transformations in tundra ecosystems which are relevant in the light of global climate change."


Will get worse 
The field school taught students about study design, field methods like soil analysis and vegetation mapping, and the tundra ecosystem in the hopes that they can go forward in filling dangerous knowledge gaps in our understanding of Arctic forest fires. This is more important now than ever before. "As many scientists expect," warn Fitz and Holzen, "we also assume wildfires to get worse with big impacts Tundra ecosystems as well as on global climate."
Uniting Across Countries to Combat Climate Change and Fires
Not all forest fires are bad. For many forest ecosystems, fires are a natural way of clearing the old, partially decayed vegetation and making room for new life. But as they increase in rate and strength, they pose a risk to life, property, infrastructure, health, and the climate itself. Boreal forests like those found across Alaska, Canada, Scandinavia, and Russia and peatlands hold enormous stores of carbon that have formed over the past 10,000 years.
The enormity of the challenge wildfires pose spans across all countries, and so too must its solution. Another reason for the Arctic field school on fires "is to intensify collaborative scientific work between Russia and Germany. As the field course will be a joint project of specialists from both countries, we can bring our wisdom together to gain important results."
"The field course will also be an opportunity to forge links between different countries and cultures," says Fitz and Holzel. 

As wildfires across the north tear landscapes and ecosystems apart, finding solutions to repair them is bringing scientists around the globe together.