Up, close and spectacular – Giving New Life to Old Forefathers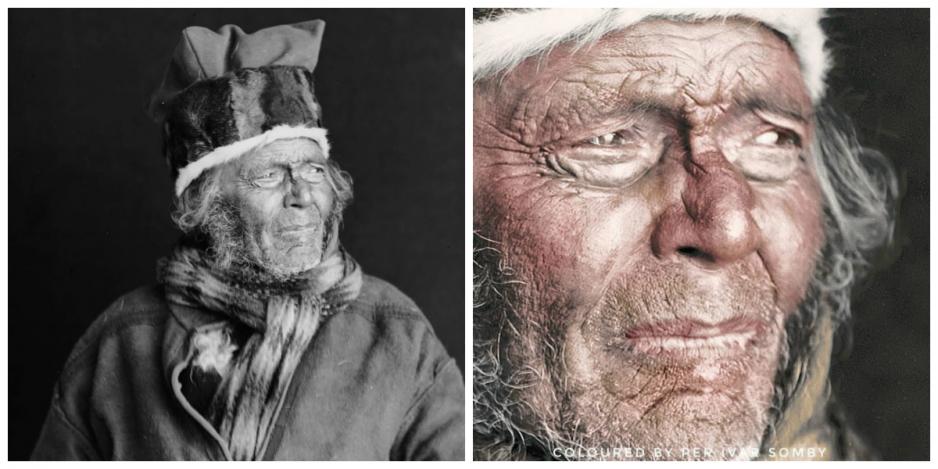 The images of our forefathers exist, however, not in colors. To photo artist Per Ivar Somby of 'Colour my past', the adventure started when he set out to color his Sami great-grandfather Clemet Gundersen from Kautokeino, Norway.
The images of our forefathers exist; however, not in colors. To photo artist Per Ivar Somby of 'Colour my past', the adventure started when he set out to color his Sami great-grandfather Clemet Gundersen from Kautokeino, Norway.
"Coloring old black and white photos came from an interest for old forefathers and Sami roots. I found pictures of them and started wondering what they would have looked like today. What would my great-grandfather look like if I saw him before me", Somby says.
He did not see any similarities, however, he quickly felt the character come to life, that great-grandfather Clemet started appearing out of the dark, from the grey and plain image.
"People disappear in the old black and white photos, and it is as if they reemerge when I color them. I make old pictures come to life again, though it is a long process. It may take weeks or even months", Somby says with a smile.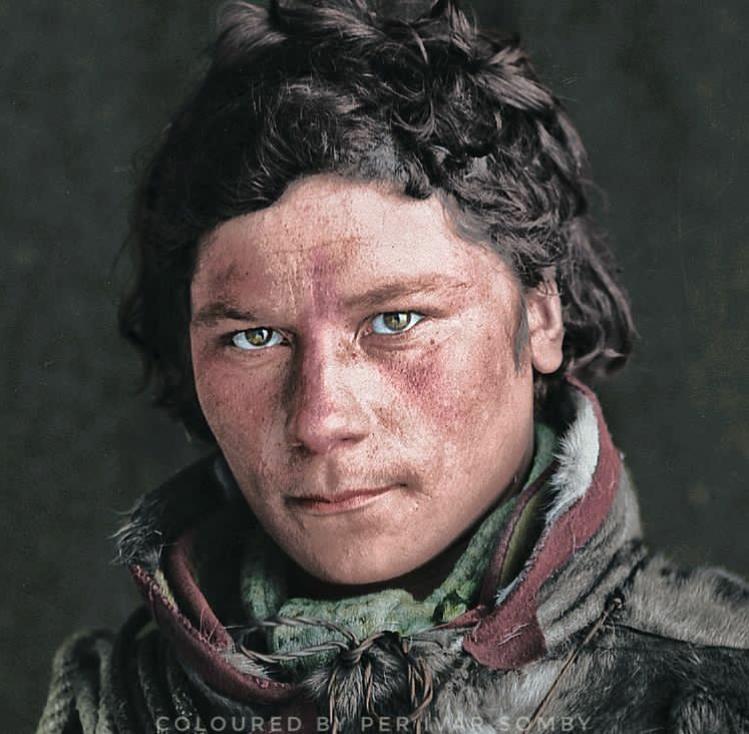 From hobby to passion
In his daytime job, Somby is an IT worker at the Library of Tromsø. He comes from Alta originally, however, most of his Sami family is located in Kautokeino.
"I have always known where I come from, and have always been occupied with it. At the bottom of this interest, there is definitely a strike of genealogy", Somby says.
He does all the coloring digitally, using Photoshop. Sometimes he will sit for days, at other times it goes faster. He often chooses to take a break, to let the pictures lie waiting for a while, before he picks them up again.
"I work when the kids are in bed. Sometimes it takes me a week to be completely satisfied. Then I let the image mature in my mind before I finish it, using colors and tones I think are right. Then there are other times when I revisit pictures I have done earlier, and suddenly start thinking "no, no!". I guess I am getting better at it and at the same time also more critical of my own work", he says with a laugh.
Somby is focused on the pictures ending up correctly colored, on finding the most likely tone to use. Weathered faces, marked by a life close to nature, hand-sown outfits displaying tradition and Arctic origins. Near and distant, relations and spectacular glimpses of atmospheres and situations captured long before colors became part of the technological equation.
"I read books where costumes and colors from the time in question is described. I speak to people. Find out what was common in the Sami communities. Nevertheless; it is all just qualified guessing", the photo artist says.

Attention
About a week ago, Somby created an Instagram accound where he publishes the pictures under the name 'Colour my past'. He soon gained numerous followers, for the pictures he publishes are different and new, even though they are from a different era.
"I created the Instagram account to draw attention and to find out if people found this intriguing. I publish faces with clear expressions, showing the person behind the face. I really enjoy it when the persons emerge, when we can see who they are in a different way", Somby says.
Many have engaged with his project behind the scenes. Perhaps the project about giving Arctic people a new expression will lead to something more.
"I have an enthusiast who helps me and pushes me forward. Because this is not something I do for money's sake. He thinks that with time, we should be able to set up an exhibition. He also seeks out people who can help me find out what colors that are most accurate to use", Somby tells.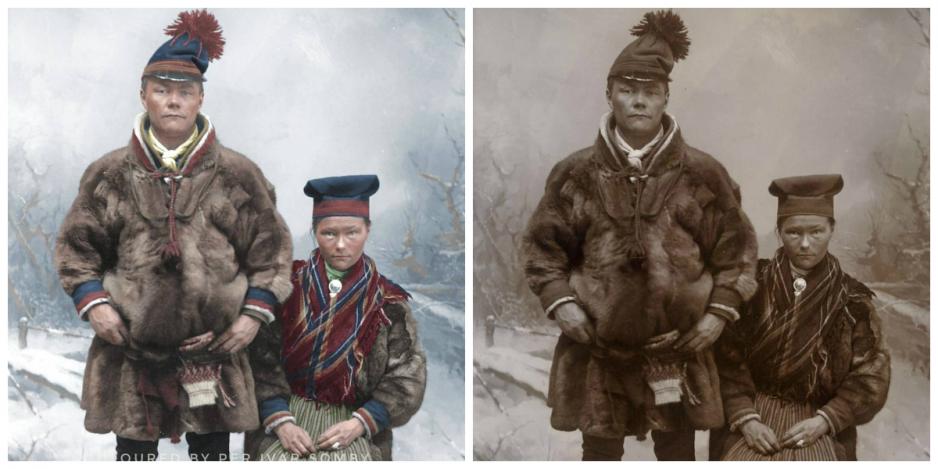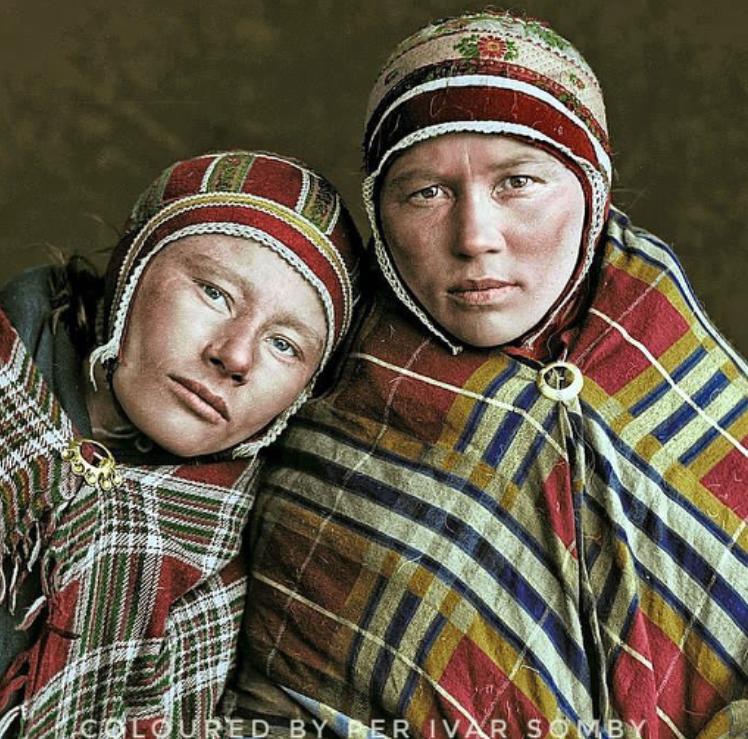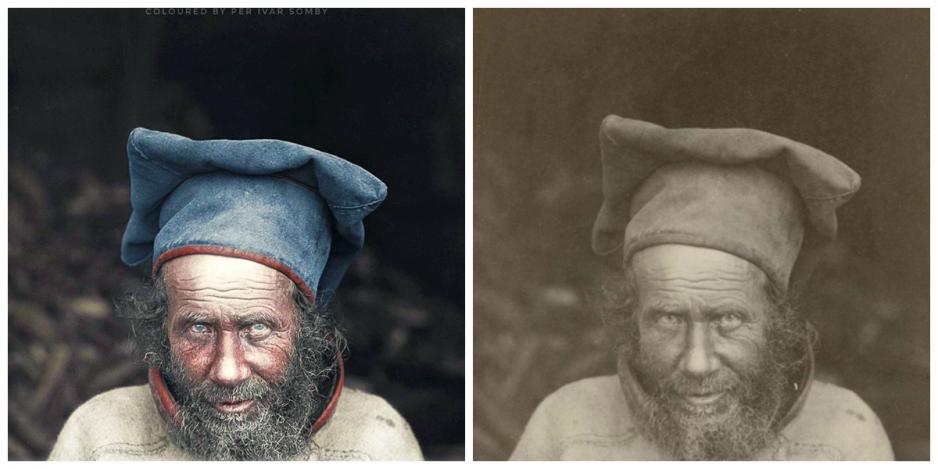 Grumbling
Somby has faced criticism. People who argue that he ruins old photographs and diminishes their original features.
"I genuinely think that a sad image of a pale face is all about the then-lacking technology. In the very moment that you develop a picture, it has already been manipulated", Somby says.
To him, it is all about coloring with a profound respect.
"It shall be as authentic as genuinely possible. For me, the focus lies on the Arctic and the Sami – my own identity", the photo artist says.
Basing his work on "Under nordlysets stråler" ('Under the rays of the northern light') by the Danish northern lights scientist and hobby photographer Sophus Tromholt, one of the pioneers of Norwegian ethnic photography, Somby has many faces and stories to color.
"Tromholt in his texts describes the people he photographed, their way of life and culture. That gives me inspiration and thoughts about how things might look today if I were to meet the people he photographed back then. And yes, I am a somewhat peculiar guy", Somby says with a laugh.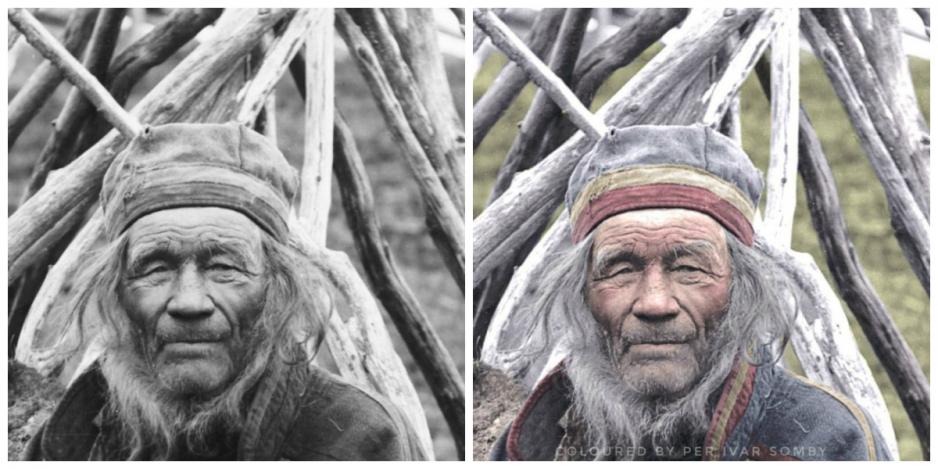 Translated by Elisabeth Bergquist.