Op-ed:

Arctic REIHN: Handling of the Damaged Nuclear-Powered Vessel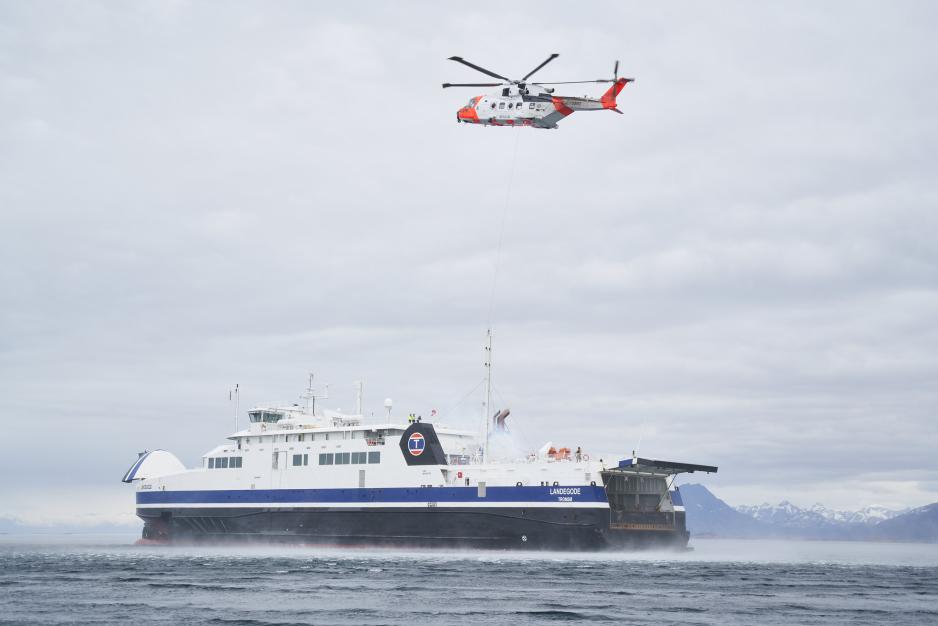 The opinions expressed here belongs to the author and do not represent the views of High North News. 
The Arctic REIHN tabletop exercise 1 (TTX 1) on the effective and timely handling of a damaged vessel with risk of radioactive contamination was conducted 26 April 2023 in Oslo, Norway. The exercise is a part of an EU project Arctic REIHN (Arctic Radiation Exercise in the High North) funded under the umbrella of the Union Civil Protection Mechanism.
One of a kind
The Arctic REIHN project involved several sub-exercises prior to a full-scale exercise. This included  a notification exercise – (ALARMEX),  a command post exercise, and two tabletop (TTX) exercises with different topics. The full-scale exercise with more than 100 rescue workers and experts was conducted on 8–12 May 2023 in Bodø, Norway.
In addition, an international competence development webinar prior to the exercises included briefings on existing cooperation in a nuclear accident, international coordination mechanisms, national and international maritime law and obligations, experiences from previous exercises, and how to tackle possible radiological consequences.  
In the scenario of a full-scale exercise Arctic REIHN, a nuclear-powered vessel in coastal waters outside the town of Bodø in Northern Norway experienced trouble.
The captain reported an accident that would have consequences for the crew, passengers and people on land. In addition, a risk for radioactive contamination of land areas was an imminent danger, as well as cross-border contamination. A massive local, regional, national, and international response was required.
There are differences in the legal basis for handling the vessels outside and inside the territorial waters.
The overall aim of the Arctic REIHN was to test, verify, and further develop emergency preparedness and response in the case of a nuclear or radiological accident in the Arctic.
The purpose of TTX 1 was in in line with it, however, the TTX1 focused exclusively on effective and timely handling of a damaged vessel with a risk of radioactive contamination, according to the agreement between the Norwegian Coastal Administration and Norwegian Radiation and Nuclear Safety Authority.
In addition was the EU Operational Guidelines on Places of Refuge an important document focused during the TTX. The topic, not covered during the full scale or sub exercises in the project, is quite unique by its focus on the legal basis peculiarities, and extremely important for Norway when it comes to dealing with the consequences of radioactive contamination. 
There are differences in the legal basis for handling the vessels outside and inside the territorial waters. Participants reflected that they improved their understanding of the legal basis for a nuclear-powered ship seeking shelter or a place of refuge. There is a requirement for nuclear-propelled ships to have a license for access to the Norwegian territorial waters.
However, the licensing requirement for nuclear-powered ships under Norwegian nuclear energy law does not apply to a places of refuge situations.
There are several options how relevant authorities would handle a vessel with an accidental release of radionuclide in the High North areas. However, there is no right answer for measures or procedures for towage or sinking the vessel. It is necessary to think through worst cases and consequences to environment and people, especially coastal communities.
Knowledge, trust and competence across the participant organizations is crucial for collaboration in case of handling a nuclear-powered vessel in a complex situation, nationally and internationally.
Scenario in the Arctic
Recently, nuclear-powered icebreakers have begun sailing more frequently via the coasts of Finland, Estonia, Sweden, Denmark, Norway, and Siberia with seafood and other products (Barents Observer, 2019).
Norwegian Coastal Administration claims that an accident involving such a vessel can result in radioactive emissions and major consequences for the whole Norway (Norwegian Coastal Administration, 2023). It is therefore important to practice different aspects of the scenario with relevant sectors and organizations. 
The start situation for the Arctic REIHN TTX1 is a Civil state-owned reactor-powered vessel in normal traffic along the Norwegian coast, heading south with passengers. The ship Follows the traffic separation system (TSS) in the Norwegian Economic Zone. The ship stops for routine maintenance in a position 62nm/115km east of Røst, the most southern Island in Lofoten.
In a scenario, when people are rescued from the damaged vessel in the Arctic, the contamination threat for the whole country is still ongoing. The consequences would reach out agriculture, seafood industry and other critical sectors in Norway, but also spread fast across national borders.
Radioactive contamination might negatively affect food production across the whole Europe, and may raise the fear globally.
Arctic REIHN TTX-1 conduct
Tabletop exercise Arctic REIHN TTX 1 was conducted on 26 April 2023 in OSLO (Oslo Congress Centre) by Norwegian Coastal Administration, The Norwegian Radiation and Nuclear Safety Authority, Nord University, Danish Emergency Management Agency, Swedish Civil Contingencies Agency, and Icelandic Radiation Safety Authority.
This exercise is a front-end example of cooperation between academia and emergency preparedness organizations. Team members in the exercise planning and evaluation group utilize expert knowledge of each other.
Nord University has over several years built a competence in exercise design, learning between organizations and exercise conduct and evaluation in maritime emergency preparedness.
The Norwegian Radiation and Nuclear Safety Authority and Norwegian Coastal Administration has cooperated to create common collaborative procedures on handling of the damaged nuclear-powered vessel.
The learning objectives that were accomplished by the Arctic REIHN TTX1 were quite urgent.
The participants were from Norway, Sweden, and Denmark, including the Norwegian Crisis Committee with their representatives from the Norwegian Radiation and Nuclear Safety Authority, Norwegian Coastal Administration, Food Safety Authority, Police Directorate, Norwegian armed forces and others.
The exercise was observed in the meeting venue by, European Commission, UK Secretary of State's Representative/IMO, Ministry of Health and Care Services, and Ministry of Climate and Environment.
In addition, there were an impressive number of national and international observers that followed the TTX via streaming;
Ministry of Trade and Fisheries

International Atomic Energy Agency

Health Canada Radiation Protection Bureau

Icelandic Radiation Safety Authority

Finnish Radiation and Nuclear Safety Authority

Icelandic Coast Guard

Finnish Border Guard

US Coast Guard

Canadian Coast Guard

Ministry of Foreign Affairs

Norwegian Directorate for Civil Protection

British Embassy

Barents Watch

Nordland Police District

Danish Emergency Management Agency

Danish Armed Forces

County Governor Nordland

University of Oslo

European Commission

Maritime Incident Response Group from the Netherlands.
Way forward
The learning objectives that were accomplished by the Arctic REIHN TTX1 were quite urgent – (1) to improve understanding about roles and responsibilities nationally and internationally; and (2) on how to handle a reactor powered vessel in distress.
According to the TTX1 Evaluation group consisted of Nord university, Norwegian Coastal Administration and The Norwegian Radiation and Nuclear Safety Authority, the participants enhanced their knowledge when it comes to handling such situation in Norway but also identified what is different in other Nordic countries.
The evaluation group is preparing an Exercise report which will cover several conclusions, in particular, on general competence in handling nuclear-powered vessels, on proactive approaches in measures, legal issues, roles and responsibilities, and procedures and international guidelines.
Continuity in exercises and to develop and update new procedures and enhance knowledge is vital to strengthen readiness of the organizations to collaborate.