Rosatom Comments on Status of Floating Nuclear Power Plant - But Questions Remain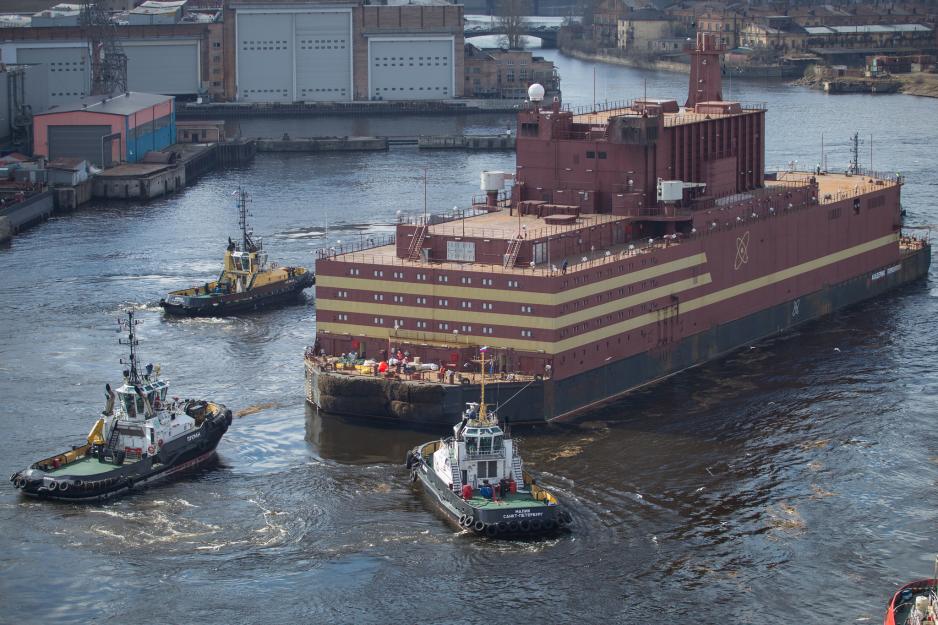 In an interview with High North News, Rosatom answered questions about the status of its Floating Nuclear Power Plant, but some questions regarding the safety of Akademik Lomonosov remain. The plant is scheduled to be towed to the Arctic port of Pevek and begin electricity generation by the end of 2019.
The Akademik Lomonosov, a nuclear electricity plant aboard a non-self-propelled barge about the size of a soccer field, has been a 12-year prestige project and once commissioned will represent the world's sole power plant of its type. The only similar vessel, the U.S. military vessel Sturgis, which produced electricity in the Panama Canal Zone from 1968-1976, was disassembled in the fall of 2018.
While Rosatom officials cite Russia's vast experience building and decommissioning vessels with nuclear power units, especially Arctic icebreakers, as evidence for the safe operation of this new nuclear endeavour, its track record to both safely operate and dispose of nuclear fuels, tells a different story. Between 1960-1991 the Soviet Union experienced 41 accidents involving nuclear reactor plants on board floating nuclear sites, such as submarines and icebreakers. Furthermore, until the 1990s the country's Navy disposed of enormous amounts of nuclear waste in Arctic waters with cleanup efforts just recently beginning.
Environmental and nuclear experts point to flaws in both the design of the floating barge and the nuclear power plant itself, including the absence of sufficient ice strengthening, lack of protection against tsunamis, and the risk of storing many-years worth of nuclear waste aboard the facility. On the other hand Rosatom officials highlighted the fact that FNPP will be replacing an aging coal-fired power plant and will reduce coal-consumption and related CO2 emissions by 200,000 tons annually. And while nuclear power generation is significantly cleaner than coal or gas-fired plants with respect to emissions of greenhouse gases, Rosatom's claim that the Akademik Lomonosov will have "no environmental impact," remains doubtful.
A nuclear barge for Pevek
Following the keel-laying ceremony in April 2007 construction of the facility was delayed by six years, postponing a supposed commissioning in 2012 until at least the end of 2019. The plant will house two KLT-40S reactors with a capacity of 35 MW each, similar to those used to propel Russia's nuclear icebreakers. Together, they are capable of producing up to 70 MW of electricity and 50Gcal/h of heat – enough to supply a city of around 100,000 people. A crew of 140 personal will be tasked with operating and maintaining the plant.
The facility will be moored at a distance of 0.5 kilometers from shore off the coast of the city of Pevek. A yet to-be-constructed protective pier, in theory designed to guard the facility against sea disturbances and build-up of drifting sea ice, will connect the plant to shore. Electrical power and heat will be transferred through a system of cables and four flexible pipelines laid in cable trays to protect them from surface disturbances, Rosatom officials explained.
Power plant uses flawed vessel design
In several studies marine engineers criticize the barge's design with a flat bottom, low wind resistance, and zero steering capability as inadequate to operate in the Arctic's challenging waters. At a minimum the facility should be accompanied by a number of tug boats and icebreakers, even after it has been moored offshore. In the interview, Rosatom denied the need for such support vessels stating that "a special pier will protect the [FNPP] against severe weather conditions, wave effects and ice movements." The pier, however, as confirmed by Rosatom, will have multiple openings to provide for sufficient water circulation to cool the power plant, raising questions about its protective capabilities.

Rosatom confirmed to HNN that the FNPP was constructed in accordance with the "Rules for the Classification and Construction of Seagoing Ships" and the "Rules for the Classification of the Construction of Atomic Ships and Floating Structures", but did not respond to questions about the vessels ice classification. Norway-based Bellona Foundation, an independent non-profit organization headquartered in Oslo, confirmed that the project only mentions ice-resistant paint and under the barge's classification assigned by the Russian Maritime Register no details pertaining to its ice-class are listed. The Akademik Lomonosov will be moored in the East Siberian Sea, where ice conditions remain the most dangerous a recent study confirmed.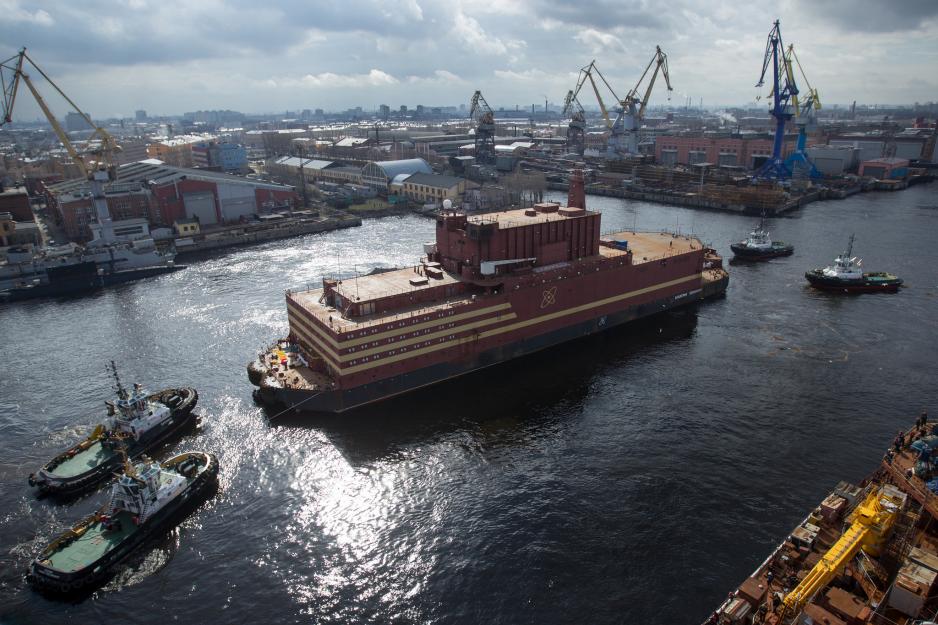 Additional questions surround the facilities ability to withstand the pressure from ice build-ups or tsunamis. And while Rosatom officials ensured HNN that the vessel is "virtually unsinkable and invulnerable to natural disasters" similar promises were made by Japanese government officials in the years prior to the Fukushima nuclear plant disaster in 2011. The vessel can remain afloat with two out of its seven compartments compromised and abides by the standards set forth by the International Maritime Organizations Code of safety for nuclear vessels. Critics, however, emphasis that this design is not in line with the best possible technical standards common today. Large nuclear-powered military vessels can remain seaworthy with four or more compartments compromised.
Lots of nuclear power in a small package
The plant's location, thousands of miles removed from a suitable maintenance or nuclear waste storage facility, requires that all nuclear waste and spent fuel rods, are stored locally on board and only removed once every 10-12 years when the facility is towed to port, likely Murmansk, for repairs. Environmental organizations criticize this design element, which results in a high concentration of radioactive material in the small confines of the reactor compartment, elevating the potential hazard in case of a serious emergency.
Rosatom states that basing the design of the FNPP on "tried and tested technology used on nuclear icebreakers since 1988, including icebreakers Taimyr and Vaygach" ensures a high degree of safety.  
There are, however, substantial design differences between icebreakers and the FNPP. The Akademik Lomonosov will house diesel-electric generators for backup power, nuclear reactors, and steam turbines all together in a reactor room similar to the size of a basketball court. This creates additional points for failure and is a combination never before seen in a nuclear-powered vessel, let alone a facility bound for one of the most remote places on earth.
It is this remoteness which, according to nuclear safety advocates, adds a whole new layer of risk to the project. The power plant provides for 24-hours of backup collant, a scarce amount in a region where assistance is often days away. In contrast, modern nuclear power plants provide for between two and four weeks of backup systems after a grid failure before the reactor sustains damage from loss of coolant.
A dirty nuclear legacy in the Arctic
The safety of the Akademik Lomonosov has also to be seen in the context of Russia's long history of irresponsible use of nuclear power and disposing of nuclear waste in the Arctic, environmental organization stress. Between 1955 and the early 1990s the country's naval forces used the Arctic as a convenient nuclear landfill. Over time fuel from more than 100 reactors from over 50 submarines accumulated in the naval base in Andreyeva Bay. In total 17,000 containers of radioactive waste, 14 nuclear reactors, and 19 ships filled with radioactive waste, among many other radioactive waste products, were dumped in the region. It was only in 2011 that the Russian government acknowledged this environmental hazard and efforts to begin removing this nuclear waste have been slow-going and rely in part on international financial aid.