Cold Response 2022

Norway's Defense Chief on Nordic Cooperation: "We are Closer than Ever Before"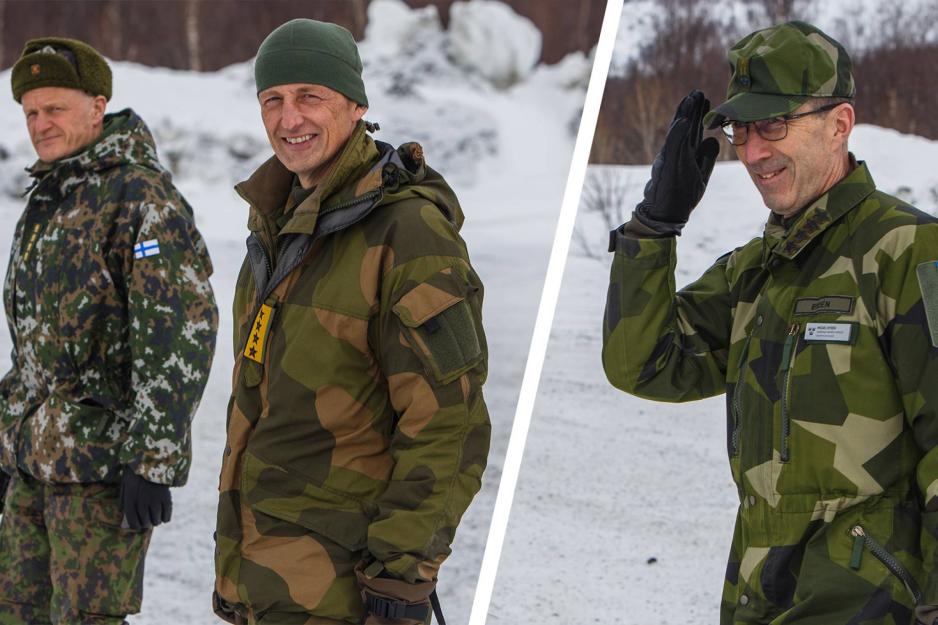 The Defense Chiefs of Norway, Sweden and Finland have had a three-day gathering in Northern Norway during the Cold Response exercise. According to them, the Nordic defense cooperation has gained more of a key role and is subject to more overall thinking.
"The Nordic cooperation is very important to Norway. We are closer than ever before", says Norway's Defense Chief, General Eirik Kristoffersen, according to the Armed Forces.
Last week, Kristoffersen hosted the defense chiefs from Sweden and Finland for three days. The troika visited Swedish and Finnish forces which then took part in the Norwegian-led NATO exercise Cold Response in Northern Norway. 
Sweden participated with some 1,600 soldiers, both land and fighter plane forces. Finland participated with some 700 soldiers, mainly from the Finnish army.
The Swedish and Finnish land forces exercised as one joint brigade under the command of the Norwegian army.
In total, more than 30,000 soldiers from 27 countries participated in the exercise, 25 of which are NATO member states. The exercise ended on 1 April. 
More important
"If you look back at history,  Nordic cooperation has always been important. However, with the current world image it is even more important", says General Timo Pekka Kivinen, Finland's Defense Chief.
Kivinen refers to the new security situation in light of Russia's invasion of Ukraine.
"We have a security policy that says that we shall build security along with others, and it is obvious we do so together with our neighbors", Swedish Defense Chief General Per Michael Bydén says.
Denmark's Defense Chief, General Flemming Lentfer, was also meant to attend the gathering, however, he was prevented from doing so.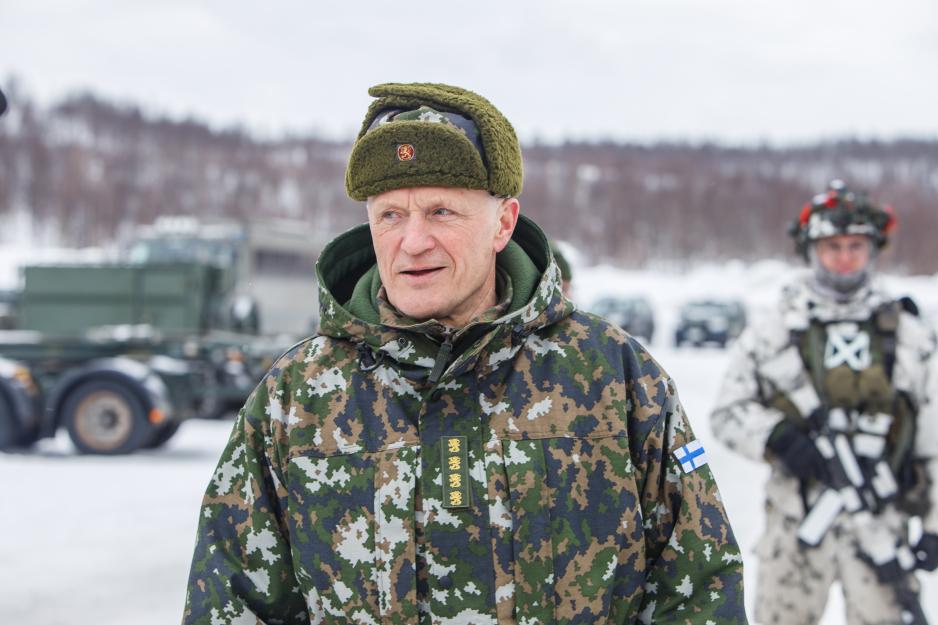 We focus more on overall thinking about defense in a Nordic context.
Strengthened defense cooperation
Nordic military cooperation, formalized as the Nordic Defense Cooperation (NORDEFCO) from 2009, got a boost after the Russian annexation of the Crimea in 2014. The cooperation includes Norway, Sweden, Finland, Denmark, and Iceland.
With the backdrop of a joint Nordic view to Russia as a security threat, these countries have strengthened their security and defense cooperation in particular in recent years, according to a policy brief from the Norwegian Institute of International Affairs (NUPI) of December last year.
The overall goal of NORDEFCO is to strengthen the countries' national defenses, explore opportunities for positive synergies, as well as facilitate cost-effective joint solutions.
The interaction has now matured into covering more joint training and joint operational planning.
In 2020, Norway, Sweden and Finland signed an agreement for stronger coordination of military operations in crisis and conflict. This includes a.o. the developing of a joint military situational understanding in the Arctic parts of the Nordics.
Last autumn, Norway joined forces with Sweden and Denmark in deepening the operative collaboration. In January, the three countries and also Finland signed a contract about joint acquisition of uniforms.
The cooperation also includes acquisition and operations of weapon systems and other military equipment, as well as logistics, the Armed Forces state.
Nordic overview
Nordic defense cooperation has taken new steps in recent years, the Norwegian Chief of Defense remarks and continues:
"We focus more on overall thinking about defense in a Nordic context".
In addition to the joint training during Cold Response, other Nordic military interaction takes place a.o. through the air force exercise Arctic Challenge Exercise (ACE), which the Nordic countries organize every other year.
"Air operations require large areas. Here, we train all over the Nordics and at each other's bases", Kristoffersen says.
"Perhaps we will develop this further into a joint air space perception, meaning that we can land at each other's base if need be, in an emergency situation. These are things we work with now", he adds.
The more we stand together, the less likely it is that someone wants to challenge any of our nations, regardless of whether or not they are NATO members.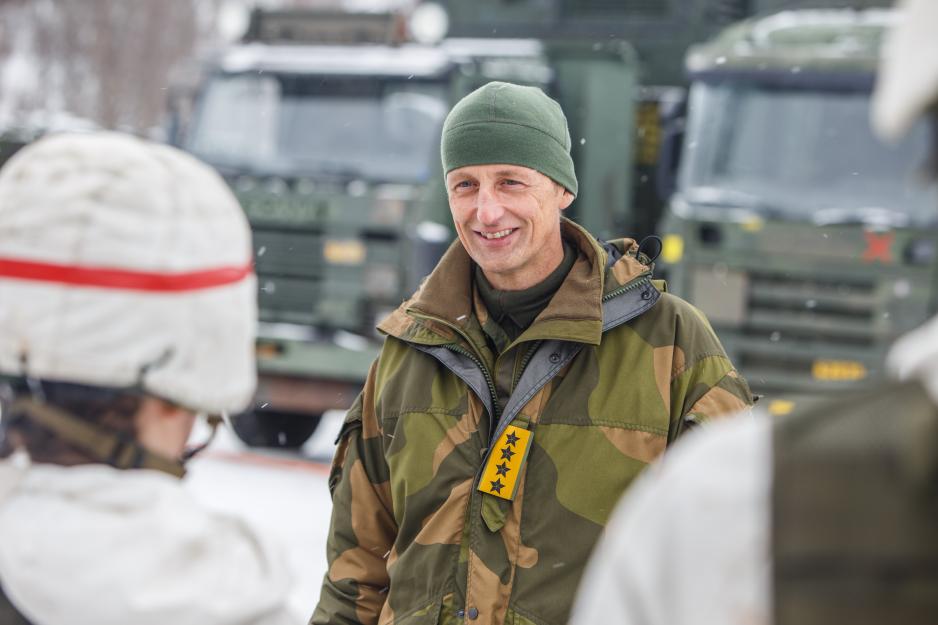 The strength of multiple fellowships
Sweden and Finland are strongly tied to NATO, however, they are not member states and thus do not have, like Norway, Denmark and Iceland, its collective defense to back them up.
While NATO constitutes the most important security guarantee for Norway, the interaction with these two close neighbors and the other Nordic countries are of vital importance, according to the Norwegian defense chief.
Kristoffersen points out that Norway's defense consists of several layers; the Defense's own capacities, interaction between the Defense and civilian preparedness bodies (the total defense), Nordic defense cooperation and the NATO membership.
"The more we stand together, the less likely it is that someone will want to challenge any of our nations, regardless of whether or not they are NATO members", he remarks and continues:
"We send a message about standing united and will not accept an attack on any one of the countries. We will support each other one way or the other, regardless of the alliance. Our most important job is to prevent war."
As current chair of NORDEFCO, Norway has initiated ongoing dialogue and coordination with Sweden and Finland about the Ukraine crisis, said Norwegian Defense Minister Odd Roger Enoksen (Center party) after the NATO Defense Minister Meeting on 16 March.
Nordic Army Chief meeting
The aforementioned Norwegian-Swedish-Finnish cooperation agreement from 2020 about operational planning also includes plans for a new and closer army cooperation.
This is expressed in the way through which the three countries' land forces were exercising during Cold Response, with a joint Swedish-Finnish brigade under Norwegian command.
On Tuesday last week, this brigade was visited by the army chiefs from Finland, Norway and Sweden; Lieutenant General Pasi Välimäki, Major General Lars Sivert Lervik, and Major General Karl L. E. Engelbrektson, respectively.
"The Cold Response 2022 exercise stresses the Nordic region's geopolitical significance, strengthens defense cooperation, and sends a strong external signal", the army chiefs wrote in a joint statement on that day.
Their statement also points out that the Ukraine war demonstrates a clear need for coordinated defense plans among the countries.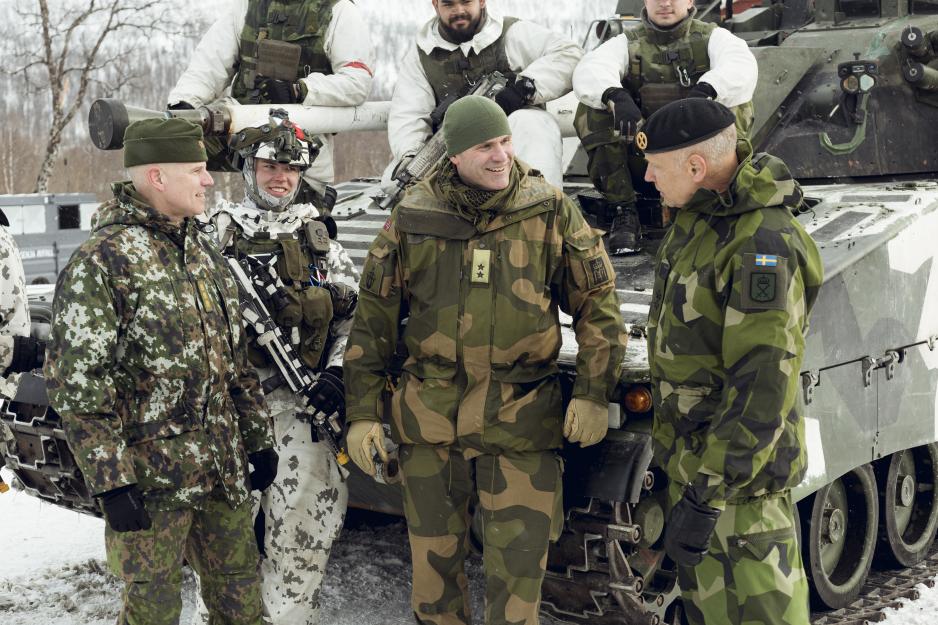 The Scandinavian peninsula and the Baltic Sea are to be considered one joint area of operations
One joint area of operations
"The Scandinavian peninsula and the Baltic Sea are to be considered as one joint area of operations", said Sweden's Army Chief Engelbrektsond during the visit, according to the Armed Forces.
The North European part of the Arctic and the Baltic Sea region are also connected in a military strategical and defense and security policy context from both Nordic politicians as well as researchers.
"Even though we share the climate, our respective topographies vary greatly. We need Norwegian knowledge about how to use the Norwegian terrain to one's advantage", Engelbrektson continued.
The Nordic army chiefs see a potential for closer cooperation about information exchange and logistics, and perhaps also joint military operations in a longer-term perspective, said the Norwegian Army Chief Major General Lars Lervik.
"In exercises like Cold Response we build interaction between technical systems, however, we also build trust. People learn to trust each other. We build joint strike force every single day", Lervik stressed.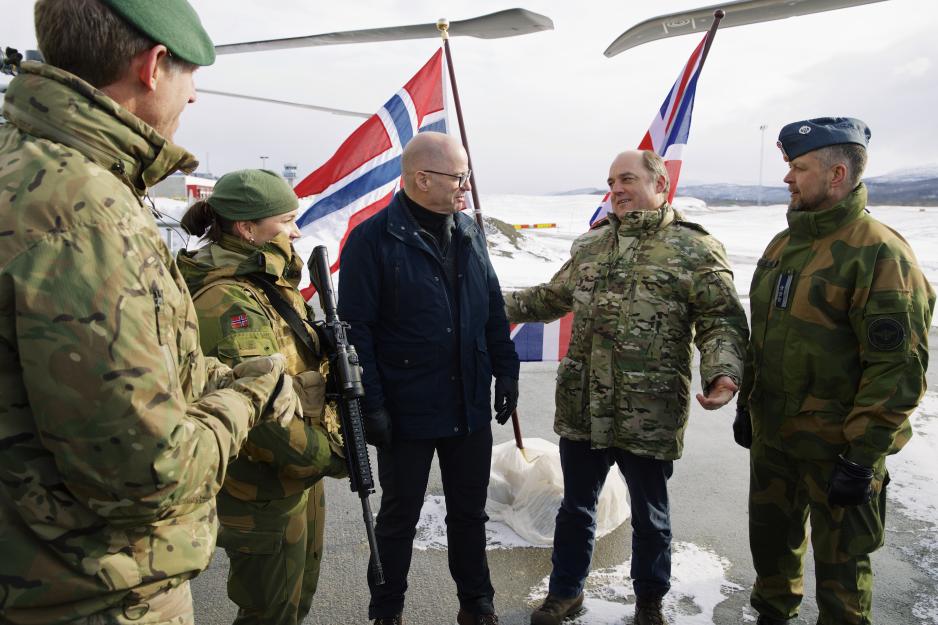 Visit from Swedish top politicians
The series of Nordic VIP visits to Northern Norway during Cold Response started off with Swedish PM Magdalena Andersson (S) and opposition leader Ulf Kristersson (M) mid-March.
They met with the Finnish-Swedish brigade near Bjerkvik and promoted Nordic cooperation.
In the current security context, Nordic joint training during Cold Response sends an important signal about preparedness to defend our countries, said PM Andersson during the visit.
If other EU countries as well as Norway were to end up in a situation of crisis or war, Sweden will not remain neutral, Andersson also said.
There is currently a popular majority in both Sweden and Finland in favor of NATO membership, and the "NATO issue" is high on the political agenda in both countries.
This article was originally published in Norwegian and has been translated by HNN's Elisabeth Bergquist.