Diving Into the Arctic Ocean's Wonders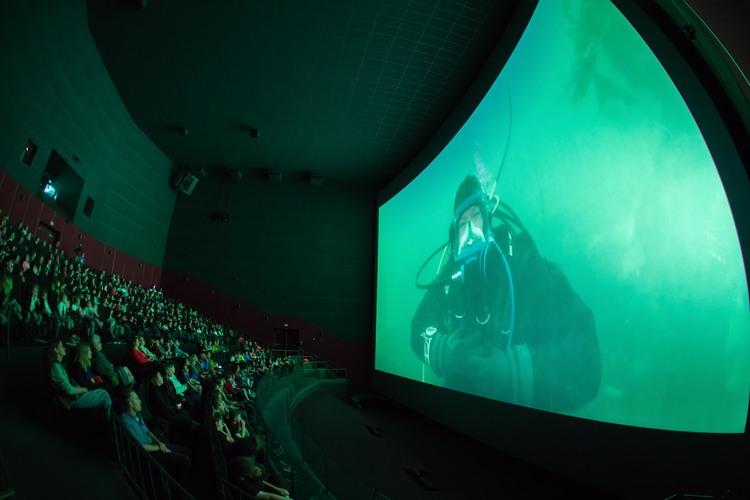 Last weekend, Canadians across the country got to see, hear, and talk to scuba divers in the central high Canadian Arctic of Cambridge Bay (without getting wet).

Last weekend, Canadians across the country got to see, hear, and talk to scuba divers in the central high Canadian Arctic of Cambridge Bay (without getting wet).
On August 27, two marine biologists made history by livestreaming their Arctic dive on Facebook and to museum theatres as part of the Fish Eye Project. Organized by University of Victoria graduates Maeva Gauthier and Mike Irvine, the Fish Eye Project uses innovative technology to connect children and adults with the world's oceans. By offering interactive Live Dives, where viewers can hear, see, and talk to scuba divers in real time, the project aims to entertain, engage, and educate by connecting people to the world's oceans.
Since its founding in 2015, the Project has broadcast real-time dive events to more than 30 countries and hundreds of classrooms around the world. Last year, the Project live broadcast from the underwater kelp forests off of Ogden Point Breakers, steaming into multiple giant screen theatres and online to thousands of students.
Last weekend, Gauthier and Irive dove into unchartered waters in their first-ever Arctic dive.


Making History By Connecting Canadians to the Arctic Ocean
The pair of scuba divers partnered with Oceans Networks Canada, Ocean Wise Vancouver Aquarium, Polar Knowledge Canada, and Canada C3 – the 150-day journey of a Canadian research breaker currently traveling from Toronto to Vancouver via the Northwest Passage – to make the Cambridge Bay dive happen. They hope the livestream of the dive, and the to-be released recorded educational curriculum on the C3 website for teachers to use during the school year, will inspire a new generation of ocean stewards.
"This opportunity to partner with Canada C3, a ship's journey around Canada's 3 coastlines was a great opportunity to highlight the Arctic Ocean and connect people with this special environment," Maeva Gauthier told High North News.

Maeva Gauthier, one of the leads, has a Master's degree in marine biology and returns to the University of Victoria this fall to begin a doctorate in Geography. Her dive partner, Mike Irvine, also graduated from the University of Victoria, presenting his thesis from five metres below the surface of the Salish Sea in 2015. "Not many people get to go to the Arctic and so, our goal is to bring people/organizations together and create an opportunity to learn and explore underwater together."
The dive this weekend was the first-ever dive to broadcast the Arctic Ocean live, with viewers able to watch and ask questions to Gauthier and Irvine as they descended into the depths of Cambridge Bay's polar waters. "Not many people get to go diving and seeing what's underwater and the wonders, is a good way to get people excited and the ocean," Gauthier reflect of the dive. "We protect what we love."


The Long-Term Impact: Engaging the Next Generation of Ocean Conservationists
While the dive itself was a first, partner organization Ocean Networks Canada, a University of Victoria-led initiative, installed a community observatory in these same waters in 2012. "For the past five years, the remote community observatory has continuously monitored, collected and delivered real-time data for science, society and community members," Greig Bethel told High North News ahead of the dive. "Sensors installed at Cambridge Bay measure temperature, oxygen, salinity, sea ice thickness, underwater noise and weather conditions." In addition to the sensors, underwater cameras were also installed, providing video of marine life. An additional shore camera provides time-lapse videos that show sea-ice freeze-up and break-up in the Arctic, all of which is freely available on the Oceans Network Canada website.
As shrinking sea ice brings a new era for arctic tourism, the Cambridge Bay observatory has become a vital tool for monitoring ocean health and marine safety. But more than a scientific tool, Oceans Network Canada's Arctic observatory has become a place for education and outreach. "Ocean Networks Canada's learning team works with the local Inuit community and youth – including elementary and high school students – in Cambridge Bay, highlighting the importance of both scientific and traditional knowledge." One of ONC's flagship learning programs is hosting an Arctic Youth Science Ambassador, a position for a young student in the community – "essentially, they are the face of climate change in the north" says Bethel.
This – engaging youth and community in a fun way to ocean health, is ultimately the goal that ties all partners together on the project.
"Fish Eye Project's goal is to connect people to the ocean in a fun and interactive way," Maeva continued. "For this Arctic Live Dive, we want to give people the chance to connect with this unique environment, the marine life, and open a window into that environment, the science and technology (with Ocean Networks Canada) and the Inuit connection with the ocean (co-host Mia Otokiak and her grandma are part of the live show). Ocean Networks Canada is a long-term way to study the ocean."