Cargo Volume on Northern Sea Route Reaches 35m Tons, Record Number of Transits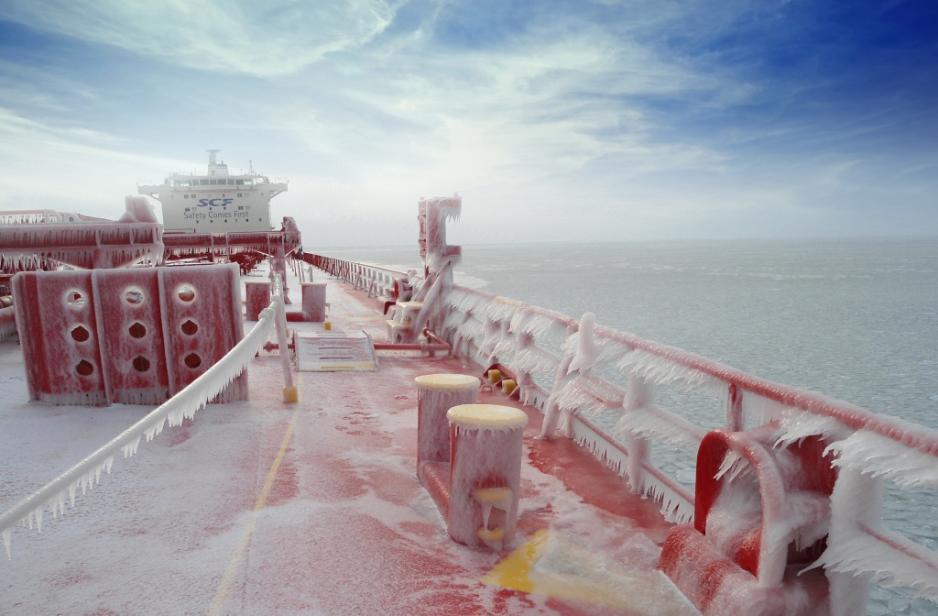 In 2021, 34.9m tons of cargo were transported along Russia's Northern Sea Route (NSR) surpassing last year's figures by almost 2m tons. Transit traffic also saw record highs with 86 transits voyages carrying 2.75m tons of cargo.
Shipping traffic along Russia's Arctic waters continues to grow. Year-over-year tonnage increased by 5.7 percent from 32.9m to almost 35m tons. About two-thirds of cargo volume originates from the export of liquefied natural gas (LNG) and crude oil with the remaining share coming from bulk shipping and general cargo. 
Over the past decade traffic has increased more than 15-fold, with the largest increase coming in 2017 and 2018 when Novatek's Yamal LNG facility began production. Similar jumps in volume are expected in the coming two to three years when the company's Arctic LNG 2 facility will add an additional 20m tons per year in LNG production transported in tankers via the NSR.
According to Rosatom, Russia's operator of nuclear icebreakers and the government agency primarily responsible for the development of the NSR, cargo volume is expected to hit 80m tons in 2024 and 110m tons by 2030. These goals were first laid out in a presidential decree from 2018 in which President Putin called for the NSR to be developed into a global transport route. 
Such figures will largely depend on Novatek and Gazprom successfully constructing and taking into operation future hydrocarbon projects and Rosatomflot's nuclear icebreakers being able to keep the route open even during the heart of winter to ensure year-round navigation.
Cargo volume continues to grow
Between 2012 and 2021 cargo volume has grown rapidly from around 2m tons to 35m tons today. For 2022 Russian officials expect around 40m tons of cargo along the route.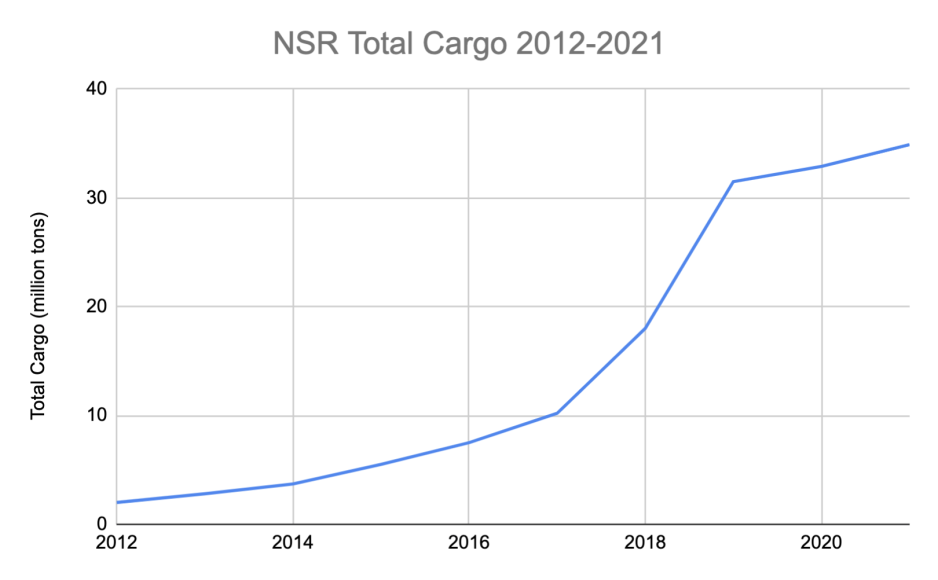 Last year also saw a record number of transit voyages, with 86 ships carrying around 2.75m tons of cargo across the entire length of the route. The previous record, set last year was 1.28m tons of cargo aboard 64 ships. 
While transit traffic, including the first-ever container ship transit in 2018 by Danish company Maersk, frequently grab international headlines, for Russia the NSR represents primarily an export route to transport its natural resources to the markets in Europe and Asia.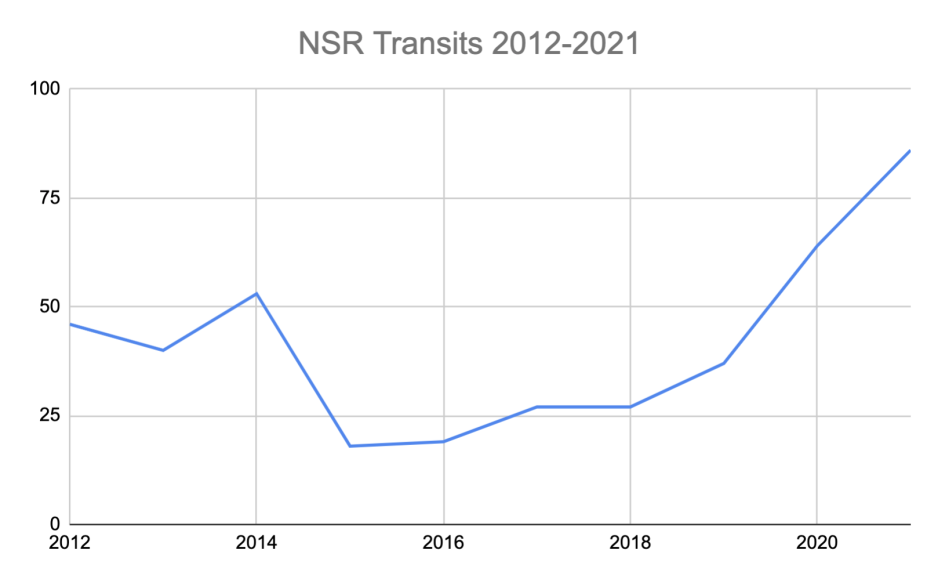 China's COSCO remains active on the route
Apart from Russian ports, Chinese ports continue to represent the largest destination for transit voyages on the route. Last year Chinese ports accounted for 26 voyages on the NSR representing 30 percent of all transits.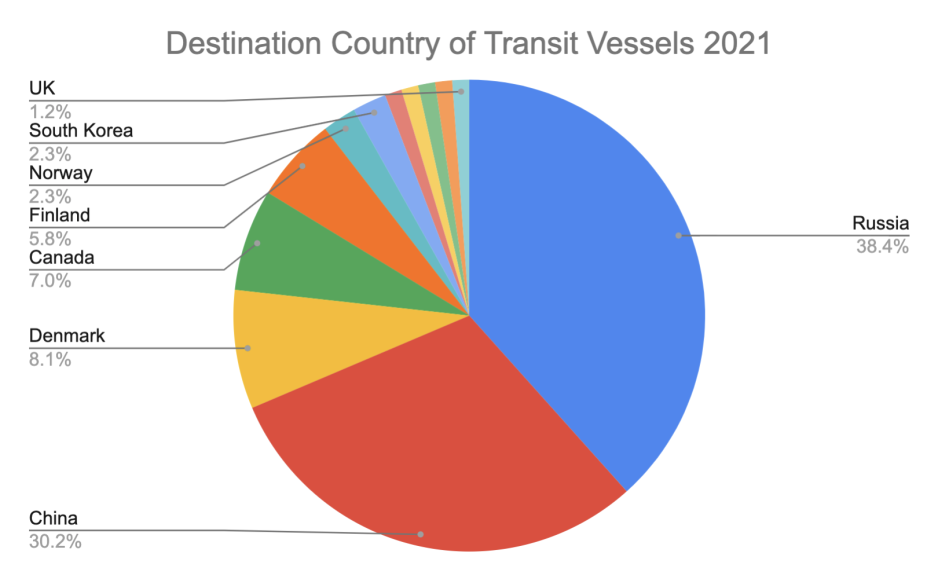 Shipping activity on the NSR is no longer the domain of niche operators. Chinese shipping company COSCO, one of the world's largest shipping companies, remains the largest operator of transit voyages concluding 14 trips in 2021, primarily with general cargo vessels. In 2018 the company conducted just five transits.
Suek AG, the world's largest coal trading company, completed 12 voyages and Oldendorff Carriers, the world's largest dry bulk shipping company, accounted for 8 trips. Other operators accounted for 52 voyages.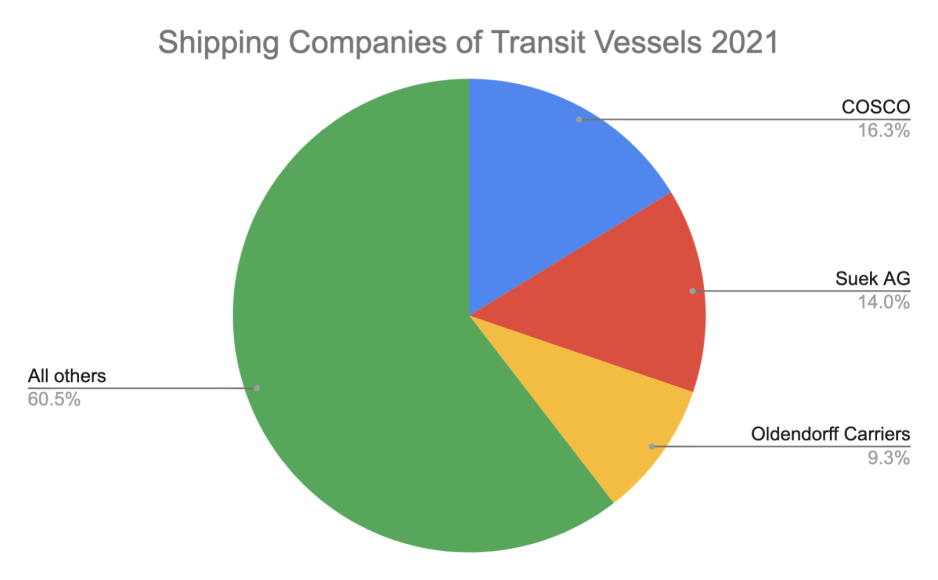 Limited or no ice class required
In contrast to Russia's exports of LNG and crude oil which occur almost year-round and for the most part require specialized highly ice-capable vessels, transit voyages generally occur during the less challenging summer and fall months. 
This is reflected in the limited ice class of transit vessels. Around 40 percent of ships had limited (Ice 1 or Ice 2) or no ice class at all. A further 50 percent of transit vessels fell into the Arc4 ice classification, the lowest category for Arctic ships. The remaining ten percent had higher ice classes.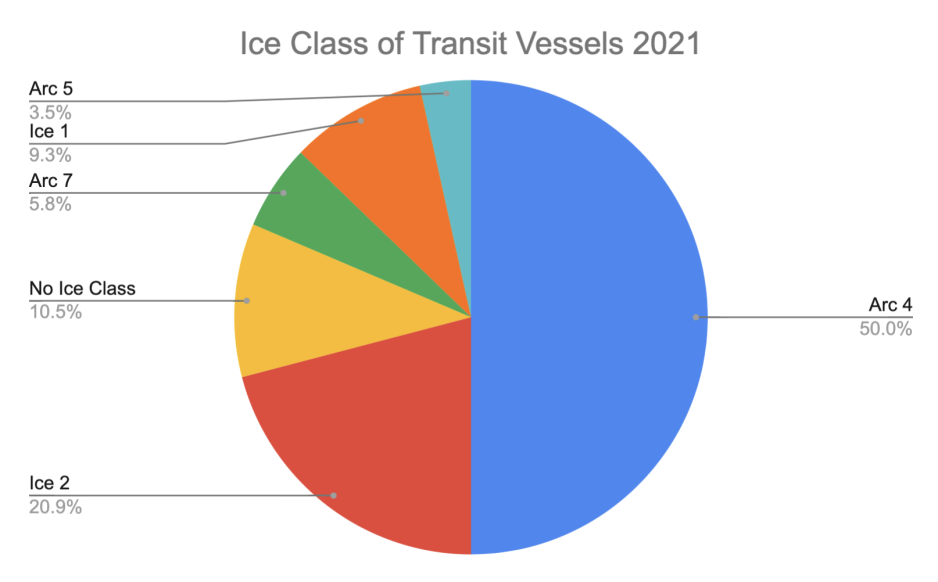 Despite increasing levels of Arctic sea ice melt, unfavorable weather and wind conditions can quickly turn Arctic waters into challenging ice-covered waters as occurred in November of last year. Nearly three dozen vessels were stuck on the route for up to a month until conventional and nuclear-powered icebreakers could reach them and escort them out of the ice.