Record Traffic on Northern Sea Route as COSCO Completes Five Transits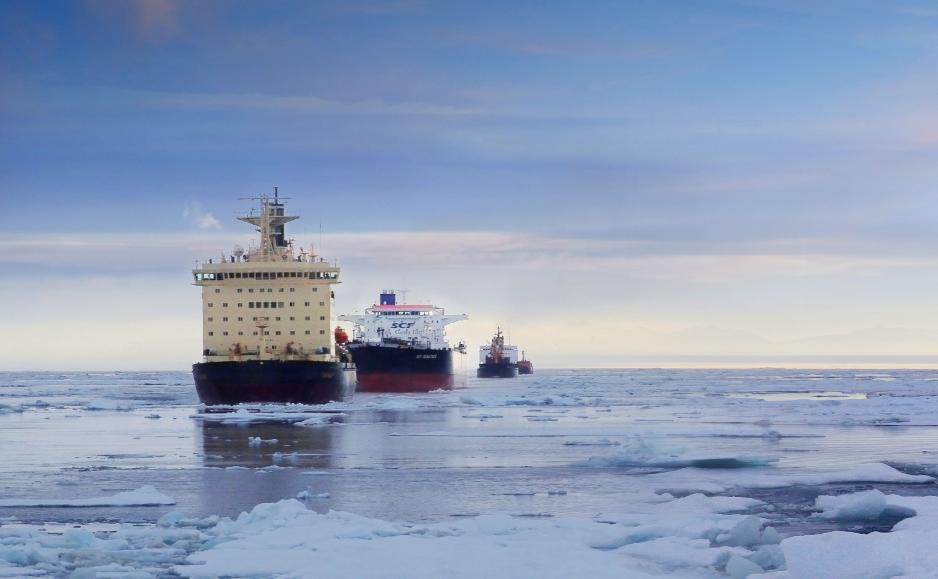 Northern Sea Route Traffic jumps more than 80 percent as COSCO of China completes five transits with more on the way. Shipping giant Maersk also active on route as well as a number of cruise ships.

Northern Sea Route Traffic jumps more than 80 percent as COSCO of China completes five transits with more on the way. Shipping giant Maersk also active on route as well as a number of cruise ships.


Shipping traffic along Russia's Northern Sea Route reached new heights during the first eight months of 2018 as cargo volume increased by more than 80 percent compared to the same period last year, Russian media outlets report. The route is, at least during the short summer season, increasingly resembling a traditional shipping lane home to not only natural gas and oil tankers, but also general cargo vessels, cruise ships and, for the first-time ever, container vessels.


China's shipping giant COSCO, as in previous years, has been very active on Northern Sea Route (NSR), conducting a record-equalling five transits,
shipping traffic data indicates
. Hapag-Lloyd's
MS Bremen,
is sailing along the route with with nearly 200 guests and crew, while
Danish company Maersk is sending the first-ever container ship through the Arctic
. 



Shipping Patterns of Yamal LNG


As Novatek's Yamal Liquefied Natural Gas (LNG) project has shipped in excess of four million tons of LNG its shuttle service has settled into a rhythm. During the first half of 2018 five purpose-built ice-class LNG carriers transported 34 loads of natural gas, around 2.5 million tons, to markets in Europe. The average voyage from Sabetta to European ports lasted an average of 10 days, with 10.2 days for the return voyage to Sabetta, High North News research indicates. The loading and unloading of LNG took on average 1.8 days and 1.9 days respectively resulting in a total of 24 days for a full round-trip journey from Sabetta to Europe and back. 


The majority of deliveries were destined for the ports of Montoir, France and Rotterdam, Netherlands, which accounted for 22 out of the total 34 voyages. Additional deliveries were made to ports in Spain, Great Britain, and Belgium.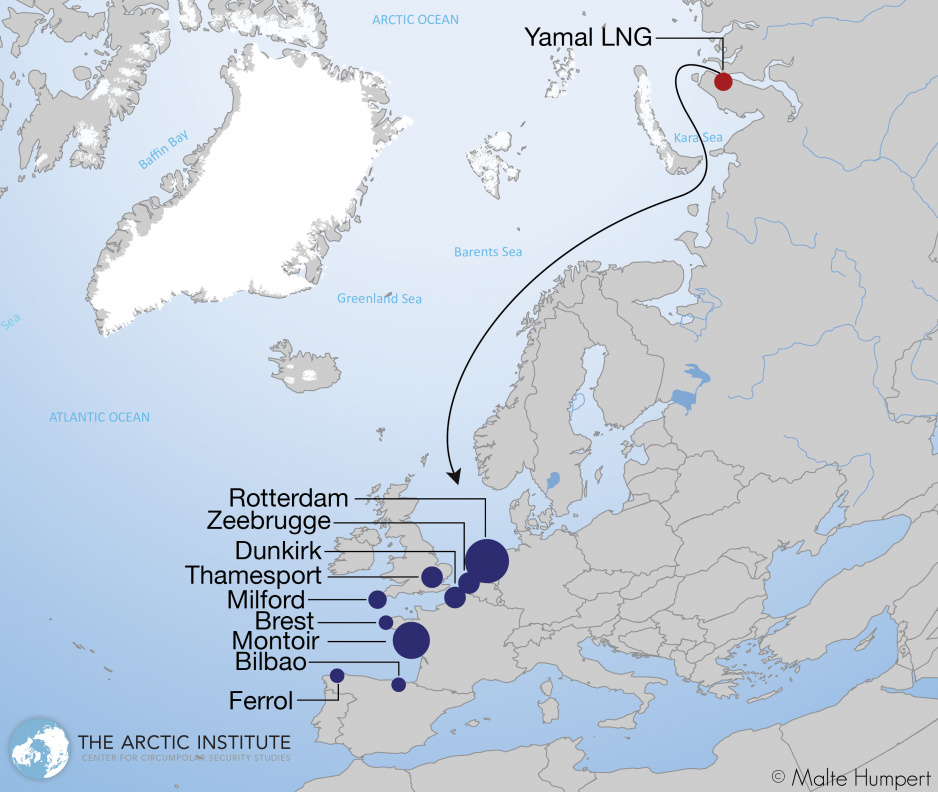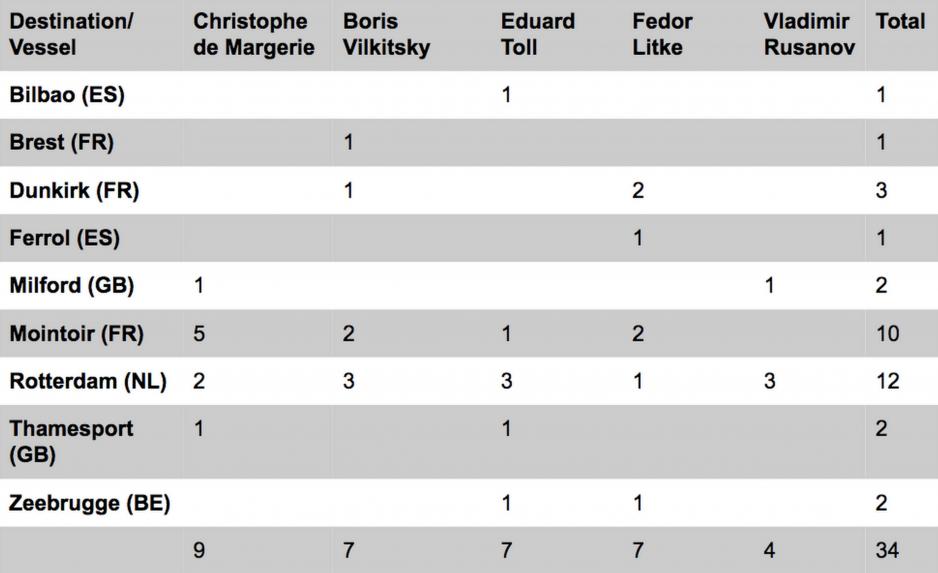 During the summer months when the ice is thinner along the NSR the fleet of LNG carriers travels in an eastward direction to China. In early July two purpose-built Arc7 ice-class LNG tankers, the
Vladimir Rusanov
and
Eduard Toll
,
completed the first-ever delivery of LNG in an eastward direction straight from the Yamal production facility to Asia
. Both vessels completed the voyage in 19 days with no icebreaker support and arrived at the Chinese port of Jiangsu Rudong on July 20th.

Round trip journeys from Sabetta to Asia take an average of 40 days and are thus significantly longer than trips to Europe. In order to increase the shuttle frequency of specialized ice-capable LNG carriers Novatek aims to build a transshipment up on the Kamchatka peninsula. Here LNG would be transferred to conventional, cheaper-to-build and operate LNG carriers. This would allow the ice-capable LNG carriers to increase the frequency of their trips along the NSR.



COSCO Back on NSR


The first eight months of 2018 also saw renewed activity by Chinese shipping giant COSCO. The company is on track to surpass last year's record when it sent a dozen vessels along the NSR. So far this year five of its vessels completed or are in the process of full transits of the route, already equalling last year's total.

The
Tian Hui
(IMO:5284835) was first to enter Arctic waters traveling from Emden, Germany to Kushiro, Japan on July 21st. The
Tian You
(IMO:5530544) sailed the route in a westward direction between July 30th and August 13th. It was followed by the
Tian Jian
(IMO:4644502) which traveled from the Finnish port of Port of Vuosaari to Qingdao, China between July 27th and August 30th. Currently still en route are the
Tian En
(IMO:5247981) traveling westbound from Lianyungang, China to the French port of Rouen where it is expected on September 5th. Also on the route are the
Tian Qi
(IMO:5173274), which left Kotka, Finland on August 17th with a planned arrival in Qingdao on September 14th.


Maersk Playing Catch Up

In total COSCO has completed more than 30 voyages through the NSR over the past five years. Danish rival Maersk, is looking to complete its inaugural trip this summer as it is sending the
Venta Maersk
,
the first-ever container ship along the route
. A number of the world's largest shipping companies, including Mitsui O.S.K. Lines (MOL) and Teekay, have gained experience operating large vessels along the route.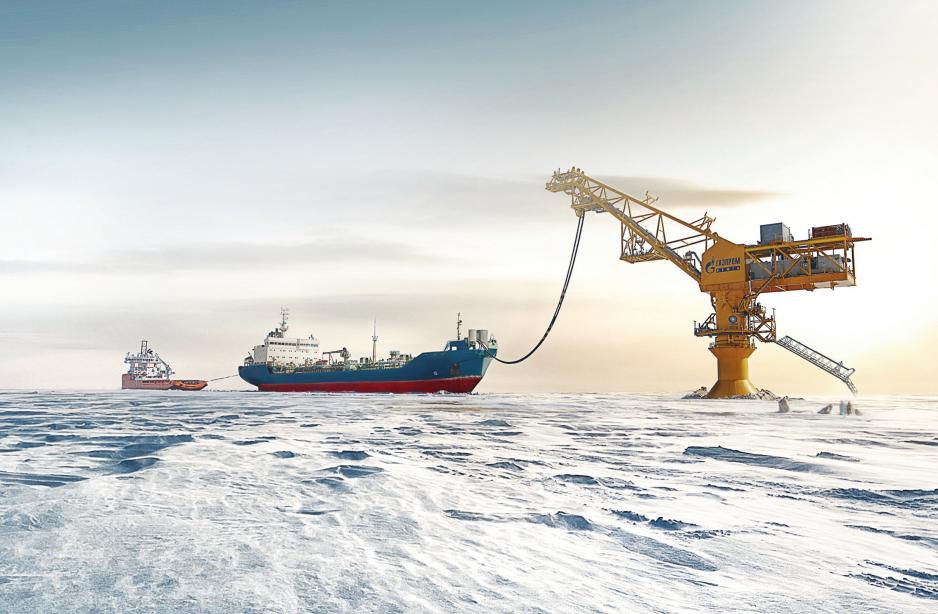 Russia's largest shipping company Sovcomflot has completed more than 100 voyages delivering crude oil from
Gazprom's Novy Port oil facility
on the Yamal Peninsula using custom-built 35,000 tons capacity ice-capable vessels since production began in 2016. During the first eight months of 2018, Gazprom exported nearly 4.5 million tons of crude oil, accounting for roughly 45 percent of traffic on the NSR.


Passenger Traffic Increasing

The NSR also saw renewed cruise ship activity. The Arc5 ice-class
MS Bremen
is currently sailing on the route in an eastward direction between August 16 and September 7. The
Silver Explorer,
explored the Arctic waters around Alaska and will sail the full length of the route during the summer of 2019. Across the Arctic along Canada's Northwest Passage,
the grounding and subsequent evacuation of the
Akademik Ioffe
exemplifies the challenging and dangerous nature of voyages in the Arctic waters.

Until recently passenger traffic along the NSR was limited to tourist trips aboard Russian nuclear icebreakers. However, the Arctic cruise ship sector is slated to experience a significant growth over the next four years as at least 28 ice-capable cruise ships are expected to be completed during that time, the
Barents Observer recently reported.

Shipping traffic along the NSR usually peaks during the second half of September and more than two months of peak shipping season remain along the route before limited winter operations commence.