Shipping Traffic on Northern Sea Route Grows by 30 Percent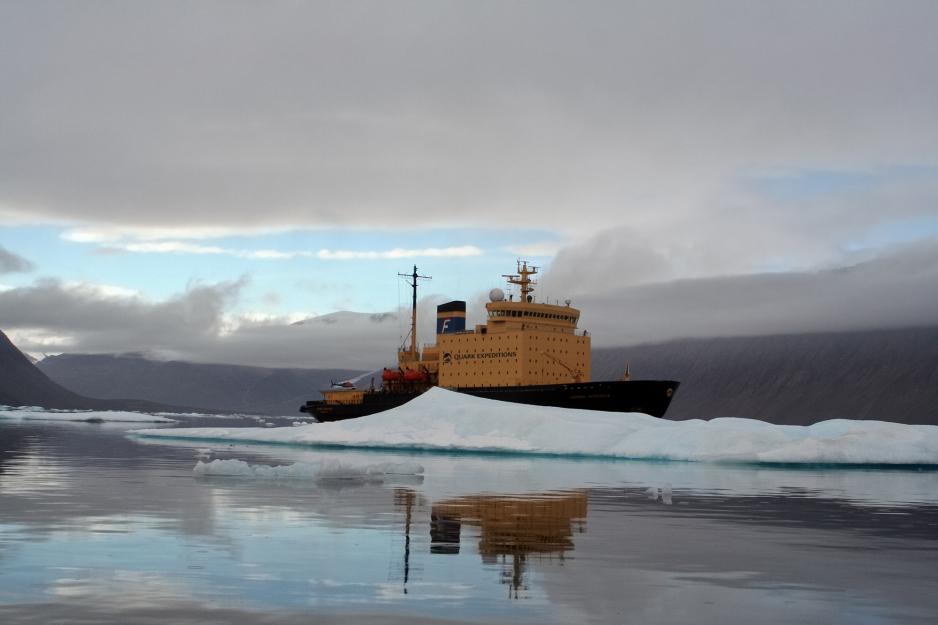 Shipping traffic in Russia's Arctic waters along the Northern Sea Route (NSR) continued to grow in 2016. Cargo volume on the NSR increased by 33 percent.

Shipping traffic in Russia's Arctic waters along the Northern Sea Route (NSR) continued to grow in 2016. Cargo volume on the NSR increased by 33 percent.

Total cargo volume on the NSR increased by 33 percent from 5.15 million tons in 2015 to more than 6.9 million tons in 2016 according to Alexander Cybulski, Deputy Minister of Economic Development of Russia
as reported by PortNews.ru
. This compares to volumes of 2.8 million tons in 2013 and 3.7 million tons in 2014.


Oil and gas developments bolster cargo volume


The port of Sabetta and the nearby development of Yamal LNG are a significant contributor to the growth in traffic. The port saw the arrival of a total of
120 vessels delivering 505,000 tons of goods and construction materia
l. In comparison, 50 vessels carrying 450,000 tons arrived in Sabetta in 2015.
The 2016 shipping season also saw increased activity by China's COSCO shipping company which, for the first time,
sent five vessels along the NSR
in part to deliver construction materials for Yamal LNG to Sabetta.


Number of NSR permits holds steady

The
Northern Sea Route Administration issued a total of 718 permits
for the route, similar to the 715 permits it granted in 2015. However, in contrast to previous years, when only a very small number of non-Russian operators applied for permits, in 2016 more than 20 percent, or 144 permits, were issued to international operators.

Vessels flying the flag of the Netherlands accounted for 37 permits, followed by Luxembourg with 22 permits, and Liberia with 13. In total permits were granted to vessels flying the flags of 27 different countries.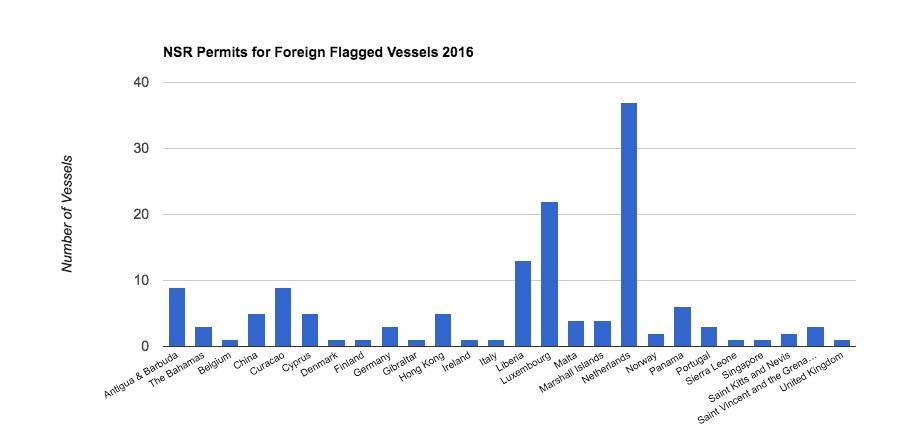 Transit Traffic Rebounds Slightly
In line with the increase in overall traffic on the NSR, transit traffic also increased. In total, 19 vessels carrying 214,500 tons of cargo traveled the full length of the route from Europe to Asia or vice versa. This represents a significant increase in cargo volume over 2015 when the route saw a record low with just 18 transits carrying 39,000 tons. However, while transit cargo volume increased significantly year-over-year, it is still far off its peak of 2012 when more 1.2 millions tons transited the NSR.

While all 19 transit vessels were constructed to ice class specifications, at least six vessels received icebreaker assistance during their transits. Of the 19 transits, seven ships traveled westbound from Asia to Europe, and 12 vessels traveled eastbound.
Coal accounted for around 155,000 tons of cargo representing more than 70 percent of the total. The remaining cargo consisted of paper pulp, iron ore, oil products, frozen meat and fish, as well as general cargo.
Three transits originated in Norway. The vessel Winter Bay vessel carried 1,625 tons of meat from Tromsø to Osaka, Japan and the supply vessels Normann and Pomor departed Bergen for Kholmsk, Russia.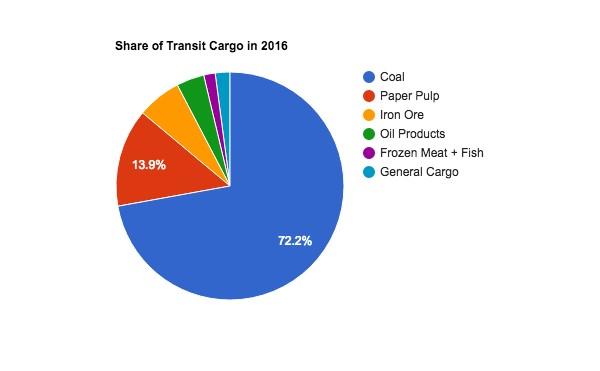 Beyond cargo - passenger traffic on the NSR
The 2016 shipping season also saw the transit of not only cargo along the route but also passengers. The Russian polar-class icebreaker Kapitan Khlebnikov, which operates as a cruise ship, carried 120 passengers from Anadyr, Russia's easternmost town, to Murmansk during the month of June. Hapag Lloyd's Hanseatic traveled the route from Murmansk to Provideniya with 126 passengers during August and September.


A shortened window to transit the NSR
NSR transits began with a westbound trip by Kapitan Khlebnikov on July 16th when the vessel entered the route at Cape Dezhnev and exited at Cape Zhelaniya on July 27th. The last transit occurred between November 11th and 17th when the supply vessel Pomor traveled eastbound from Bergen, Norway to Kholmsk, Russia.
Unfavorable ice conditions during the months of June and July resulted in a late start to the transit season. As the result of this the 2016 transit shipping season was the shortest of the past five years, lasting 124 days. This compares to 133 days in 2015, 141 days in 2014, 153 days in 2013 and 148 days in 2012.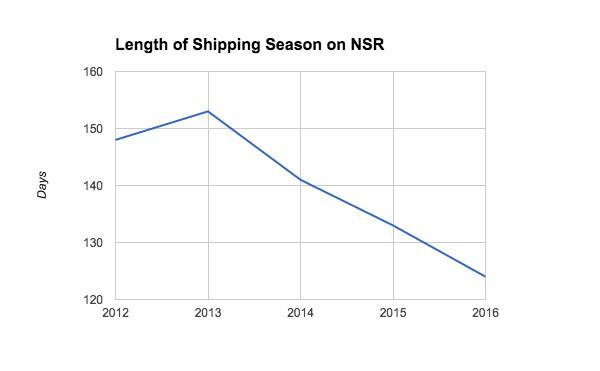 NSR traffic likely to grow over coming years
Russian authorities expect traffic on the NSR to continuously expand over the coming years as Novatek's Yamal LNG plant comes online in late 2017. Once production reaches full capacity the plant will produce 16.5 million tons of liquefied natural gas per year, which will be exported to buyers in Asia and Europe via the NSR.