Russian Demonstration of Power in Northern Waters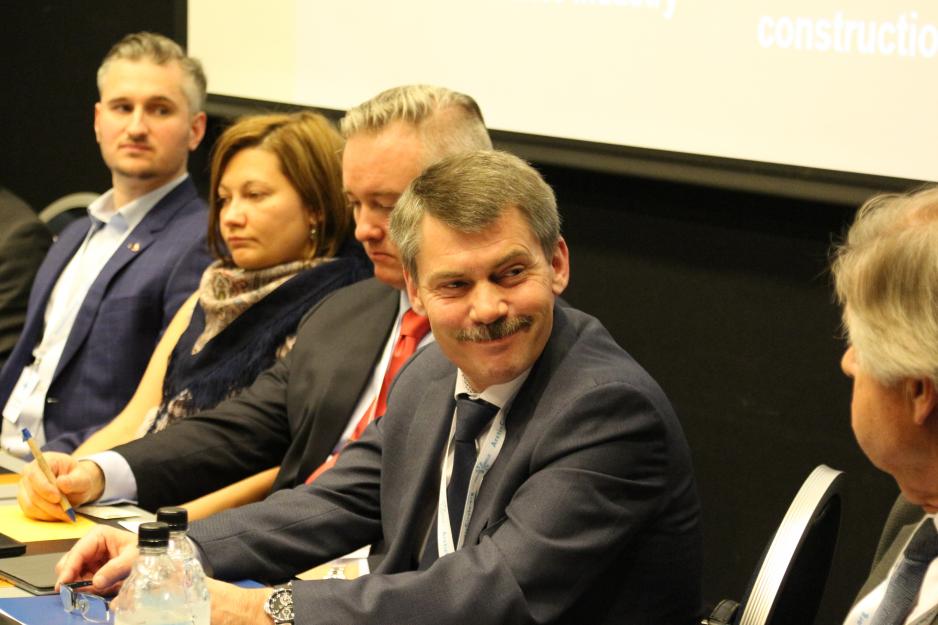 Russia is building impressive infrastructure along its northern coastline and facilitates increased traffic through the Northern Sea Route (NSR).

Reykjavik: Russia is building impressive infrastructure along its northern coastline and facilitates increased traffic through the Northern Sea Route (NSR).

Klikk her for norsk versjon.
"Russia has always wanted to open these waters," says Yuriy Kostin, Deputy Head of the Russian Federal Agency for Maritime and River Transportation. He quickly draws the historical lines and says the first successful eastbound voyage took place in 1932. The NSR administration office opened the same year.
And today, 85 years later, traffic along the NSR is increasing year by year. In 2016, 7.48 million tons of good were transported along the corridor, and this year there are hopes of 10 million tons.
"Two key factors form the basis for this development, namely that the NSR provides a good economic alternative, and the fact that ship-owners are interested in the opportunities in the High North," Kostin says during a session of the Arctic Circle Assembly that focuses on the NSR and what effect it may have on global trade.
Does not believe in fixed routes
Russia sees significant amounts of domestic traffic along the Northern Sea Route, however, fans and sceptics argue over whether global trade routes will move north or not. Challenges line up.
"So yes, the NSR provides a shorter distance, however, at what speed will it be possible to traverse the ice," asks Professor Lawson W. Brigham.
Brigham sees further challenges too:
"What about the season? Some claim that it is possible to sail there 12 months of the year, and that may be so, but how long is the part of the season that is economic viable?"
He does not believe that there will be fixed routes in the area.
Russian demonstration of power
The Russians are now building infrastructure that is nothing but impressive.
Yuriy Kostin shows the port projects that have already been built out, and those that are planned.
"We started constructions in Sabetta in 2012. Back then, it was a desolate village. All goods and equipment there has arrived by boat. Now, five years later, the village has grown into a town of some 30,000 people," he illustrates.
The port is key in the LNG initiatives on the Yamal peninsula, which also has a new airport that opened in 2014.
The next on Kostin's list is Murmansk Transportation Hub, which according to plans should have a capacity of some 18 million tons of goods, primarily coal and oil. He then followed up by showing the plans for Indiga in the Nenets region, which is to be built with a capacity of 40.4 million tons of coal, oil, LNG, petroleum products. An oil terminal is planned in Cape Tanalau, in relation to the development of the Paivakhskoe and North Paivakhskove fields.
The coal terminal 'Chayka' is to be built in Dikson, initiated by a mining company. Its planned capacity is 10 million tons of coal each year. East of Yamal, on the Gydan peninsula, there are plans of constructing an LNG terminal in relation to the development of the Salmanovskoye field, which holds both oil and gas. Planned capacity is 33.5 million tons of LNG each year.
Security is most important
After going through an impressive series of projects, Kostin says that his is just 'a brief description' of projects in Russia that related to the NSR. He continues with a thorough overview of what his country is doing when it comes to security and preparedness. In addition to three preparedness centers in Dikson, Tiksi and Perek, he demonstrates impressive icebreaker capacities and vessels designed for use in both search, rescue, oil protection – vessels that also hold icebreaker capacities.
Russia has also started seabed-mapping surveys in the north, which intends to provide a better basis for maps as well as contribute to more secure navigation in the area.
"Security above all," Kostin says, before bringing a message for the ship-owners in his audience:
"You must calculate what will be profitable, and calculate carefully. Because this is the Arctic, and there will always be ice. However, you are welcome to make use of the Northern Sea Route and we will do what we can to facilitate this."