Novatek Confident It will Complete Arctic LNG 2 on Schedule Despite Western Sanctions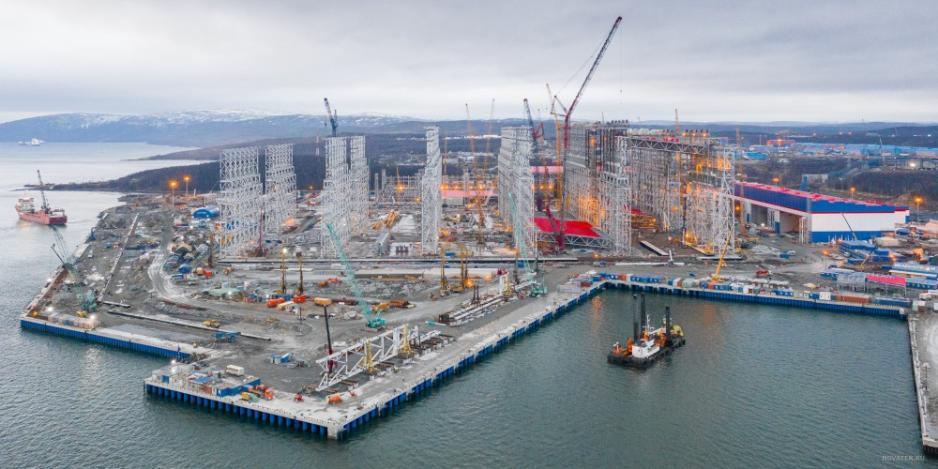 In what appears to be a turn-around for Russia's Novatek, the company now projects confidence that it has found ways to overcome EU sanctions and will be able to complete all production lines of its flagship Arctic LNG project by 2026.
Just a few short months ago Novatek's Arctic LNG 2 project appeared to be severely hampered by Western sanctions.
In addition to European technology partners, including France's Technip and Germany's Siemens and Linde, exiting the project, the company faced substantial challenges in securing specialized turbines and other proprietary technology to complete its latest project. The construction of prefabricated modules in China was also halted. 
While the first production line, or train, had reached around 90 percent completion when sanctions took effect, progress on the second and third train was much more modest resulting in industry experts expressing doubt if the project could be completed as originally envisioned.
It appears Novatek has found ways to overcome these challenges. Timofey Sazonov, a project director, confirmed that the company is not "reconsidering deadlines." 
According to Sazonov, the first production line will open in December of 2023 and more importantly the second and third train will come online in 2024 and 2026, largely in line with the original pre-sanction schedule.
"Of course, sanctions have affected us. We have made efforts not only in terms of the industry and the engineering solutions, but we have also managed to obtain the main equipment for all the three trains of the Arctic LNG-2 project, and we have found technological solutions to prevent the delay," explained the company's CEO and Chairman of the Board Leonid Mikhelson.
Devising workarounds to complete Arctic LNG 2
Over the course of recent months Novatek engaged with new partners to replace key western companies. It contracted a Turkish floating electric power plant allowing it to use the limited number of turbines it had received before sanctions took effect, in the production of LNG, rather than the generation of electricity.
It also initiated a new partnership with a firm in the United Arab Emirates with industry insiders suggesting at the time that this could be a potential avenue to securing sanctioned technology.
According to Mikhelson the company is now in a position to "localize" equipment i.e. produce it domestically in Russia rather than relying on imports. 
"We have got a window of about three years for localisation and for resolving the issue with three or four items of equipment. I am sure we will settle it within three years. Perhaps, that will require some money, but if everything continues … it will pay off three or four times."
The project's financing had been in limbo for several months after the company was required to make fundamental technology and design changes. However, those changes are now complete and Novatek expects to be able to resume external financing in the first quarter of 2023, Mikhelson explained.
This year we plan to produce 21 million tons of LNG.
"We made significant technical changes to the project. Now we must have them approved by the banks and continue financing." 
Novatek continues to implement plans til 2030
With Arctic LNG 2 seemingly on schedule, the company will turn its attention to the next project, Arctic LNG 1. Last week it announced the discovery of a new gas field, which would feed Arctic LNG 1. An investment decision for the facility is expected in 2023. 
After Yamal LNG, which opened in 2017, and Arctic LNG 2, this latest LNG project would become Novatek's third large plant in the Arctic. Together the three facilities would produce around 60m tons of LNG per year making Russia one the world's largest LNG producers.
Due to recent improvements in efficiency Yamal LNG, originally designed for around 16m tons of LNG per year, will be producing 21m tons in 2022 the company announced.
"This year we plan to produce 21 million tons of LNG. This will be the maximum amount of LNG production that we will achieve in five years of project operation. We recently reached 120% of the design capacity," stated Vladislav Khlybov, deputy director for production at Novatek. 
Yamal LNG accounts for around 5 percent of the global LNG market.