Norwegian Arctic Coastal Waters Among Most Dangerous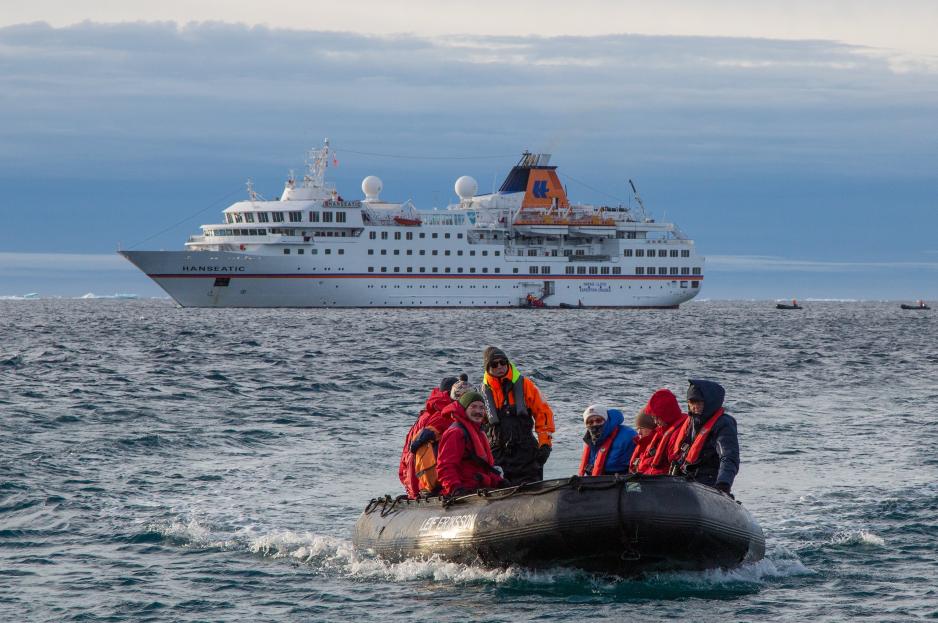 Shipping safety experts have identified the waters of Arctic coastal Northern Norway and Svalbard as some of the region's most dangerous environments for maritime activity. As shipping traffic across the polar north continues to increase so does the likelihood for accidents and emergencies.
The Norwegian fishing vessel Northguider, which ran aground in Svalbard's Hinlopen Strait with a crew of 14 and triggered a vast rescue operation, is just the latest example of a growing list of shipping accidents in the Arctic. A 2018 study on Arctic shipping risks and response capacities led by researchers from Nord University and the University Centre in Svalbard identified Coastal Norway as the highest risk environment in comparison to Greenland, Iceland, and West Russia. Svalbard also has a significant risk profile and in both areas collisions and groundings are high-risk events. In addition, researchers conclude that "fire and engine failure is very critical along Norway's Arctic coast line and may lead to significant losses."
The Arctic Ocean has witnessed a number of near-misses, many of which occurred over the past decade. In all events favorable weather conditions, nearby vessels, or accidents close to shore enabled rescues with no or minimal loss of life. "We have not experienced severe violent acts in the maritime Arctic," the study's authors conclude.
Svalbard Accidents are Mounting
In fact, the Hinlopen Strait, where the Northguider ran into trouble, previously saw an incident in 2016 when the MV Ortelius experienced engine failure, luckily in calm conditions, and was towed back to Longyearbyen over the course of two days with 146 passengers aboard. Similarly, the MV Hanseatic, with 260 passengers and crew on board ran aground in the Murchisonfjorden in the northern Hinlopen Strait in 1997 requiring the assistance of three Norwegian Coast Guard vessels to free it. Last year the Aurora Explorer collided with the quay in Barentsburg requiring 19 injured passengers to be airlifted to the mainland.
Fishing vessels also experienced serious accidents in the waters around Svalbard. The Petrozavodsk, a fishery support ship, ran aground at the southern tip of Bjørnøya in 2009. While all crew was airlifted to safety the vessel was unsalvageable and subsequently broke apart.
Tourist vessel traffic increased seven-fold between 2000 and 2014 and more than 550 vessels ranging from cruise ships and expedition vessels to private yachts now explore the archipelago's waters. Between 1998 and 2014 Svalbard and Jan Mayen saw 48 shipping accidents, including 14 groundings. While passenger vessels are at higher risk for groundings due to their larger draft, fishing vessels are more prone to collisions and on-board fires. Icy conditions during the winter month represent a significant danger to all vessels, as was the case with the fishing trawler Remøy, which became trapped in ice between Moffen Island and Mosselhalvøya and had to be rescued by coast guard icebreaker Svalbard through one meter-thick ice.
Near-misses throughout the Arctic
Accidents and near-misses have also occurred along Canada's Northwest Passage, Russia's Northern Sea Route (NSR), and throughout Greenland's coastal waters. This past summer, the Akademik Ioffe ran aground in Canada's Gulf of Boothia with Coast Guard assistance nearly 48 hours away. Fortunately, the vessel's sister ship traveled nearby and was able to provide assistance to the 162 passengers and crew. A similar incidence occurred in 2010 near Kugluktuk when the Clipper Adventurer ran into a rock shelf and nearly 200 people aboard had to be rescued by the Canadian Coast Guard.
Along Russia's NSR the risk from increasing shipping activity emanates from growing cargo traffic. Last year the bulk carrier Nordic Barents and the nuclear icebreaker Vaygach collided in challenging conditions leaving the former with damage to its bow. And in 2010 two oil tankers, Indiga and Varzuga, each carrying 13,300 tons of diesel fuel collided along the NSR, fortunately not resulting in any oil spills.
Greenland's iceberg-filled waters attract a substantial amount of tourist traffic. Safety protocols require large cruise ships to travel in pairs allowing for nearby assistance in case of emergency. Nonetheless, 23 cruise passengers suddenly found themselves in icy waters when a locally-hired tour boat sank in 2016. Again, fortunately, rescue was closeby when the main cruise ship L'Austral dispatched Zodiac boats. A decade prior, in 2007 the Disko II ran aground near Qeqertarsuaq island and 50 people had to be airlifted to safety. Greenland alone sees 80-90 SAR mission per year in which 200-300 people are rescued.
Challenges and requirements differ by region
While vast geographical differences exist between the five SAR regions split among the Arctic coastal states, harsh weather conditions, ice conditions, and remoteness in case of need for rescue are a common theme. Limited resources to save people in distress in case of accidents is the predominant challenge. A specific Svalbard exercise conducted in 2015 showed that the two Super Puma helicopters based on Longyearbyen would be able to evacuate 80 persons within a seven hours period – by far insufficient to evacuate passengers from even a single average-sized cruise ship.
As in last week's Northguider incident, luck has been a significant factor to thus far preventing major loss of life in accidents throughout the Arctic. And while SAR capacities have been improved, they remain insufficient. "In the last decades, emergency preparedness resources in the Arctic have been significantly strengthened through the addition of available vessels and helicopters. However, still the response time may be long and the capacity limited if major incidents occur," the authors conclude.