The Netherlands to Phase Out Russian Arctic LNG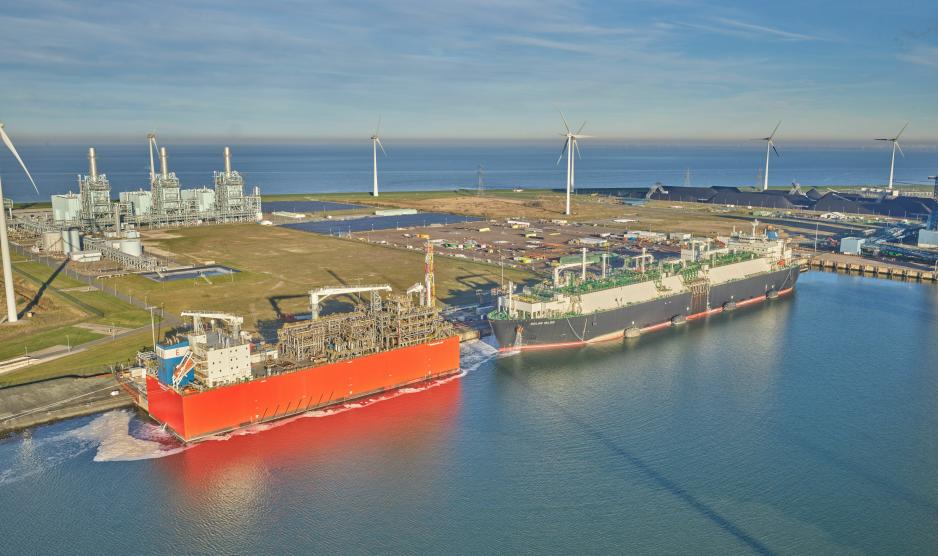 Following the UK earlier in 2023, the Netherlands has begun phasing out liquefied natural gas from the Russian Arctic. This leaves Belgium, France and Spain as the main importers of LNG from the country.
While the EU is in early discussions to restrict the flow of Russian liquified natural gas (LNG) into the bloc and Ukrainian officials urge European policy makers to thus cut off the flow of payments supporting Russia's war effort, the Netherlands is moving ahead with reducing its imports of Russian LNG.
These efforts follow the UK's ban which took effect at the beginning of this year.
During 2022 the Netherlands were one of the main EU importers of Russian LNG – together with Belgium, France and Spain.
However, as part of efforts to double its capacity of LNG storage to 24bcm the country initiated steps to ban the storage of Russian LNG. 
The Netherlands operates two LNG terminals, one in the north (EET) and one in the west (GATE). EET – a floating terminal – was installed in September 2022. Russian LNG is not permitted at the latter.
For all new contracts, no Russian LNG is allowed.
"We made the arrangements there that no LNG from Russia was allowed to be stored at EET," explains Pieter ten Bruggencate, Spokesperson for the Ministry for Climate and Energy Policy, to HNN. 
Overall the share of Russian LNG as a total of Dutch storage capacity has already decreased from 30 percent to 15 percent. 
As a next step the Dutch government began to limit the flow of Russian LNG to the GATE terminal over the last couple of months. "For all new contracts, no Russian LNG is allowed," the Ministry stated. 
Currently the country receives around one delivery per quarter from Novatek's Yamal LNG project in the Russian Arctic. 
"These 15% Russian LNG we still have comes from the long term contracts that are still active," Bruggencate continued.
Harder to terminate
Currently the Dutch government does not have the legal mechanisms to terminate these long-term contracts. It instead relies on the cooperation of private sector businesses and has seen a positive response. 
"As a government we cannot break these contracts but we have asked the contract holders to phase out Russian LNG from their storage capacity asap. So far we have had some good responses and believe that based on this response we can further reduce the LNG from Russia in the Dutch LNG mix," Bruggencate detailed the government's efforts.
Between banning all LNG at the EET terminal, not allowing new contracts and phasing out long-term contracts at the GATE terminal, the country hopes to fully move away from Russian LNG in the future. 
"We are working towards phasing out Russian LNG all together. At the moment we do this by requesting the remaining contract holders to phase it out. This will have some effect," the spokesperson continued. 
Any import volumes that remain following this government intervention and working with industry, would likely require new legal powers or an EU-wide agreement.
Most likely some form of sanction would be needed.
"For the bit that would not be affected by this request, we are looking into what we can do from a legal/EU perspective. Most likely some form of sanction would be needed for that or an EU emergency order." 
Such discussions were initiated by the EU last month but have thus far not led to concrete outcomes.
Unclear path forward for Novatek
Currently, Belgium, France, and Spain are the EU's three largest recipients of Russian LNG. Recently some of these LNG ships carrying gas from Russia to the EU have stopped in North Norway for service and crew changes. 
An EU-wide ban would spell bad news for Novatek which currently sends all of its production from the Arctic to Europe during winter and spring. During summer months, when the ice along the Northern Sea Route retreats, it sends some of its LNG to markets in Asia, including China and Japan. 
A massive transshipment hub, intended to further economize the flow of LNG to Europe, is just weeks away from arriving in the Russian Arctic. Saam FSU – en route from South Korea – recently rounded Cape Horn in South Africa and is expected to arrive near Murmansk in June. 
A ban on Russian LNG by one or several of Europe's major importers would require Novatek to look for new customers outside the EU. 
Novatek is also in the process of launching a new LNG facility, Arctic LNG 2, later this year, with the intent of sending even greater volumes of gas to Europe. The EU is now in discussions to sanction Chinese firms assisting Novatek with Arctic LNG 2 construction efforts.