Lavrov: We Do Not Have Relations with NATO, but We Have with Norway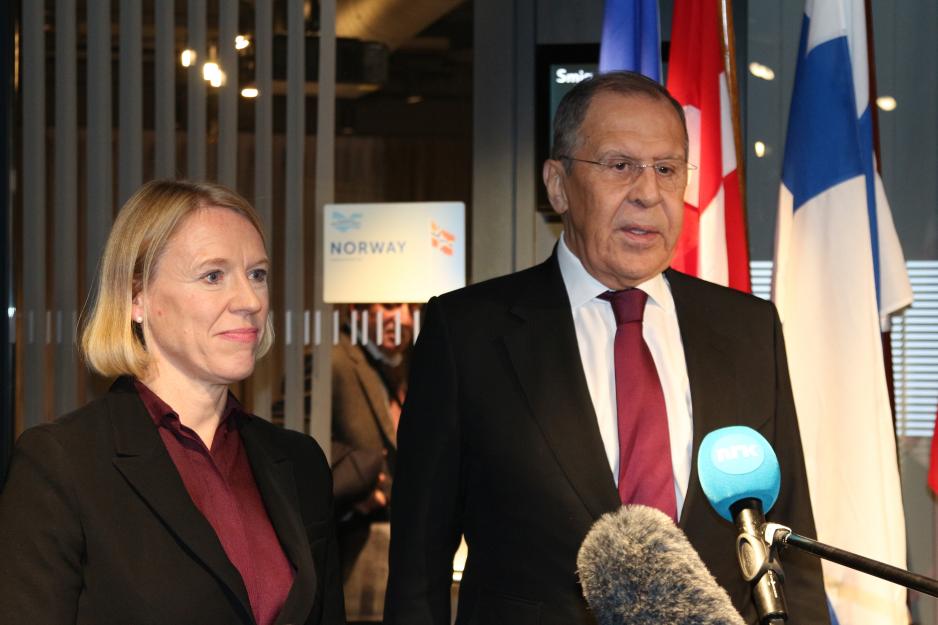 Bilateral security consultations between Norway and Russia should be elevated to defense minister level, says Russian Foreign Minister Sergey Lavrov. Monday, he met Norway's Foreign Minister Anniken Huitfeldt in Tromsø and invited her to Russia.
Russian Foreign Minister Sergey Lavrov met his Norwegian counterpart Anniken Huitfeldt for the first time in Tromsø, Norway on Monday.
"We discussed the overall situation of our relationship. We have our differences, but also a joint history", Lavrov said when he and Huitfeldt met the press after their meeting.
Lavrov acclaimed Norwegian leaders and ministers for the attention and respect paid to Russia for Russian soldier's efforts in liberating Finnmark during World War 2. He added that the joint respect between the two countries is substantiated by cross-border contact, between the people who live right next to each other in the High North.
The joint respect between the two countries is supported by cross-border contact.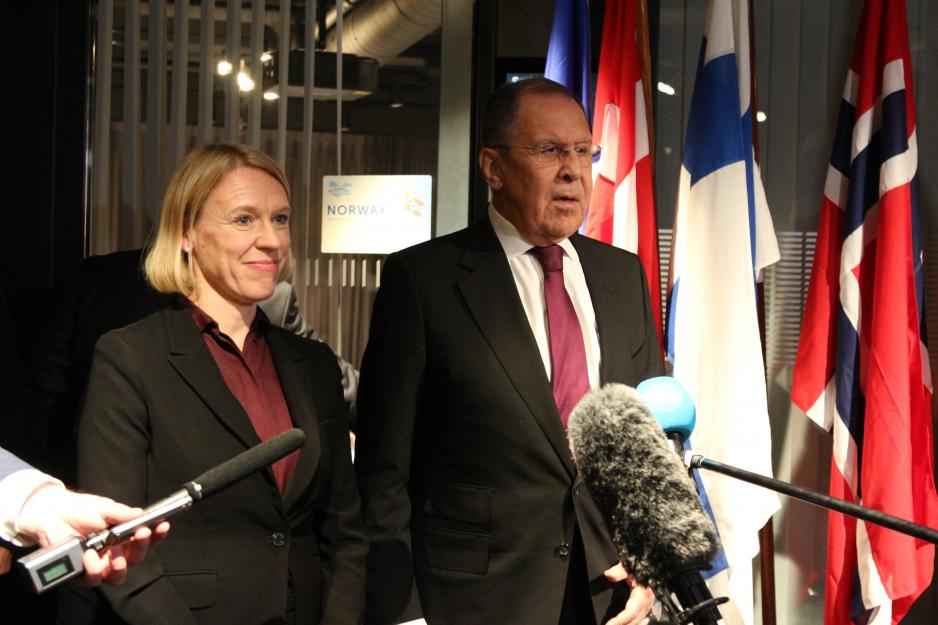 Criticized NATO
"On the other hand, Norway is a member of NATO. NATO is not a friend of Russia. They have decided not to be friendly and refer to Russia and China together as a threat to NATO. My good friend Jens Stoltenberg, who was an excellent prime minister in Norway, now says NATO has to be responsible for security everywhere", the Russian foreign minister said.
Lavrov stressed that the differences that exist between the two neighboring countries were frankly and openly discussed at the meeting.
"We have had a good and frank discussion about areas on which we agree and areas on which we do not. We look forward to opening the borders, so that we can meet again. That is important for both Russia and Norway. Though with an open dialogue we would also arrive at areas in which we disagree, and that has been reflected in the conversation we have had today", said Norwegian Foreign Minister Anniken Huitfeldt.
"We agreed that we should continue consultations between our foreign ministers", she added.
Wants to elevate level of consultations
"I invited the minister (Huitfeldt, journ.note) to Russia whenever convenient for her. We also have our communication channels in the Ministry of Preparedness and in search and rescue operations in the Arctic", Foreign Minister Lavrov added.
The issue of security policy consultations was also raised.
"We do not have relations with NATO. But we have relations with Norway, also in the area of security. And we would like to elevate these consultations [which currently take place on an administrative level, journ.note] to the higher level; between our defense ministers."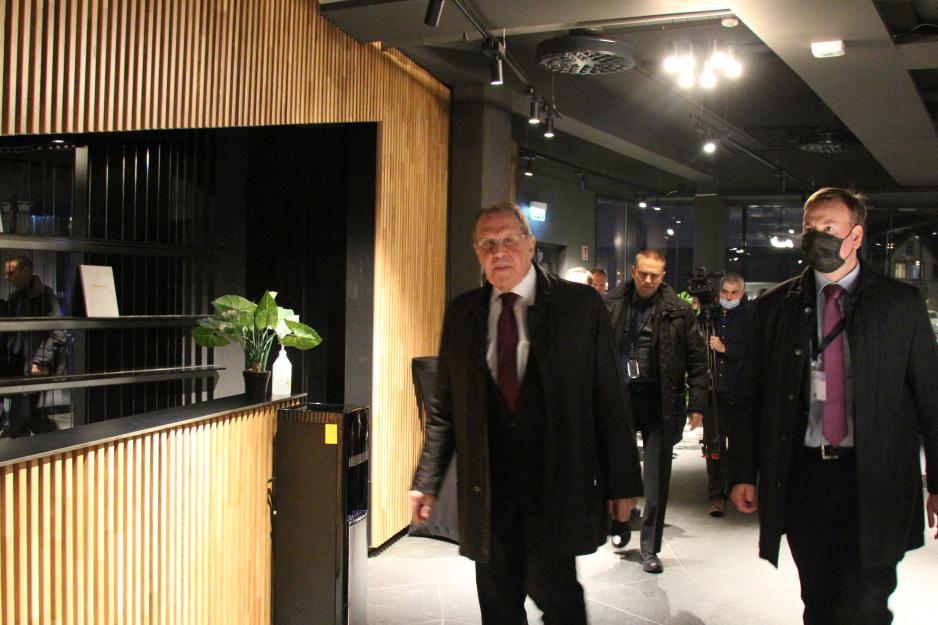 Lavrov's last visit to Norway came in 2019 in relation to the 75th anniversary of the Soviet liberation of East Finnmark county in 1944. Then, it had been five years since the Russian foreign minister's previous visit to Norway.
The relationship between the West and Russia has been rather cool ever since the Russian annexation of the Crimean Peninsula in 2014.
While political contact between Norway and Russia has improved in some areas since 2017, there is still rather little military and defense-political contact between the two countries.
The bilateral meeting between the Russian and Norwegian foreign ministers in Tromsø on Monday happened just one week after Russia suspended all its operations at the country's NATO delegation. That move, in turn, came as a response to NATO's recent declaring of eight members of the Russian delegation to the military alliance as personae non grata.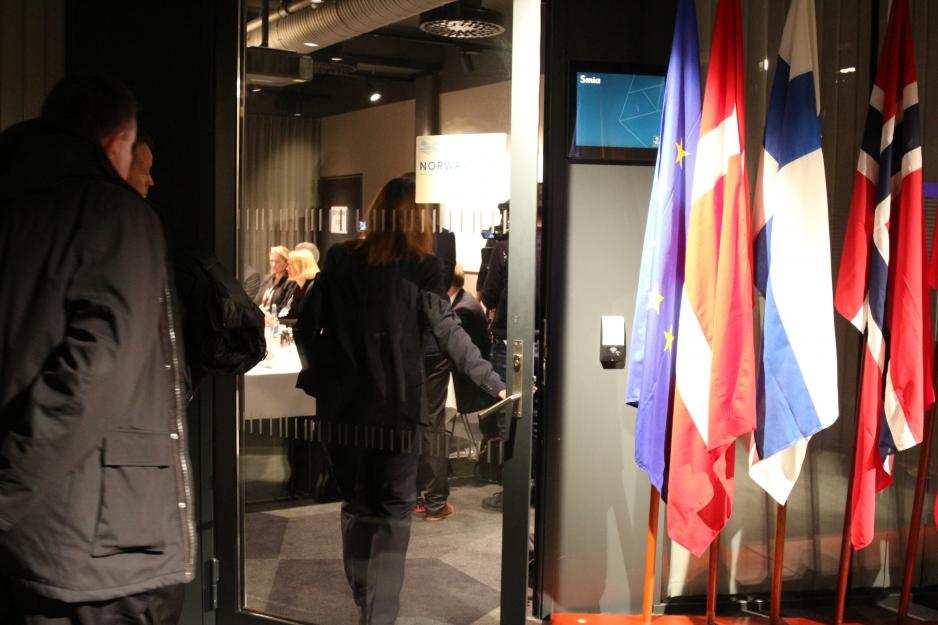 Wants more dialogue
Norwegian Prime Minister Jonas Gahr Støre has previously been clear that Norway should have more dialogue with Russia.
"There is no contradiction between maintaining a sanctions regime and having good political contact with Russia. Because even in times of increased global tension, there will be room for initiating new cooperation projects", Støre said in a previous interview with High North News.
In the Støre government's founding document, the Hurdal Declaration, it says that the government wants to work to revive High North politics.
The government wants to "contribute to low tension in our immediate neighborhood through Norwegian presence as well as acting clearly, predictably and reassuringly; strengthen foreign and security policy dialogue in the High North; and establish joint meeting places to discuss security policy challenges", the platform document reads.
It also says that the government wants to further develop bilateral cooperation with Russian in the north with special emphasis on cooperation about the ocean, resources, climate and coast-related issues in the Barents Sea and the Arctic.
Norway's most important peace project lies in the High North  
The Barents Council
The backdrop for Lavrov's traveling to Tromsø, Norway this week is the Barents Council's Ministerial Meeting, which takes place on Tuesday. At the meeting, Norway hands the Barents Council chair over to Finland.
The Barents Council is an important platform for cooperation with Russia. However, Lavrov did not attend the previous meeting of the Barents Council, which took place in Umeå, Sweden two years ago.
This article was originally published in Norwegian and has been translated by HNN's Elisabeth Bergquist.