Det er mindre enn to uker til ministermøtet i Arktisk Råd, men ennå gjenstår mye diplomatisk arbeid for å komme til enighet om en "Rovaniemi-erklæring". 
Det har blitt tradisjon i Arktisk Råd å avslutte hvert presidentskap med en felles erklæring som skal stake ut kursen videre for rådets arbeid og dets prioriteringer for den neste toårsperioden. 
Den såkalte Fairbanks-erklæringen, som markerte overgangen fra amerikansk til finsk presidentskap i Arktisk Råd i 2017, ble først klar i siste liten og etter en dramatisk sluttspurt i forhandlingene mellom de åtte arktiske medlemslandene. 
Krevende prosess
Mye tyder på at det også denne gangen kan bli en krevende prosess.
Ministermøtet i Arktisk Råd, der formannskapet i år skal overføres fra Finland til Island, går av stabelen 6. og 7. mai i Rovaniemi. 
- Vi er fortsatt i forhandlingsmodus, bekrefter Bård Ivar Svendsen, som er Norges Arktiske ambassadør, og fortsetter: 
- Forhandlingene er krevende, ingen tvil om det. Vi hadde et langt møte i Finland i mars der vi kom et stykke på vei, men ennå er det en del ting som gjenstår. Det skal både utarbeides en strategi og en erklæring, men disse to ses i sammenheng. Og vi kommer nok til å jobbe helt fram til og tett opp mot ministermøtet for å komme i mål. 
Klima som akilleshæl
Forhandlinger i Arktisk Råd er konsensusbasert. Det vil si at alle åtte medlemslandene må være enige for at en beslutning skal kunne tas. I Fairbanks i Alaska i 2017, forsøkte Trump-administrasjonen å svekke en formulering i erklæringen som gikk på klimaendringer, klimagassutslipp og fornybar energi, noe som forkludret arbeidet med erklæringen. 
Fra norsk side er det viktig å få til en omtale av klimaendringene som er sterk, klar og tydelig.
Svendsen ønsker ikke å kommentere om det er samme tema som er gnagsåret også denne gangen, men bekrefter at nettopp omtalen av klimaspørsmålet er en kampsak for Norge: 
- Fra norsk side er det viktig å få til en omtale av klimaendringene som er sterk, klar og tydelig. Samt å vise til internasjonale forpliktelser med for eksempel FN, sier han. 
Må ikke svekkes
I 2017 lyktes man til slutt å få Fairbanks-erklæringen godkjent med en omfavnelse av Paris-avtalen. Og med formuleringer som at "vi ser med bekymring på klimaendringene" og "vil oppfordre til mer forskning på området". 
- Det som har endret seg siden da, er at vi har fått resultater av denne forskningen som viser at det er all grunn til bekymring. Derfor vil vi fra norsk side kjempe for et sterkt budskap om at klimaendringene må tas på alvor. I alle fall ikke noe svakere enn i Fairbanks-erklæringen, sier Svendsen. 
Og selv om forhandlingene fortsatt pågår, er han optimistisk: 
- Vi prøver nå å bruke alle kanaler for å få til et resultat som alle land kan enes om. Ja, Fairbanks-erklæringen var en krevende prosess, og med mindre enn to uker igjen til møtet i Rovaniemi, er det mye diplomatisk arbeid som gjenstår for å få sikre et bra resultat.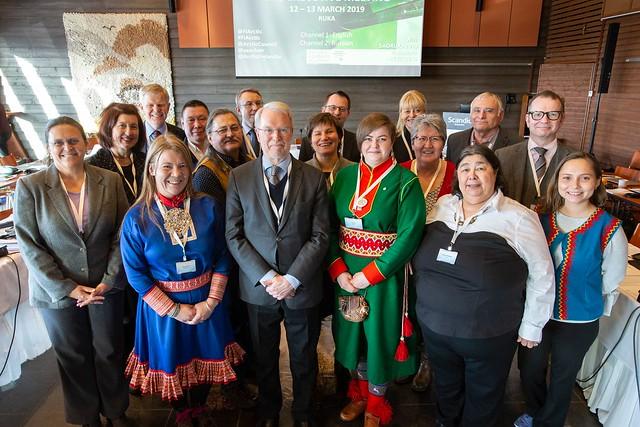 Bård Ivar Svendsen skryter av hva det finske presidentskapet har fått til i løpet av de siste to årene. 
- Finland har gjort en veldig god jobb som brobygger og vært gode på å se og ta hensyn til de ulike lands synspunkter. De har også gjort et godt arbeid med å tilrettelegge bedre for de ulike observatørene, noe jeg vet de setter pris på. Til slutt vil jeg trekke styrkingen av forbindelsen mellom Arktisk Råd og Arctic Economic Forum (AEC). Bedre samarbeid med næringslivet i nord er viktig også fra et norsk ståsted. 
Forventninger
Nå er det altså Islands tur til å ta over stafettpinnen. Og Norges Arktiske ambassadør har klare forventninger til hvilke prioriteringer som bør gjøres: 
- Vi har både forventninger og forhåpninger om at Island vi satse på hav. Det er økende oppmerksomhet om viktigheten av en bærekraftig blå økonomi, også fra vår egen statsminister Erna Solberg, så det hadde passet Norge svært godt. 
Bård Ivar Svendsen understreker avslutningsvis at det også er mye godt arbeid som gjøres i arbeidsgruppene Arktisk Råd som fortjener oppmerksomhet, og trekker blant annet frem gruppene som jobber med hav og sosial økonomisk utvikling. 
- Den forskningen som gjøres bærer frukter og det er kommet konkrete resultater som vil bli levert rådet i mai.