Hackathon – An Innovative Approach to Northern Issues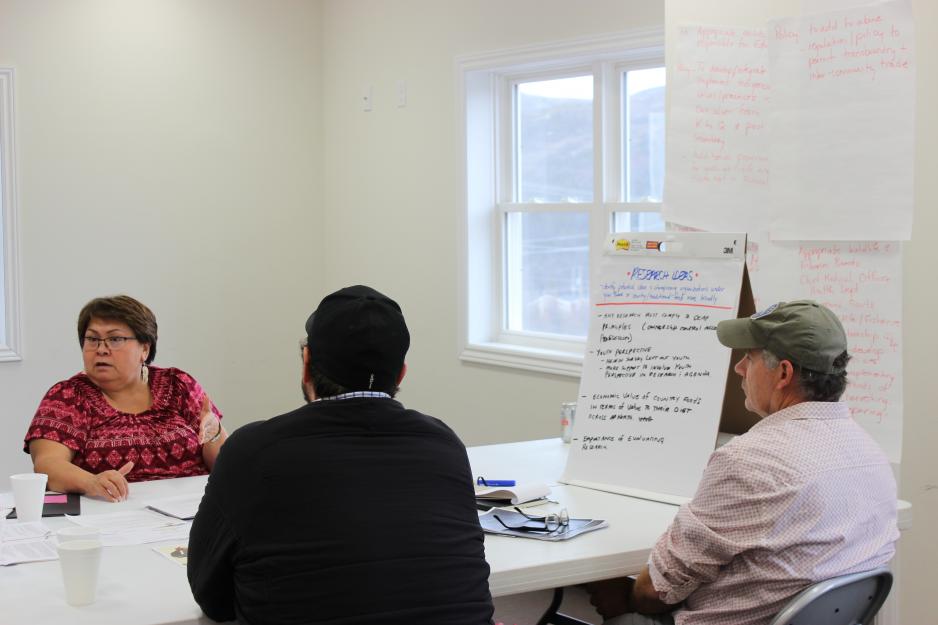 Northerners from across the territories and Inuit Nunangat came together in Nain, Nunatsiavut, to tackle questions of food insecurity specifically around country (traditional) food.

Northerners from across the territories and Inuit Nunangat came together in Nain, Nunatsiavut, to tackle questions of food insecurity specifically around country (traditional) food.

Nain is both the northernmost and largest community in Nunatsiavut, a self-governing Inuit region in the Canadian province of Newfoundland and Labrador. In late October of this year, this community of roughly 1,100 inhabitants in north-eastern Canada played host to the two-day Northern Policy Hackathon. The first of its kind, the Hackathon involved two days of focused dialogue and knowledge exchange geared towards tackling questions of food security—with a focus on country (traditional) food—facing northern communities.

Gathering roughly 20 participants from across the northern territories and Inuit Nunangat, experts came from as far away as Old Crow, Yukon, and Inuvik, Northwest Territories. The diverse and complementary expertise of the participants—who included hunters, elders, nutritionists, and representatives from government and the non-profit sector—was underscored as one of the strengths of the event.
The Hackathon was the first in a planned three-part series organised by the Gordon Foundation. The subsequent events will be held in other northern communities and focus on different themes.



Hackathons and food (in)security in northern communities
Food insecurity, understood as inadequate or uncertain access to sufficient quality food, has been a persistent problem across Canada. This is particularly true of communities in the North where the cost and availability of quality food has remained a politically charged question.
The Director of Health Services for the Nunatsiavut Government, Sylvia Doody, echoed this in a press release for the event highlighting how "Food insecurity is an important issue for Nunatsiavut communities."
She went on to emphasize that the Hackathon was an exciting "opportunity to host representatives from across Canada's North to learn from each other, share innovative ideas and work together to improve policy on food for the benefit of northern communities."
The choice of a Hackathon—a short period of intense discussion and debate—was heralded as a good option for tackling these challenges.
"Hackathons are an innovative way to bring together experts and efficiently generate innovative policy recommendations," according to Sherry Campbell, the President and CEO of the Gordon Foundation, in an email to High North News.
"Bringing a group together for a short, intense period of time allows them not only to talk and bounce ideas off of each other, but more importantly, it allows people to hone in on a specific issue and put all of their capacity into problem-solving it."



Country food
The discussions centered around the need to support the development of policy that reflects and responds to the unique culture and context of the North. Country food—the name that Inuit use to describe traditional foods (such as caribou, Arctic char, seal, and whale)—was seen as a fundamentally important way of negating food insecurity in northern communities.
Country food also carries important cultural significance and is closely tied to questions of food security across the North American Arctic. To celebrate this, part of the Hackathon involved a large community feast of caribou.
Concerns over the link between food security, ecosystems, and identity resonate across the North American Arctic. Earlier this year Bernadette Demientieff, Executive Director of the Gwich'in Steering Committee, expressed as much in an interview earlier this year with High North News about the possible development of the Arctic National Wildlife Reserve in Alaska: "We need to protect our food security and ecosystems; this is part of our identity and our identity is not negotiable."
In the case of the Hackathon, these conversations being held at the community level play in to a larger process happening at the national level as the federal government is in the process of developing a national food policy for Canada.



Going forward
In addition to holding two more policy hackathons featuring different themes, Ms. Campbell of the Gordon Foundation highlights that they are "working on the final report and are excited to share the many valuable recommendations that were generated through thoughtful discussion at the event."


The Northern Policy Hackathon was hosted by the Gordon Foundation and the Nunatsiavut Government and was supported by the Maple Leaf Centre for Action on Food Security, Mitacs, and the Community Fund for Canada's 150th.