French Engineering Company Exits Cooperation with Russian Shipyard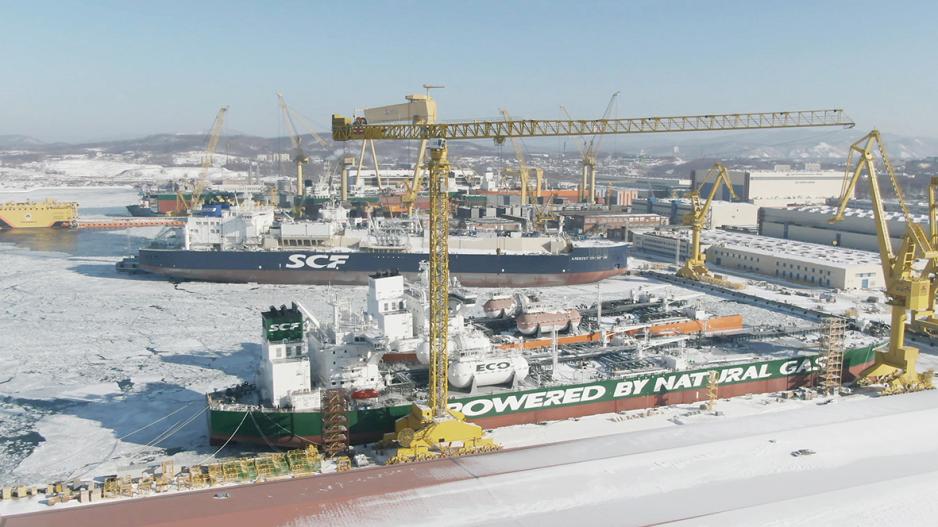 A French provider of critical membrane containment systems used in Arc7 LNG carriers, terminates work with Russian Zvezda shipyard as result of EU sanction package, but says it will complete work on the initial batch of vessels. Russia may look to China for construction of future Arc7 LNG carriers.
EU sanctions continue to create roadblocks for Russia's Novatek Arctic LNG 2 project. French naval engineering company Gaztransport & Technigaz (GTT) becomes the latest western technology partner to depart from the country. GTT is the world's only supplier of marine membrane containment systems used in LNG tankers, a key component of the vessels. 
The company announced that the EU's 8th and 9th sanction packages require it to terminate engineering work in the country affecting its work with Russia's Zvezda shipyard for 15 specialized Arc7 LNG carriers for Novatek's Arctic LNG 2 project.
The 15 vessels are intended to transport LNG from Novatek's future Arctic LNG 2 plant on the Gydan peninsula to Europe and Asia along the NSR.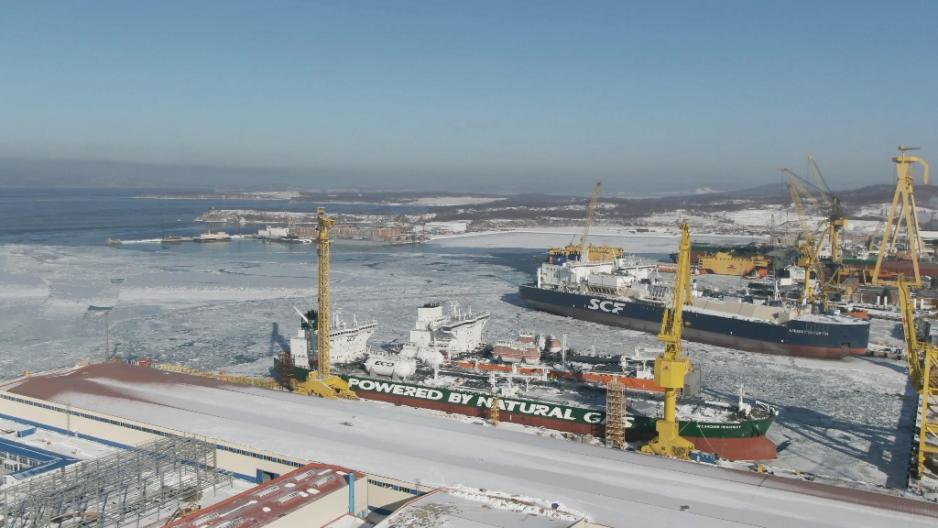 Near completion despite sanctions
However, the news is not all bad for Novatek. GTT suggests that international safety standards will require it to complete work on the first and second Arc7 LNG carriers. Sources tell HNN that the membrane systems may in fact have already been completed on at least the first four vessels.
This would give Novatek some breathing room to put together the first batch of Arc 7 carriers needed when the first production line of Arctic LNG 2 is expected to come online in December 2023. 
Using satellite imagery and images by local photographers HNN was able to confirm the construction status of the first three vessels; two located at the Zvezda shipyard and one at Samsung Heavy Industries' (SHI) shipyard on Geoje island.
As the Zvezda shipyard has no experience building large-scale LNG carriers, the company entered into a partnership with SHI under which the South Korean yard will support the construction of the first four vessels.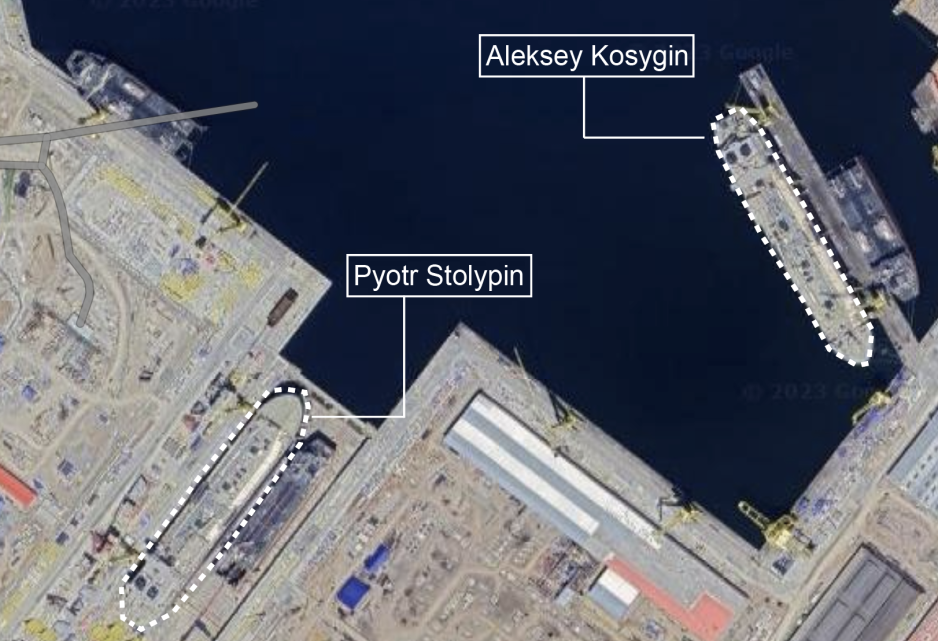 Arc7 carrier Aleksey Kosygin was launched on April 7, 2022 and transferred to a mooring adjacent to the dry dock. The stern section of the Pyotr Stolypin, constructed by SHI, subsequently moved into the drydock where it remains to date. The hull has been completed and construction is more than 80 percent complete, sources tell HNN.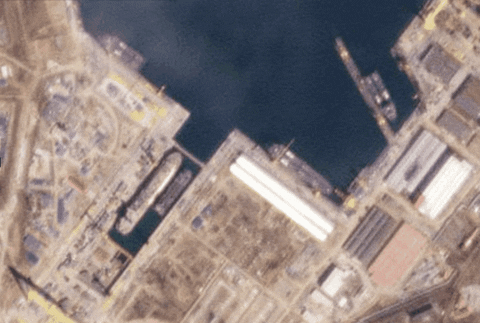 A third vessel, Sergei Witte, has also been completed and is awaiting transport from Geoje island to the Zvezda shipyard in Russia's Far East. The Sergei Witte will likely be relocated from South Korea once Pyotr Stolypin vacates its spot in the Zvezda dry dock.
In total the keels of five Arc7 carriers have been laid down, with steel cutting for the 6th and 7th vessels also underway.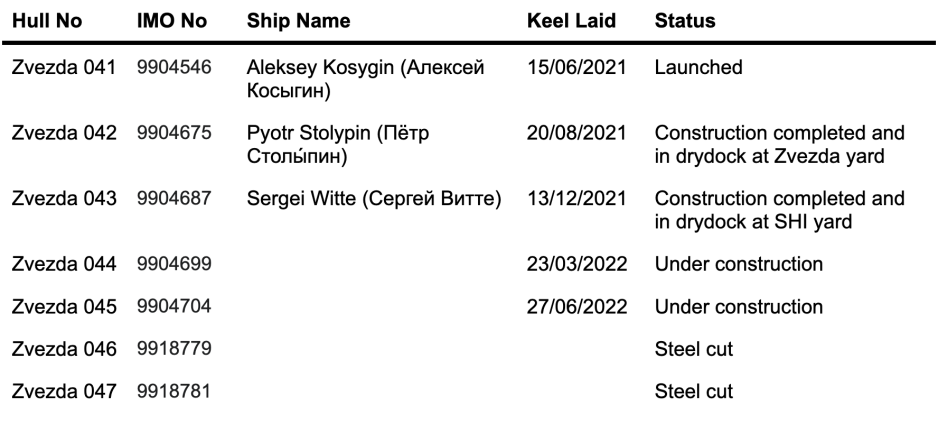 Chinese shipyards may step in
GTT also confirmed that work on two critically important floating storage units (FSU) Novatek ordered in 2020 would continue as they are not affected by sanctions. According to industry experts, the two FSUs are nearing completion and Novatek aims to place them into service in 2023 and 2024.
The FSUs will serve as transshipment hubs allowing the company to optimize the use of its ice-capable Arc7 carriers in favor of conventional LNG carriers. 
In total Zvezda has received orders for fifteen Arc7 carriers. The withdrawal of GTT may open the door for Chinese shipyards to contribute work on future batches of Arc7 carriers for Arctic LNG 2. Chinese yards had previously vied for construction contracts, but orders were awarded to Daewoo Shipbuilding & Marine Engineering (DSME), SHI and the domestic Zvezda yard.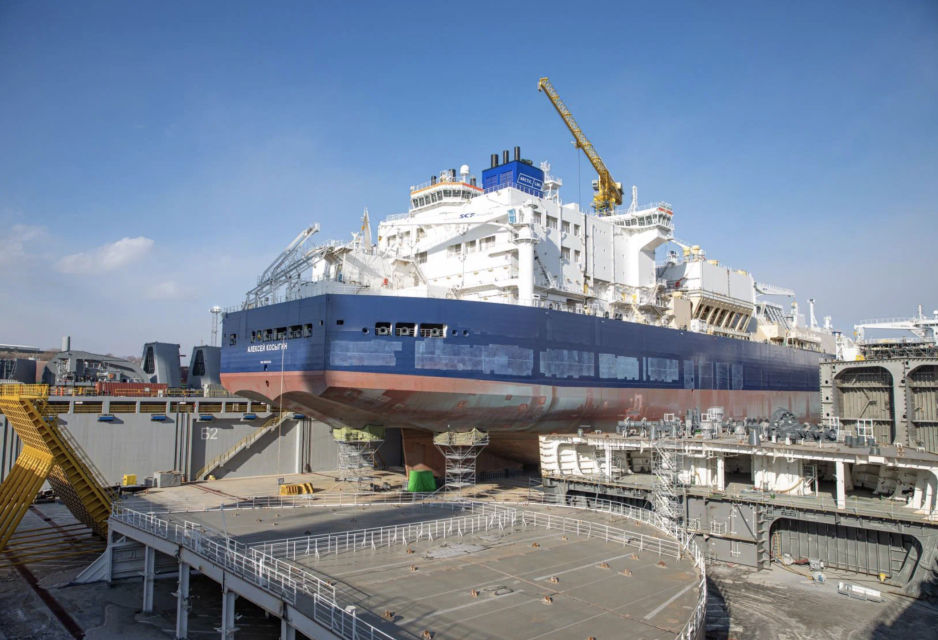 Chinese yards have been eager to secure contracts for more technologically advanced work related to LNG carriers, previously underbidding DSME and SHI for the Arc7 carriers. Thus western sanctions may result in additional tightening of energy and industrial cooperation between Russia and China.