Drilling for Heat Storage in Svalbard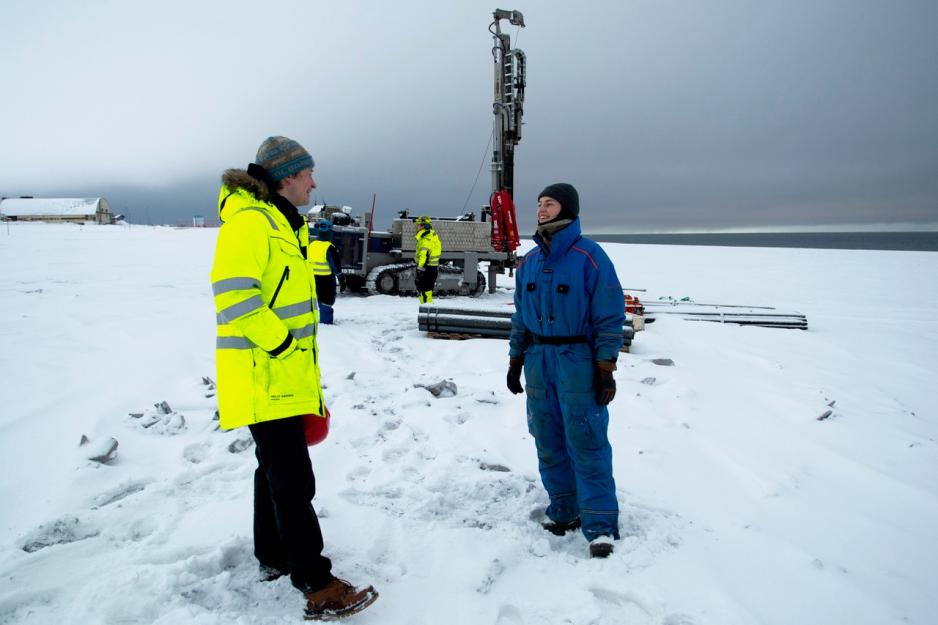 Longyearbyen Local Council is looking to find out whether the mountain outside the town can be used as a thermos for storing renewable energy surplus.
The coal power plant in Longyearbyen is to be made history within five years. There is a drilling rig on the tundra between the coal port and the airport in Longyearbyen, working its way down to 200 meters below the ground.
Longyearbyen Local Council wants to find out whether the mountains around Longyearbyen can store heat energy, just like a thermos. The idea behind it is that if the town were to get its future energy from solar cells, solar catchers and windmills, surplus energy may be stored as heat in the mountain here.
Major demand for heat
One of the biggest challenges related to a new energy plant in Longyeabyen is the fact that the town has a major demand for heat.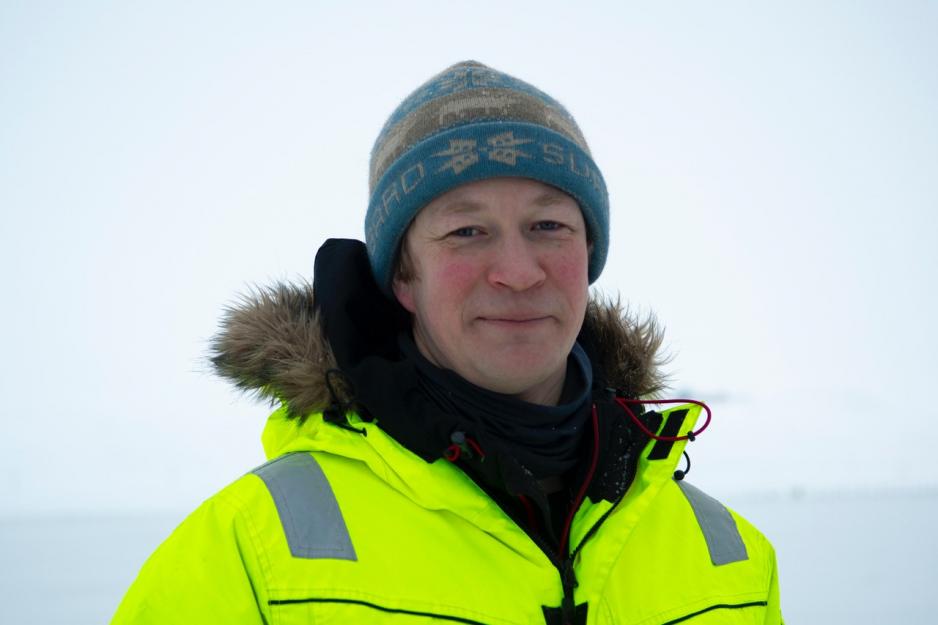 "When mine 7 is shut down, 75 percent of the energy need in town will be about heating. If we solve the challenge of sufficient heating, we will solve much of the energy challenge. Storing heat is also easier than making electricity", says Project Manager Rasmus Bøckman of Longyearbyen Local Council.
In addition to the well near the airport, one has been drilled near the old mineral processing facility near town. Both locations are near the Longyearbyen remote heat network, so that a future geo-thermos can be connected to existing infrastructure.
Longyearbyen Local Council has received NOK 1 million funding from the Svalbard Environmental Fund and cooperates with a.o. NTNU, Svalbard University Center and Asplan Viak.
Government working on a plan
In  January, the Norwegian government announced that it will present an energy plan for Longyearbyen in its 2022 national budget. Longyearbyen will have a more secure and environmentally friendly energy solution. Depending on its choice of solution, a new energy plant may be in place within two to five years.
"A new energy supply for Longyearbyen should be based on a new heat power plant, for instance based on natural gas or pellets, combined with a gradual phasing in of more renewable energy", the government writes in its press release.
In the longer term, the government wants an energy supply with as much renewable energy as possible, within the framework of responsible supply security. It is also important to avoid new major constructions in Svalbard's vulnerable nature, and solutions that have too high energy costs for the Longyearbyen community, it writes.
Using industrial areas
Bøckman says Longyearbyen may be practically renewable with solar and wind energy in the longer term if the ground can serve as a heat battery. In periods during which nature contributes to energy deficit, hydrogen may also serve as reserve energy source and supply security.
This will not mean interventions in new areas, but in areas that are already industrialised.  
"One of the arguments against hydrogen as a source of energy is the fact that the degree of exploitation is very limited. However, if one preserves leftover heat from this exploitation, the degree of exploitation increases from 20 to 80 percent", Bøckman says.
In the bright half of the year, when the town has energy surplus from the sun and the wind, this surplus may be transformed into hydrogen so that hydrogen, too, can serve as a battery.
"Nobody will welcome any more constructions in Svalbard's nature than what is strictly necessary. If we perform well in energy efficiency, perhaps three windmills on the mountain of Mine 7 will suffice. That would not me much in comparison to other industrial constructions in the area", Bøckman says.
He says that a private actor has done rough simulations of wind conditions on the Mine 7 mountain, showing that it will be a good place in which to have windmills; in fact, it is compared to one of the best locations in Norway.
In addition, having solar cells and solar catchers on buildings may be relevant, also in the area near the geo-thermos.
"This will not mean constructions in new areas, but rather in already industrialized areas", Bøckman says.
MSc project
Two MSc students are affiliated with the Longyearbyen Local Council's geo-thermos project. KJersti Buraas Snoen at NTNU says that when the drill holes are done, she will connect a rig to measure the loss of heat in water from water enters the hole until it returns to the rig.
In addition, fiber-optic cables are to be put in place to measure exact temperature on various points inside the drilling hole.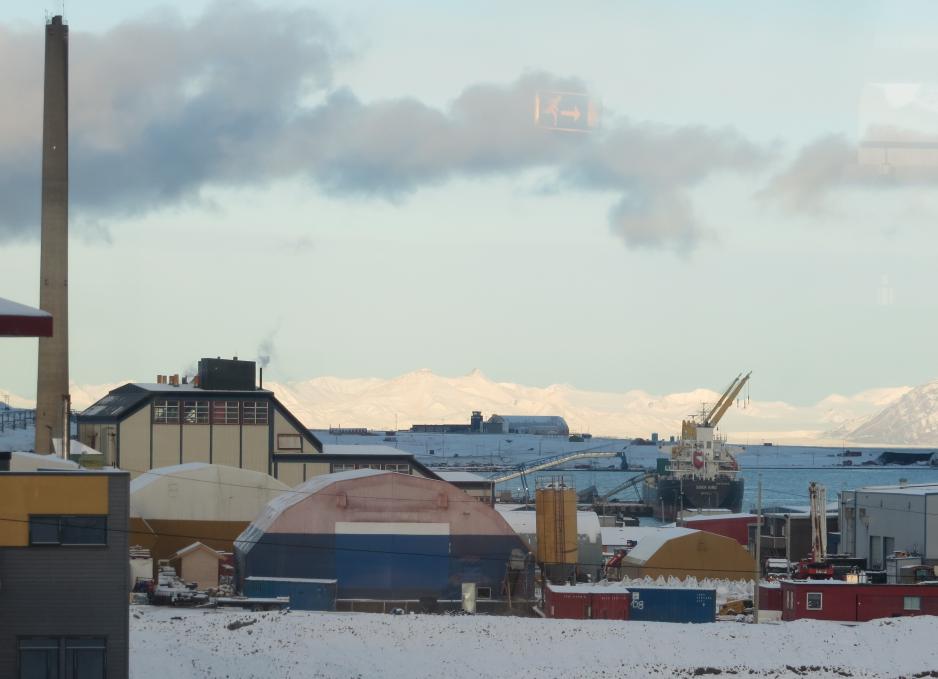 If it is very hot somewhere, it means the mountain is a poor heat leader. If it is very cold, it may mean that running water in that area leads heat away.
"As far as I know, this rig has not been used in permafrost areas before, so I am excited", Snoen says.
The first response tests will be run next week. Bøckman says they will receive the first results quite fast.
In addition, students will make calculations and put it all into the overall energy system. They are to be finished by summer. An MSc student will also study the parts of the mountain leading heat in a lab. The goal of the project is to collect enough data to say something about the potential, challenges and costs.
"The outcome of this project will be fed into the Ministry of Oil and Energy and its energy investigation", Bøckman says.
Want to test geothermal energy near student houses
The local power company Store Norske is also working on a heating project for Longyearbyen, a project for which it has applied for funding from Enova. Store Norske wants to explore concepts for investigating whether it is possible to use ground heat for heating. In order to do so, the company wants to drill down to 2000 meters below ground, where it may be up to 80 degrees Celsius.
The ground in the hills around Longyearbyen is warmer than on the mainland, though permafrost represents challenges.
"We may not thaw permafrost under any circumstances. That may lead to sink holes in the ground and also get clay and gas moving. Thus, we will look into developing drilling pipes where there may be heat on the inside, then a layer of insulation and then active cooling on the outside", says geologist Malte Jochmann of Store Norske.
The study Store Norske wants to conduct is supplying heat for the scheduled boarding school building at Sjøskrenten in Longyearbyen.
"We consider this a stand-alone project that may constitute a door-opener for larger geothermal projects. If we find it to be possible, interest in this industry may increase", the geologist says.
The project depends on support from Enova.
Jochmann has also been involved in the local council's thermos project.
"The challenge there, too, is permafrost. If one manages to succeed with thermal storing in Svalbard, that would be great. I believe one has to explore all options. If Store Norske receives funding for its project, that may also contribute to this", Jochmann says.
Facts
Longyearbyen currently has Norway's only coal power plant. The government has decided that this should be phased out within five years, according to schedule. The Store Norske's Mine 7 currently supplies coal for the energy plant. The company's Board of Directors decided last February to set the end date for the mine at 2018, as it perceives the foundation for operations to vanish when Longyearbyen stops using coal as its energy source.
This article was originally published in Norwegian and has been translated by HNN's Elisabeth Bergquist.