Arild of the north opened the door to China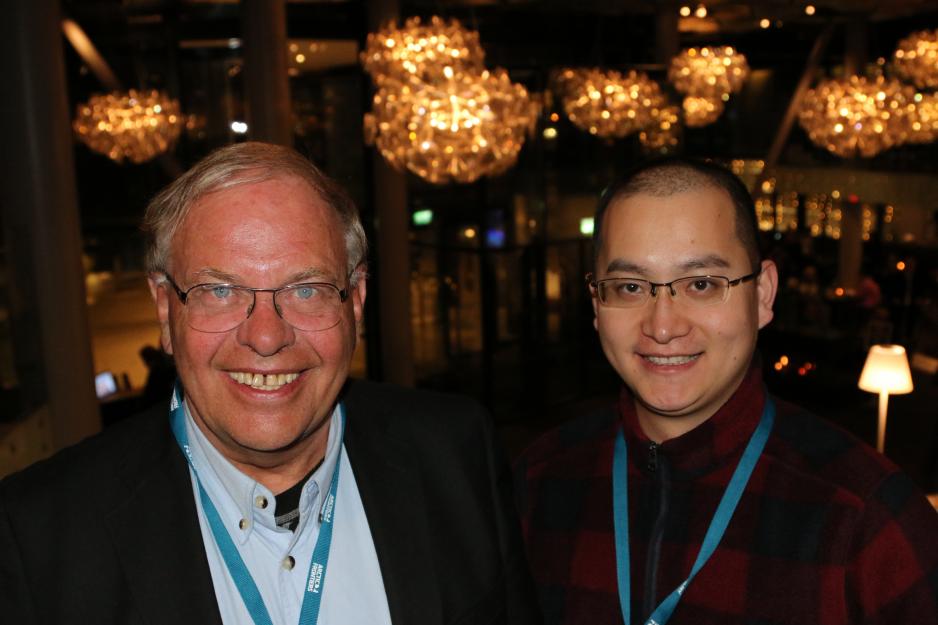 Through North Norwegian hospitality and informal contacts with China, Gunnar Vollan from Harstad, Norway, has contributed to opening the door to an entirely new marked – with 350 million potential seafood customers.

Arild Vollan from Harstad in Northern Norway has managed to show the Chinese far more than the bureaucrats in Oslo have done. Through North Norwegian hospitality and informal contacts with business and politicians in China he has contributed to opening the door to an entirely new marked – with 350 million potential seafood customers.
- Norway now enters a market that is as large as the European one, Vollan says when High North News meets him at Clarion The Edge Hotel in Tromsø.
The occasion is the Arctic Frontiers conference and Vollan can, from what we notice, barely walk two steps without being approached by friends and supporters who want to see him. Two representatives from Narvik Port Authority bring warm words and supportive pats on the back.
- We have tried this before, but then came the diplomatic complications. We were ready to get going back then, they say, referring to the Nobel Peace Prize Award in 2010 that put an effective stop to the cooperation between Norway and China.


High interest: China wants high quality
After the relationship was normalized it is not just about Norwegians and Norwegian seafood companies looking towards China. A large Chinese delegation is at the time of writing in Tromsø to find out more about what Norway actually has to offer. Norwegian Foreign Minister Børge Brende met the Asian delegation yesterday.
For a long time now, Arild Vollan has used his role as Managing Director of Arctic Green Seafood AS and as a partner of Artic Development to improve the relationship between Norway and China. He has repeatedly brough Chinese connections to Norway and Troms County, to the place where he comes from originally, Andørja in Ibestad municipality. Many people award him with some of the credit for the fact that the situation was resolved.
The Harstad man, who lives in Oslo now, works with counseling and advising Norwegian seafood companies, and he says that high-quality seafood products are in high demand on the Chinese market. Vollan and his Chinese partner Jiang Hansong, Managing Partner of Arctic Green Seafood AS) now hope that the normalization of the relationship can lead to a stronger focus on developments in Northern Norway.


Good foundation for direct dialogue
- Now Northern Norway should try to enter into a more direct dialogue with China, Vollan says to High North News.
- We have a good foundation for doing so, because for the past few years we have had a direct dialogue with China through quite a number of unofficial Chinese visits to Northern Norway, none of which have gone through Oslo. Vollan reminds us that many countries can demonstrate good results when it comes to establishing regional cooperation with regions in China.
The Chinese middle class has grown over the past few years, and according to Vollan and his partner it now encompasses some 350 million people. With that the purchasing power has increased in the country that has some 1.4 billion inhabitants. A lot has happened in the Chinese seafood market too since the peace prize award in 2010.
- The seafood industry in Norway must take the consequences of that. We must turn from being a raw-food supplier to processing our seafood ourselves, Vollan says.
He argues that the Chinese no longer want to have Norwegian seafood sent as a block of 25, 50 or 60 kg of raw material, in order for them to turn it into a finished product with approximately 20 % water added, as well as chemicals such as phosphates and dyes.
- The Norwegian seafood industry has been downgrading high-quality wild fish from the High North for too long, making it compete with low-quality seafood products on the world market.


The fish must go directly
In order for Norway and china to enjoy an extensive trade cooperation regarding seafood in the future, there are several things that need facilitating, also by Norwegian politicians and authorities.
- Production happens in the geographical peripheries, and this is after all the money that sustains Norway, says an engaged Vollan.
The fish should to the largest extent possible be flown directly from Northern Norway to China, he argues. The distance between Evenes to Beijing is "only" 6.000 kilometres. Providing for larger quantities of seafood being flown directly from Northern Norway to the market is a requirement.
According to Vollan, some 300.000 Chinese tourists visited Norway in 2016. Two thirds of these were registered with nights spent in Akershus county, where Norway's largest airport (Gardermoen) is located. With the normalization of relations, the Director of Arctic Green Seafood thinks that the number of Chinese tourists will double, and most of them want to see the west coast and Northern Norway.
- This means that there is a foundation for creating direct flights between China and Northern Norway, Vollan argues. He thinks this is something the tourist industry in Northern Norway should prepare for.


More fish than people
- When Oslo says that there's not enough population for more asphalt, upgrading of roads or more train tracks, we must respond that here are more fish heads than people, he says both jokingly and seriously.
- We must learn to require more of our elected representatives, Vollan says, clearly addressing the many actors who wish to contribute to the region's having a more useful and better infrastructure.
- Do you feel that you are able to make yourself heard politically?
- I am heard, loud and clear, by the North Norwegian people. However, when it comes to the MP's from the region I have been disappointed more than once. But we will see. It is, after all, an election year and we have a lot of touchstones, both in Andenes and with the National Transportation Plan. We will see if Oslo will allocate the 100 million NOK that are required for the expansion of the fish landing port of Engenes in Ibestad municipality. If that does not happen, the production of seafood in this municipality cannot increase – and in 2016 alone it provided Norway with an export income of 608.000 NOK per inhabitant, he says.
Whether or not the Norwegian export of seafood to China will really accelerate in the years to come remains to be seen.
- The truly significant change will only appear when Norway and China reach a free-trade agreement, Vollan predicts.





Les artikkelen på norsk
.