Analysis: Hans Island - and the endless dispute over its sovereignty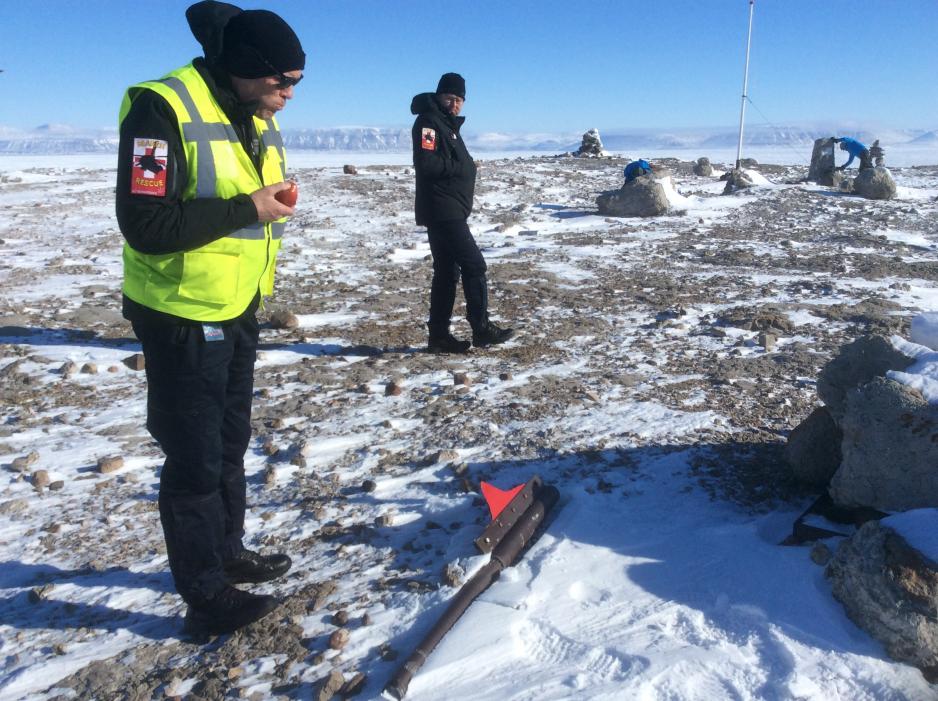 I cannot imagine many purposes for which Hans Island, or Tartupaluk in Greenlandic, would be useful for a government at all, Martin Breum writes, after visiting the disputed island.

Few days ago, I was on Hans Island.
Not many people ever get to this island, which is a real pity. This tiny, nondescript, icy and basically useless piece of real estate far up in the Kennedy Channel between northwestern Greenland and Ellesmere Island in the far north of Canada is one of the only pieces of territory still disputed by two Arctic nations.
Canada claims that this rocky, uninhabited piece of rock is 100 percent Canadian. Denmark says that every grumpy inch of it is part of Greenland and that the entirety therefore belongs to the Danish Kingdom. I cannot imagine many purposes for which Hans Island, or Tartupaluk in Greenlandic, would be useful for a government at all. It is extremely remote, provides no shelter, no decent landing for any vessels, no oil or gas reserves are known to hide in its vicinity, no mineral deposits in its core, it is ice-encapsulated and dangerously windswept most of the year. Perhaps in a distant ice-free future a bit of very high-Arctic traffic might pass by, but it would still most likely have no reason to dwell here.
But, of course, as a political phenomenon Hans Island is extremely provoking. It bears testimony to just how easily even the lowliest, most desolate piece of no-good territory may still excite otherwise friendly, democratic, NATO-embedded nations and make them unable to reach any semblance of an agreement even after 45 years of negotiations. Last week, Denmark's Minister of Foreign Affairs Anders Samuelsen told the media that a diplomatic task force will now seek a solution, but he did not specify why this force will have better chances than previous attempts.
Hans Island, all 1.3 square kilometers of it, is worth keeping in mind for several reasons. For one, so that we may reflect more deeply over our own ways when we come across calls for increased sovereignty in Scotland, Greenland, Nunavut, the Faroe Islands, Catalonia or elsewhere. These are deep-rooted sentiments that one cannot meet only with simplistic counter-arguments.
Hans Island also reminds us of our own potential tenacity when we look forward to the diplomatic negotiations over who owns which parts of the seabed under the Arctic Ocean. Here, a lot more is at stake and in this instance, Canada and Denmark will not be the only contenders. Russia has also filed a claim. Russia has done so peacefully, in accordance with UN procedures and not aggressively wide – but nevertheless a claim that overlaps the even more ambitious Danish-Greenlandic claim and most likely also the upcoming Canadian claim that was delayed only so that Canada could also claim the North Pole.


Two flagpoles
I landed on top of Hans Island with a helicopter from Air Greenland 168 meters above sea level in blasting sunshine and with a spectacular view of the Kennedy Channel high up in the Nares Strait. Snowy Canadian mountain peaks were easily visible some 18 kilometers to the west and their Greenlandic counterparts just as easily to the East. Hans Island lies precisely in the middle of the channel; it was named after Hans Hendrik, one of the Greenlandic assistants on the 1871 so-called North Polar Expedition, led by C. F. Hall. I arrived from the north by helicopter, a large, red Sikorsky S-61 from Air Greenland's fleet as part of the support for a team of Swiss climate scientists, artist and a business leader touring north Greenland on a private, unofficial visit; an initiative to boost Switzerland's presence in the Arctic and its contributions as a new observer-member of the Arctic Council.
No flags fly on Hans Island any longer, but the two flagpoles are still there, some ten meters apart. The island is not divided in two; both countries claim the entire island, but the Canadian flagpole stands towards Canada, the Danish towards Greenland, which is, of course, still part of the Danish Kingdom, although largely autonomous and governed by the Self Rule authorities in Nuuk.
The Danish flagpole is white and in wood, with a broken white cord and very evidently between jobs. The Canadian flagpole is metallic, constructed in three pieces, only the lowest still standing, the two other rusty and dismantled on the ground. The Canadian flag was metallic. A red, broken and haggard piece of red metal, the last part of the flag, is still screwed onto one of the dismantled parts of the pole. The rest of the flag has probably been secured for posterity.
In 2005, the two claimants to Hans Island, the government in Ottawa and that in Copenhagen, formerly agreed to stop all national posturing on the island, hence the absence of flags. Only smaller signs of patriotic chest-thumping are still here: On a brick pillar about 1.5 meters high next to the Danish flagpole, the names of visiting Danish naval ships can still be read on small metallic placards. Danish soldiers used to come here to replenish windtorn Danish flags. Tradition was that they would leave a bottle of Danish booze as a gesture to their Canadian counterparts, who would then retaliate with other booze when possible. All very cosy until it was not so cosy anymore.
The Canadian — unofficial — story of the escalation goes that in the early part of this century the Danish navy began popping by more frequently. The Danes acknowledge no such change of attitude. Then, in 2005 Canada's Minister of Defense, Bill Graham, paid a visit.
The Canadian flag was hoisted and an inukshuk — a traditional stone-structure once used as a way-points by inuit travellers from Canada — was built. And, not to forget, Bill Graham also had the Danish flag on Hans Island carefully downed, folded, shipped back to Ottawa and officially handed over to Her Majesty, Queen Margrethe II's representatives at the Danish Embassy.
Legend in Denmark has it that this flag was delivered neatly folded in a cardboard box from a local bakery in Ottawa. It was badly shredded by several years of Arctic storms on Hans Island. I know, since I saw it later on a wall in the office of an official in the Danish Ministry of Foreign Affairs. He had had it framed, probably as a reminder of how unresolved sovereignty can potentially lead to bad trouble. The same man later became one of the lead authors of the famous Ilulissat Declaration from 2008, in which the five states around the Arctic Ocean, including Canada and Denmark, Russia, Norway and the US vowed to solve all issues of sovereignty in the central Arctic Ocean by peaceful, UN-sanctioned rules. This declaration, which celebrate it's 10th anniversary these days, was provoked by the Russian planting of the Russian tricolore at the bottom of the Arctic Ocean, where sovereignty is still disputed - precisely at the North Pole - the year before.


Still unresolved
In 2005, the Danes were not amused by Bill Graham's visit or the downing of the Danish flag. A Danish naval ship was dispatched towards Hans Island and for a brief moment things looked unsavoury. Nobody really knew what the Danish marines would do when, or if, they reached Hans Island, inaccessible as it often is because of ice and sickly weather.  
Then of course, common sense took sway. The foreign ministers of the two nations, Per Stig Møller from Denmark and Pierre Pettigrew of Canada, both of whom where in New York anyway, met and quickly agreed to stop all further foolishness at Hans Island, hence today's absence of flags. The Danish navy was called back and the ministers agreed that no more posturing would henceforth take place. They also declared their common desire to soon find a lasting solution.
The problem is that this was 13 years ago and that nothing has since changed except the decaying flagpoles. In 2008, a joint Automated Weather Station (AWS) was installed between the flagpoles, but as far as sovereignty is concerned, there has been no news for more than a decade. In 2012, Canada and Denmark agreed on the exact border in the waters between Canada and Greenland all the way to the shores of Hans Island, but the island itself remains as disputed as ever.


Inuit land
To some in Canada and Greenland much of the ice, land, water, inlets, islands, polynias, fish, mammals and fowl in the Hans Island-part of the Arctic shouldn't even be considered as something the governments may claim.
To people who support this line of argument this is ancestral land, inhabited by inuit for millenia without much attention being paid to legal title. And in the great open water not far south of Hans Island something is stirring.
The socalled North Water Polynia or Pikialasorsuaq is home to very rich hunting; whales, polar bears, walrus, seals and waterfowl congregate here in astonishing numbers, and a joint commission of Inuit from Nunavut in Canada and from Greenland has recently suggested that this phenomenal polynia — water that never freezes over — should be governed by the Inuit themselves, regardless of the fact that the governments of Canada and Denmark each hold sovereignty over parts of it. The Pikislasorsuaq Commission, established by the Inuit Circumpolar Council in 2014, does not concern itself with Hans Island at all, but it takes little imagining for the rest of us to extend potential Inuit governance over Pikialasorsuaq to Hans Island. In 2015, a suggestion was indeed made to hand over power over Hans Island to the inuit of both Canada and Greenland, not by the inuit themselves, but by two prominent Arctic experts, Professor Michael Byers from the University of British Columbia and Associate Professor Michael Böss of the University of Aarhus, Denmark.
When we landed on Hans Island last Saturday, the mechanic on the Sikorsky, Søren Lund, born in Greenland and of Inuit descend, was very happy to have his picture taken on the island. Like me, he also brought a small piece of the island with him home. He would have liked to also wave the Greenlandic flag, just to make a subtle point, but he held back, not wanting to create any trouble for the Swiss guests or Air Greenland, his employer. Flags of any sort on Hans Island may cause turbulence. When tourists from a Danish cruise vessel landed on the island in 2010 and Facebook showed them planting the Danish and Greenlandic flags, the head of Denmark's Arctic Command had to act. He urgently called his Canadian counterpart and made sure that there was no room for misinterpretation: The flags were not officially Danish and did not represent any hostile act whatsoever. It seems the situation remains volatile.  
Personally, as a happy greeting to all future visitors, I left my business card on the island, tucked behind one of the old placards with names of ships on it. I hope no one takes offence. 


This story was originally written for ArcticToday and is reprinted in High North News with the author's permission.