An Alluring Arctic Universe of Film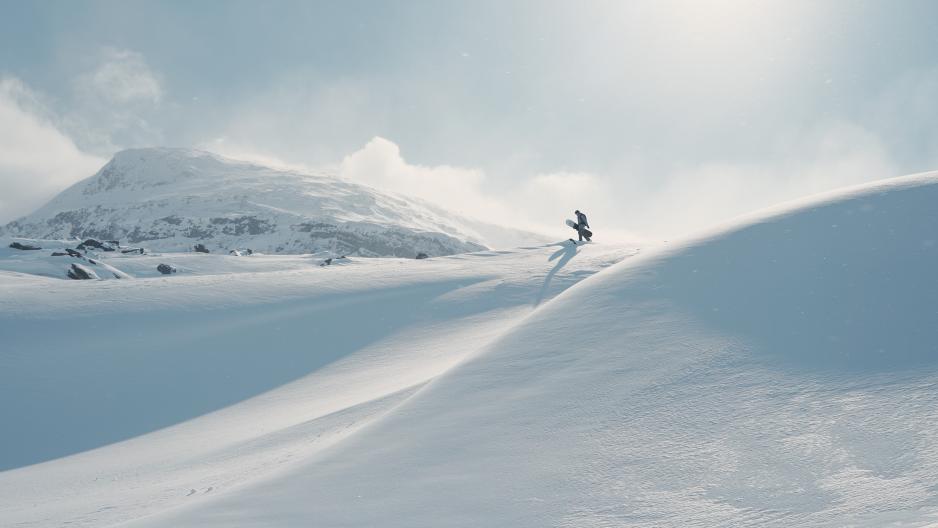 The entire Arctic region will soon be displayed on the big screen during the vibrant Tromsø International Film Festival, Northern Norway. The fight for climate and coastal communities, strong indigenous perspectives, and the imminent danger of both war and laughter are among the keywords for the film depictions from the North.
The wonderful winter landscape of childhood is changing.
The Scandinavian mountain lake Troneträsk is, on average, frozen for one month shorter than when the filmmakers and snowboarders Kajsa Määttä and Viktor Björnström grew up.
In the short film Tracks from Northern Sweden, climate change's effects on the Arctic are highlighted through the perspective of the two snowboarders and their love of snow-covered mountains.
"A few years back, Kajsa Määttä and I attended a lecture about the climate changes in Northern Sweden – about what has already occurred and what we are facing. We were both surprised and realized that this was something that we should contribute to disseminate," says Björnström. 
The Lapland winter is a major part of why they stay in Kiruna, Sweden's northernmost city. But what will the conditions be like in 10 or 15 years?
Tracks is one of many films from the North that are presented at the Tromsø International Film Festival (TIFF) the 16-22 of January. The film depictions – short as well as long, documentary as well as imaginative – originate in Northern parts of Norway, Sweden, Finland, Russia, and Canada, as well as Sàpmi, Greenland, and Iceland.
Northern appeal
Films from the North is the festival's largest and most popular side bar. Once again the program offers a wide range of experiences, but this time it stands out with an extra strong representation of different indigenous perspectives.
"I am especially pleased that we have received such a large number of exciting and varied films from filmmakers from so many indigenous areas in the North," says Astrid Aure, Program Director for Films from the North, and continues:
The program can also claim 18 world premieres – in addition to a large number of Norwegian premieres.
In short
The quality of the films in TIFF's northern segment in 2023 is impressive, according to the program director. It will therefore be an extra-large competition program where around 20 short films compete for the Tromsø Palm Award. 
Within the short format, films from young filmmakers and film students are also presented. 
Here is a selection of the short films from the High North:
Returns home to Sàpmi from Venice
ÁRRAN 360° – an innovative Sàmi film project – will have its Norwegian and Sàmi premiere during the film festival in Tromsø (Romssa). Sàpmi is the Sàmi's historical settlement area and includes northern parts of Norway, Sweden, Finland, as well as Northwest-Russia.
The project includes six short films which were shown in a large làvvu (traditional seasonal dwelling of Sami people) at last summer's La Biennale di Venezia – a prominent international art exhibition in Italy. The films were both part of the biennale's Sàmi pavilion and of its film festival program.
Àrran is a Northern Sàmi word for the hearth in a làvvu and a strong Sàmi storytelling tradition revolves around the fire. During TIFF, the art films will be presented in the world's largest purpose-built làvvu – equipped with a 360-degree screen that is 28 meters long.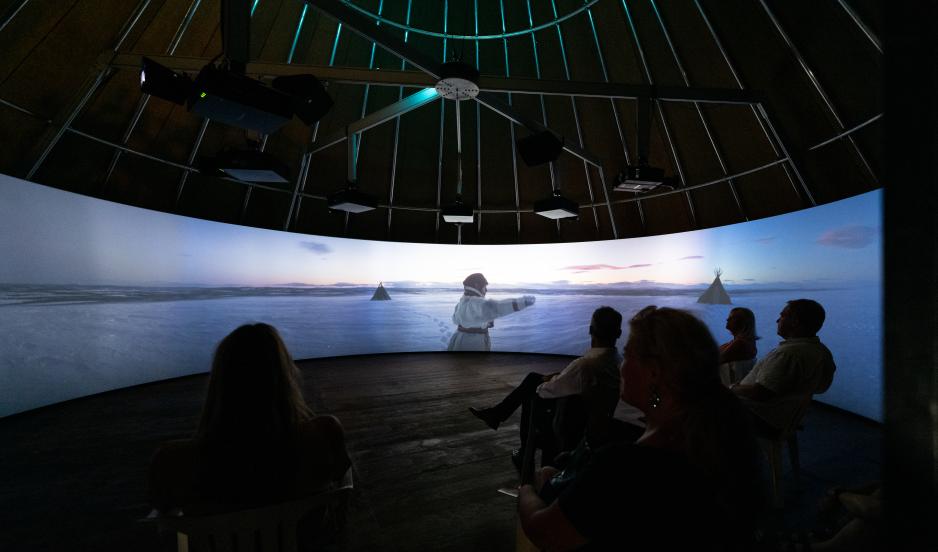 "This is a spectacular project that combines Sàmi storytelling with high-tech and modern storytelling formats. We are impressed by what the International Sámi Film Institute has achieved together with the filmmakers, says Lisa Hoen, Festival and Program Director for TIFF.
Bringing ÁRRAN 360° back to the Sàmi north will be fantastic, says Anne Lajla Utsi, Managing Director of the aforementioned film institute.
"We are looking forward to the audience here at home being able to have the magical experience of the ÀRRAN làvvu and the powerful 360° films. Being able to present the làvvu in a new form in a modern age, with innovative Sàmi films which embrace the audience, is very exciting," says Utsi. 
ÀRRAN 360° will also be part of Bodø, Northern Norway, as European Capital of Culture in 2024. This fall, Sàmi filmmakers and artists were invited to come up with new ideas for new works for 360-degree film and digital art. Selected films will become part of the capital of culture's program and will premiere in February 2024.
The ÁRRAN 360° films:
– Eallu – Girdnu (Reindeer Corral): "Standing at the heart of the girdnu, surrounded by reindeer moving in a circular motion, the viewer will experience a taste of the great forces that exist at the heart of reindeer herding." Director: Elle Márjá Eira, Norway.
– Ovias: "A young woman embarks on a journey into a dreamlike otherworld to discover that every tiny action we do in this world, has a direct resonance in a myriad of other realms." Director:  Ann Holmgren Aurebekk, Sweden.
– Muohtačalmmit (Snowfall): "​The immense power of water and humans' dependence on it will be contemplated in this surreal video art piece." Director: Hans Pieski og Arttu Nieminen, Finland and Norway.
– Eadni (Mother): "The Háldi is a forest creature that may lure children into the woods. Is it only a part of sámi mythology or is it as real as you and I?". Director: Liselotte Wajsted, Sweden.
– Áfruvvá (Mermaid): "The áfruvvá is a Sámi sea-being, the ghost of a drowned person. Yearning for warmth, she emerges from the sea to a world devoid of humans and experiences humanity through an abandoned museum." Director: Marja Helander, Finland and Norway.
– Daate dijjien: "After a sacred drum is abducted by a priest, we are taken on a journey beyond space and time that reveals more about the drum's innate power." Director: Siljà Somby, Norway.
In a longer time span
TIFF also offers fine feature films and longer documentaries from the North.
The opening film for the entire side bar is A Letter From Helga (Svar við bréfi Helgu), directed by Ása Hjörleifsdóttir.
In a remote fjord in Iceland in the 1940s, a forbidden affair begins between two sheep farmers and neighbors, Bjarni and Helga. She is also a budding poet – and the two shyly approach each other through a shared love of literature. Gradually, the shyness gives way to emotions as powerful as the ocean waves around them.
"This movie takes your breath away. The passion is scorching, and the landscape descriptions make you feel the weather, season, and moods as if you were there yourself. This is a magnificent story about the big feelings, and at the same time an intimate portrait of two people, about daring and regretting, and about gender roles and rural communities in change," says Aure.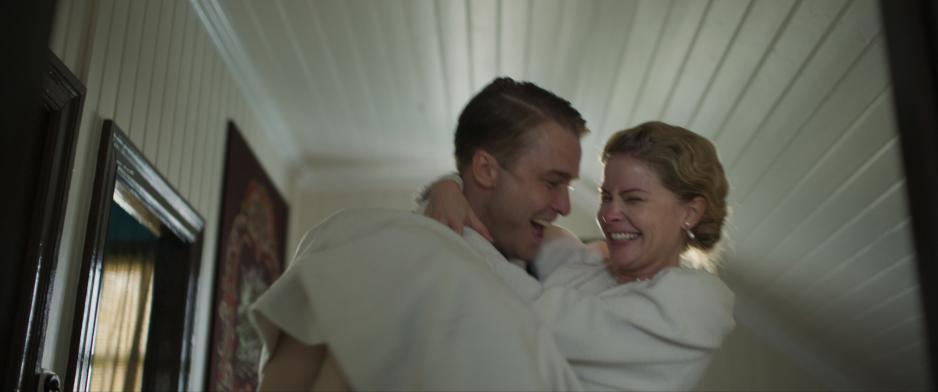 Greenland is also represented with the documentary The Last Human with the following as a sort of subtitle: "Life on earth begins and ends with Greenland."
In this film, fascinating scientific knowledge about life on earth and how it all might end is depicted in the tension between the Greenlandic geologist Minik Rosing's discoveries about the origins of life and Greenland's melting ice masses. The film also includes young Greenlander's honest and funny reflections on what matters most in their lives. The director is Ivalo Frank.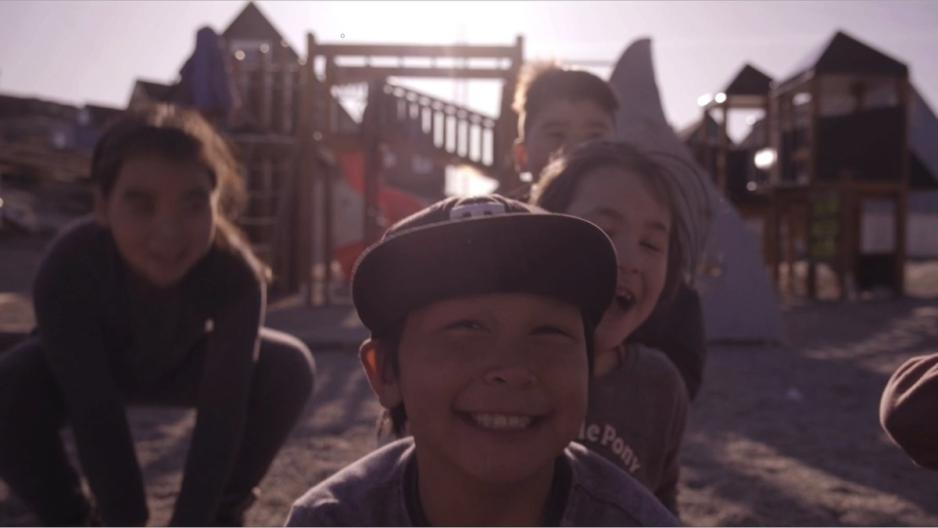 Through other documentaries, one can also gain insight into local communities on Svalbard (The Visitors by Veronika Lišková), the lives of five adult brothers who still live at the family farm in a small rural village on an island in Northern Norway (Johansen Brothers by Trude Ottersen) – and how karaoke has warmed up introverted Finns (Karaoke Paradise by Einari Paakkanen):
In addition, one can be entertained by a tough group of girls from the village of Pangnirtung in Nunavut, Northern Canada. In the film Slash/Back, directed by Nyla Innuksuk, the girls have to use tricks from horror films and Inuit hunting traditions to escape bloodthirsty aliens: 
This article was originally published in Norwegian and has been translated by Birgitte Annie Molid Martinussen.