Russian Artist: "To Show My Art in Bodø Is Like a Fresh Breath of Freedom"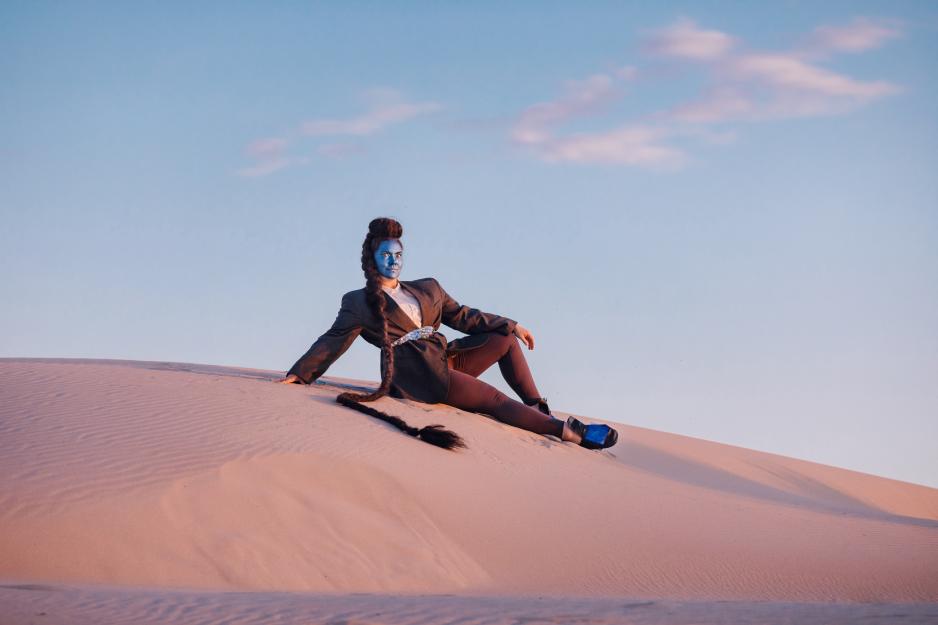 Cooperation with the Norwegian side is of great support, feels Russian artist and war opponent Ulyana Podkorytova. Her art film was recently shown in Bodø. Interaction with critical voices in the art field in Russia must be maintained, believe the curators behind the project.
"In Russia, it is said that everyone in Europe hates us, but I understand that it is only political propaganda," writes the artist Ulyana Podkorytova in Moscow in an e-mail to High North News.
As part of the northern art project Border / No Border during Bodø Biennale, Podkorytova recently did a performance and had the foreign premiere of the film Tamotka at the Norwegian Jekt Trade Museum. The film was shown in a mobile showing room in Bodøsjøen until yesterday, Thursday.
"This cooperation with the Norwegian side is of great support for me. As a result of the war in Ukraine, I have lost five foreign projects. This chance to show my art in Bodø is like a fresh breath of freedom for me," she says.
She was meant to come to Bodø, but she was not granted a visa. Her performance and participation in the following panel discussion were, therefore, live streamed from Moscow. 
"Russia is very dear to me, but it is a difficult country. There are dishonest characters here that want to lock me inside the country. I am really scared of the iron curtain coming down, but I do not want to leave Russia now. My hope is that I will be able to fight my own battle here through underground art, education, and work with the youth."
May this awful war stop immediately, so that we can live in a sober present.
Shared past with contemporary relevance
"In my artistic practice, I work with northern folklore. I believe that Russians and Norwegians have a large common collection of northern folk memories that can have a positive impact on humanity. We need to look far back into the past to calm down and reflect. Just sit by the sea and sing an ancient meditation song," she believes.
Podkorytova's performance works are based on Northern Russian folk music from the Middle Ages, and in the film - shot in villages by the White Sea on the country's northwest coast among other places - old folk tales are conveyed and further developed. 
"I hope that my battle on the territories of contemporary art will help Russian people open their eyes to their past and that it can contribute to future conduct without major mistakes. May this awful war stop immediately so that we can live in a sober present," she writes, while also revealing that her dear husband is Ukrainian.
"If I ever have the opportunity to cooperate with Norwegian artists, I would like us to sing together! I am a singer of freedom," Podkorytova adds.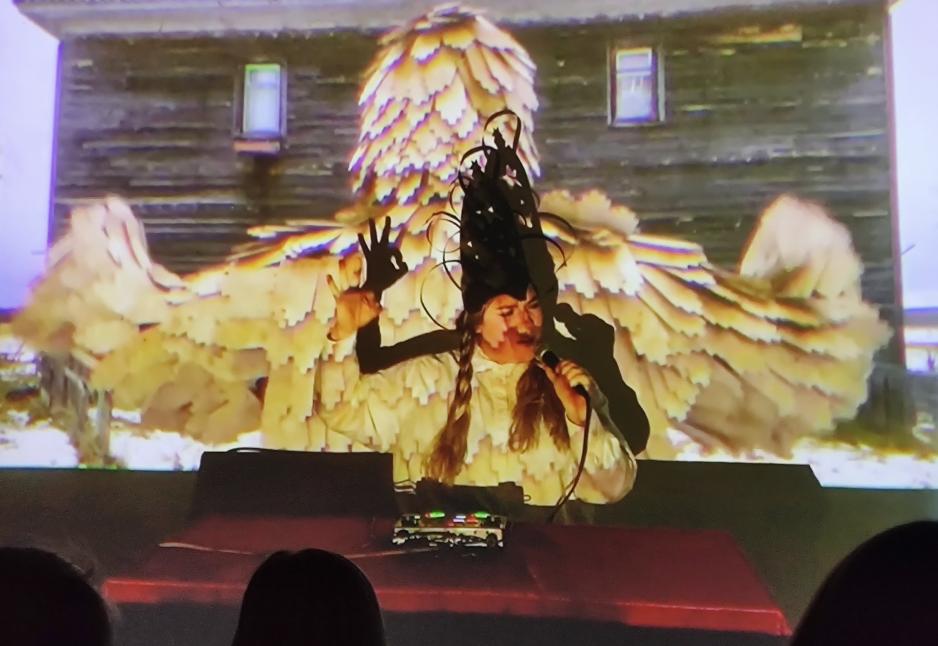 Female storytellers 
The project Border / No Border also includes northern artworks made by British Ruth Maclennan and Norwegian-Sami Elina Waage Mikalsen, which were shown in the center of Bodø during the biennale. 
Similar to her Russian artist colleague, Maclennan has made an art film from the northwestern Russian Arkhangelsk region. In A Forest Tale, she conveys stories from the Arctic forest - and depicts how its ecosystem has been influenced by industrial development.
Mikalsen has created a Norwegian-Sami multimedia installation, Undersang/Jaskes šukŋa, which brings together fragments of family history and underworld mythology.
"A common denominator for this project is female voices telling stories from the past. Such voices are seldom or never heard from in the public," says Ekaterina Sharova, Russian-Norwegian co-curator, based in Oslo.
"The films reference, among other things, bylina, which are ancient Russian oral epic poems. Bylina were collected by older women in the Russian countryside. Mikalsen has something similar in her work with Sami ties to the past. In the border-crossing north, we are rediscovering our history," she says.
Capital of culture and Barents cooperation work
Behind the project is the organization Project 67 (Prosjekt 67) and Arctic Art Institute, with support from Bodø 2024 and BarentsKult.
Project 67 focuses on art in public spaces, and is a part of Bodø 2024, the umbrella organization which will realize the plans to make the city the European capital of culture in two years. BarentsKult is a funding program for Norwegian-Russian cultural cooperation in the North and is managed by the Norwegian Barents Secretariat.
"One of the aims of Project 67 is to establish Arctic cooperation across Greenland, Norway, Sweden, Finland, and Russia. For over two years, I have worked on forming networks and carrying out projects across the countries," says Gøran Moya, founder, and leader of Project 67.
He originally had Russian cooperation partners in Petrozavodsk for this particular art project. 
"First, the covid pandemic got in the way. When that had calmed down a bit, Russia invaded Ukraine. Since this is a project with BarentsKult funds and the partners in Petrozavodsk are supported by the Russian state, I had to end the cooperation with them. I, therefore, contacted Ekaterina, and we started working together," says Moya.
Intense process
In the continuation, it was a busy process to finish the project in time for the biennale. 
"The process has been challenging. The whole project had to be changed, and the application for BarentsKult funds had to be processed again. Everything had to happen in a very short amount of time," says Moya.
"Luckily, we were able to secure three art productions which were ready, so it worked out well," says Sharova and continues:
"Maclennan and Podkorytova's films have not been previously shown in Europe, and for us, it was a great opportunity to include these great artists in the project. They had planned showings in London and Venice, among other places, which were canceled due to the war in Ukraine."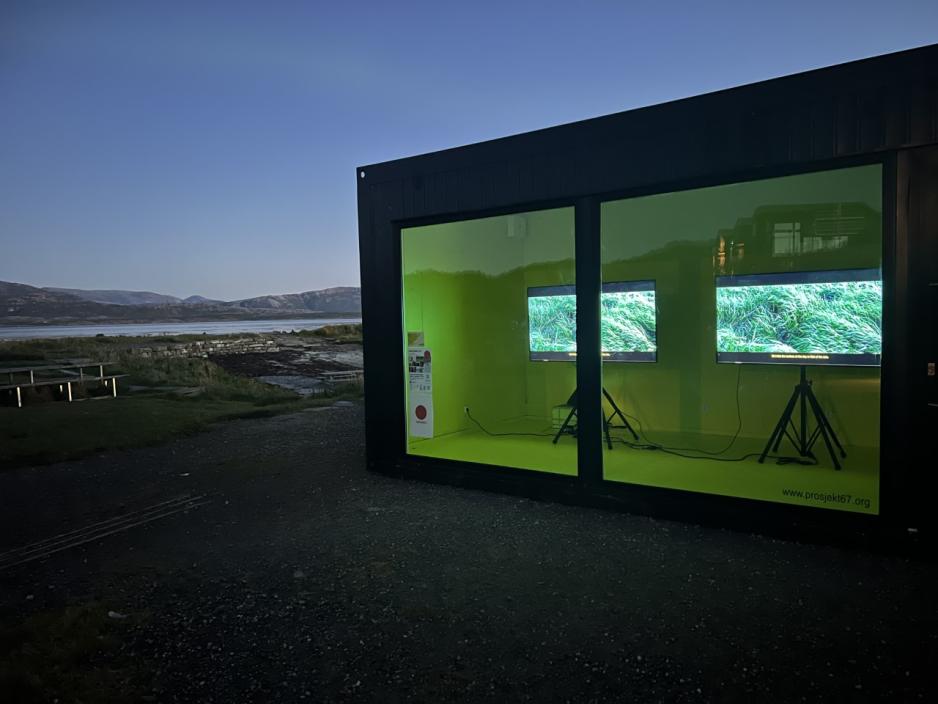 Innovation within Russian art may be drawn from the past.
Past and present
In the project, Northwest Russia is depicted as a periphery gathering place for many political refugees and free thinkers fleeing the authoritarian Moscow - and as a region that has preserved history which partly disappeared in the Soviet era.
Sharova herself is from Arkhangelsk and is a trained art historian and educator. After ten years of studies and work in Norway, as a curator in Pikene på Broen in Kirkenes, among other things, she returned home in 2015.
"I went back to elevate the art scene in Northwest Russia and dig out older historical stories which Soviet government had erased from our history curriculum. Innovation within Russian art may be drawn from the past because one can always make rediscoveries," she says. 
Together with a group of artists and curators, Sharova established Arctic Art Institute the same year, as a platform to promote young northern artistic voices. Within this framework, she invited many artists, like Podkorytova, to Arkhangelsk to produce new artworks based on the old and partly forgotten. 
In the present, Sharova is worried about the progressive and war-critical artistic voices in Russia, and about the Barents cooperation in which she has many years of experience. Moya shares her worries.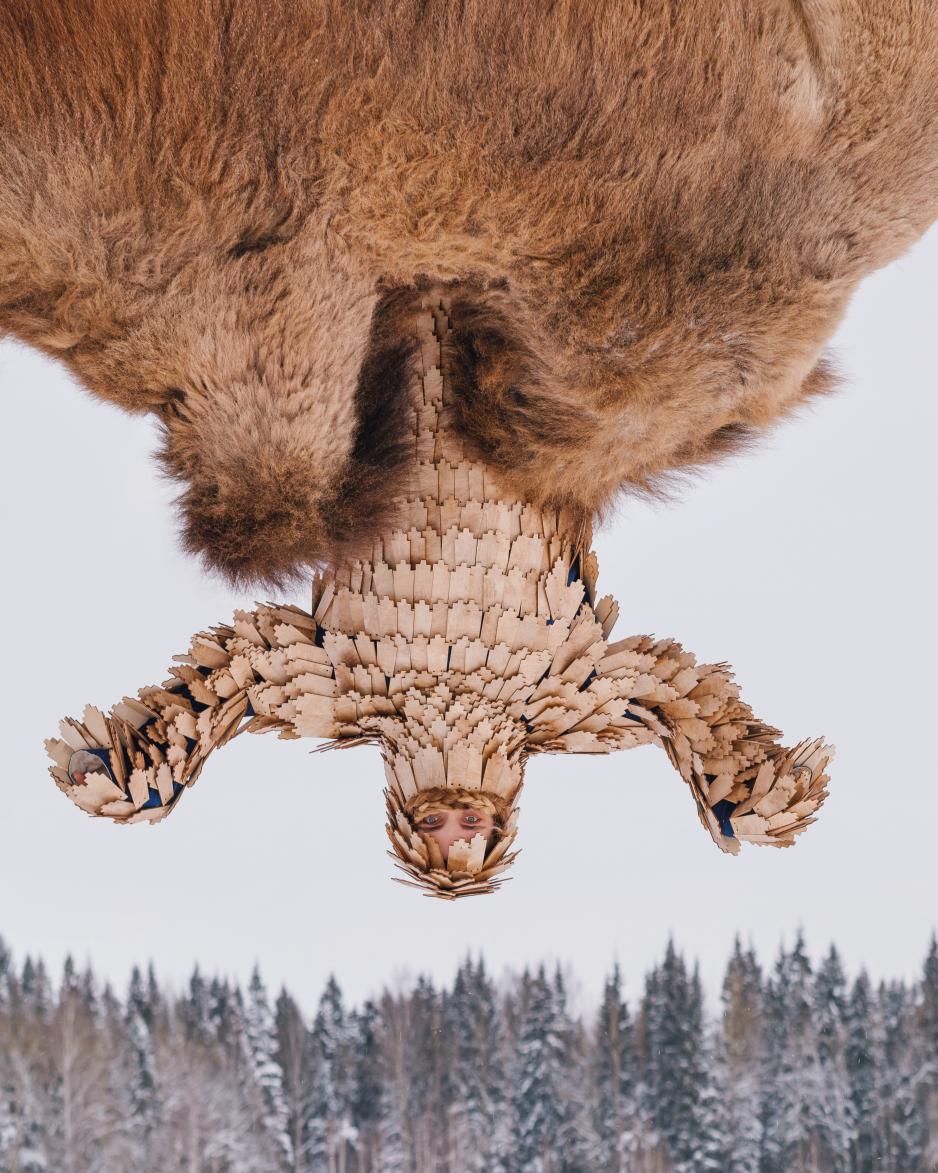 Many I know in Russia are against the war. Some of them risk their lives and health to protest it.
Protects the interaction
The two curators clearly advocate for cooperation with critical voices in the art and culture field in Russia must be maintained. They also question the Norwegian media's coverage of the neighboring country where people risk rough treatment and up to 15 years in prison for spreading "disinformation" about Russian forces' actions in Ukraine.
"Many I know in Russia are against the war. Some of them risk their lives and health to protest it. But this is rarely covered in the media," says Sharova.
"If one only focuses on politics, defense, and strong men, and leaves out women's cultural history and cultural cooperation, one misses out on a lot of knowledge. In its coverage of Russia, the media mainly writes about Putin and the military. That is how the strong get even stronger," she points out.
Moya agrees with his co-curator.
"Cultural cooperation fundamentally contributes to a greater interpersonal understanding. In the present day, as Ekaterina touches upon, it is even more important to get to know normal war-critical people on the Russian side, as within art."
Some artists stay in Russia and have good reasons for doing so, such as Ulyana.
Disadvantages of cultural boycott
"I also think about the major consequences it will have for Russian artists when actors on the western side refuse to cooperate with them. Some artists stay in Russia and have good reasons for doing so, such as Ulyana," Moya points out.
"One can boycott Russians, but Russia is not going away. And one does not promote democracy through exclusion. Artists "are" democracy on the Russian side, and most of them are against the war in Ukraine. At the same time, protesting is very dangerous. It can be described as standing in front of a concrete wall with the imminent risk of it falling down on you," Sharova adds. 
Similar to her friend and colleague in the art field, Evgeny Goman in Pikene på Broen, Sharova emphasizes that breaking contact with independent artists in Russia will make them depressed and alienated.
She also believes that the cultural boycott of Russians happens partly because of inadequate knowledge. 
"It is quick to judge and boycott Russians without knowledge of what they stand for. Both Ulyana and I have received cancellations from actors who do not know us. I have not changed my position since I, for example, invited the Russian oppositional music group Pussy Riot to Norway in 2014, and I am strongly against the war in Ukraine."
I have noticed a great change in the Russian regions that the Barents cooperation covers.
The Barents cooperation's effects and outlook
The Border / No Border project is a part of the Barents cooperation with the Russian side, which still lives on, but which has an uncertain future.
Both Moya and Sharowa have observed the debate about the basis for the existence of the Norwegian Barents Secretariat, which supports Norwegian-Russian cooperation in the north. 
"What future the Barents cooperation faces is very interesting. What will happen to the Barents Secretariat and what will be the continuation of the bordercrossing art and cultural cooperation? Project 67 aims to carry out cooperation projects with, among others, Russian artists continuously, but the realization partly depends on what happens to the secretariat," says Moya.
"Some claim that the Barents Secretariat is a failure, and describe almost everything about the Norwegian-Russian Barents cooperation as problematic. I have several objections to this," Sharova says and continues:
"Transforming Russia to a democracy through cooperation with five Barents regions out of the country's total of 83 territorial units, is very ambitious. Moscow is the power center and change that becomes nationwide happens there first."
"At the same time, I have noticed a great change in the Russian regions that the Barents cooperation covers.This has primarily happened through interaction within culture and education. The difference from other regions, even Moscow, is significant. The change might not be as visible from Norway, but it is there."
These networks are alive and important, even though some observers have an aversion to them.
Reverberation
Sharova continues by sharing some of her experiences with northern Norwegian-Russian cooperation. 
"When I returned to Northwest Russia and said that I came from the Norwegian side to work on Barents projects, I was immediately welcomed. The Barents cooperation has such a good reputation in this region. One can go to any cultural institution there with a Barents project and be welcomed with open arms," she says.
During the time Sharova worked in her homeland, she also gathered progressive leaders of cultural institutions to an Arctic art forum in Arkhangelsk.
"There are many such progressive cultural leaders in the Russian Barents region. The post-Soviet leader generation has a completely different way of thinking also through the Barents cooperation and they are influential. Many Russians go to the theater and art shows," she points out and continues:
"We have built a sort of architecture of human contacts in Northern Norway and Northern Russia through the Barents cooperation. Everyone knows everyone in the culture field. These networks are alive and important, even though some observers have an aversion to them," says Sharova and concludes:
"The rewards of maintaining border-crossing contact are many. In addition, we have many shared northern stories which have not been told in the present time, and which can influence what the Arctic will look like in the future."
This article was originally published in Norwegian and has been translated by HNN's Birgitte Annie Molid Martinussen.