Would Not Answer Whether Russia Should be Invited Back Into Arctic Security Forums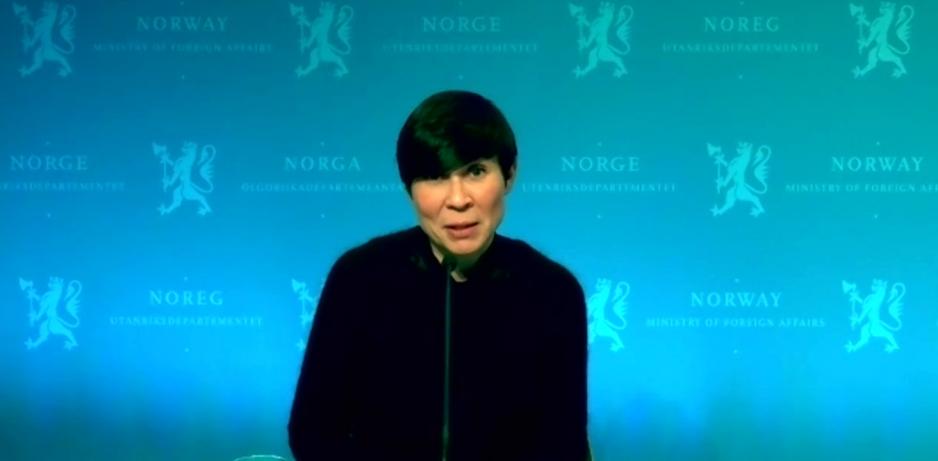 Norwegian Minister of Foreign Affairs Ine Eriksen Søreide would not give a direct answer when asked whether Russia should be invited back into Arctic security forums.
During the third day of the Arctic Frontiers conference, there was a digital press meeting with the Norwegian Minister of Foreign Affairs Ine Eriksen Søreide. 
Russia and Arctic security forums
A recent report published by the U.S. Naval War College (NWC) looks at measures to improve security dialogue in the High North. 
In the report, its authors Professor Lars Saunes and Associate Professor Walter Berbrick at the NWC state that while the Arctic is increasingly characterized by military buildup and presence, security dialogue and cooperation between the West and Russia in the region is limited.
The authors of the report suggest that meetings with Russia through the Arctic Chiefs of Defense Forum should be restarted in order to increase transparency and build trust to mitigate security challenges stemming from misperceptions or misunderstandings.
High North News asked the Foreign Minister for a comment regarding the conclusions in the report. The Minister did not answer directly, referring to the Ministry of Defense for a more detailed answer.
Søreide did list other, more successful forms of cooperation with Russia:
"Our cooperation in the North has always been valuable. We have well-developed cooperation with Russia on search and rescue, on our coast guards, and on our border patrols. There is also the open line of communication between the Norwegian Joint Headquarters in Bodø and the Russian Northern Fleet. That has been an integral and an important part of our policy and has been maintained even though we suspended the military cooperation with Russia in 2014".
Policy change with Joe Biden
When asked about how the relations between Norway and the USA will change with Joe Biden as president, compared with the Donald Trump period, the Minister said to High North News that relations will be more predictable. 
"We do not expect any major changes in any of the bigger foreign policy issues, like for instance the willingness of the U.S to confront China on different issues", Søreide said and added:
"But we do already see some changes in policy, like including the U.S in the Paris Agreement again, not withdrawing from the WHO, and also - of course - focusing on the Trans-Atlantic bond and strengthening Trans-Atlantic relations, which is in our interest as well. We do not necessarily foresee a major difference in policies, but maybe a rather different tone and also a different emphasis on different areas".
The Minister said in closing that U.S leadership is needed on several international issues.