US Coast Guard Requests Funding for Second New Icebreaker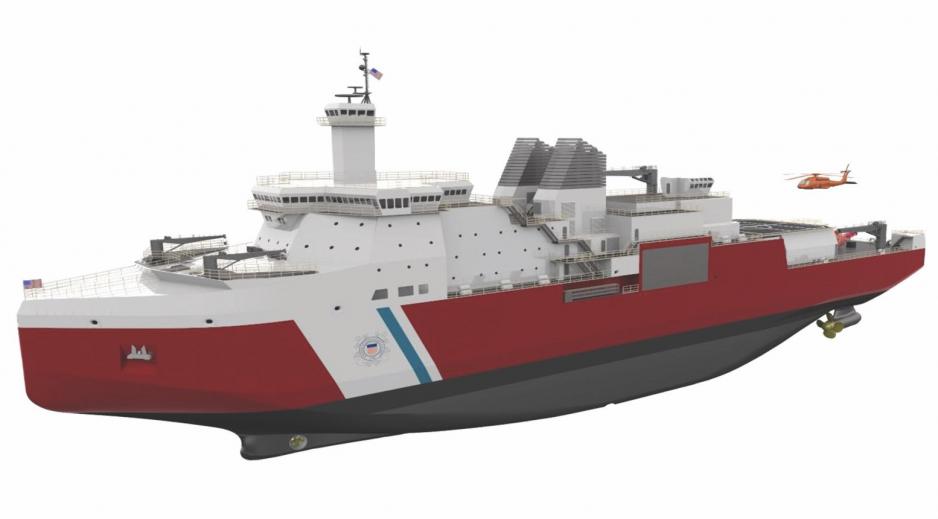 A year after securing funding for its first new heavy icebreaker in over 40 years, the 2021 Coast Guard budget includes $555 million for a second one.  
On Monday, the Trump Administration released its FY 2021 federal budget. In the budget request the US Coast Guard is tabbed to receive $555 million to fully fund a second Polar Security Cutter (PSC) heavy icebreaker. 
Overall the Coast Guard's proposed budget in FY 2021 is $12.3 billion, which is a 0.06% increase from what the Coast Guard received for FY 2020. The FY 2020 budget passed by the House included $100 million to begin purchases of long-lead-time materials for the second PSC, but it did not fully fund the second PSC
In a major step, last February President Trump signed the FY 2019 Department of Homeland Security funding bill, appropriating $675 million for the PSC program, doubling the $360 million previously allocated to the program over the previous five years combined. In April, the Coast Guard in turn awarded a contract worth over $745 million to the Mississippi-based shipbuilder VT Halter Marine Inc. to design and build the first PSC, the first new heavy icebreaker to be built in the US in over 40 years. The contract awarded to VT Halter Marine includes an option to build two additional PSCs and the Coast Guard's 2021 budget makes it clear it intends to exercise it. In total, the Coast Guard has stated that it hopes to build a fleet of six new polar icebreakers in the coming years. 
Tight timeline
After VT Halter Marine was awarded the contract, the company said it could to deliver the first PSC to the Coast Guard in 2024, with the potential second and third vessels delivered in 2025 and 2027, respectively, if the Coast Guard were to exercise its option. However, as recently as just last week a government watchdog agency doesn't believe the shipbuilder can deliver the vessels on time. 
On February 5, the Government Accountability Office (GAO) released an assessment casting doubt on the proposed delivery timeline, stating that the anticipated timeline is based on Coast Guard needs rather than domestic shipbuilding capabilities and therefore recommending the service "develop a more realistic schedule." Coast Guard officials have reportedly vowed to address this criticism and update the program's schedule by the end of March.
Any significant delays in the delivery of the Polar Security Cutters could have a dramatic impact on the Coast Guard's ability to fulfill its missions in the Arctic and Antarctica. Currently, the Coast Guard only operates one heavy icebreaker, the 44-year-old USCGC Polar Star, which is nearing the end of its service life. Any delivery delays could leave the service with a gap in polar icebreaking capabilities.
Election uncertainty
Ultimately the White House's budget proposal released on Monday is just that: a proposal to Congress on what the Administration believes the annual federal budget should look like. It's the first step in a long process that Congress ultimately has the final say in. Given that it's an election year, recent history suggests lawmakers could delay making final 2021 spending decisions—including whether to authorize the $555 million requested to fully fund a second new Polar Security Cutter—until after the November presidential election