US Army to Hold Major Winter Exercise in Alaska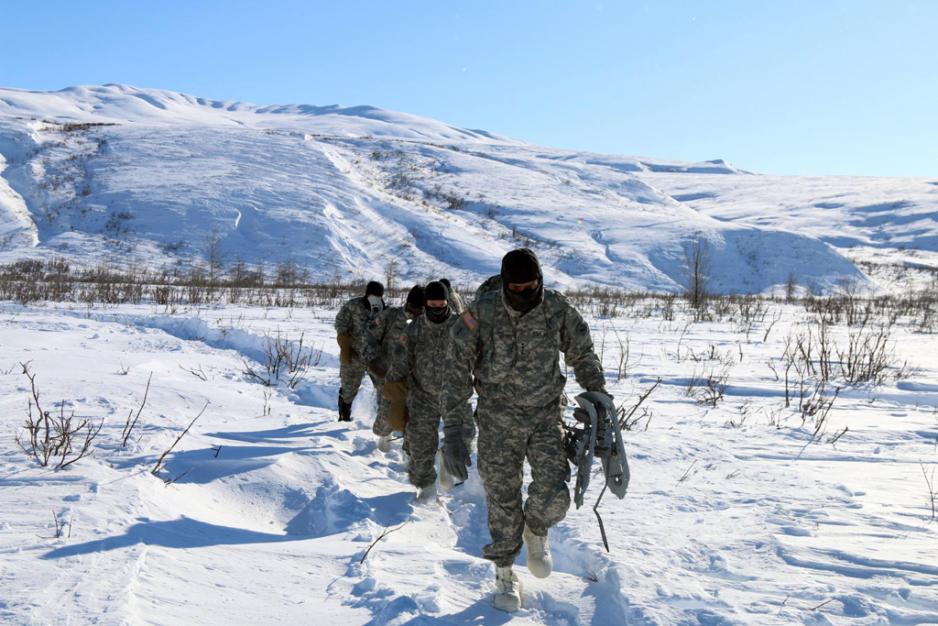 US Army Alaska has announced a major cold weather training event which will focus on large scale combat operations. It includes training and procedures development for deployment operations in an Arctic environment.
Joint Pacific Multinational Readiness Center (JPMRC) 22-02 is described as a major Army exercise and a cold weather training event which focuses on large scale combat operations. 
Beginning on 9 March and continuing through 24 March, the exercise focuses on training, tactics and development of procedures for deployment operations in an Arctic environment. It will largely take place southeast of Fairbanks in Interior Alaska.
"This exercise demonstrates the effectiveness of our Arctic training and ability to face a near-peer threat in an Arctic environment," Commanding General of U.S. Army Alaska Major General Brian Eifler says in a press release. 

"Our Soldiers are trained to deploy on short notice and operate effectively in the deep Alaskan winter."
Cold weather operations
The exercise is designed to validate the ability to rapidly deploy a brigade-sized force team. 
More specifically, the exercise will validate the 1st Stryker Brigade Combat Team, 25th Infantry Division's cold weather training readiness and capabilities, current equipment cold weather capability. It will subsequently provide feedback and observation of current equipment sets to US Army Alaska. 
The 1st Stryker Brigade Combat Team is based in Fort Wainwright, Alaska and is described as the Army's farthest North and only Arctic Stryker Brigade Combat Team.
Accordingly, the exercise will test the deployment processes of the units involved and the support agencies and their collective ability to rapidly prepare and deploy forces for extreme cold weather operations. 
Arctic strategy
The US Army is currently implementing its new Arctic Strategy, among others looking to enhance cold weather skills and capabilities. 
As High North News has previously reported, the new strategy argues that changes in the geopolitical environment and actions of great power competitors, combined with the evolving physical environment, require the Army to refocus and analyze options to rebuild Arctic capabilities.
The Arctic strategy is designed to create a force that can rapidly generate and project multi-domain forces globally, that is sufficiently equipped and sustained to fight in extreme-cold weather, rugged and mountainous conditions over extended periods, the previous Commander of US Army Alaska Major General Pete Andrysiak, explained during a press briefing. 
In an interview with HNN, Andrysiak, who is now Deputy Commanding General of US Army Europe and Africa, noted that the Arctic strategy is "moving and making progress". 
First of its kind
"There are several national training centers in the US where units train to fight against opposing forces. Now we are bringing those capabilities up to Alaska. And this winter, in March, they will run a similar combat training center up in Alaska as they continue to build that cold weather capability", Major General Andrysiak told High North News. 
As such, the upcoming Joint Pacific Multinational Readiness Center will be the first-ever Home Station Combat Training Center rotation in Alaska. Previously, forces have had to train at other joint readiness training centers in the lower 48. 
Arctic Edge
The Alaskan Command, a subordinate command within the Northern Command, is similarly preparing for the exercise Arctic Edge 2022. The biennial exercise is set to begin February 28 and ends on March 17 and is the largest joint exercise scheduled in Alaska this year. 
In a press release, the US Northern Command says that the exercise is linked to other service-specific exercises such as the U.S. Army's Joint Pacific Multinational Readiness Capability and others who will occur concurrently or consecutively with Arctic Edge.
"Arctic operations and exercises such as Arctic Edge demonstrate the capabilities utilized to defend our homeland and our interests," said U.S. Air Force Lt Gen Krumm, Commander of Alaskan North American Aerospace Defense Command Region, North American Aerospace Defense Command, and Alaskan Command.