An Unusual Arctic Guest: Saudi's King visiting Russia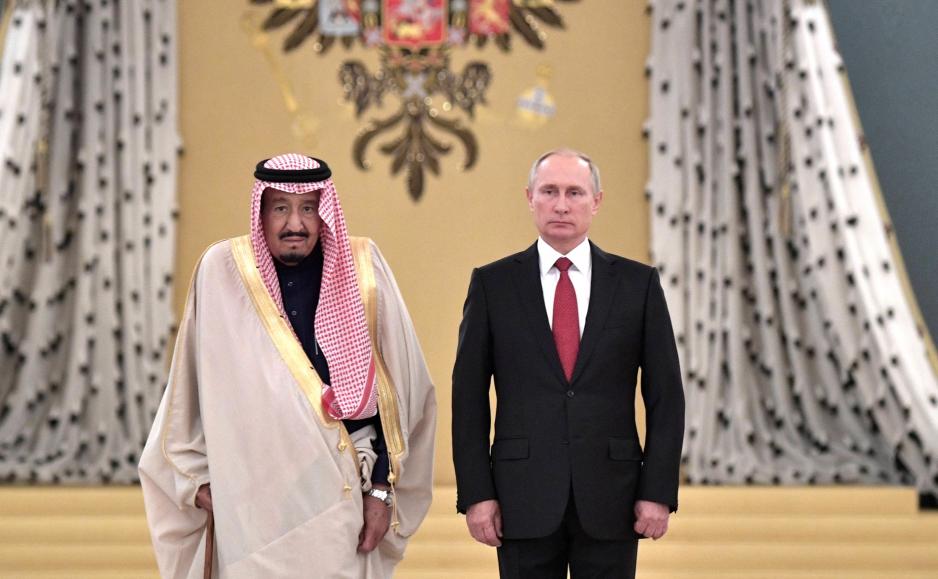 Early October, the city of Moscow offered a platform to a signal event: the first ever state visit to Russia by a reigning Saudi monarch. And King Salman bin Abdulaziz Al Saud did not come alone. His entourage included a high-profile delegation and the prospects of joint cooperation between Russia and Saudi Arabia in the fields of trade, investment and regional conflict resolution.

Early October, the city of Moscow offered a platform to a signal event: the first ever state visit to Russia by a reigning Saudi monarch. And King Salman bin Abdulaziz Al Saud (81) did not come alone. His entourage included a high-profile delegation and the prospects of joint cooperation between Russia and Saudi Arabia in the fields of trade, investment and regional conflict resolution.
The state visit was anything but usual. Over the last few decades the two countries have rather been at odds with each other - to put it mildly. Tensions over diverging interests in the Middle East or the states' predominant roles in the global oil market have only fostered mutual distrust.

"There have been on-going talks about President Putin and King Salman meeting but it is rather surprising that the King actually came to Russia, especially at his age", says Mark N. Katz, Professor of Government and Politics at George Mason University and former Visiting Senior Fellow at the Finnish Institute of International Affairs.

Bilateral Rapprochement on the Horizon
However, the Russian-Saudi relationship is about to change. Signalled as a turning point in Middle East politics and new era of bilateral cooperation, Moscow and Riyadh have mutually agreed on several joint investment deals. Agreements that range from oil, military to even space collaboration and are about to pour billions of dollars into the Russian economy. Moreover, President Putin and King Salman announced that they will continue to work on stabilizing world oil markets, a joint effort that originates in Russia having joined an OPEC-led production cut agreement in November 2016. Then, the two states joined forces to restrict oil output in order to prop up global oil prices.
The official visit of King Salman was, however, not the first sign of convergence between Russia and Saudi Arabia. Saudi's Crown Prince Mohammad bin Salman appraised the current relationship as "going through one of the best moments", when visiting Moscow himself back in May this year. It has been argued that the crown princes' personal efforts, fuelled by political and economic pragmatism and the willingness to repress ideological differences on both sides, positively impacted the thawing relations between Moscow and Riyadh.

"Saudi Arabia is very much interested in developing its relationship with Russia, especially as an international counterweight to its long-lasting relations with the U.S.", Katz continues.

About the Why
Also Russia has considerable interests in enhanced financial investments and strengthened economic ties, especially in the light of still existing EU and American sanctions over Russia's military intervention in Ukraine in 2014.

"Saudi Arabia never really showed an interest in the conflict over Ukraine, a fact that is well perceived by President Putin. With Russia also becoming more and more dependent on China, an intensified relationship with Arab countries as such can only be of advantage for Russia", Katz points out.
Already in 2015, it was announced that the Public Investment Fund (PIF) - the Kingdom's sovereign wealth fund - will allocate USD 10 billion over a period of five years, investing especially in infrastructure and agriculture projects in Russia. Following the state visit now, the Russian Direct Investment Fund (RDIF) proposed that the two funds will invest USD 1 billion across sectors such as petrochemicals, power, logistics, transport infrastructure and retail. Another USD 1 billion is also about to be invested in a Russian-Saudi technology platform, focused at identifying investment opportunities in the Russian technology sector, including digital infrastructure and big data.
And yet, cooperation is not a one-way street with one of the partners being a 'financial goodwill ambassador' only. The meetings have also seen Saudi Arabia signing a Memorandum of Understanding (MoU) on the purchase of S-400 air defence systems from Russia and included further cooperation announcements to develop the Arab state's own military industries. These efforts are (most likely) part of a larger arms deal, worth USD 3.5 billion, that was mentioned by the General Director of the Russian state corporation Rostec in July of this year. This is an extraordinary move as Saudi Arabia, so far, has been a close ally of the US and therefore heavily reliant on military cooperation with Washington. In sum, it is indicative of a potential shift in global power structures.
However, in contrast to these economic convergences, no substantial breakthroughs have been reached on the political level. Both states still disagree over substantial aspects of regional affairs in the Middle East and the Gulf region, such as the controversial role of Iran, the situation in Yemen or the future of Syrian President Bashar Assad. But although the emerging ties remain rather fragile, political disagreements no longer prevent economic rapprochement.

What about the Arctic?
It is in the context of a changing international order and the emergence of new and previously unimaginable alliances that the Arctic comes into the spotlight of Saudi-Russian energy cooperation. Already in 2016, at a G20 summit in China, Saudi Arabia and Russia agreed to cooperate on stabilising global oil markets and eventually did so in the aforementioned OPEC-deal. Then in 2017, Saudi Aramco was offered a participating role in Russia's Arctic LNG-2 project, led by Russia's largest private gas producer Novatek.

The Arctic LNG-2 project, located near Gydan peninsula in northern West Siberia, is supposed to be the second large scale Arctic LNG project in Russia, after Yamal LNG, with an annual production capacity of 18 million tons of LNG per year. It has been reported that a MoU between companies of both countries has been under discussion since at least summer 2017. However, Saudi Aramco has so far denied plans of taking a stake in Arctic LNG-2.

"Saudi Arabia is not particularly interested in Arctic oil and gas developments; mainly due to competitive reasons", Katz states.
And yet, the rationale behind Russian-Saudi Arctic gas cooperation is not far-fetched. Both countries still suffer from the US shale gas revolution, as it led to a global gas production glut. Closer cooperation between the two energy superpowers could ease the situation. In addition, the Kingdom aims to reduce its oil-dependence for energy generation by switching to gas. Finally, as Russia is still suffering from Western sanctions, it looks for foreign investment from other parts of the world. It is also against this background, that Saudi investments into Arctic-LNG 2 are welcomed by Russian counterparts - not least because Moscow aims to increase its share in the global LNG market from currently 5% to 10% in 2020.

And for the Future?
What seems obvious is the fact that the changing global order increasingly affects political and economic affairs in the Arctic, too.

"The Arctic does not have its own geopolitics separate from that of the rest of the world," Katz noted. "What happens elsewhere affects the Arctic, and vice versa." A potential Saudi engagement in the region is only the latest sign of the region's accelerating global integration. What is worth noting, from a Western perspective, is the increasing strategic clout of external actors, like China and Saudi Arabia, in the Arctic. It shows the limited influence of Western sanctions on Russia's capability to develop its northern economy. As a result, more often than not, Russia might side with these external actors on Arctic and other matters. The West will have to think about how to encounter such a development.