A Tour of Eradicated Russian Protest Art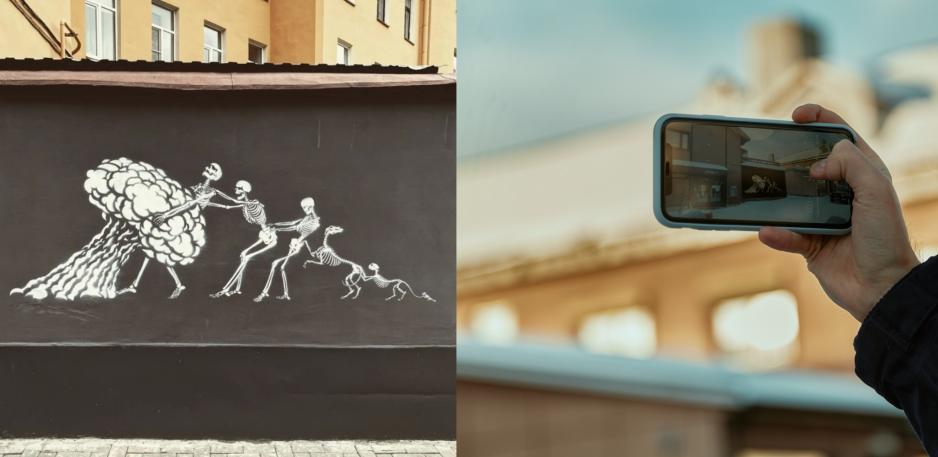 The center of the border town Kirkenes in Northern Norway has been transformed into a gallery of protest art originating from Russian streets. With their war and regime criticism, the original works were quickly removed by the Russian authorities, but live on digitally through the app of the art group Yav.
Kirkenes, the Norwegian town close to the border with Russia, has been transformed into a street gallery. The exhibition "Confession of the Streets" was created by the Russian art group Yav and organized by Pikene på Broen (the Girls on the Bridge).
The art, however, is not visible to the naked eye. It must be experienced through Yav's app AR Hunter with Augmented Reality. With this, the cellphone becomes a window into Russian street art with a sting towards war propaganda and the authoritarian – projected onto walls around the border town.
In Russia, objections to the Ukraine war and the regime are not accepted. Since the 24th of February 2022, over 19 500 people have been arrested for anti-war protesting in Russia, according to the human rights organization OVD-info.
In fear of the strong reprisals, many express their resistance anonymously through street art created in the dead of night, which has become a main form of protest. This art is often eradicated by Russian authorities only a few hours after its creation, but some of it has been immortalized and made available by Yav. 
High North News has participated in a tour of the hybrid street art exhibition, led by Evgeny Goman, Producer in Pikene på Broen. The exhibition took place during Pikene på Broen's festival, Barents Spektakel, but is still available for audiences in Kirkenes.
Expressing resistance
Along the streets, Goman shares the stories behind the artworks and explains more about Yav, whose Instagram handle is @yav_zone.
"This is an art group founded and led by Anastasia Vladychkina, who is in exile in Georgia, at one of our hybrid kvartirnik gatherings," he says.
Kvartirnik ("apartment" in Russian) is a revitalized concept from the Soviet era in which one meets outside the realms of censorship and a concept that Pikene på Broen has given a digital form for border-crossing dialogue.
"With this exhibition, we want to showcase that there are people who fight the regime and the war through art. I am proud of them," says Goman, who is Russian himself.
Slides in
Among those participating in the tour of this unique exhibition, are Anastasia Savinova and Rebekkah Oomen.
"I think that this is a very cool and significant project. These artworks have important messages and it is interesting to see them in this subtle way, knowing that they have been removed from their original walls in Russia. In the context of this town, it looks almost natural. It could just as well be a wall of such street art under the Fretex sign," says Savinova.
"I also like how natural it looks – that the works could actually and physically be on these walls and slide right in. Here in Kirkenes, such street art would probably be allowed, in opposition to where this art was originally created. It illustrates an important contrast," adds Oomen.
Savinova is a Russian artist located in Sweden and Oomen is an evolutionary biologist at the University of Oslo. They have been involved in Barents Spekatakel with the connected projects Dialects of the Deep and Cod Drumming. In these, research and art are combined around the cod's communication and the relation between the cod and humans. 
This article was originally published in Norwegian and has been translated by Birgitte Annie Molid Martinussen.