Svalbard Has Got Its Own Cartoon Character - Isbjörnar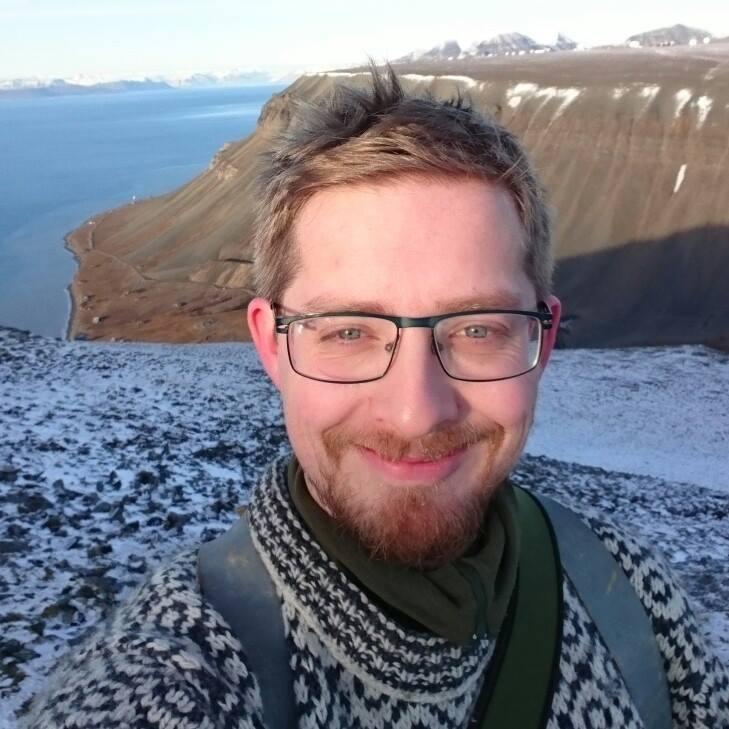 Haakon Sandvik (36) has created his very own Svalbard character, and he uses 'Isbjörnar' to engage in most of what goes on in the High North island community.

Haakon Sandvik (36) has created his very own Svalbard character, and he uses 'Isbjörnar' to engage in most of what goes on in the High North island community.
- I was made in Svalbard, took a detour to Bodø to be borne and then returned to the island. So I carry a lot of history, Haakon says with a smile.
He likes to smile. It is proof of being in a good condition, and it has been good to grow up in Longyearbyen. Because there is not really anywhere else for the 36-year-old. He tried a couple of years on the mainland, but soon returned home.
- It was a great adolescence, and distances were short. It did not take long to get to school, the movies or sports activities. I may not have much to compare it to; however, growing up here was great. The only bad thing about it has been when friends moved away, the 36-year-old says. He runs a shop in Longyearbyen called 78 Degrees Taxfree. And this was where 'Icebjörnar' was born, the character that keeps appearing in connection with issues engaging Haakon.
- Icebjörnar started very simply during the last week of April just over a year ago. Some women came to my shop during a ski marathon and wanted a bag for their goods. One of them asked me if I didn't have a bag showing a polar bear, and I said I'd be happy to draw her one. It ended with all the women leaving the shop with each their polar bear on their bags, Haakon says.
Today, all the plastic bags in his shop have a polar bear motive.
- Today, we have bags, postcards and even a calendar. It's good fun, and I appreciate that people like what I make, the cartoonist says with a smile.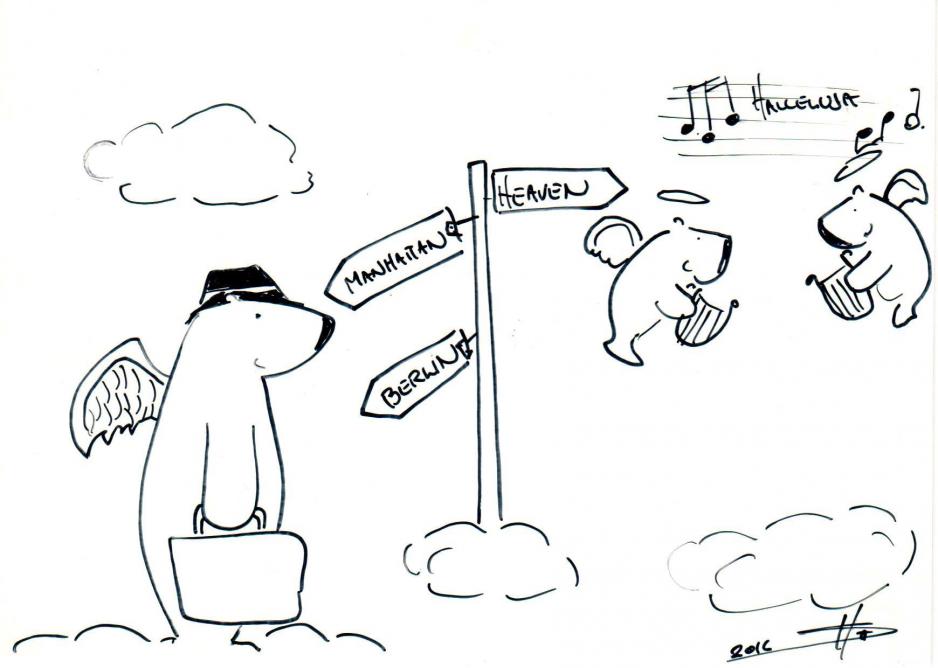 Visual thinker
Ever since he was a young boy, Haakon has both read and drawn cartoon stripes. He had the ability to shut out the world and only focus on Donald Duck, Transformers, Norwegian cartoons Pyton and Pondus, and not to forget: Lucky Luke.
- I always read and drew. My old notebooks from primary school were full of margin drawings, and there would frequently be a cartoon stripe here and there. It has been a way of communicating, and I am a very visual thinker, Haakon says.
Cartoons are a very distinct form of communication and can cover anything, from serious issues to humor, fantasy as well as real events. Haakon uses some of this, some of that, and having grown up and lived on Svalbard he has a well to draw from when picking up the pencil. Both historically and current events appear in his stripes.
- I started doing this just for fun. However, as it happens I am fortunate to have a girlfriend – Rakel Elise – who is an artist and sees opportunities. She submitted a drawing to the local newspaper Svalbardposten, and all of a sudden it was there – Isbjörnar became a public character and I had to work towards deadlines and submit every week.
His thinking got rolling; the news, the Svalbard Policy, climate and interactions.
- My partner then suggested naming the bear 'Isbjörnar' [combining the Norwegian word for 'ice' with the common name 'björnar', stemming from the word for 'bear' in Norwegian]. I thought it was a bit lame at first, but okay. We tried, and even made a facebook page for the drawings, Haakon says with a laugh.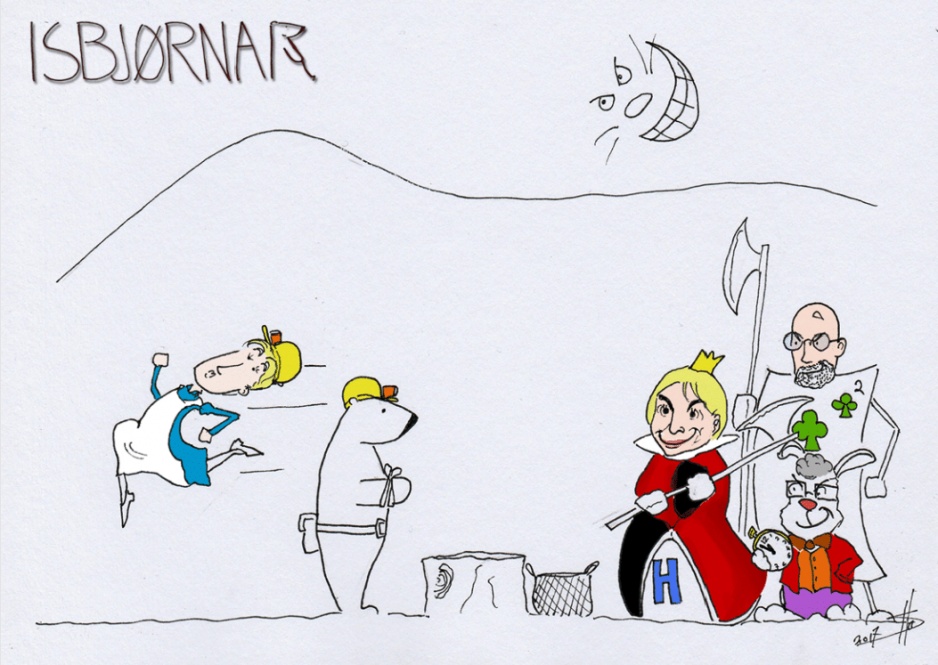 Popping up
Today, Isbjörnar lives his own life. All of a sudden, a turn in public debate may inspire a single image, or sometimes something more complicated.
- A visual expression pops up in my mind. It may be political, and I freely admit that Isbjörnar is quite distressed over mining being shut down so fast. He will often wear a miner's helmet and feel victimized. It is obvious that my attitude appears through him – one cannot avoid that, the cartoonist says.
His campaign issues vary. Whatever characterizes the day or himself will appear through his pencil. Like when Leonard Cohen died. The drawing showed both angel wings and Halleluja. Or when Isbjörnar puts on the miner's helmet.
- I am opposed to the sudden shutting down of Store Norske. I would argue that the community here should have had more time for transitioning. We are to live of research, but it is hard even for scientists to make a living of their research. In connections like this, having someone to state my opinion is priceless, Haakon says.
Isbjörnar is to be decapitated with his mining gear on. Norwegian Minister of Industry, Monica Mæland, stands ready with the axe while Store Norske (the mining company) Manager Wenche Ravlo runs as fast as she can from the scene.
- Like I said, images pop up in my mind and I believe this is one of the very best ones I have made. It speaks volumes, the cartoonist says.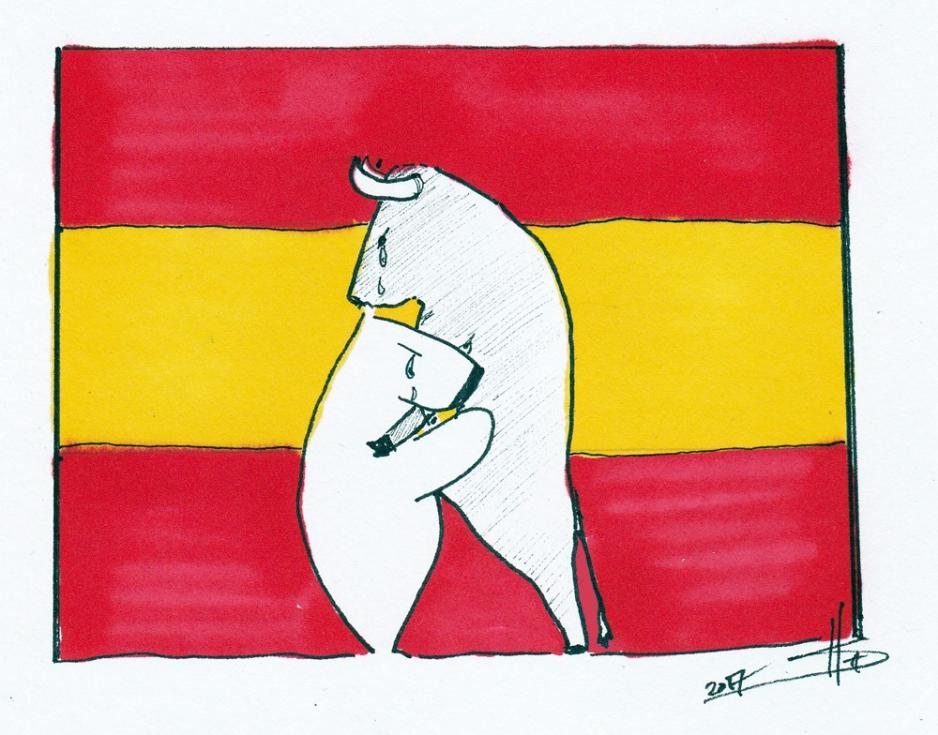 Balancing act
Not everything he draws is easy to understand. Sometimes the issues can be so complicated that the context is hard to read.
- I do not necessarily have in mind that everyone should understand everything when I draw. Many drawings can be interpreted based on people's individual experiences. However, the Ravlo and Mæland drawing was well thought through. Nevertheless, it takes practice, constant practice, says Haakon.
He generously offers himself, allows people to peek at what goes on on the inside. And meeting people and bringing out emotions is exciting..
- Isbjörnar is an illustration of what goes on in my head, so of course it is vulnerable. Fortunately, my girlfriend is understanding and in on all my ideas. I am glad she is an artist too, Haakon says with a smile.
He likes it when his drawings live a life of their own after he has submitted them.
- I appreciate that people can interpret, that the drawings live a life of their own. Because in that sense it is not a big deal – as long as people enjoy Isbjörnar. Interpretation is individual. Whether it is pinpointed or turned upside down. The challenge is keeping it as simple as possible, to make sure the point does not get lost in my trying to outsmart myself, Haakon says with a laugh.