Siberian Rivers and Thawing Permafrost: A Precarious Pair of Carbon Emitters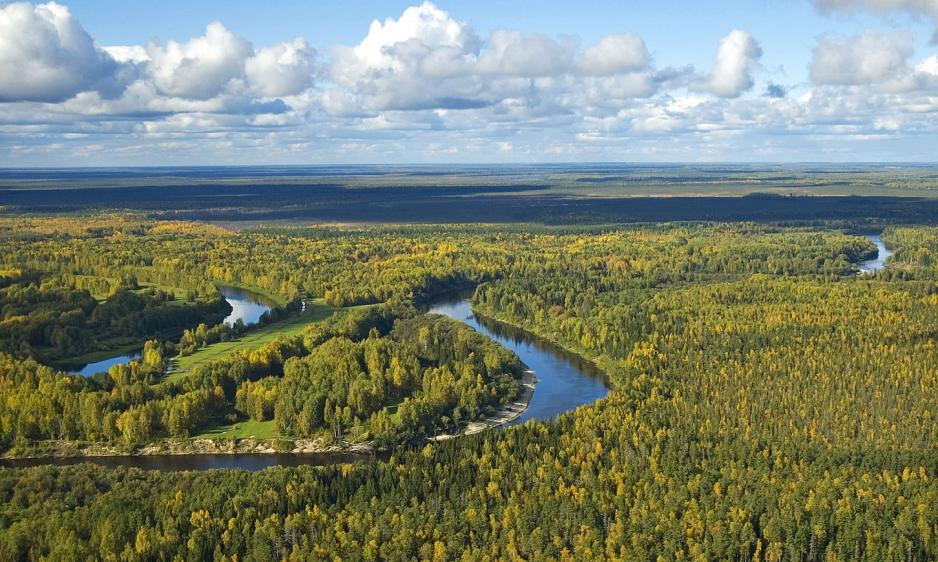 A ground-breaking climate change study sheds light on the little-known effects of permafrost thaw on Arctic river carbon emissions in Western Siberia – and it isn't good news.

A ground-breaking climate change study sheds light on the little-known effects of permafrost thaw on Arctic river carbon emissions in Western Siberia – and it isn't good news.
The West Siberian Lowland, the world's largest unbroken swath of land below sea level, has long been an area of scientific unknowns. While carbon runoff from major Arctic rivers is well documented, the direct measurement of carbon dioxide emissions from high-latitude rivers is nearly nonexistent. Few research expeditions have ever sojourned to the swampy Arctic tundra in remote Western Siberia to take in-field measurements of this important source of greenhouse gas emissions – until now.   
Svetlana Serikova of Umeå University and a team of international researchers traveled to Western Siberia to directly measure emissions of CO2 from rivers during the spring and summer field seasons. "The field-based approach is rather common in environmental sciences," Serikova explained to High North News, "but the novelty of this work is that these measurements were conducted in the area, where they have never been done before - in such remote location as Western Siberia."


More Carbon Emissions Means Bad News for Arctic Climate Change
The new research, published this month in the top journal Nature Geoscience, reveals that carbon emissions from Arctic rivers rise highest in areas where Siberian permafrost is actively thawing. "Our findings add to what has been known already," Serikova notes, "that there are natural sources of greenhouse gas emissions in the Arctic, but in a light of man-made greenhouse gas emissions and climate warming, these natural sources can increase their magnitude and speed up the warming even further." 
Previously unknown, the scientist team's work indicates that Siberian river emissions are on average two times greater than the carbon released downstream into the Arctic Ocean. That's bad news for Western Siberia, where permafrost is highly vulnerable to thaw as its regional temperature has increased by more than 1 degree Celsius during the last 30 years.


Filling the Data Gap with Siberian Fieldwork
The team achieved the logistically-challenging task of measuring emissions from not just one remote Arctic river, but "58 rivers all the way from the south (permafrost-free zone) to the north (continuous permafrost zone) travelling around 2000 km." The new research approach allowed Serikova and her team "to build a more 'holistic' picture of how river CO2 emissions change with permafrost extent and with climate."
The immense amount of data collected is not the only ground-breaking done by this international team of scientists. "Currently, climate change predictions are based on measurements which are conducted in certain parts of the Arctic (i.e. Sweden, Canada, USA, Iceland, etc), but quite large and really important areas still lack data and remain unstudied," Serikova explains. "Without covering those areas, we have very limited understanding and "predictive power" to infer what climate change will actually entail and more research is necessary to do that."
Measuring carbon emissions in Siberian rivers is a vital first step to even the data fields of Arctic research, but more is needed. "Interdisciplinary research linking hydrology, bio-chemistry and cryosphere would advance further not only across the Arctic," Serikova argues, "but also in boreal regions because these are the areas where we anticipate the most dramatic changes due to warming to happen."
The importance of these next steps for permafrost research stretch beyond Siberia. The dramatic changes seen in the Russian north are "highly likely" to apply to rivers across the Arctic, says Serikova. "There are research teams that work with similar questions in USA and Canada, and it is quite reassuring that we gain better and better scientific data and insight into how river CO2 emissions change with climate and permafrost."