Ukraine Conflict

Russian Troop Relocation Indicates Little Interest in Expanding the Conflict to the High North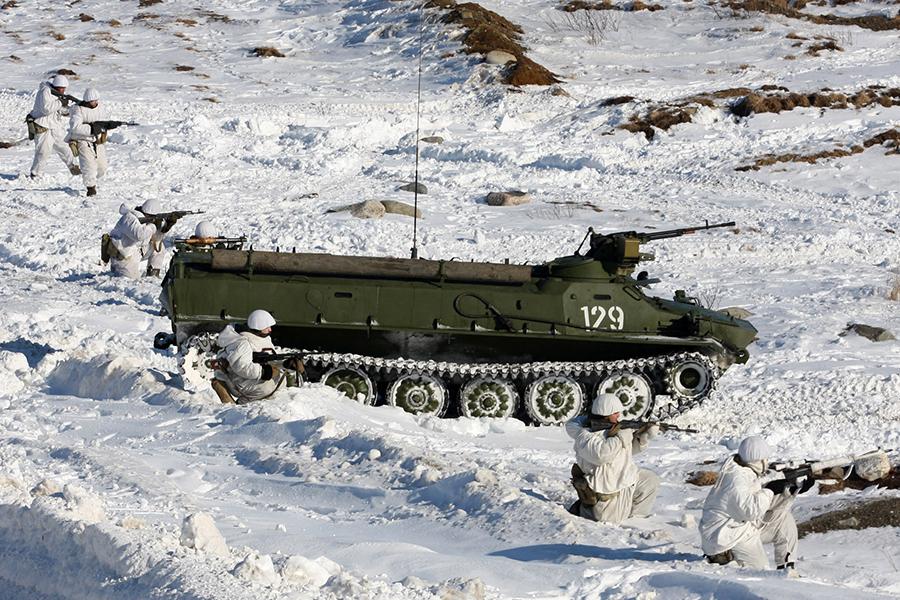 Russia has signaled that it wants to limit the geographical conflict area to Ukraine. Parts of the Russian land forces from the Kola Peninsula have been transferred to Ukraine. That indicates that Russia currently does not envision an expansion of the conflict to the North, military analysts say to High North News.
"For now, I consider it highly unlikely that the conflict should expand to Norway's High North. that is simply because I think Russia neither has the will nor the ability to expand the conflict", stresses Associate Professor Håkon Lunde Saxi at the Norwegian Defense Command and Staff College (NDCSC) to High North news.
Saxi explains that although the Northern Fleet is on high alert, Russia has relocated large parts of the land forces that are usually stationed on the Kola Peninsula to protect its military bases there. These divisions are, like most of the best Russian army divisions, currently tied up to the conflict in Ukraine.
"They would not be if Russia envisioned an expansion of the conflict to involve a general conflict with the West, for instance in Norway's High North."
Clear signaling
Colonel and Chief of Operations Gjert Lage Dyndal at the Air Defense Operations Center at the Norwegian Joint Headquarters just outside Bodø, Norway is also clear that there is not direct military threat against Norway in the north now.
"Russia has made it clear both in its public communication as well as with its relocation and use of forces in and around Ukraine that it wants to limit the conflict to Ukraine. There appears to be no interest on the Russian side in this spilling over into other areas. And in a direct comparison, Russia would be inferior to NATO."
"Despite a mostly successful military modernization, Russia's military capacity is still limited. Therefore, there are already reports that Russia has relocated capacities from the High North to attack Ukraine, such as landing ships and a part of the 200th Motor Rifle Brigade, which is subject to the Northern Fleet", Professor Katarzyna Zysk at the Norwegian Institute for Defense Studies recently said in an interview with High North News.
Deterrence exercise in the North
Russia's conducting an exercise with its strategic nuclear forces in the Barents Sea prior to the invasion is also relevant in this context, Operations Chief Dyndal says.
"Normally, these exercises take place later in the year, but this time, they were moved to just a few days prior to the invasion. I interpret that as a conscious choice to demonstrate that nuclear deterrence still applies and that Russia is a big power."
Assistant Professor Saxi also points out that a key point in moving the exercise forward was to signal that the West should stay away from the war in Ukraine.
"Russia is trying to deter the West from intervening militarily on the Ukrainian side. This is further reason to believe that it does not want any expansion of the conflict at present. At the same time, U.S. President Biden and other western leaders have already been clear that they will not assist Ukraine militarily in case of an attach, but will conduct sanctions and other measures.
Raising nuclear preparedness
Russian President Vladimir Putin recently announced that the nuclear alertness level was to be raised and that the nuclear weapon forces are put in "battle mode".
"This can be interpreted in two ways. Firstly, as another attempt to try and deter the West from engaging directly or indirectly in the conflict to support Ukraine. Russia is probably surprised at the strong unity and support of Ukraine demonstrated by the EU and NATO countries. Secondly, it can also be interpreted as a sign that the war is not going well for Russia, that it feels a need to escalate further as things have not developed the way they had hoped in the battlefield. Nevertheless, the West has interpreted this as positioning so far; alert levels for the western nuclear powers has not been raised so far", Saxi comments.
Protection of nuclear submarines
Katarzyna Zysk at the Norwegian Institute for Defense Studies stresses that neither NATO nor Russia want a war with each other. If the conflict were to escalate to include NATO, Russia might however aim to deploy its bastion defense to secure the survival and freedom of action for its strategic nuclear submarines, she says.
"Russia may aim to take control over maritime areas and other domains in parts of the Barents Sea and the Northern Norwegian Sea, while attempting to deny control for the adversary further south, where Russia would be unlikely to establish control", she commented.
Norwegian preparedness
"To Norway, the threat situation remains the same. People at home should feel safe. There is nothing to indicate that we are facing an increased threat in the North", Defense Chief Eirik Kristoffersen has said in an interview with Norwegian broadcaster NRK.
Saxi at the NDCSC also points out that the Norwegian Armed Forces have not made any major changes following the incidents in Ukraine.
"The Defense Chief has stated that the Norwegian forces are where they should be in a situation like the current. Since 2014, we have reinforced the defense of Finnmark. More specifically, the Border Control Guard has been reinforced, a new battalion has been built up in Porsaner, Brigade North it strengthened to some extent and the number of days at sea have increased. Now, there is probably increased alertness; one is probably closely monitoring anything that may give any form of indication whatsoever that Russia were to have plans about deploying its bastion defense."
Dyndal adds that one is likely to see more Russian military activity in the North in the coming time, in particular maritime forces and air forces. At this time of the year, it is nevertheless common for Russia to train and exercise in the North, he explains.
Early March will also see the commencement of the Norwegian-led NATO exercise Cold Response 2022.
"Russia will of course monitor the ongoing exercises. Thus, in the coming weeks, it might be hard to interpret what they mean and why they do what they do."
Since 2014, we have seen that the main concern is (…) if something were to occur elsewhere in the world and for that crisis to spill over into our High North.  
Changed scenario
Finally, Saxi points out that before 2014, Norwegian authorities appeared most concerned about whether a bilateral security policy crisis were to emerge in the High North between Norway and Russia, one in which the contested issue was the High North.
Under such imagined circumstances, Russia would probably try to keep the conflict on a rather low level, out at sea in international waters, in order to minimize the likelihood for Norway's NATO allies to be involved on Norway's side, he says and continues:
"Since 2014, however, we have seen that the main worry is a horizontal escalation, that something were to occur elsewhere in the world and for that crisis to expand into our northern neighborhood. As Russia fears an expansion of the conflict to where it becomes a general conflict with the West, it initiates measures in the High North, such as the bastion defense, to protect their base areas on the Kola Peninsula. How to handle such a scenario will probably be the main focus of Norwegian security and defense policy in the coming years", Saxi says in closing.
This article was originally published in Norwegian and has been translated by HNN's Elisabeth Bergquist.