Arne O. Holm says

Demanding Thoughts on a Quite Extraordinary Day on the Border to Russia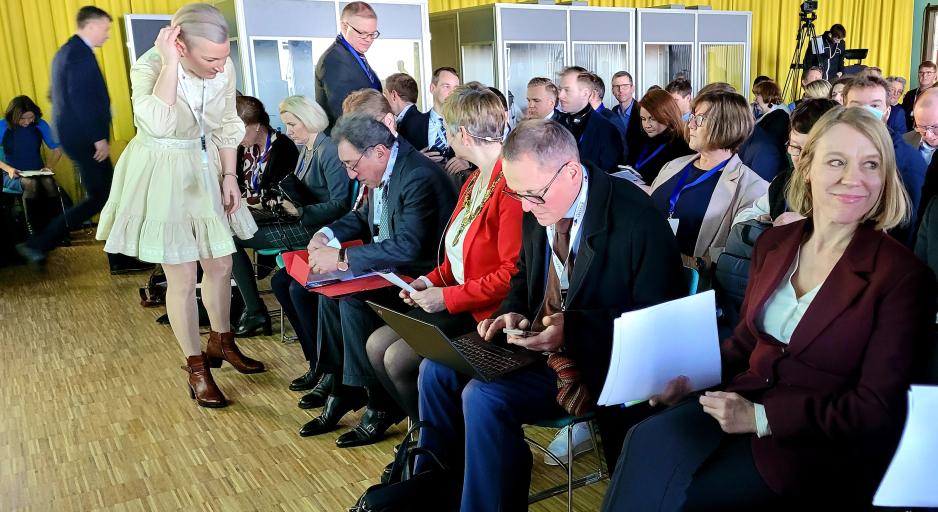 (Commentary) Kirkenes, Norway: In the middle of the Kirkenes Conferences, bombs hit Ukraine. For 24 hours Russians, Norwegians and Finns had promoted diplomacy and dialogue on the border between Russia and Norway. We went to bed Wednesday night hoping that war would be avoidable. The very next day, we woke to a bomb shower in Europe.
I have been to a meeting place where manuscripts aged the same minute they were presented.
The sell-by-date of political analyses was reduced to hours, lest say minutes
Answers no one has
To us too, journalists with an Arctic newspaper, 48 hours in Kirkenes became a hunt for answers no one yet possess. We do not know how and when the war in Ukraine will end. We do not know what consequences it will have to Norwegians and Finns who, like Ukraine, share a border with Russia.
We went to bed Wednesday night hoping rather than believing that war was avoidable.  Earlier in the day, Norway's Minister of Foreign Affairs Anniken Huitfeldt had briefly greeted the Russian Ambassador to Norway Teimuraz O. Ramishvili.
Russian nuclear weapon stores are just six miles from my hotel bed
In the hall, they were at a respectful distance from one another, yet still in the same room, after all.
Even when the Russian Ambassador presented his greeting on behalf of Russian Foreign Minister Sergey Lavrov.
For those present at the Kirkenes Conference this day were spectators to a conflict to which inhabitants further south in Norway only have a theoretical relationship. The border to Russia does not run in the Oslo Fjord, it runs just a few miles from Kirkenes.
No people, no security
Yet at the time, the political tone was characterized by principal thinking. Anniken Huitfeldt appealed to those of us in the audience. Encouraged us to be robust. We are crucial, we were told, for security in the High North.
"No people, no security. No security, no people", she said and looked past the Russian Ambassador and towards the conference delegates.
The audience, those who are from Finnmark, must have felt a heavy responsibility.
"A strong and robust Northern Norway is crucial for the entire country", Huitfeldt said. "And Eastern Finnmark is in many ways the frontline of a strong and robust Norway", she added.
Unless robust means all the fewer and older inhabitants, population figures show that East Finnmark is already giving way when it comes to its foreign policy responsibility.
Huitfeldt had already left the room when a handful business leaders told about how Norwegian authorities prevented Norwegian-Russian business cooperation. How we, through self-imposed sanctions, have missed out on business opportunities in the east.
We cannot do anything about geography.
We are neighbors
The State Secretary from the Finnish Ministry of Foreign Affairs kept his calm and his faith, albeit under some doubt.
"If the situation does not improve, we will have to see what we do. But we are neighbors, and we must preserve the relationship", Matti Anttonen said.
Towards the end of the first conference day, the Russian ambassador gave up just that. He felt sidelined rather than appreciated.
His chair was empty during the evening's dinner.
Experienced diplomat Kai Eide started out by saying that he had written his notes three days before the conference.
"I shouldn't have. The situation is now different. So, the original edition had to be put aside", Kai Eide said.
A few hours later, his latest version was outdated too, though Eide did not know that when he gave his speech.
Empty chair
After the first day of the conference, I found the Russian ambassador outside the hotel. We smoked a peace pipe and wished each other good night.
Perhaps he knew then what I did not know until the night was slowing growing into day.
The earliest riser on 25 February, the day Russia started bombing Ukraine, was Øyvind Nordsletten. He has been ambassador to both Russia and Ukraine.
"I turned on BBC at 5 a.m.", he told me a few hours later.
I myself woke to the war long before the alarm interfered with my life.
The leader of the Kirkenes Conference, Guro Brandshaug, started day two of the conference saying that cancelling the conference after the war acts throughout the night was not an issue.
The conference should obviously not be cancelled.
It was more important than ever to continue conversations between the East and the West.
In the North.
"When it is hard to talk with one another, it is all the more crucial that we do so", Brandshaug said.
She was echoed by the Mayor of Sydvaranger, the home municipality of Kirkenes.
Updated manuscripts
"We condemn Russia's aggression towards a sovereign state, but we do not condemn the Russian people. The Russian people are our neighbors, our family, our friends and colleagues. My job as a mayor is to maintain dialogue and good cooperation with our neighbors in the East" Lena Norum Bergeng said.
Both Brandshaug and Bergen had updated manuscripts. Above all, they had political analyses with long-lasting sell-by dates.
Tears were shed in the conference hall. Yet at the same time, there was also a demonstration of will to create exactly the robust communities the foreign minister warranted. We cannot do the later without political assistance.
We cannot do anything about geography.
Our borderless friendships between Russians and Norwegians will remain.
Outside the conference hall I once again ran into Ambassador Ramishvili.
We shook hands, neither of us saying a word.
For what could we say to each other on an icy Thursday morning in Kirkenes, just kilometers away from the border that separates Russians and Nowegians?
A quite unusual Thursday on which the bombs fell over Ukraine.
More about the Ukraine crisis
This commentary was originally published in Norwegian and has been translated by HNN's Elisabeth Bergquist.