Russia to send Nuclear-powered cargo ship through Arctic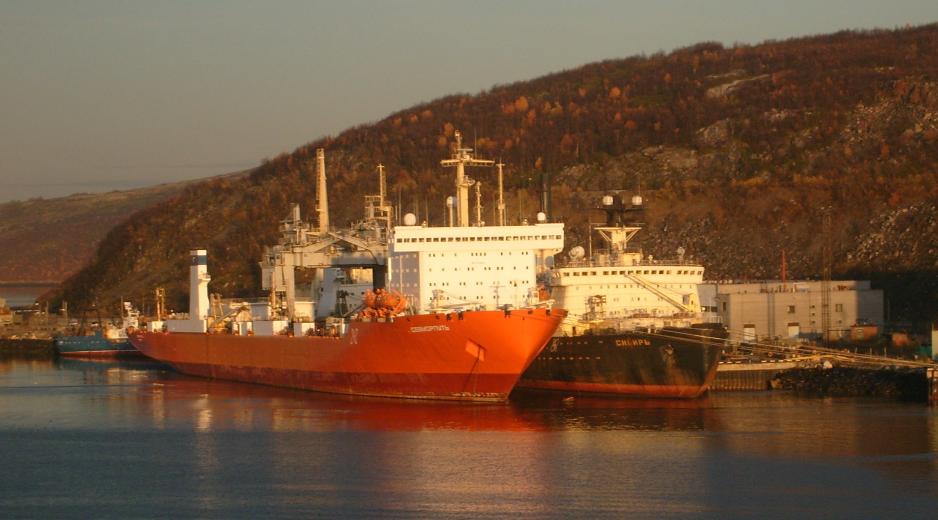 Russia's Rosatom is to send nuclear-powered cargo ship Sevmorput through the Northern Sea Route (NSR) this summer as part of a strategic effort to boost traffic, especially container shipping, on the route.

Russia's Rosatom is to send nuclear-powered cargo ship Sevmorput through the Northern Sea Route (NSR) this summer as part of a strategic effort to boost traffic, especially container shipping, on the route.

However, shortcuts through the Arctic have been in low demand as shipping companies enjoy record-low fuel costs favoring traditional routes.


Nuclear cargo ship to sail NSR
The Sevmorput, the world's only operational nuclear containership sports significant icebreaking capabilities and according to Rosatom will play a key role in transporting troops, military personnel and equipment destined for Russia's new and upgraded bases throughout the high Arctic. In addition the vessel is expected to transport lead and zinc from the new Pavolvsk mine on Novaya Zemlya and assist with heavy lifting requirements of the Russian Arctic oil industry.
The vessel is expected to sail from Mumansk to Petropavlovsk-Kamchatsky, to explore the feasibility of utilizing the route.  So far it's undecided whether it will complete the voyage from mid-July to early September, as favored by the "Corporation of Development of Kamchatka" or from October to November, as advocated by Rosatom.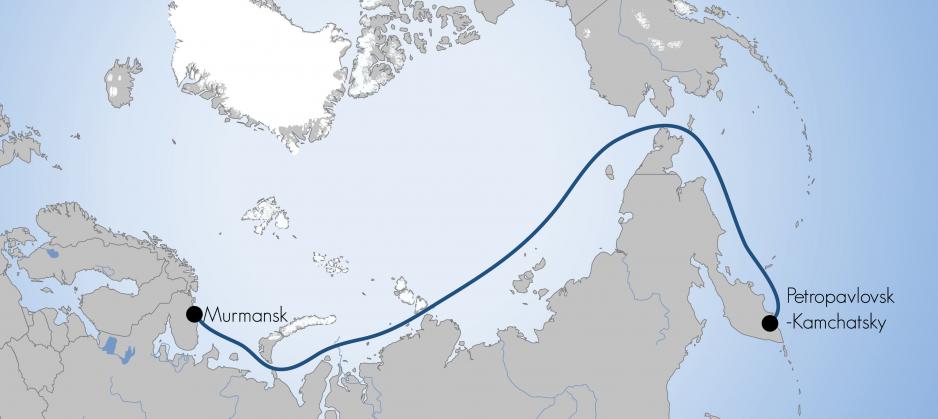 Only nuclear merchant vessel in the world
The ship, the only successful vessel civilian nuclear vessel, was constructed at the Zaliv shipyard in Ukraine between 1982 and 1988, served in both international and domestic Soviet and Russian waters, primarily sailing between Murmansk and Dudinka along the Yenisey River. With its construction the Soviet Union aimed to extend its nuclear capacity, already widely employed in its military vessels and icebreaker fleet, to civilian merchant shipping. However, following the end of the Cold War, traffic on the previously booming NSR declined rapidly and the vessel's international service was hampered by increasingly frequent port restrictions, due to the nuclear-powered nature of the vessel. In total Sevmorput traveled 302,000 nautical miles while transporting 1.5 million tons of cargo. MAP
The 260 meter-long and 61,000 deadweight ton vessel has a draft of 11.80 meters, and can break one meter-thick ice continuous at speeds of up to two knots. It can carry 74 lighters, a type of unpowered barge, each with a capacity of 300 tons in six holds and double stacked above deck. It is equipped with a large 500 ton-capacity gantry crane and can carry both 20- and 40-foot containers in up to three layers. In terms of container shipping, its capacity is 1,328 twenty-foot equivalent units (TEU), the standard measurement unit to describe the amount of standardized shipping containers a ship can carry. While this makes the Sevmorput the largest container-carrying vessel to transit the NSR its size pales in comparison to container ship along the Suez Canal route carrying in excess of 18,000 TEU.

Plans to expand traffic on NSR
The Sevmorput's reactivation follows nearly a decade of inactivity and the ship lay moored in the Atomflot base outside Murmansk from January 2007 until December 2013. It narrowly escaped being sold for scrap on several occasions after it was struck from the Russian ship registry on 31 July 2012. Plans for its rehabilitation were first announced by Sergey Kirienko, Rosatom's CEO, in 2013 and after a two-year process of retrofitting and refueling the reactor, extending its operational lifetime by 15 years, it left port for the first time in nearly nine years inNovember to conduct sea trials in the Barents Sea.
This year's voyage of Sevormput is part of a long-term plan to significantly increase traffic, both domestic as well as transit, on the NSR and anchor the port of Murmansk's role as a hub for container shipping. This year's voyage can be seen as a trial run to assess its economic feasibility, says Alexander Olshevsky, Chief of the Northern Sea Route Administration.
However, the success of Russia's plans to boost transit and container traffic on the NSR remains doubtful. While overall traffic on the NSR, mainly boosted by the development of oil and gas resources in Russia's Arctic, increased by nearly 50 percent year-over-year, the route's prospects as an international transit corridor from Europe to Asia or vice versa, have recently faltered. Transit traffic volume decreased from a peak of 1.3 million tons in 2013 to less than 40,000 tons in 2015 according to the NSR Administration.


Low oil price reduces NSR viability
The reduced attractiveness of the NSR can in part be blamed on record-low oil prices which have changed the calculation of many shipping operators. During times of high fuel prices shorter routes, like the NSR, become more attractive to shipping companies, even if they entail transit tolls and icebreaker fees. However, with low bunker prices, the fuel ships run on, operators have begun to send some of their ships around the southern tip of Africa, avoiding the substantial tolls of the Suez Canal. In the last two months of 2015 more than 100 vessels rounded the Cape of Good Hope, a number rarely seen in the past. And while this route adds 3,5000 nautical miles and 11 days on a standard journey from Rotterdam to Singapore ships can save average tolls of USD 350,000 by avoiding Suez, says Maersk, a Danish shipping giant.