Russia Inks Deal with Dubai's DP World To Develop Arctic Container Shipping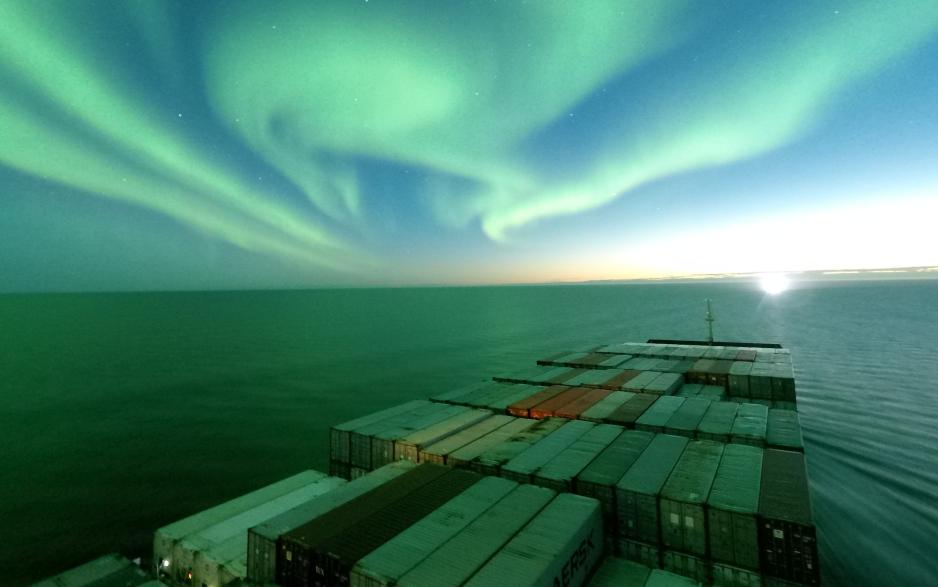 A joint venture with Emirati logistics company DP World is the latest sign that Russia is looking for new partners to push ahead with the development of its Arctic shipping routes. At the same time, new forecasts suggest Western sanctions may negatively impact shipping volumes on the Northern Sea Route.
Russia's Rosatom and Dubai's DP World, one of the globe's largest logistics companies, inked a deal to establish a joint venture to develop container shipping along the Northern Sea Route (NSR). DP World operates more than 80 container terminals in 40 countries accounting for 10 percent of global container shipping by volume.
Russia has looked to collaborate with the United Arab Emirates (UAE) on Arctic projects for several years. 
Last year Novatek began working with UAE entity Green Energy Solutions to secure continued access to restricted technology following Western sanctions. The Emerati company has since been placed under sanctions by the United States. 
The new joint venture is the latest example of Russia continuing to attract new partners to develop its Northern Sea Route into an international transport and logistics corridor. Earlier this month Indian and Russian officials discussed a potential partnership between the two countries to advance Arctic shipping.
Under the latest agreement Rosatom's cargo subsidiary will own 51 percent of the new company, International Container Logistics, while DP World's Russian division will hold the remaining 49 percent.
"The collaboration between these two companies is aimed at developing an additional trade route for maritime container transportation through the Northern Sea Route," Rosatom said in a statement according to Interfax.
This summer the Northern Sea Route saw its first scheduled container liner service with Chinese company NewNew Shipping Line dispatching six vessels along the route.
New forecasts for cargo volume
The impact of Western sanctions on Russia's ambitious Arctic projects has triggered a new set of traffic forecast scenarios for 2024 and 2030 issued by the Minister for Development of the Russian Far East. In the latest assessment the Ministry calculated total tonnage for a conservative, a base, and an optimistic scenario.
The report, first reported by Kommersant, suggests that sanctions may continue to have an impact on Novatek's Arctic LNG project as well as associate shipping capacity. With South Korean shipyards ceasing construction of ice-capable LNG carriers, the fulfillment of future capacity needs rests exclusively on Russia's Zvezda shipyard. 
Similarly, Vostok Oil may not reach full capacity until the second half of this decade.
For context, volume on the route has grown tenfold over the past decade reaching 34 million tons in 2022. Currently, the NSR development plan foresees totals of 80 million tons in 2024 and 150 million tons in 2030. 
Conservative scenario more likely
The base scenario now forecasts 74 million tons for 2024 with 224 million tons by 2030, with three quarters of cargo volume coming from oil and LNG.
In an optimistic scenario, which would require the completion of Novatek's Arctic LNG 1 and 3 projects, as well as additional LNG and coal projects in the region, volumes would increase to 81 million tons by 2024 and 244 million tons by 2030.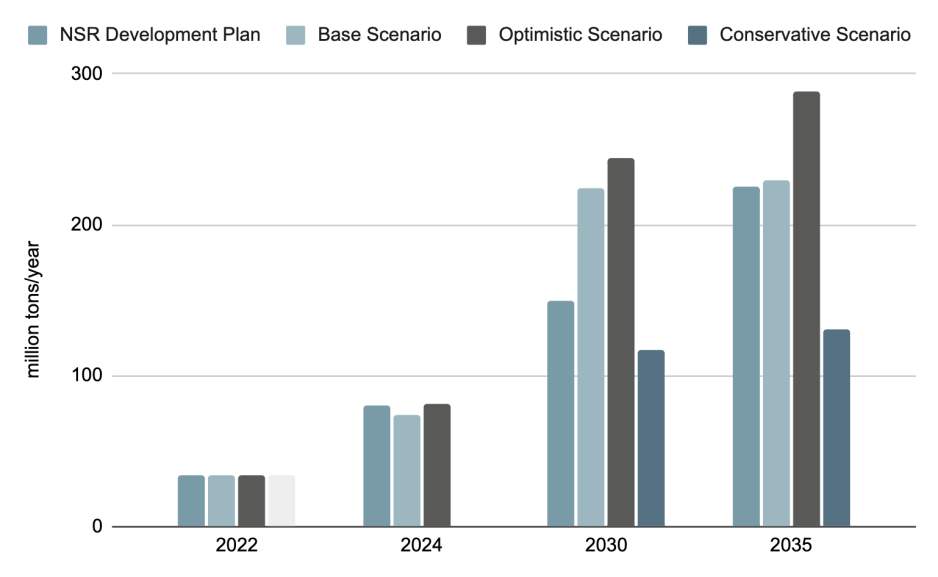 In a conservative scenario, which according to the document is now more likely due to the impact of sanctions, tonnage would remain suppressed over the next decade with volumes reaching only 117 million tons by 2030 and 135 million tons by 2035. In this case Novatek would not move forward with the development of Ob LNG and Arctic LNG 1. 
Nonetheless, even in a low-case scenario shipping traffic through the Arctic is forecasted to grow nearly four-fold over the next seven years.