Norwegian, Swedish, and Finnish Fighter Planes in Joint Exercise along the Norwegian Coast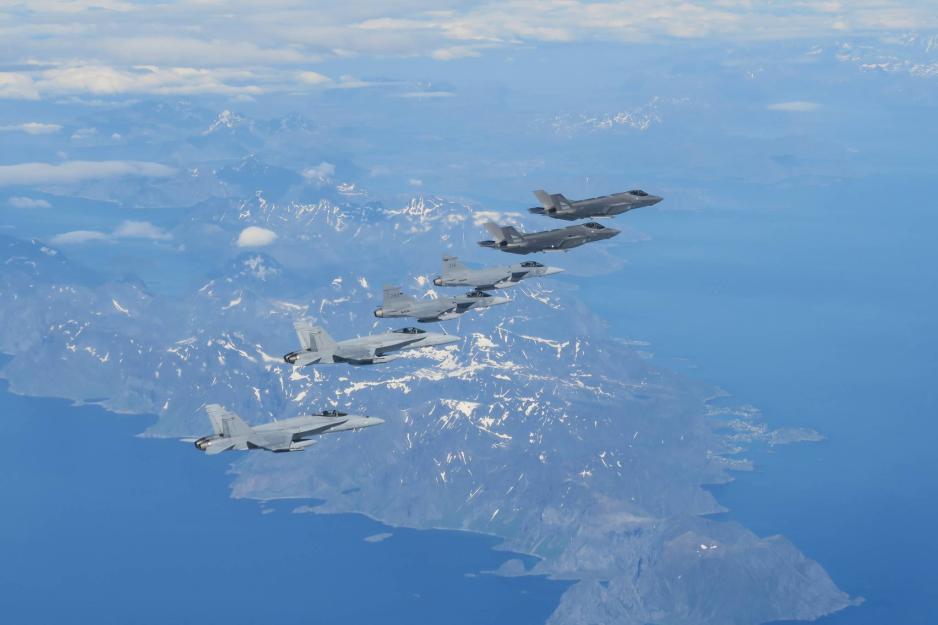 Last week, Norway led a large air defense exercise with Sweden, Finland and NATO allies off the western and northern coast of Norway.
"It is the first time we conduct such an advanced interaction exercise with NATO and partner nations, which also includes Sweden and Finland", says Air Defense Chief Major-General Rolf Folland in a press statement from the Norwegian air force.
The Norwegian-led multinational air defense exercise took place last Thursday off the western and northern coast of Norway from Møre to Nordland. 
The exercise included some 130 personnel as well as 45 figther planes from the NATO allies Norway, Great Britain, Germany, France and Belgium, as well as from Sweden and Finland, countries that applied for NATO membership about three weeks ago.
The overall focus for the exercise, referred to by NATO as "vigilance activity", was training in planning and management of allied forces in the North, and to demonstrate the Alliance's capacity to assert air power in a complex scenario across long distances.
Ready for NATO integration
"We appreciate that Sweden was invited to the multinational vigilance activity. The activity was a fantastic opportunity to train combined air operations and a clear confirmation that the Swedish Air Force is fully interoperable and ready to integrate into NATO's air domain", says Colonel Peter Greberg, Operations Chief of the Swedish Air Defense, in a NATO press release.
"As a close partner to NATO, well on path to a full membership, that knowledge is valuable", Greberg adds. 
If Sweden and Finland achieve membership of the Alliance, these two and Norway as the new Nordic NATO countries will have a combined air fleet of some 200 fighter planes based on current figures.
Finland has ordered the same kind of fighters as Norway has, F-35, and recently announced that the first planes are scheduled to arrive in 2026 and will be stationed at the country's northernmost air base in Rovaniemi, Finnish broadcaster YLE reports.
This article was originally published in Norwegian and has been translated by HNN's Elisabeth Bergquist.