Dear High North News reader! 
This week, the alleged Norwegian spy Frode Berg has been to the court in Moscow, accused of espionage. The prosecutor wants him to go to prison for 14 years.
 
At the same time, some 430 miles further west, Prime Minister Erna Solberg kept the Norwegian press waiting when she refused to answer whether the issue of Frode Berg would be a topic in her meeting with Vladimir Putin in St. Petersburg in relation to the International Arctic Forum. In the end, Putin was the one responding to the press, stating that "One cannot pardon someone who is not convicted".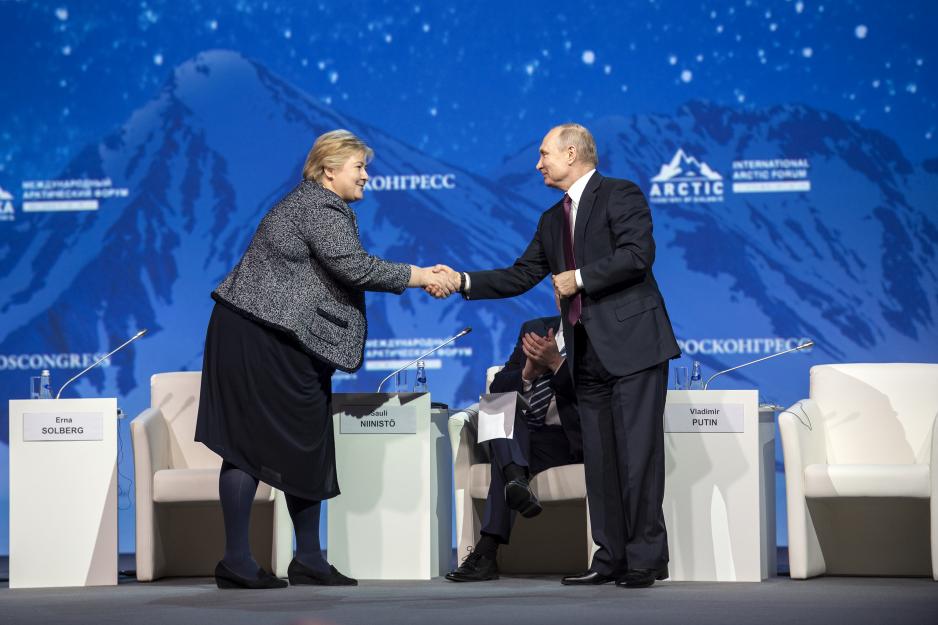 With that, he opened the door a little for a diplomatic solution to a politically embarrassing case for Norway.
 
Joint enemy
This week in St. Petersburg, the Arctic states nevertheless managed to join ranks against a common enemy: The climate. Where the annexation of the Crimean peninsula has closed communication lines between Russia and other countries, climate changes have now been defined as an even greater enemy; one that has to be fought together – which also opens up the door to dialogue about other joint projects.
 
However, while the international Arctic forum gathered all the Nordic countries around Putin's table, there is nothing that indicates their letting up the sanctions. "There is no change in Norwegian foreign policy" Foreign Minister Ine Eriksen Søreide said to High North News in St. Petersburg. That is, perhaps, bad news for business, who describe trading within a sanctions regime as a process of accelerating and breaking at the same time.
 
Hero or villain?
Thursday brought the news that Wikileaks founder Julia Assange was arrested in Great Britain, where he has sought refuge in the Ecuadorian embassy. Assange is the man behind the leaks revealing American soldiers' violating human rights in Afghanistan, amongst others.
 
But is he a hero or a villain?
 
He has been accused of rape in Sweden. And Wikileaks is suspected of being the engine of the information war during the American election. He is also described as "an unsympathetic guy".
 
One of the people defending him and staunchly opposing a potential extradition of Assange to the USA is Maria Zakarova, press stateswoman for the Russian Ministry of Foreign Affairs. Thursday, she used Twitter to publicly state that the arrest of Assange constitutes "a violation of freedom of speech and the freedom of journalism". I will leave it for others to decide whether Julian Assange is a hero or an enemy, or a bit of both. However, one may ask whether Zakarova is throwing stones from inside a glass house?
 
Neighbors on course towards collision
Even further west, an old conflict has been reignited between the "two good neighbors" USA and Canada. For decades, the countries have agreed to disagree about who holds the rights to the Northwest Passage. However, the 1988 compromise appears to be cracking at its seams and the USA claims – for reasons unknown – transitory rights through the strait.