Novatek and Tschudi to Begin Transfer of LNG Near Honningsvåg in November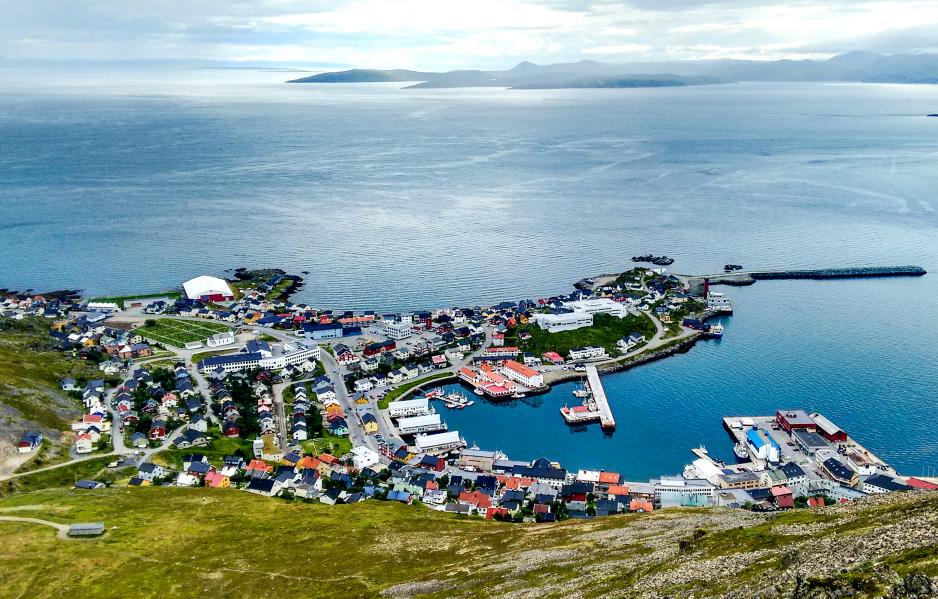 Novatek's Yamal LNG will begin ship-to-ship transfer of liquefied natural gas off Norway's northern coast during the second half of November.
Norwegian shipping company Tschudi, which operates a logistics base in Kirkenes, has been contracted to develop a temporary reloading area where gas bound for Europe is transferred from ice-capable Arc7 carriers to conventional liquefied natural gas (LNG) carriers.
The transfer of LNG will occur off the waters of Honningsvåg near Norway's Nordkapp, industry experts involved in the project confirmed to High North News.
Yamal Trade, a subsidiary of Yamal LNG in charge of shipping, procured three sets of ship-to-ship transfer equipment at US$ 1million each to reload the natural gas. Since it will be difficult to precisely time and match the kits to individual Arc7 carriers, the equipment will be held onshore between transfers, TradeWinds, an industry publication, reported.
Tschudi, which has been active in the Arctic since the early 1990s, and Novatek have previously worked together in the region. The Norwegian shipping company secured two aggregates supply contracts within months of the Yamal LNG project being confirmed.
During the 2014 season Tschudi shipped more than 400,000 tons of aggregates from its terminal in Kirkenes for the construction of the port of Sabetta. The renewed cooperation between the two companies was confirmed by the deputy chairman of Novatek's management board, Mark Gyetvay, last month.
Novatek is currently facing a mismatch between production and transport capacity.
Tschudi itself has not made any public statements about its role in the ship-to-ship transfer operation and the company's Chairman, Felix Tschudi, confirmed to HNN that "[Tschudi is] not in position to answer any questions in this regard at the time being."
Too much gas, too few ships
Novatek is currently facing a mismatch between production and transport capacity. With the company increasing production output ahead of schedule its shipping partners have not yet received the required number of Arc7 vessels.
The company aims to maximize the use of the expensive to operate Arc7 carriers and deploy them solely on ice-covered sections of the Northern Sea Route (NSR) and then reload the LNG onto conventional LNG carriers once clear of icy waters, explains Novatek's CEO Mikhelson during a recent interview.
For this purpose, permanent transshipment hubs at each end of the NSR, near Murmansk at the western terminus and in Kamchatka at the eastern terminus will be built by 2023.
Until these facilities are completed, ship-to-ship transfer of LNG will be of key importance for Novatek to ensure sufficient capacity to export all of the LNG it produces, especially during the winter months when less ice-capable LNG carriers can not operate on the route.
By transferring cargo in the Barents Sea Novatek aims to shorten the distance the Arc7 vessels have to travel by 12 days.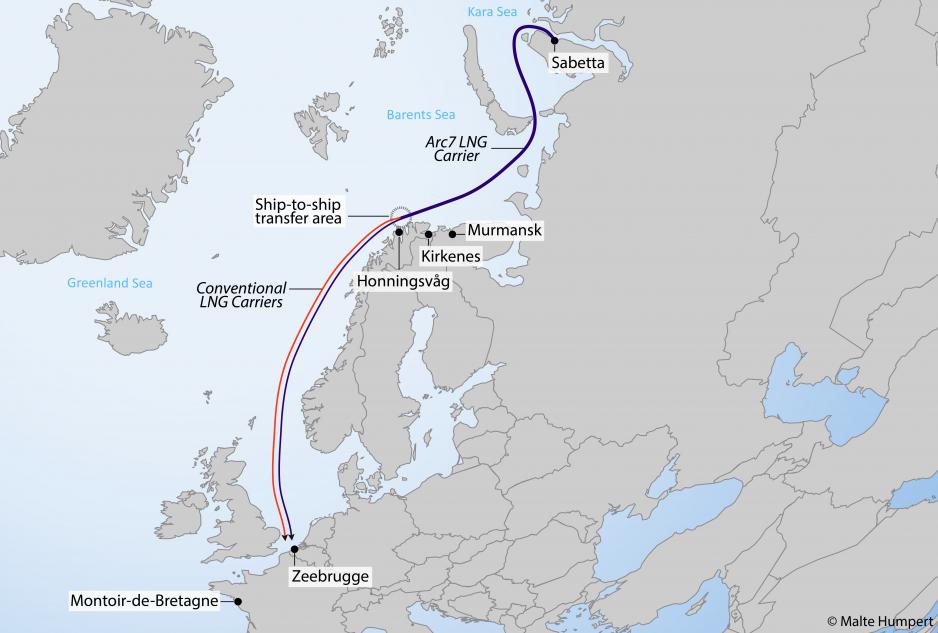 During the summer month Novatek relies on a number of Arc4 LNG carriers, e.g. Sovcomflot's Pskov and SCF Melampus, and even conventional carriers to supplement its Arc7 carriers. In total Novatek employs a secondary fleet of eleven charter vessels.
Based on the NSR Administration's ice-class requirements these types of vessels will only be allowed to operate on the route until the end of November when ice conditions usually become too severe.
Currently the Rules of Navigation in the waters of the NSR do not allow vessels with less than Arc7 to navigate in the Kara Sea in anything but light ice conditions, even with icebreaker escort, during December-June. However, Russia's Ministry of Transport is currently planning to optimize requirements and will likely relax restrictions.
Still new technology
Ship-to-ship transfer still represents novel technology and only a small share of global LNG reloading operations are conducted in this manner. The transfer usually occurs in open ocean or in the protected waters along a dock. Flexible cryogenic hoses, commonly 20 centimeters in diameter, are used to transfer up to 1,100m3/hour of LNG per hose.
The Arc7 vessels carry up to 173,000m3 of LNG, requiring a multitude of hoses to allow for time-efficient transfers.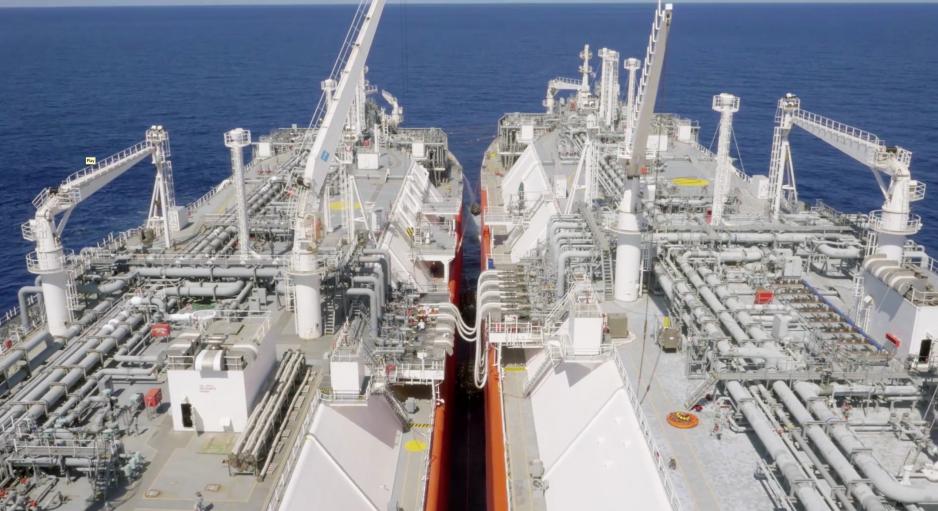 Novatek hasn't yet publicized what amount of LNG produced by Yamal will be transferred off the Norwegian coast and what amount will be shipped straight through without being reloaded to terminals in Western Europe, such as Zeebrugge, Belgium and Montoir-de-Bretagne, France.
The Yamal LNG facility consists of three production lines, or trains, each capable of producing up to 5.5 million tons of LNG annually, with the third train coming online by the end of 2018. Novatek is expected to ship in excess of 8 million tons of LNG during the winter navigation period from December 2018 to June 2019.
Industry experts suggest that up to half of this amount may be reloaded off the Norwegian coast.
Regulations and logistical challenges
It remains unclear if the ship-to-ship transfers will occur within Norway's territorial waters or solely within the country's 200 nautical mile Exclusive Economic Zone and what type of regulatory approval or safety precautions were required for the operation. The Norwegian Coastal Administration did not respond to inquiries on the matter.
Novatek's plans to reload LNG may also face logistical challenges related to transshipment slots at European hubs in Zeebrugge and Montoir-de-Bretagne industry insiders suggest. Slots are usually booked many months in advance and are expensive to change.
The next few months will be a good indicator if Novatek can solve some of the transport challenges it faces and continue the development of its Arctic LNG resources at its current rapid pace.