Ukraine Crisis

Norwegian Foreign Minister about the Relationship with Russia: "We Cannot Manage on Our Own"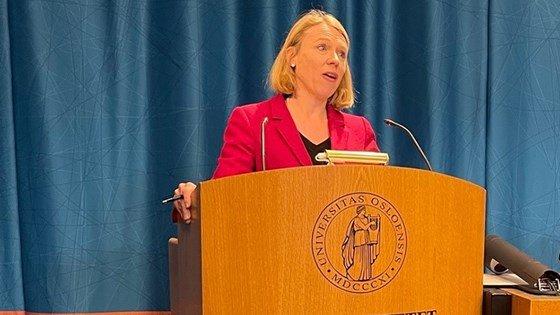 In a speech at the University of Oslo on Tuesday, Norwegian Foreign Minister Anniken Huitfeldt (Labor) spoke up for allied activity in Norway in relation to the relationship with Russia: "They practice more often, in larger geographical areas, and we see more complex patterns. The asymmetry between Norwegian and Russian military power is enormous. We cannot manage on our own."
On Tuesday, Norwegian Foreign Minister Anniken Huitfeldt (Labor) gave a speech about security politics to students at the University of Oslo. The theme was given, the foreign policy backdrop is gloomy, and Europe finds itself in a serious situation.
And Norway has to take its neighborly relationship with Russia seriously. The foreign minister opened her speech with a quote from Russian President Vladimir Putin to the Munich Security Conference in 2007:
"Nobody feels safe anymore, because no one can hide behind public international law."
She says his speech was a criticism against the USA as well as the foreign and defense policy of the West.
"When I prepare to go to the security conference in Munich 15 years later, Putting has changed his statement from criticism to a threat", Huitfeldt says to the students.
"Europe finds itself in a most serious situation."
Conflict spillover
So, what does the Russian force buildup on the Ukrainian border mean to the Arctic? what consequences will it have for Norway that 150,000 soldiers are lined up near the border as well as on the occupied Crimean Peninsula?
According to researchers interviewed by HNN, tension between NATO and Russia related to Ukraine may affect the Arctic.
"If the diplomatic track between the West and Russia does not work out, the conflict may spill more and more over into the High North", argue Karen-Anna Eggen at the Norwegian Defense University College and Julie Wilhelmsen at NUPI, the Norwegian Institute of International Affairs.
The foreign policy reflects an internal development in Russia that is cause for worry.  
History as a tool
During her speech to the students Tuesday, the Norwegian foreign minister argued that we should not be surprised by what we see.
"The foreign policy reflects an internal development in Russia that is cause for worry", says Huitfeldt, who warns against allowing history to become a tool of a political project:
"Independent history communication is a precondition for a critical debate in and about society. In our time, we see how history has become a useful tool for authoritarian leaders. Historic facts are cherrypicked on anecdotal basis to strengthen a hypothesis. So, respect for independent historical research and historic methodology should be strengthened", Huitfeldt said.
She has herself studied history.
Never scaled down
For those growing up during the Cold War, peace is not a given.
"Norway has maintained knowledge and attention. We did not scale down our Russian knowledge community after 1989. We still have knowledge and institutional memory. We can lean on 70 years of experience", she says and refers to some main principles that have proved resilient:
"The UN and the international rule of law. Interaction with our NATO allied is the basis for our military security. Our security policy should be robust, it should be balanced, and it should be clear", says the foreign minister and points to the importance of deterrence and reassurance in facing Russia.
"This is a long-lasting and well tried out line of the Norwegian Russian policy. We protect our country in cooperation with our allies. Norway is NATO's eyes and ears in the North. Our military presence is highly valued by our allies."
She adds that this is something Russia is accustomed to and that contributes to stability.
"When we have military presence in the North, that also reduced the need for allied presence. We must act as a predictable neighbor in every way possible. We also maintain our neighborly relationship with Russia and maintain open channels to the East", Huitfeldt says and points to the Barents cooperation as an example of an important platform for cooperation with Russia.
NATO is no friend of Russia.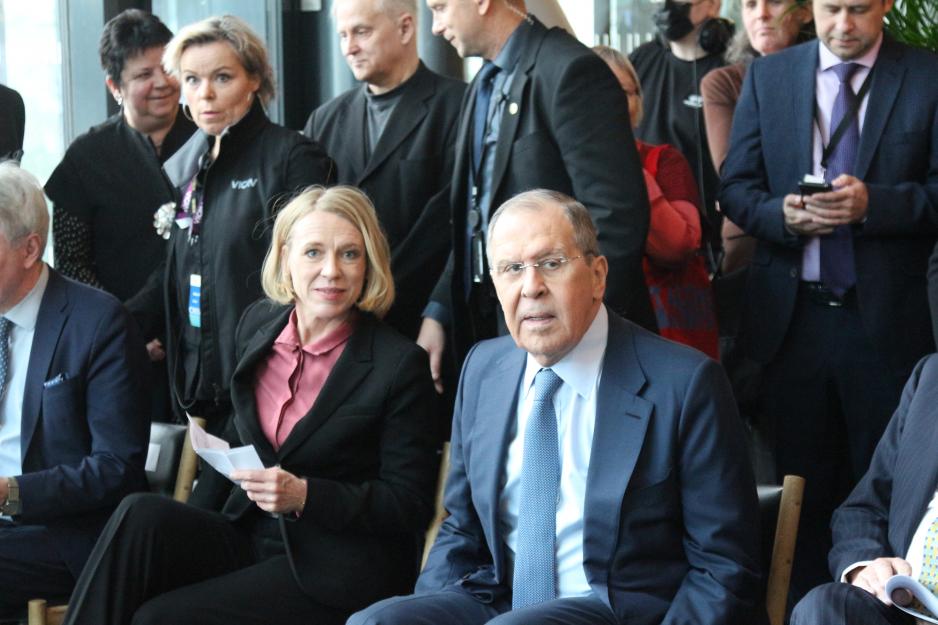 Nevertheless, he was also clear that Norway is a part of NATO.
"And NATO is no friend of Russia. They have decided they do not want to be friendly and refer to Russia and China as a threat against NATO", said the Russian foreign minister.
Fleet base near the border
However, the fact that Norway shares a border with Russia does not change.
"We have a neighbor who has the world's largest nuclear weapon arsenal. Its largest strategic fleet base is located just 100 kilometers from our border. The Northern Fleet's base on the Kola Peninsula is ice free year-round and very important for Russian striking power. A main target for the fleet is to defend the protected bastion around the nuclear forces based on the Kola Peninsula", the foreign minister says.
During the past decade, Russia has developed and modernized its northern military force in which strategic bombers, reinforced bases and runways in the Arctic, submarines and missile systems are to defend the Russian second-strike capacity.
"They practice more often, in larger geographical areas, and we see more complex patterns. The asymmetry between Norwegian and Russian military power is enormous. We cannot manage on our own", Huitfeldt points out and defends allied activity in Norway.
No bases
She denies any existence of allied bases in Norway.
"Nor have we asked for it. This is most unique about Norway as a NATO country. Our defense concept is based on a different model. We receive reinforcements if and when needed; in other words, during a crisis or war."
In order for this to work, Norway must train and exercise in peace time with its allies.
"Preparation storages, plans, and infrastructure must be ready. This cannot be improvised when the crisis is a fact. By then, it will be too late. Therefore, the allied practice and exercise more in Norway than they did a few years ago. Yet also in a significantly smaller scale than during the Cold War", Huitfeldt says and is clear that this system does not represent a hollowing out of the base policy.
"This is a precondition for the base policy. We have exercises precisely because we do not have bases. That was established when we joined NATO in 1949. We have always adapted to the security climate. That is important today too. The extent of allied training and exercise in Norway has always fluctuated, also in recent years."
Referring to the additional agreement as a base agreement is misleading.  
Important supplementary agreement
She says that much is done already.
"However, we are far away from the apparatus we had last time Europe was facing a crisis of the scale we see today. In the 1990s and early 2000s, most of the allied infrastructure in Norway was discontinued."
That is the reason, she says, why the supplementary agreement about defense cooperation with the USA (SDCA, Supplementary Defense Cooperation Agreement) is so important.
"It allows the Americans to invest in measures that will contribute to reinforcement of Norway should we need it. We need infrastructure to be able to receive reinforcements. This is what the agreement is to contribute towards."
Maintains Norwegian sovereignty
In an op-ed from Norwegian Defense Minister Odd Roger Enoksen (Center Party), he also defends the supplementary agreement and says it maintains Norwegian sovereignty, Norway's obligations under public international law, as well as the Norwegian base and nuclear policy.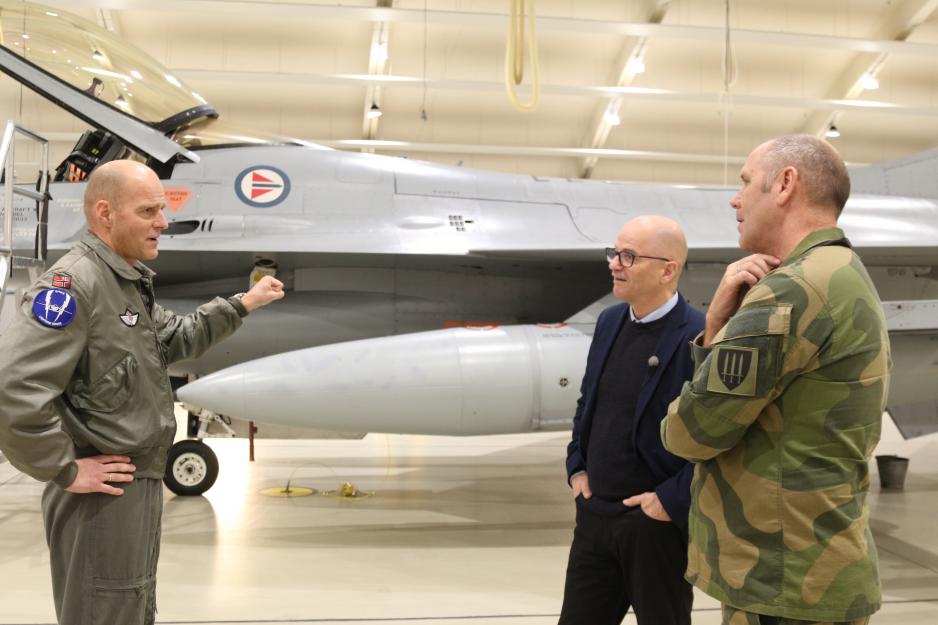 "Referring to the supplementary agreement as a base agreement, as some critics to, is misleading. Cooperation with close allies is one out of three main pillars of the Norwegian defense concept", Enoksen writes.
The foreign minister says reassurance is important.
"Thus, it has been important for us to draw clear lines: That the Norwegian base policy, nuclear policy, and Norwegian military limitations remain permanent. That Norway should be consulted about all allied military activity. That the main footprint of the supplementary agreement is located in Southern Norway."
Transparency
Huitfeldt says transparency is important.
"The exercise Cold Response taking place over the next couple of weeks is a good example. The tradition for such exercises goes a long way back. And we conduct the exercises with full transparency. We follow the rules to the dot. That is how a predictable neighbor acts. This is not news to Russia. They know where we are. And it does not escalate."
She says that every country has the right to freely chose its preferred security affiliations and alliances. That is a vital principle for Sweden and Finland too, both of which are not NATO members.
"That is why they are so focused on this not being something the big powers are to decide between them. That is why this Russian negotiation argument is, of course, quite out of the question. Russia cannot prevent our neighboring countries to seek NATO membership if and when they were to so desire", Huitfeldt says.
Russia's security
She says there is nevertheless much Norway can do that will also strengthen Russia's security. For instance, when it comes to confidence building, disarmament, and transparency.
"Much of the security policy agreement framework has weathered over the past 15 years, to a large extend as a consequence of Russian actions. That applies not least to the INF Agreement (Intermediate Range Nuclear Forces Treaty), the disarmament agreement between the USA and the Soviet Union in which the parties committed to removing entire groups of land-based medium range rockets with nuclear warheads", says Anniken Huitfeldt.
Russian violations of this agreement, including the deployment of medium range rockets, made the USA withdraw from the INF treaty in 2019. The fact that this kind of agreement, the very security architecture, weathers is a cause for worry, she says.
"Because we need conventional armament control. We need warnings and transparency about exercises. we need talks about missile defense and other security issues. NATO has invited to all this, and the invitation still stands. Cooperation in these areas will make Europe safer. It will make NATO safer. And it will make Russia safer."
There is now a risk that Russia will use gas as leverage against Europe in the ongoing crisis.  
Energy crisis
Huitfeldt closes with the consequences of a sharpened conflict between Russia and European countries.
"The causes for the high energy prices in Europe this winter are complex. Amongst them, nuclear power has been significantly reduced without renewable alternatives being sufficiently developed. Many European countries depend on Russian gas. This has allowed Russia space to use gas a political leverage. We have seen them do it before to Ukraine and Moldova. There is now a risk that Russia will use gas as leverage against Europe in the ongoing crisis", Huitfeldt says.
She fears a coming energy and migration crisis, yet also points out that it is important to keep in mind that only 4.8 percent of the EU's trade happens with Russia, while 37 percent of Russian trade is with the EU. Sanctions will thus hit Russia hard.
"European allies and partners must stand united and be clear that we will not trade principles and public international law for gas."
"We must dare to stand firm against the pressure, as we have done so many times before. Safely anchored in our values and interests, and along the longer lines of Norwegian security policy. The world will not be a better place if we café in", the foreign minister says in closing.
This article was originally published in Norwegian and has been translated by HNN's Elisabeth Bergquist.